Having bagged the 2020 Red Dot Design Award, GIGABYTE has proven yet again why its the leading personal computer brand in the industry. This recognition further cements its position as one of the top manufacturers for the best laptops in the world. So if you're looking into buying a new laptop, GIGABYTE's AERO line and professional gaming laptops are certainly worth checking out.
What is the Red Dot Design Award?
The "Red Dot" has been established internationally as a seal of quality for good design. It is an award given to products or projects that showcase superior quality design. It is broken down into three parts: Product Design, Brands and Communication Design, and Design Concept.
The competition is organized annually. This year, GIGABYTE bested over 6,500 entries from 60 countries from all over the world. This came to no surprise with its ultra-slim bezel, Xrite Pantone colour calibration, Microsoft Azure AI, and other industry-leading technologies. Aside from the Red Dot Design Award, GIGABYTE's laptops and notebooks have been honoured and recognized by the Taiwan Excellence Awards as well as the European Hardware Awards.
Now, let's take a look at the laptops that help get GIGABYTE the Red Dot Design Award.
AORUS: Redefining Gaming Laptops
GIGABYTE's AORUS gaming laptops are easily one of the best in the industry. They are fast and incredibly powerful with screens that offer high refresh rates and keyboards that are simply exceptional.
In 2020, GIGABYTE takes its AORUS line further by collaborating with G2 eSports which is a professional global

eSports team. This allowed the brand to develop a custom-built gaming laptop that caters to the needs of every professional gamer. So if you're a serious gamer who needs a powerful laptop that can keep up with all your games and hours of usage, the AORUS line is your best choice.
Specifically, there are two units you should look out for: the AORUS 17X and the AORUS 15G as these are the two professional laptops that won the award for GIGABYTE. They are extremely powerful, featuring the new Intel 10th Gen Comet Lake H-series processor and Nvidia's new RTX 20-series Super mobile graphic chips. With these laptops, you can also choose between the eight-core Intel Core i7-10875H or the high-end Intel Core i9-10980HK, and configure them to RTX 2080 Super Max-Q chip.
AORUS 17X: The Best Gaming Laptop with Overwhelming Speed and Power
In terms of design, the flagship AORUS 17X is inspired by supercars and fighter jets so expect it to have that flashy, "hey-look-at-me" kind of vibe. It is big with RGB LED lights scattered from end to end, making it stand out the moment you take it out. Its chassis is also made using CNC or Computer Numerical Control technology. Thus, it is carved into a robust frame with defined angles.
The AORUS 17X promises extreme performance. It is packed with overwhelming speed and power, you can use it for any type of game you want. Whether it's a simulation game, adventure, FPS, RPG, or an MMO game, here's a pretty great laptop for you. It produces realistic images and physics, giving you an amazing next-gen experience. Also, it's the world's first ultimate laptop equipped with OMRON mechanical switches. Thus, it has a uniquely designed keyboard that creates a great keystroke sensation.
Being the slimmest and lightest gaming laptop in the muscle class, the AORUS 17X is the perfect partner for gamers who are about to enter the battlefield.
AORUS 15G: A Gaming Laptop for On-the-Road Gamers
The AORUS 15G is the second winning laptop from GIGABYTE. It is lighter and designed with a longer-lasting battery, making it the perfect gaming laptop for gamers on the go. Same with the AORUS 17X, this gaming laptop is equipped with the NVIDIA GeForce RTX Super series graphics. Thus, it provides you with realistic images and details that make your gaming experience a whole lot better.
With the design, this gaming laptop is also inspired by sports cars with its sides designed with faux race car side decals. So it has a sporty, minimalist, and modernist type of look. This makes it more subtle and more able to blend with other sleek ultrabooks.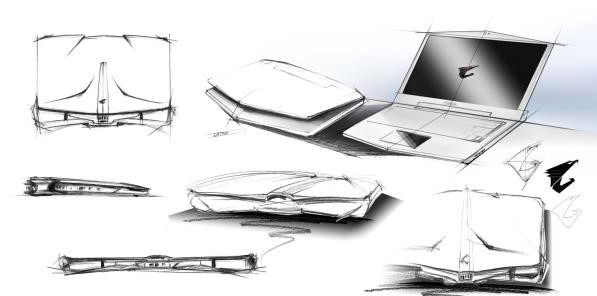 AERO: The Perfect Balance of Performance and Mobility
GIGABYTE's AERO line is among the best creator laptops in the industry today, especially with its newest offerings: the AERO 15 OLED and AERO 17. These two are also among the laptops that helped GIGABYTE win the Red Dot Design Award. They have lighter bodies, long-lasting batteries, and offers great performance without any issues with overheating.
The AERO line is incredibly well-balanced. Its aesthetics and overall look are inspired by science fiction films, making them modern, sleek, and minimal. It gives off this simple feel but with its superior quality and features, it is no way underwhelming.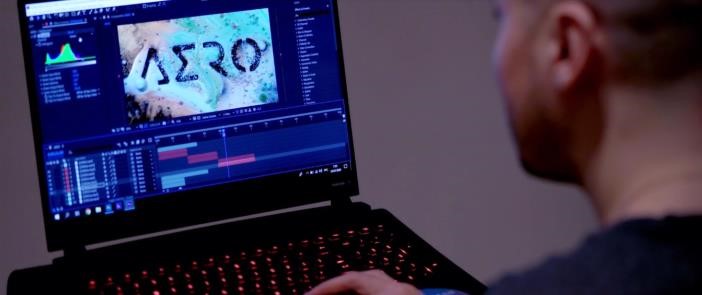 Moreover, an AERO laptop is small enough to carry and it offers amazing performance to help you with your tasks. For example, visual artist Rus Khasonov used the AERO 15 OLED to create videos and here's what he has to say: "With AERO, I can render with After Effects and edit with Photoshop at the same time. I'm deeply impressed that such a light body can offer such performance."
What makes the AERO 15 OLED and AERO 17 the best for content creators is in their make. They are equipped with the latest 10th-gen Intel Core processors and NVIDIA RTX Super graphic chips. There's also their large storage capacity and their ability to handle heavy workflows and multitasking. With these laptops, you don't have to wait long hours during renders and you don't have to deal with a frustrating stutter. You can open multiple applications and create content faster and easier.
As a bonus, NVIDIA is also upping the stakes for creators who will buy the RTX Studio equipped AERO models by promising free access to Adobe Creative Cloud for three months.
For details, please refer to the official website: https://www.gigabyte.com/au/Laptop
Conclusion
GIGABYTE has certainly come a long way from making laptops in Taiwan to producing powerful machines all over the world. Them winning an international award for their products just proves how truly amazing their laptops are. The best part is, their laptops are designed with their audience in mind: the AORUS line for serious gamers and the AERO models for creators. So no matter your reason for buying a new device, GIGABYTE certainly has the laptop you are looking for.