ⓘ We are reader-supported and may earn a small commission at no additional cost to you if a purchase is made through one of our links.
Ever come home to an ungodly mess but couldn't for the life of you figure out which of your dogs was behind it? Or have you wondered if your pets suffer from separation anxiety while you're away? Well, if you had one of the best pet cameras, you'd never again find yourself wondering again.
Whether you have dogs, cats, or even a pet pig, having a surveillance device strategically set up in your household can help you keep an eye on them whenever you're at work or when you're off having a good time. No more constantly worrying if your pets are okay or wondering what they're doing while you're away, allowing you to focus more on your job or night out.
TL;DR: The #1 Pet Cameras and Treat Dispensers for Most People 👇
It's also great if you have kids as well since you'll be able to look in on both of them whenever you like. So if you're having a hard time picking a quality pet camera for your precious furbabies, we hope this list will make things a bit easier.
The Best Pet Cameras Available to Buy Today in Australia
1. Furbo Dog Camera
Ask anyone who knows anything about dog cameras and the Furbo Dog Camera will more than likely come up – and for good reason. It boasts crisp 1080p resolution that can capture awesome videos and pictures, stellar night vision, and it has two-way audio so you can talk to your doggo even when you're not at home.
It also features some of the best alert features we've ever seen, including barking, dog activity, and person alerts. They're remarkably accurate too, so you can count on the camera pinging you every time your canine is barking up a storm. That way, you can check if they're barking at something worth knowing about, and you can calm them down with your voice.
To top it all off, the camera is capable of tossing out treats for your pets, so you can remind them that they're good boys and girls even when you're at work or out having some fun. Its price tag may be pretty steep and you'll miss out on a lot of cool features if you don't subscribe, but the Furbo Dog Camera remains one of the best dog-specific pet cameras money can buy.
---
2. SKYMEE Dog Camera Treat Dispenser
If the first entry on our list was a bit too rich for your blood, then the SKYMEE Dog Camera Treat Dispenser may be a bit more your speed. It also sports a 1080p camera for clean videos and pictures, along with night vision capabilities for great visibility even in darker areas. The treat dispensing feature is there as well, which is fantastic.
For pet owners who love nothing more than to flood their social media accounts with pictures of their furbabies, you'll be glad to know this camera allows you to easily share pictures and video clips so you can post them online in a hurry. There's two-way audio too, so you can talk to your pupper and get them to give you a cute, curious look before you snap a photo.
It has some noticeable downsides though. The treat shooter can be a bit too loud for some, causing more skittish canines to flee in fear instead of approaching in excitement, and the lack of barking alerts is surely a missed opportunity. But even with these missteps, SKYMEE Dog Camera Treat Dispenser is an excellent option that's feature-rich and won't break the bank.
---
3. Skymee Petalk AI II New Pet Camera
The Skymee Petalk AI II New Pet Camera is another surveillance device for your dog or cat that's a bit more on the affordable side. It features a 720p camera that's a bit lower than the previous entries on this list but it's still plenty capable of producing quality live streams and video recordings.
You'll also get that handy treat dispenser that works perfectly with both dog and cat kibble and the two-way audio is there for you to talk to your pets whenever you need to. To top it all off, setting up and using this device every day couldn't be easier and it comes with a lengthy 12-month warranty in case it keels over on you for whatever reasons.
The app is a bit of a hit-or-miss for newer Apple products and many people reported issues with the device connecting to a 5G network, but those things do little to take away from how excellent the Skymee Petalk AI II New Pet Camera really is. As long as you don't care much for all the extra bells and whistles, this camera is a worthy pick-up.
---
4. SKYMEE Owl Robot: Movable Full HD Pet Camera with Treat Dispenser
Okay. So this device is less of a pet camera and more of a full-blown surveillance robot. But that's not to say that the SKYMEE Owl Robot can't do the job just as well. In fact, it actually performs even better than a stationary camera account of its superior mobility.
Add that to the excellent camera that comes with night vision, the easy to use app design, and the two-way audio and you have a complete pet camera experience. Plus, driving the device around is a ton of fun and can be a great way to not just watch your pets, but play with them as well. Also, driving around and dropping treats can be a hilarious experience.
It's not a perfect device, by any means. It has a hard time moving on specific surfaces, like carpets, and it occasionally runs into some connectivity issues which can be pretty annoying. But despite that, the SKYMEE Owl Robot is the perfect pick-up if you want a pet camera that's both fun and functional.
---
5. SKYMEE 12L WiFi Pet Feeder Automatic Food Dispenser for Cats & Dogs
While the other entries on this list so far have included a treat dispenser as an extra feature, the feeding aspect of this device is actually its main feature. The SKYMEE 12L WiFi Pet Feeder gives you in-depth control over the feeding schedule and portion size of your pets, so you can always have complete control over their diet and never have to ask someone to drop by and feed them when you're out of town.
Oh, and this gizmo holds a LOT of food. It can store up to eight litres of dry kibble, which is more than a few days worth whether you have a cat or dog. Using the app, you can dispense as much food as you need, whenever you like, or you can set a schedule for the device to do it on its own.
And even though it's not its primary function, this pet feeder includes a 1080p camera that outputs superb footage and includes night vision, allowing it to keep up with any of the offerings on this list.
The speaker could've been louder and being unable to point the camera at the food bowl feels like a major misstep, but the SKYMEE 12L WiFi Pet Feeder remains the best pet feeder/camera combo around.
---
6. Pawz Smart Pet Feeder Camera
In terms of looks, the PaWz Smart Pet Feeder Camera is very different from our other picks, featuring a flattened cuboid shape that can stand on its own or be hung on a wall somewhere in your home. The latter actually makes it look sort of like a hand dryer or soap dispenser.
It's a sturdy piece of equipment that focuses more on longevity than other devices of its kind and it features a solid 1080p camera with a 130° ultrawide angle lens. You can store up to 500ml worth of food in it, which is quite a lot as far as treats go, and you can record your voice so that it plays every time the device dispenses treats. That way your pets feel more at ease and a bit less lonely when you're gone.
If you're after a non-nonsense pet camera that'll last you a long time and you don't mind it being a bit lacking in extra features, then the PaWz Smart Pet Feeder Camera is definitely a device you should look into.
---
7. Pawz Auto Feeder Pet Automatic Camera
We're capping off this with another pet feeder that has a camera built into it. The Pawz Auto Feeder Pet Automatic Camera is a lot like the one from SKYMEE in the sense that it features a huge six-litre food capacity and a 1080p camera. You can feed your furbabies manually or set the machine to a customized schedule via the companion app.
A useful addition is the dual power supply system that allows the device to operate via an outlet or its built-in rechargeable battery. This is especially handy for areas that are prone to blackouts, so you'll never have to worry about your critters going hungry even when the power's out.
Just like the other Pawz device on this list, this pet feeder is tough and built to withstand more than a few tumbles courtesy of your pets, but it's also lacking in advanced features which might be a turn-off for some.
If you like straightforward devices and never cared much for those extra quality-of-life features, then the Pawz Auto Feeder Pet Automatic Camera is the gizmo for you and your furry friends.
---
How We Researched the Best Pet Cameras & Treat Dispensers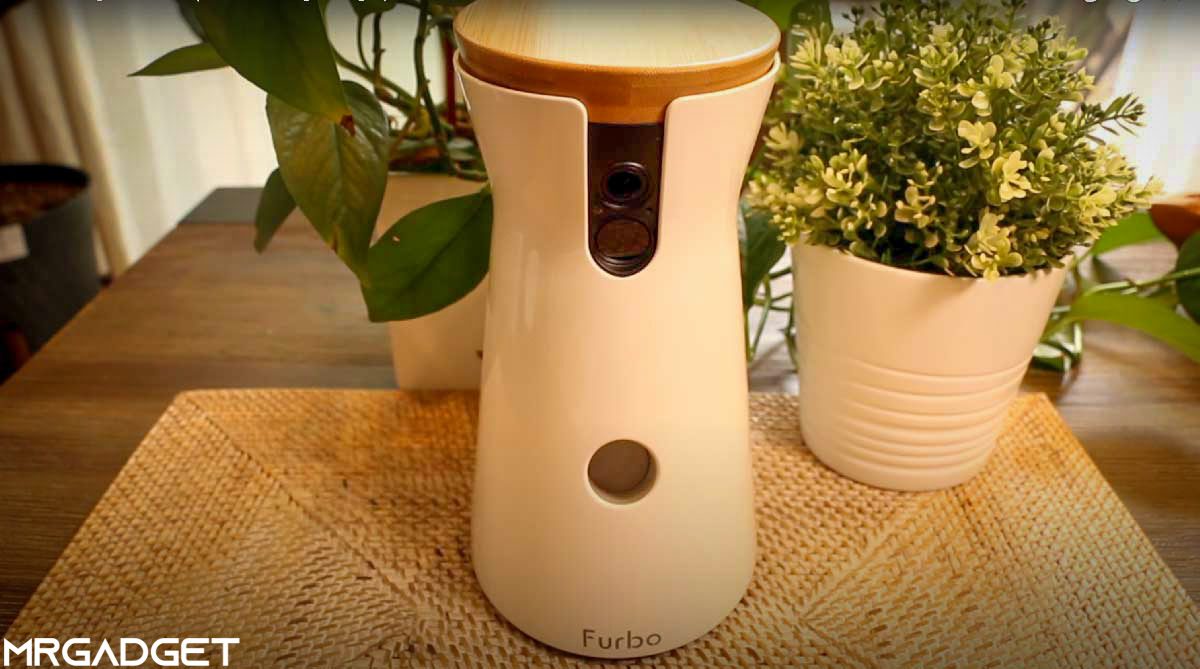 There's a surprising number of great pet cameras out there and figuring out the best one for your home and critters can be quite challenging, to say the least. There are just so many important features and specifications to consider and some of them can be pretty costly. To make your life easier, we scoured some of the best online marketplaces and local pet websites to see which cameras were making the most waves.
Of course, we also made sure to read through the vast sea of customer reviews and we even checked out what the professional reviewers had to say about them. After all that, we still had way too many products on our hands, so we discussed it among ourselves, trimmed the list even further, and ended up with the top seven best pet cameras you could possibly purchase in Australia.
That being said, no matter which of the following devices catch your fancy, you can rest easy knowing that all of them are quality products that are certainly worth your hard-earned money. Without further ado, here are our favourite pet cameras that you can purchase in Australia.
Pet Camera: Buying Guide
There are a plethora of reasons people end up buying pet cameras. The pets (or their owners) could suffer from some serious separation anxiety and need to be constantly checked on to make sure they're all right. Or the little furballs might be extra mischievous so you need to peek in on them every so often, just in case they're up to something funny.
You could be shopping for a pet feeder and you suddenly realize you can hit two birds with one stone. Heck, you could even just pick one up for fun simply because you want to play with your beloved pets while you're at work or school. The thing is, there are just so many amazing pet cameras out there and most of them don't come particularly cheap.
In order for you to really get your money's worth, you're going to want to look into all the features that are commonly found in pet cameras and find out what they really mean and how important they are to your pet and living situation. In doing so, you can make a more informed decision regarding the pet camera you want to invest in. That's the whole reason we put together this buying guide.
What Are You Buying a Pet Camera For?
Pet cameras come in various shapes and sizes, so it's worth figuring out the reason you're buying one in the first place. Do you need one to make sure your pets stay out of trouble? Or maybe you need the kind that'll help them maintain a specific diet. You could've even been looking for a security camera and just figured that a pet camera can help monitor both your home and your furkids. These reasons should heavily influence the model you end up buying.
What to Look for When Buying a Pet Camera
Once you've figured out your reason for buying one, the next thing you have to do is determine which features are most important to you and your pet. In this section, we'll introduce the different features you'll commonly find in a pet camera and we'll tell you what makes them so important.
Camera Resolution
Since pet cameras are still cameras, after all, the importance of high resolution is a no-brainer. This characteristic dictates how clear the camera's photo-taking or video recording is. The higher the resolution, the better the image or video quality.
Of course, you should also consider the amount of space higher resolution media files occupy in your media or cloud storage, as well as the internet speed required for them to work smoothly. While having a high resolution is critical, you should match it with the kind of internet you have at home and the storage mediums you plan on using with your device.
Night Vision
The next important feature we want to talk about is night vision. Are you usually away from home during the night or throughout the day? Is your home generally well-lit or a bit darker than most? If you routinely work nights or light is scarce in your home, then you'll definitely want to consider a pet camera with some serious night vision capabilities. This allows the camera to film clearly even in low-light settings, so you won't have to worry about leaving the light on when you're out.
Bark/Motion Alerts
Higher-end security cameras have motion and human recognition software that allows the device to pinpoint movements that are made by a human being. Pet cameras have a similar feature that's geared more towards the movements of pets and the sounds they make.
The sound recognition is mostly meant for dogs, with some pet cameras offering a barking alert that pings you on your mobile device whenever it senses a bark in its vicinity. This prompts you to check in on your canine buddy to see if they've run into some trouble or have engaged an intruder.
Treat Dispenser/Pet Feeder
Most pet cameras feature treat dispensers that shoot out a few yummy goodies at your command whenever you feel like rewarding your furry companion. However, there are also pet feeders that can dispense entire meals for a number of days, and some of these feeders include built-in cameras that you can monitor your pets with. Choosing one or the other depends on whether you need help maintaining a specific diet for your pet, or if you're all right with a device that just gives them the occasional treat.
Two-Way Audio
This feature allows you to hear and speak to the pet camera via a mobile device. While this may not be quite as important as it would be in a security camera or baby monitor, having two-way audio in a pet camera lets you call the attention of your pet for treats or feeding, and it can help you calm them down with your voice in case they're feeling stressed or lonely.
Media Sharing
Any animal lover knows just how much fun it is to share pictures of their beloved pets all over social media. Most pet cameras allow you to record videos and take pictures, so it would only make sense that you should be able to share those media files with the world.
Depending on how the companion software is developed, certain pet camera models make it easy for you to send media files to your mobile device. That way, sharing videos and pictures of your pets on Facebook and Instagram can be an absolute breeze.
Other Niche Features
Aside from the main characteristics, there are lots of other features that you might find particularly useful for your pets or household. The Pawz Auto Feeder, for example, includes a built-in battery that'll keep the device running in the event of a power outage. If this is a common occurrence where you live, then this might be extra important.
The SKYMEE Owl Robot, on the other hand, is capable of moving around like a little remote-controlled car. This allows for deeper interactions with your pets and a lot more exciting footage to share with your friends and family. There are tons of other innovative ideas like these when it comes to pet cameras and it's worth exploring them to see which can be useful and fun for both you and your pets.
---
You may also be interested in:
Last update on 2023-12-11 / Affiliate links / Images from Amazon Product Advertising API