On the 12th of December 2019, and after months of speculation, Microsoft finally officially announced their next-generation gaming console to the world. The Xbox Series X is the 4th full iteration of the Xbox gaming console, not that you would know from the name alone. Alongside the console announcement was information about a newly designed controller, backwards compatibility, hardware specs, software improvements, some next-gen game footage and more Continue reading for a complete breakdown of everything there is to know about the Xbox Series X.
Here are some quick links for the time-poor:
The first thing that stood out to us was the poor naming convention, which admittedly started with the Xbox 360 and somewhat snookered Microsoft into the realms of abstract and confusing console names. The Xbox Series X had a variety of rumoured names before finally being announced. We heard it all; Xbox 2 (would have been a good idea in our mind), Project Scarlett (meh), Xbox 2 Scarlett, Xbox 720, Xbox Scarlet, Anaconda…the list really does go on.
Well, we're stuck with the Series X and could indicate more than one console within the Series X range. This is not unusual in the console world as each generation spawns multiple iterations of the parent console, usually in smaller form factors and/or with slightly more powerful specs. In fact, Microsoft did state that exactly that a few days after the official announcement, in which they say that the name 'Series X' gives them freedom and can create descriptors when they need do. Still vague but confirms that there are at least loose future plans to add things to the 'Series'.
The second thing that stood out to us was the design itself. It looks like…a PC. Which is not a bad thing in our minds, because that is essentially what it is. The Xbox Series X is nice, a lot nicer than any of the previous Xbox consoles! With a clear design philosophy centred around strong, defined lines, practicality and efficiency cooling. we're impressed. Microsoft did explain a few things in an interview with Gamespot"
"There's always this tension between design and the kind of acoustics and cooling and function of the console," he told Gamespot. "And we were not going to compromise on function. I'm just incredibly impressed with the design that they came back with."
It's still early in the next-gen console announce cycle, but Xbox was kind enough to provide at least some details as to the Series X's performance specs, release date, release games and a newly designed Xbox controller.
Xbox Series X Release Date
The Xbox Series X is confirmed to be released Holiday 2020, which is November to December. It is very likely that the official release date will be on the 22nd of November as the two previous versions of the Xbox were both released on this date. This will give consumers and Microsft ample time to organise things for the Christmas rush. The Xbox Series X is sure to be one of the most popular gifts next Christmas and Microsoft needs to ensure there are enough to go around.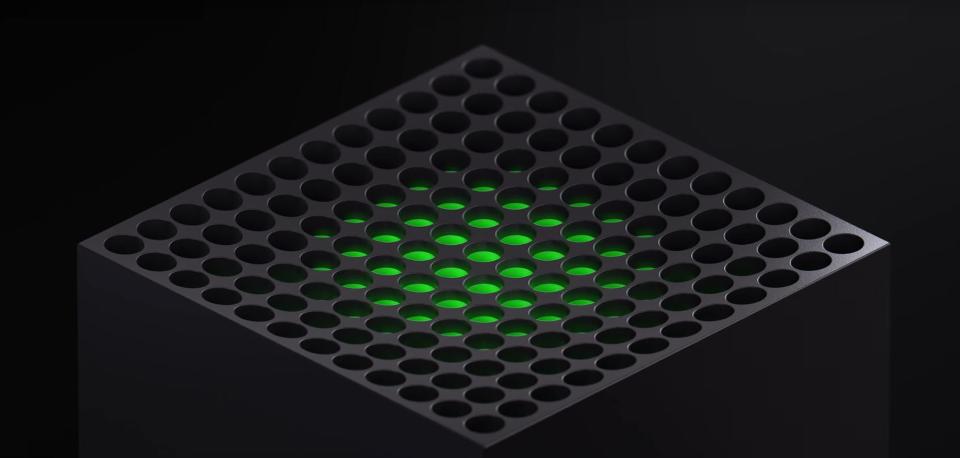 Xbox Series X Specs
The Series X utilises a custom set-up which includes a custom AMD ZEN 2 chipset, custom GPU built on the AMD RDNA architecture, which is geared towards ray-tracing and Variable Rate Shading (VRR). A solid-state disk is used for the hard drive, which isn't a surprise but certainly a huge positive.
Despite not releasing the full-specs, Microsoft did say that the Series X is capable of
"4K at 60FPS, with possibility of up to 120FPS, including support for Variable Refresh Rate (VRR), and 8K capability." 
These are impressive capabilities but we do wonder what compromised are made when the device is pumping out 120FPS.
Without official specs, the rumour mill has been turning, and with some relatively reliable sources chipping in, we expect the Xbox Series X specs to be:
CPU: 8-core targeting around 3.5 GHz.
GPU: Xbox Series X GPU and custom processor.
Compute Power: 12 TFLOPS.
RAM: 13 GB for games, 3 GB for operating system (16 GB total).
Storage: Custom non-volatile memory express solid-state storage (NVMe SSD).
These specs are a very solid foundation for next-generation console gaming and will result in notable advances in both graphical output, frames per seconds and load times. Everything an avid gamer expects!
How Do The Series X Specs Compare To The Xbox One Specs?:
According to Phil Spencer, Head of Xbox, the Series X is 8 x more powerful the Xbox One base model and 2 x the Xbox One X.
"We wanted to have a dramatic upgrade from the Xbox One base console. So when we do the math, we're over eight times the GPU power of the Xbox One, and two times what an Xbox One X is."
Below are the Xbox One Specs:
CPU: 2.3 GHz AMD-customized Jaguar Evolved (8-core).
GPU: 1172 MHz AMD-customized UC RX 580.
Compute power: 6 TFLOPS.
RAM: 12 GB GDDR5.
Storage: 1TB HDD.
A huge upgrade in every department. We can't wait!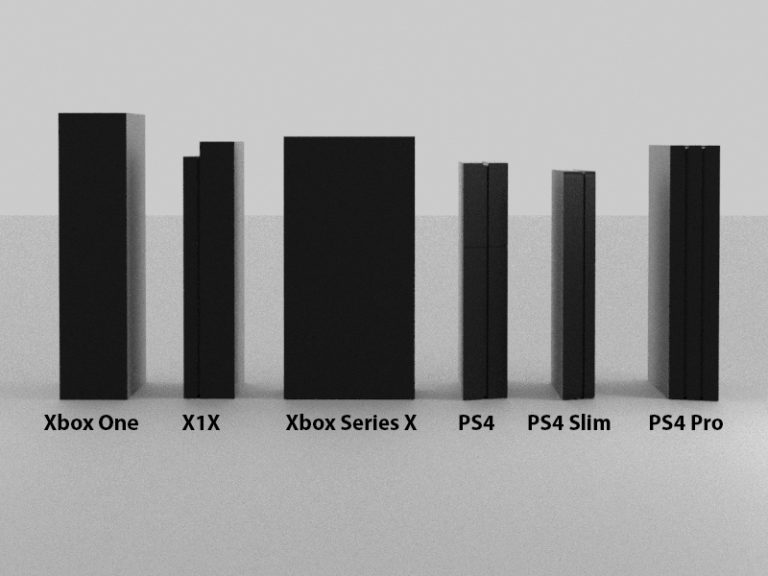 Xbox Series X Size And Dimensions
Using stills from Microsoft's official announcement a team of  mathematicians have been able to determine the size and dimensions of the Xbox Series X:
Height: 31cm
Width: 16cm
Depth: 16cm
These dimensions mean that the new console would be almost twice the volume of the Xbox One X with a whopping 7936 cubic centimetres compared to a poultry 4320. All of the new hardware and cooling has to go somewhere!
Despite being large in volume, the Series X is still more than manageable for most gamer's desks. Especially so given that the console can be used both in a verticle orientation and horizontal one. Clearly Microsoft designed it with performance front and centre, as they should do!
Xbox Series X Release Games
There are 8 games known to be released alongside the Xbox series X. Below is a  breakdown of all the Xbox Series X Release Games:
Halo Infinite
When will Halo Infinite Be Released?: Holiday 2020
The Halo franchise was once synonymous with the Xbox. Once one of the few AAA exclusives, it is now fallen down the pecking order in gamers' minds but Halo Infinite is looking to change things. The iconic shooter has been hyped up and will be one of the games used to demonstrate what the Series X is capable of. Halo Infinite is built on the new gaming engine "Slipspace" and the cinematic trailer looks great!
Halo Infinite is a new arch in the Halo story and will transport players into new worlds. Chris Lee, of Halo Infinite, has said that Halo Infinite will "mark the beginning of a new chapter and challenge for the Chief, but it will also respect and continue threads that led to this point."
Rainbow Six Quarantine
When will Rainbow Six Quarantine Be Released?: Holiday 2020
Rainbow Siz Siege was a well-received game still with an active player base. Rainbow Six Quarantine looks to continue this success with a bold foray into next-generation gaming. In Quarantine, you will face off against new foe of alien origin. That's right mutated alien parasites that have infected the human race. With co-op gaming as the central game mode, there's sure to be a lot of fun online and with your buddies!
Dying Light 2
When will Dying Light 2 Be Released?: Holiday 2020
Dying Light 2 is set 15 years after the first instalment and looks to continue the intense zombie action we all loved. In these 15 years, the world has become more degenerate and Techland have described it as the 'new Dark Ages'. With resources becoming scarcer not only have the Zombies become more intense, so have the human foe. With the Series X capable of so much more, we can't wait to jump in and explore the apocalyptic open world.
Gods & Monsters
When will Gods & Monsters Be Released?: TBC 2020
From the makers of Assasins Creed OIddessey, we're very excited about what they have in store for us with this. Described as a "storybook adventure" we can't wait to see more about this colourful and vibrant looking game. With a focus on myth and legends, something the makers of Assasins Creed are very knowledgeable of, the story is set to be incredibly immersive. You'll fight Medusa and other Greek beings as you continue on your journey to smite Typhon, the most powerful creature from Greek mythology!
Senua's Saga: Hellblade 2
When will Senua's Saga: Hellblade 2 be released?: TBC 2020
Announced alongside the Series X, this unexpected sequel looks as gloomy at atmospheric as one would expect from a Hellblade sequel. Although not much is given away from a story perspective,m the trailer clearly shows what the Series X is capable of. The lighting looks phenomenal and the character animation smooth as butter. What should we expect for our heroine, another horrific journey is what!
Watch Dogs Legion
When will Watch Dogs Legion be released?: TBC 2020
Set in a future dystopian London with killer drones, riots and people locked up en-masse as a result. This grim future setting is perfect for the hacking gameplay beloved by many Watch Dog fans. Instead of acting as a single person, you now have the option to control a team of hackers. Each member selected by yourself to form a hacking supergroup capable of forming a resistance against Dedsec!
Starfield
When will Starfield be released?: TBC 2020
Skyrim has been memed into oblivion (excuse the pun) at this point! Finally, Bethesda has put their creative hats on again for the first time in a decade and created a brand new IP! Starfield is under a lot of pressure to deliver here and frankly it looks like it will.  Moving away from fantasy and into the realms of sci-fi, Bethesda has a lot of flexibility with their storytelling. It looks like an RPG, so if it's Skyrim in Space, we're onto a winner!
Rumoured Xbox Series X Games
Based on those in the know and through some pretty simple logic we should also expect rumoured Xbox Series X Games:
Elder Scrolls 6
Elden Ring
Battlefield 6
Cyberpunk 2077
Does The Xbox Series X Support Backwards Compatibility?
Yes, the Xbox Series X is confirmed to support all Xbox One, Xbox 360 and the original Xbox titles from release day. Head of Xbox Phil Spencer confirmed this in an interview with GameSpot Phil said the following:
"We wanted to make sure we had that, day one, we could deliver on the compatibility promise, and so I've been playing quite a few [Xbox 360] games on my [Xbox Series X] and Xbox One games on the [Xbox Series X] and that's just to ensure that we can be there day one."
Given that games come with a hefty price tag and have done for some time this is great news for consumers. It's also a smart ploy from Microsoft for a marketing standpoint as this is often one of the most asked questions and biggest barriers to purchasing a next-generation console.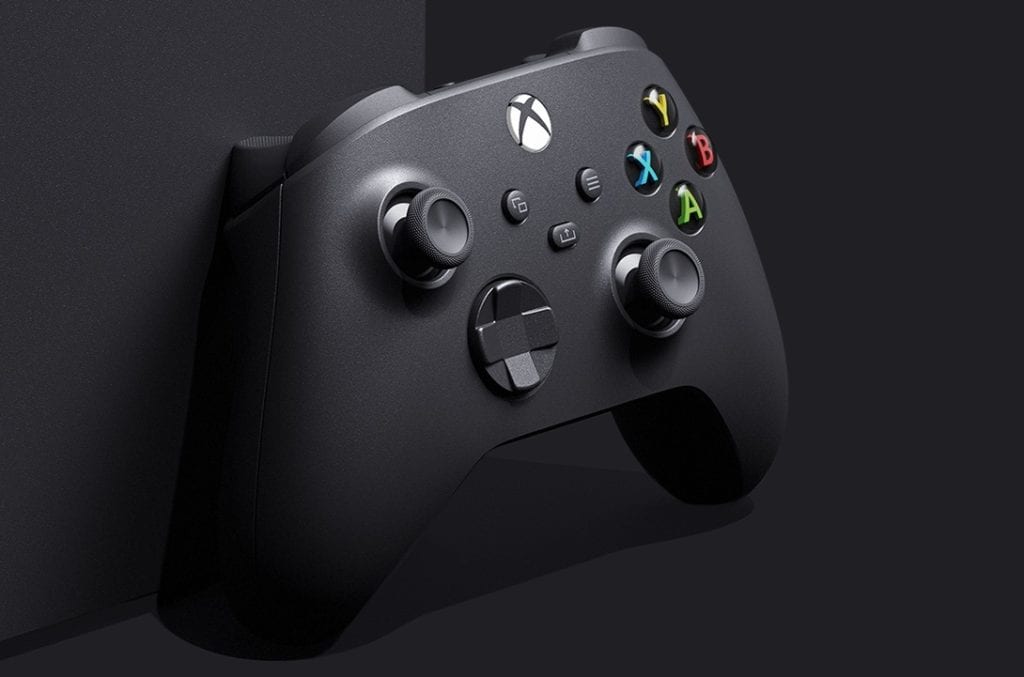 The New Xbox Series X Controller
We're huge fans of the current Xbox controller and many people share our opinion. So, how does the Xbox Series X controller compare, what's changed and what's stayed the same?
Without a hands-on impression, it's tough to do a like for like comparison, but we have been given a fair bit of info so far. The new controller is smaller and should be more comfortable for a greater number of people. This seems is only a very slight reduction in size and seems like a reasonable idea to us. Another smart idea is adding a 'share button'.
Sharing content has become the foundation of modern gaming and including a dedicated button seems like a no brainer. Microsoft has been investing heavily on to their streaming platform Mixer recently, so this could be part of a larger play to get more eyeballs onto their platform. Time will tell
The only other 'major change' is an upgrade to the d-pad. The d-pad from the previous version of the controller has been replaced by a new 'hybrid' d-pad. The d-pad on the new Xbox Series X controller is very similar to that of the Xbox Elite 2 controller and is undoubtedly an upgrade.
"We think we have a good controller in the market today, so we didn't really feel like we needed to go back to square one to build [a new controller]. But there were certain things that we've learned through doing the Elite controller and just listening to fans," Spencer said. "One of them is on the d-pad. We have a new hybrid d-pad that we've been working and think is important."
Can You Pre-order The Xbox Series X?
No, not at the moment. If you  would like to purchase the new Xbox then you simply just have to wait until "Holiday 2020". With no definite details on exactly when you can pre-order the Xbox Series X either, you'll have to stay tuned.
Sony's PS5 is confirmed to be released in November 2020, so it is incredibly likely that Microsoft will be shortly before or after with pre-purchase a month or two before.
This estimate also aligns with the release date of the previous two Xboxes, both released on November 22nd.
What Will The Xbox Series X Cost?
There is no official announcement from Microsoft on pricing but we are expecting the Xbox Series X to cost $499 USD. This translates to approximately $700 AUD and £380.
The pricing is a little on the lower side than some would say, but based on the more subscription-based business model of modern gaming this could be spot on. With Microsoft and Sony both charging month / annual subscriptions for online gaming access and for access to a digital library, the profit could come over time rather than upfront.
When you look at the specs of the system, this is an impressive price point. Gamers should rejoice that the days of overpriced console launches are a thing of the past.
Will The Xbox Series X Support VR?
VR gaming will inevitably become a large part of mainstream gaming, but will the Xbox series X support it? Well according to a recently discovered Microsoft patent relating to VR, potentially yes!
With Sony already quite entrenched into the VR world with PlayStation VR and consumers' appetite for VR growing it would be wise of Xbox to enter the space more seriously.