ⓘ We are reader-supported and may earn a small commission at no additional cost to you if a purchase is made through one of our links.
Kettles are without a doubt one of the essential kitchen appliances that everyone ought to have. If you already own one, then you must be aware of how much you use it. Other than making tea and coffee, they'll allow you to boil water for a range of applications. Plus, the advancement in technology has made kettles more efficient than they were before.
Nowadays, kettles have additional features that will make your work easier. Electrical kettles, in particular, are very popular and can be found in virtually all households. Most of these appliances feature variable temperature settings, which will give you full control over the heating process. As such, you can brew whatever recipes of tea and coffee that you want.
TL;DR: The #1 Kettle for Most People 👇
Our review list mainly consists of electric kettles, but we've also included one non-electric model, in case you prefer using a stovetop or an induction cooker. The kettles that we have hand-picked for you are not only of high quality but also reliable.
The Best Kettles to Buy Today in Australia
1. Best Kettle for Coffee: Jocuu Gooseneck Electric Kettle
No products found.
We chose the as our top pick because of its advanced features, ease of use, and quick heating function. This unit is made of premium grade 304 stainless steel to keep rust at bay. Additionally, it is sturdily built to give users long-lasting service.
When it comes to the functions, the Jocuu Gooseneck Electric Kettle sports a variable temperature system that enables you to adjust the temperature from 45℃ to 100℃.
Plus, it allows for 1℃ temperature increments, thus making it ideal for brewing speciality tea recipes and coffee that require precision heating. And because it is cordless, you can carry the main kettle to and from the serving point without worrying about tripping on the power cord.
All you have to do is place the corded base in a low traffic area in your kitchen and you will be good to go. More on the base, it houses the control panel, so you can make all changes from there.
This electric kettle has a user-friendly design and can assist you greatly when boiling water. It even has a digital display that will let you know the temperature setting that is currently in use.
What's more, it can display the temperature readings both in degrees Celsius (℃) and degrees Fahrenheit (°F). You can change the unit of measurement by long-pressing the temperature button for 3 seconds.
The high performance 1,200-watt heating element on this kettle can heat 0.8 litres of water to boiling point in about 3 minutes. As such, it will allow you to whip up your favourite cup of tea and coffee without wasting any time.
But that is not all; this kettle boils water quietly, so it won't disturb your peace. This makes it a suitable option for the office environment.
There is a keep-warm function that will maintain the temperature of the water at an ideal level for up to 2 hours. This means you won't have to reheat the water every now and then in the first 120 minutes after boiling it. If you prefer gooseneck kettles, the Jocuu Gooseneck Electric Kettle is worth checking out.
---
2. Best for Most People: Russell Hobbs RHK510 Addison Kettle
The Russell Hobbs RHK510 Addison Kettle has the same features as the Jocuu Gooseneck Electric Kettle, but they differ in terms of design. Also, the RHK510 has a larger capacity.
This electric kettle can be a great addition to every kitchen, thanks to its long list of features. First off, it offers 5 temperature options that will allow you to boil water to the desired level. It also has large capacity and that is one of the reasons why most people prefer it over other models in our list.
It does not matter whether you are brewing oolong tea, green tea, coffee, black tea, or white tea, the Russell Hobbs RHK510 will provide you with the most appropriate temperature for each recipe.
On top of that, the boil-dry protection feature will automatically shutoff of the heating element if the water level drops below the minimum mark. This not only prolongs the lifespan of the heating element but also prevents accidents.
With a capacity of 1.7 litres, you can brew enough water for multiple servings. The water gauge will guide you when topping up the kettle, thereby preventing overfill.
In addition to this, the base has a 360° swivel design, meaning you can place the main kettle onto the base from any direction. The keep-warm function prevents boiled water from cooling down rapidly.
If you've used an electric kettle before, then you must be familiar with limescale. Well, this kettle comes with an anti-scale filter to limit the build-up of limescale inside the boiling chamber.
The filter is removable, allowing for fast and hassle-free cleaning. Since the buttons are LED-illuminated, you won't have a difficult time using this kettle in low light environments.
The body and the base of this kettle are built from stainless steel while the handle is made of a heat resistant material for user safety. Attached to the kettle is a push-button lid that allows for quick fill-ups.
Besides, Russel Hobbs is rated by Canstar Blue as the best kettle brand in Australia, giving you even more reason as to why you should try out the RHK510. However, some users find the kettle rather noisy.
---
3. Best Classic Style Kettle: De'Longhi Icona Capitals Electric Kettle
If you are looking for a kettle with a classic retro style design, the De'Longhi Icona Capitals Electric Kettle may just be the perfect appliance for you.
Because the manufacturer cares about your safety, this kettle features a multi-level protection system, so you can operate it without any worries. The thermal cut-off feature will automatically disable the heating element when the kettle runs out of water.
Additionally, the auto-shutoff function allows the kettle to power down itself once the water reaches its boiling point or when the kettle is detached from the base.
The heating element is rated at 2,000 watts and can help you boil 1.7 litres of water in just a few minutes. For your convenience, the kettle has a water gauge that will allow you to check the amount of water that is left. The base is removable and will provide you with a frustration-free user experience.
To add to this, the included filter will keep the kettle in top-class condition for an extended period. The wide spout will give you maximum control when pouring the water into cups.
And since it comes in a wide range of colours, you have the option of choosing the kettle that matches your décor style. The handle is ergonomically designed for optimum user comfort. Plus, the kettle is exceptionally lightweight, so you can lift it with ease.
This kettle is sturdily built to ensure you get an appliance that is not only efficient but also durable. Furthermore, it is stylishly designed to give your kitchen an aesthetic appearance.
The lid closes tightly, so the kettle won't lose heat as the water boils. Consequently, the kettle will boil the water while consuming minimal power.
The non-slip base ensures the kettle stays in place when it is in use. It also has an on-board cord storage unit that will keep your countertop clutter-free.
This unit won't take up a lot of space on your worktop, so it can be an ideal choice for those who have small kitchens. The downside: It does not have an adjustable temperature system. More to this, the kettle is not as advanced compared to the first two units on the list.
---
4. Best Glass Kettle: Russell Hobbs Brooklyn Glass Kettle
The Russell Hobbs Brooklyn Glass Kettle is unlike any kettle on our review list in that it is made of glass. This does not, however, mean that it is not durable.
It will serve you extensively provided that you give it proper care. Like most electric kettles on our list, this unit features a cord-free design, so it won't limit you when brewing your favourite cuppa.
It has a simple push-button lid that allows users to fill up the unit within the shortest time possible. Moreover, the button is strategically placed on the handle to give you direct access.
This feature will allow you to operate the kettle with just one hand. The fact that the lid is hinged makes it even more convenient since you are less likely to lose it. This glass kettle is generously sized and can hold up to 1.7 litres of water in each session.
It is calibrated so that you can boil just the right amount of water for your needs. The material from which the handle is made offers high heat resistance, so you won't have to worry about it burning your hands.
This equipment comes with a nicely designed base that will provide you with a slip-free performance. The kettle fits flush onto the base and also has a well-shaped pouring spout that enables users to transfer the contents while avoiding spillage.
Featuring an internal LED illumination system, this kettle can be a beautiful addition to your kitchen worktop. It is BPA-free, so it won't contaminate your water.
The contact points on the base are designed in such a way that you can place the kettle in different positions. It also allows for easy removal, making it easy to lift the main kettle.
---
5. Best Stovetop Kettle: Easyworkz Whistling Stovetop 3L Tea
If you are a fan of stovetop kettles, the Easyworkz Whistling Stovetop 3L Tea Kettle is one of the best options that you can consider purchasing.
It may not be as efficient or as advanced as the electric models, but it is reliable. This non-electric kettle is made of heavy gauge stainless steel for durability purposes, so rest assured it will last.
It has a wide mouth, so you won't experience any problem when cleaning the kettle. This feature also makes it easy to refill. Both the interior and exterior surfaces offer excellent corrosion resistance.
The kettle won't rust and neither will it discolour as long as you clean it regularly. With an impressive capacity of 3 litres, this is the largest kettle on our list.
Easyworkz's whistling kettle is exceptionally versatile and can work with virtually all types of hobs. You can place it on electric, gas, induction, and ceramic cooktops.
The push-fit lid creates an airtight seal, so the heat won't escape, allowing for fast and efficient heating. This unit boasts a uniquely designed handle that will provide you with maximum comfort.
The dripless spout features an easy to use pouring mechanism that you can easily control using the button on the handle. It has a max-fill line, which guides users when adding water into the boiling chamber. The whistling nozzle will let you know when the water has been boiled.
To increase its efficiency, the base is multi-layered for increased heat transfer. Nonetheless, some people may find the whistling nozzle annoying.
---
6. Best Budget Kettle: Kambrook Pour with Ease 
The Kambrook Pour with Ease Electric Kettles is an Australian made unit and is also the best budget appliance on our review list.
It has advanced features that you can count on in all scenarios. The most outstanding feature of this kettle is the dual water gauge design, which allows you to check the water level from either side.
It has the same capacity as most high-end models and will provide you with great value for your money. The base features a multi-directional swivel design, while the handle is fitted with a quick-release button that will help you open the lid with ease.
And like all the kettles that we have listed above, the Kambrook KKE280WHT is built from high-quality materials to prevent breakage.
This kettle has a small footprint and can fit on narrow countertops without giving you any problem. The spout is not only wide but is also uniquely shaped such that you can pour the hot water without spilling it all over the place.
With this kettle, you can boil 1.7 litres of water in less than 5 minutes, which is great since it can outperform some expensive electric kettles on the market. The kettle comes in white and can blend well with most kitchen appliances.
Also, it is beautifully crafted, so you can place it just about anywhere in your kitchen. The power indicator will let you know whether the kettle is plugged in or not. In terms of user safety, the heating element is embedded within the housing to prevent possible injuries.
Best of all; the stay-cool handle will fit nicely in the palm of your hand, so the kettle won't slip from your grasp.
To get maximum results, ensure that you clean the anti-scale filter on a regular basis as this prevents the build-up of contaminants. The main drawback of this electric kettle is that it only has one temperature setting.
---
How We Researched the Best Kettles
We picked 6 of the best kettles we could find in the Australian market and tested them for boiling efficiency and ease of use over a two-month period. That being said, we started by checking how long each kettle takes to boil water.
Our team of testers filled each kettle with 1 litre of distilled water and set the units to boil. We applied the maximum temperature setting for kettles with adjustable heat levels. Using a timer, we noted how long each test model took to heat the water to boiling point.
However, the Easyworkz Whistling Stovetop 3L Tea Kettle was not subjected to the just mentioned test since it is not an electric model.
All the electric kettles that we tested performed almost the same, bringing the water to boil at an average time of 3 minutes. We also checked the kettles for any sign of spillage as the water was boiling.
As earlier stated, we excluded the Easyworkz's stovetop kettle from the boiling efficiency test. Instead, we tested it for ease of cleaning and overall user safety. When assessing ease of use, we noted how easy it was to set up the kettles, adjust the temperature, and close/open the lid.
Also, we checked for any additional features that may put one model a step ahead of the rest. Once we were done, our review team compiled all the data that we had gathered and ranked the kettles according to how they perform.
Kettles: Buying Guide
As earlier mentioned, shopping for a kettle can be challenging since there is a plethora of options on the market. And even though they perform similar functions, each kettle is unique in its own way. That being said, some models are easier to use, more efficient, and more durable than others.
What this means is that you shouldn't buy the first kettle that comes your way. If you are looking to get value for your money, you need to consider a number of factors before making the final decision. Since we care about your needs, we have done all the research work to ensure that you find all the info that you may need.
Types of Kettles
Before you buy a kettle, you need to know the different types that are there. Kettles are often classified based on the power source. Here are the common types of kettles that you can consider adding to your appliance collection:
Electric Kettles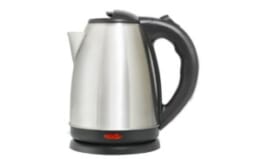 Electric kettles are quite popular, and they are for a good reason. For starters, they are energy efficient, safe for users, and super-efficient. A good number of electric kettles allow for precise temperature control, so you'll be able to adjust the heat according to your requirements.
In addition to this, most electric kettles have an auto-shutoff function that will down the heating element once the water has been boiled to the desired temperature. This will prevent spillage as the water bubbles. There are two main types of electric kettles—cordless electric kettles and corded electric kettles.
The former comes with a corded base on which you can attach the kettle, while the latter has a power cord that is directly attached to the kettle. Cordless models are more convenient than their corded counterparts. This is mainly because they won't restrict your movements after you are done boiling your water. You can even carry them to the table when brewing beverages. And that is why most of the electric kettles on our list are cordless.
Stovetop Kettles
Stovetop kettles, commonly known as non-electric kettles, are not as advanced as the electric models. They don't have any exciting features but can still get the job done. To use these kettles, you need to place them atop an induction cooker or a stovetop.
However, stovetop kettles are not energy efficient since you have to heat them for a longer time to raise the temperature of the water to the preferred level. The Easyworkz Whistling Stovetop 3L Tea Kettle is one of the best non-electric kettles that you can buy in Australia.
What to Consider When Buying a Kettle
Capacity
Kettles come in different sizes, so you need to consider the maximum amount of water that your kettle can hold. Most kettles on the market have a capacity of 1-2 litres. Nonetheless, some models can hold more water, so ensure that you choose a kettle that fits your needs.
Spout design
This is a feature that is often overlooked by most people, but it is very important. You should go for a kettle with a well-designed spout to avoid spillage when pouring the water. The has one of the best spouts on our review list since it gives you control as you pour the hot water.
The other models have wide spouts that will help you keep your worktop mess-free.
Boiling speed
Boiling speed is also another factor that you should consider, especially when shopping for an electric kettle. Most electric kettles can boil a litre of water in 2 to 5 minutes depending on the wattage rating of the heating element. Stovetop kettles, on the other hand, may take 4 to 10 minutes.
Energy efficiency
Some kettles consume more energy and are likely to increase your electricity bill. As highlighted earlier, electric kettles are more energy-efficient than stovetop kettles.
However, energy efficiency in electric kettles varies from one kettle to another. A study conducted by Canstar Blue—one of the most trusted product comparison sites in Australia, shows how electric kettles with different wattage ratings use up electricity and the cost that you are likely to incur based on the type of kettle that you are using and the operation time.
Lid design
The lid plays an essential role in a kettle because it prevents spillage as the water boils. To avoid complications, you should only buy kettles with tight-fitting lids. Kettles with hinged lids are highly preferred by most people since the lid is less likely to get lost.
Material 
You can go for a kettle that is made of stainless steel, glass, or plastic. These materials vary in terms of durability, with stainless steel taking the lead. Plastic kettles are more affordable, but they can alter the taste of your water if you don't clean them properly.
Glass kettles are known for their stylish design and can be a great addition to most kitchens. On the downside, they are likely to discolour when exposed to impurities such as calcium carbonate (CaCO3). Nonetheless, you can always descale your glass kettle using a mixture of water and vinegar. If you are in search of a glass kettle, the Russell Hobbs Brooklyn Glass Kettle can be a great choice.
Features to Look for When Buying Kettles
Water gauge
A good kettle should have an easy-to-read water gauge. This will allow you to fill up the unit to the correct level, thereby preventing spillage. Some models have a max-fill line that will guide you when topping up the kettle.
Variable temperature control
If you are going for an electric kettle, you should check if the unit in question has an adjustable temperature system. With this, you can fine-tune the heating element according to your needs. Electric kettles like the Russell Hobbs RHK510 Addison Kettle has up to five temperature settings that you can use when boiling water.
360-degree base
Most cordless electric kettles feature a 360-degree swivel base, which allows the kettle to boil water regardless of the position that you place it in. This means you can lift the kettle from the base and put it back without worrying about anything.
Quiet boil
Kettles with this feature won't make as much noise during usage. They can dampen the bubbling sound made by the water as it boils. This feature is mostly found in advanced electric kettles.
Stay-cool body and handle
For your safety, ensure that you buy a well-insulated kettle to avoid burning your hands when handling the unit. All the kettles on our list have this feature, making them safe for users.
Boil-dry protection
This is yet another important safety feature that you should look for when purchasing an electric kettle. What it does is that it automatically powers down the kettle when the water level falls below the recommended minimum limit.
That way, the kettle won't boil dry, thus preventing possible electrical mishaps. The only way that you can override this feature is by filling up the kettle to the required level.
Anti-scale filter
Some kettles are fitted with filters to prevent the build-up of limescale. It is recommended that you buy a kettle with a removable filter because they are easier to clean. Both electric and non-electric kettles can be fitted with filters, so it will all depend on the brand that you go for.
---
You may also be interested in:
Last update on 2023-11-30 / Affiliate links / Images from Amazon Product Advertising API