ⓘ We are reader-supported and may earn a small commission at no additional cost to you if a purchase is made through one of our links.
Food waste has become a global concern. Australian households throw away around one in five bags of groceries, equal to around 312kg per person. If these food scraps make it to landfills, they can have a devastating effect on the environment. This is primarily because the decomposition of organic matter leads to the emission of methane — one of the greenhouse gases responsible for global warming.
By using a kitchen composter bin, you can safely compost food scraps without using specialized equipment. The best kitchen compost bins can upcycle compostable materials while keeping your kitchen odour-free. These units are very easy to work with, so just about anyone can use them. More importantly, kitchen composters will help you keep your kitchen clean and tidy.
TL;DR: The #1 Kitchen Composter for Most People 👇
Stylish Farmhouse Kitchen Compost Bin
If you're looking for a kitchen compost bin that looks great, removes odours, and helps improve your kitchen workflow – then look no further!
The Stylish Farmhouse Kitchen Compost Bin is simple, effective, and offers great value for money! 🙌
Choosing a kitchen composter is, however, not easy because there are countless options to choose from. Also, each brand has a way of making its kitchen composters, so it would be wise to only go for the best. For this reason, we have compiled a list of the top-rated kitchen composters that you can find in the Australian market.
Product Name
Best Overall Kitchen Compost Bin: Chef'n 85400 EcoCrock Compost Bin
Best for Most People: Stylish Farmhouse Kitchen Compost Bin
Best Compost Bin for Kitchen Counter: Kilner Kitchen Composter 2 Litre
Best Value Kitchen Compost Bin: Compi Kitchen Compost Bin with Lid
Best Stainless Steel Compost Bin: Zenify Earth Stainless Steel Compost Bin
Best Kitchen Compost Bin with Odour Filter: Joseph Joseph Stack 4 Food Waste Caddy
Product Name
Best Overall Kitchen Compost Bin: Chef'n 85400 EcoCrock Compost Bin
Product Name
Best for Most People: Stylish Farmhouse Kitchen Compost Bin
Product Name
Best Compost Bin for Kitchen Counter: Kilner Kitchen Composter 2 Litre
Product Name
Best Value Kitchen Compost Bin: Compi Kitchen Compost Bin with Lid
Product Name
Best Stainless Steel Compost Bin: Zenify Earth Stainless Steel Compost Bin
Product Name
Best Kitchen Compost Bin with Odour Filter: Joseph Joseph Stack 4 Food Waste Caddy
The Best Kitchen Compost Bins to Buy Today in Australia
1. Best Overall Kitchen Compost Bin: Chef'n 85400 EcoCrock Compost Bin
Price reduction
Our top pick for the best kitchen compost bin is the Chef'n 85400 EcoCrock Compost Bin due to its user-friendly design. It is sleek, stylish, and can be an excellent addition to most kitchens. The most outstanding feature of this kitchen compost bin is that it comes with a removable inner bucket that allows for easy emptying once the unit is full.
It has a capacity of 3 litres, making it ideal for small households. This compost bin won't take up a lot of space on your kitchen countertop, thanks to its space-saving design. And unlike most kitchen composters that are either made of stainless steel or plastic, the Chef'n 85400 is built from premium quality ceramic. This makes it very easy to clean since you can do away with the gunk by giving the bucket a quick rinse.
Furthermore, you won't have to clean the ceramic shell as often because the inner bucket is designed in such a way that the contents cannot spill. This is facilitated by the well-designed rim, which seals the space between the plastic bucket and the ceramic shell. Also, the inner bucket has a handle that will provide you with a frustration-free experience when emptying the compost bin.
The handle tucks away neatly when it is not in use and won't prevent the lid from closing. About the lid, it has multiple vent holes to allow for free circulation of air. However, the Chef'n 85400 EcoCrock Compost Bin does not emit bad odours because the lid has a slot in which you can insert charcoal filters. To make it even more convenient, the interior bucket is somewhat conical and also has an oval opening.
This feature can easily be overlooked, but it is very important since it allows the food scraps to slide out effortlessly as you empty the bucket. Attached to the lid is a uniquely designed handle that resembles a sprouting shoot, thus giving you a rough idea of what this kitchen composter is all about. The one major flaw of this otherwise well-designed kitchen composter bin is that the ceramic shell can break if it is dropped.
---
2. Best for Most People: Stylish Farmhouse Kitchen Compost Bin
Why we like it:
Large capacity
Durably built
Rust resistant
What customers say:
"Love this compost bin. It's not too big for the countertop, comes with extra filters, looks great and holds quite a bit. Perfect for our kitchen compost. We are a family of 6 and only have to dump this once every 2-3 days." –ajscarlati
We highly recommend the Stylish Farmhouse Kitchen Compost Bin for large households that produce huge amounts of food scraps. This composter is designed with your composting needs in mind, meaning you won't experience any difficulty when filling or emptying the contents.
Besides, it is one of the largest kitchen composters on the list, with a capacity of 5 litres. This means it does not require frequent emptying. Nonetheless, this may vary depending on the amount of waste that is produced in your household per day. This kitchen compost bin is made of high-quality steel and also features a rust-proof coating for maximum durability.
The inner surface won't absorb odours, and neither will it discolour with time. This unit is fitted with a handle for easy portability. With this feature in place, you can comfortably carry this compost bin to your outdoor composter without worrying about it slipping. The Stylish Farmhouse Kitchen Compost Bin is 29.2 centimetres in height and has a diameter of 18 centimetres. And as the name suggests, this kitchen composter is quite stylish and equally beautiful to look at.
With that being said, it won't lower the aesthetic value of your kitchen. The lid is not only vented but also has a charcoal filter that eliminates strong odours. This compost bin comes with one charcoal filter out of the box, so you can put it to use immediately. You will also get two replacement filters as a bonus. According to the manufacturer, each filter can serve you for about 3 to 4 months without needing replacement.
Since it does not produce odours during the composting process, you won't have to worry about houseflies and fruit flies. Furthermore, it can hold food scraps for days without attracting ants and other bugs. Like the Chef'n 85400, this kitchen composter sits neatly on countertops and is a suitable option for all modern kitchens. On the downside, it does not have an interior bucket like the composter just before it.
---
3. Best Compost Bin for Kitchen Counter: Kilner Kitchen Composter 2 Litre
Next up is the Kilner Kitchen Composter 2 Litre.Its design is somewhat similar to that of Farmhouse Kitchen Compost Bin, but the only difference is that this unit is smaller and has no coating. Nevertheless, that does not mean that it will rust over time. The stainless steel material from which it is built offers excellent rust resistance in all conditions.
With a waste holding capacity of 2 litres, this kitchen composter is ideal for small households. This is the smallest compost bin on our list, so only go for it if you don't mind taking out the compost from time to time. The lid is vented in a circular pattern to maximize airflow, while the carbon filters ensure the smell of the composting organic waste is contained inside the bin.
More on the lid, it lifts off fully, meaning it won't get in your way when emptying this compost bin. In addition to this, it has a smooth finish, thus making it easy to clean. The stainless steel handle is attached to both sides of the bin to provide you with the balance that you need when emptying the compost. Sitting atop the lid is a well-designed knob that will give you quick access when you want to chuck in the food scraps.
The brushed stainless steel finish can go well with a wide range of kitchen components. Its classic look will make your countertop more stylish. The lid delivers a tight seal and won't come loose easily. This kitchen composter comes at an affordable price and can be a great choice for those on a tight budget. However, it does not have liners, so you will have to buy them separately.
You can as well use this compost bin without bag liners, but the only problem is that the contents will get smeared onto the interior surface. As stated earlier, you can rinse off everything with ease. Simply use soapy water for effective slime removal. It is important to keep in mind that this is a handwash only kitchen composter.
---
4. Best Value Kitchen Compost Bin: Compi Kitchen Compost Bin with Lid
The Compi Kitchen Compost Bin with Lid is unlike most kitchen compost bins in the market in that it is made of bamboo fibre. As such, it is both durable and lightweight. Best of all, it has a slim design, so you can place it on your countertop and still have enough space for other kitchen appliances. It is measures 29.5cm x 17cm x 18.5cm (L x W x H) and can hold 5 litres of food scraps.
Also, the opening will help you avoid spillage, especially when scraping leftovers from a chopping board or plate. Plus, it can accommodate standard compostable bag liners. If you like, you can directly place the food scraps inside the compost bin without using a bag liner. The removable collar can particularly come in handy when you are using bin liners.
It not only keeps the bin liner in place but also hides it. Both the left and right side of the collar is ridged to prevent slippage. The flip-up lid allows for one-hand operation, so you can chuck in the leftovers as you go about other duties in the kitchen. In as much as the lid is easy to flip open, it shuts firmly. When you buy this compost bin, you will get five carbon filters that will help you keep your kitchen odour-free. The filters are easy to attach and detach, meaning you can swap the old filter with a new one in seconds.
Moreover, this unit is available in two different colours, so you can go for this option (white) or the black compost bin. But that is not all; the bamboo composite used in making this kitchen composter won't leach chemicals into your compost. The exterior of this kitchen composter is textured while the inner surface is ultra-smooth. This means the food scraps won't stick, making it super easy to clean.
To add to this, the bin is moulded from a single-piece composite material, meaning it does not have any slots through which the food can leak. The stainless steel handle is firmly attached to the body, so don't expect it to come off when lifting the compost bin. If you are new to composting, this is one of the reliable kitchen composters that is worth giving a try.
---
5. Best Stainless Steel Compost Bin: Zenify Earth Stainless Steel Compost Bin
Price reduction
Why we like it:
Made with tough and durable 304 stainless steel
Comes with charcoal filters that reduce odours
Lid is designed to prevent garbage from sweating
With convenient handle for easy disposal of compost
What customers say:
"I like this one better than the cheaper Aldi ones because it's easier to clean and has less grooves for stuff to stick to. I buy the liners too but they tear very easily. I also buy extra filters and they work well…"– Lucy Holmes
Reducing your carbon footprint can be easily done with the help of the Zenify Earth Stainless Steel Compost Bin. This bin encourages users to compost and reuse organic substances, turning them into great food for their plants.
Why is this bin a great choice when you want to start composting? For starters, it's made with non-tarnishing and rust-resistant stainless steel. This removes the need for a plastic liner within since stainless steel doesn't react adversely to moisture and organic substances.
Another reason why this bin is a great tool to use when you're trying to compost food scraps and biodegradable materials is it's very handy. It's small enough to stand inconspicuously on your kitchen bench, making it accessible when you need it. This bin also has an easy to open and close lid.
Speaking of the lid, it has a unique design with breathing holes that allows for proper air circulation. This means you don't have to worry about your food scraps sweating inside and creating a congealed mess while you're filling the bin. Also, any odours that are produced by the trash within doesn't have a chance to stink up your kitchen. Since the lid also has a handy carbon filter in it, you can rest assured no funky smells can escape from inside.
And that's not all. Aside from all the aforementioned features, this compost bin is also easy to remove from your kitchen and to empty since it has a handle that lets you carry it to and from your kitchen with ease. Once you're done emptying the bin, you can simply wash it with warm soapy water and wipe it down before using again.
The carbon filters in this bin are also washable, so you don't need to worry about noxious odours accumulating on them. Since there are two of these with each bin, replace the one that needs washing and hand wash the used one with soapy water. Rinse and let dry before storing or reusing.
---
6. Best Compost Bin for Large Family: 9SHOME 9L Kitchen Compost Bin
Why we like it:
Can conveniently hang on the side of your kitchen bench via the cupboard door
Comes with an ingenious two-bucket design
Airtight lid keeps odours contained
Versatile enough to be used anywhere
What customers say:
"I love this bin. I have it just under my meal prep area, so I can sweep scraps and vegetable peel straight into the bin. The two-way opening lid is genius…"– Vesna
When you want to keep your kitchen spic and span even while you're still prepping lunch or dinner, the 9SHOME 9L Kitchen Compost Bin is a good bin to use. This compact garbage bin lets you keep things in order even while you're cutting, chopping, dicing, slicing, and doing your mice en place for your meals.
Ingeniously designed to hang from the side of your kitchen bench, you can easily scrape any debris and dirt from the countertop into the bin in one movement. And you don't have to drill holes or attach hooks anywhere just to attach this bin where you want it. Just use the built-in hook to mount it to your bench's cupboard door or stick it to the side of this same door with double sided adhesive. You can also use it as a free-standing bin on the countertop.
Measuring around 26x16x29.5cm, this bin is small enough to not be in your way when you work in the kitchen. It's also durable, made with high-grade plastic ABS that's non-toxic, odourless, and strong. It's designed for easy use with a sliding lid that's semi-automatic and airtight. This means you can easily dispose of your scraps and can rest assured that any odour that's produced doesn't seep out of the bin.
Also worth mentioning is the double bucket design that this hanging bin has. This design helps make disposing of accidental seepage easier since you simply have to remove the inner bucket to do this and not the entire device. The design also allows you to easily attach and detach trash bags within.
Another great thing about this trash bin is it can be used just about anywhere. It's compact enough to be used in your bathroom, office, bedroom, and even in your car. What's more, you can use it directly out of the box since there's no assembly needed.
---
7. Best Kitchen Compost Bin with Odour Filter: Joseph Joseph Stack 4 Food Waste Caddy 
If you are in search of a kitchen composter with a flip-up style lid, Joseph Joseph has got you covered. With a capacity of 4 litres, the Joseph Joseph Stack 4 Food Waste Caddy can be a great choice for those who are looking for a medium-sized kitchen composter. Furthermore, Joseph Joseph is a brand that is known for making some of the best composters, so you can buy this compost bin knowing that it will help you keep your kitchen clean and odour-free.
This kitchen compost bin is entirely made of polypropylene, while the handle is constructed from stainless steel. To get good results when using this unit, ensure that you place bin liners in the food compartment. This will ensure the bin stays clean after disposing of the composted food scraps. There is a hole inside the composter that will prevent the liner from sliding into the bin. The lid will keep the bag overhang out of sight, thus keeping your kitchen tidy.
The other thing that we liked about this kitchen compost bin is that it comes in a range of colours, so you can choose the unit that best matches your décor style. Besides, it has a wide opening to prevent the food scraps from spilling as you transfer them into the compost bin. This unit is rectangular and won't take up a lot of room on your kitchen countertop. The Joseph Joseph Stack 4 Food Waste Caddy only measures 23.5cm (L) x 19.7cm (W) x 16.1cm (H).
It is neatly designed to give your countertop a touch of style while keeping flies at bay. The carry handle on this compost bin is not as slender compared to the units before it. It is more comfortable to hold and is also less likely to slip from your hand while emptying the bin. The lid has protruded tip, which will allow you to flip it open using just one finger. Also, the ventilation system is designed such that insects cannot get inside the compost bin.
Lastly, the plastic material used in designing this unit is non-reactive, so you won't have to worry about it leaching chemicals. The only problem with this kitchen composter is that it requires you to use the custom fit carbon filters from Joseph Joseph, which can be costly. If you are on a fixed budget, you can buy carbon filters from a brand of your choosing, after which you can cut them to fit the slot on this composter. Nonetheless, if this is too much for you, you can go for the recommended odour filters.
---
8. An Excellent Choice: OXO Good Grips Easy-Clean Compost Bin
Price reduction
Why we like it:
Stay open lid
Sturdy carry handle
Effortless emptying
What customers say:
"It's just the right side and it blends in well with my graphite kitchen. I wanted to put my food recycle bin in a cupboard, however, this proved impractical, so a smart kitchen matching bin in full view was the answer!" –A. Mcleman
Despite its size, the OXO Good Grips Easy-Clean Compost Bin is a favourite among food scrap recycling enthusiasts because it has all the features that one may look for in a kitchen composter. The interior is extra smooth to prevent the food scraps from sticking. This compost bin weighs less than one kilogram, meaning you can carry it effortless even when it's full.
The flip-up lid is removable, so you can detach it when emptying or cleaning the bin. Plus, the attachment mechanism features a clip-on design for your convenience. To make it even better, the bottom is contoured for hassle-free emptying. This compost bin is designed to make everyday recycling easy. You can empty it daily or after a few days, depending on the quantity of food scraps produced in your household.
In addition to this, the OXO Good Grips Easy-Clean Compost Bin is made of high-quality plastic that will provide you with extended service. It won't absorb odours and neither will it discolour. You can rotate the plastic handle according to your needs. Another thing that is worth mentioning about the lid is that it can lock into position. This feature can prove helpful when scraping food waste from plates.
And since it has a small footprint, this composter won't cramp up the space available on your counter. The walls of this bin are rounded to make cleaning easy. As it is with most kitchen composters, you can rinse off this unit using soapy water, preferably warm. If you do this correctly, you will have yourself a sparkling clean compost bin that you can place virtually anywhere in your kitchen.
To sum it all up, the OXO Good Grips Easy-Clean Compost Bin has a user-friendly design and is equally efficient when it comes to holding food scraps. If the 2.83-litre compost bin is too small for your composting needs, you can go for the 6.62-litre bin. There are several colours that you can choose from based on your taste and preference. This particular model is grey, but you can also find the compost bin in white, white/grey, and charcoal.
---
9. Best Budget Kitchen Compost Bin: Typhoon Living Otto Compost Caddy
Why we like it:
Has a sophisticated looking, nostalgia-inducing design
Small enough to be used on your kitchen countertop
Lid comes with odour-absorbing carbon filter
Plastic liner within can be removed and cleaned
What customers say:
"It does the job well and it's quite pretty. Well built, good quality materials and very easy to clean. It comes with 2 filters; after half a year we're still on the first one; there's no smell or any sign of deterioration…"– Vesna
Looking for a fashionable yet effective compost bin for your kitchen? The Typhoon Living Otto Compost Caddy is what you need. With its matte black finish, cylindrical design, and brass-coloured tag, you get an elegant-looking bin you can proudly place anywhere.
As sophisticated as this bin may look, it still does the job it's made for admirably. It comes with enough space within to hold up to 2.5 litres of compostable trash. Made with colour coated alloy steel, it's also built to last.
Since you will be storing organic waste within its walls, the possibility of nasty odours developing is a given. With this bin however, you don't really have to worry about that. The lid on this caddy comes with a carbon filter that helps absorb any disgusting odours that may be produced inside. Also, the lid itself sits perfectly atop the bin, helping to prevent any smells from escaping and preventing any flies from finding their way in.
It also comes with a removable and reusable plastic bin with a handle within. This makes this compost caddy convenient to use since you can simply detach the plastic bin when your compost is ready to be moved. Such a design also allows you to easily wash and clean the bin without having to worry about getting the outer steel bin wet or scratched up.
One thing to remember when you're emptying and washing the inner bin is to dry it out properly before returning to its original position. While the outer bin is made with colour coated material, it's better to be safe rather than sorry when it comes to rust and tarnish prevention.
All-in-all, this bin is a great find since it not only works to effectively handle food scraps you're composting, but it's also great to look at. It gives your kitchen a touch of nostalgia while being useful at the same time.
---
How We Researched the Best Kitchen Compost Bins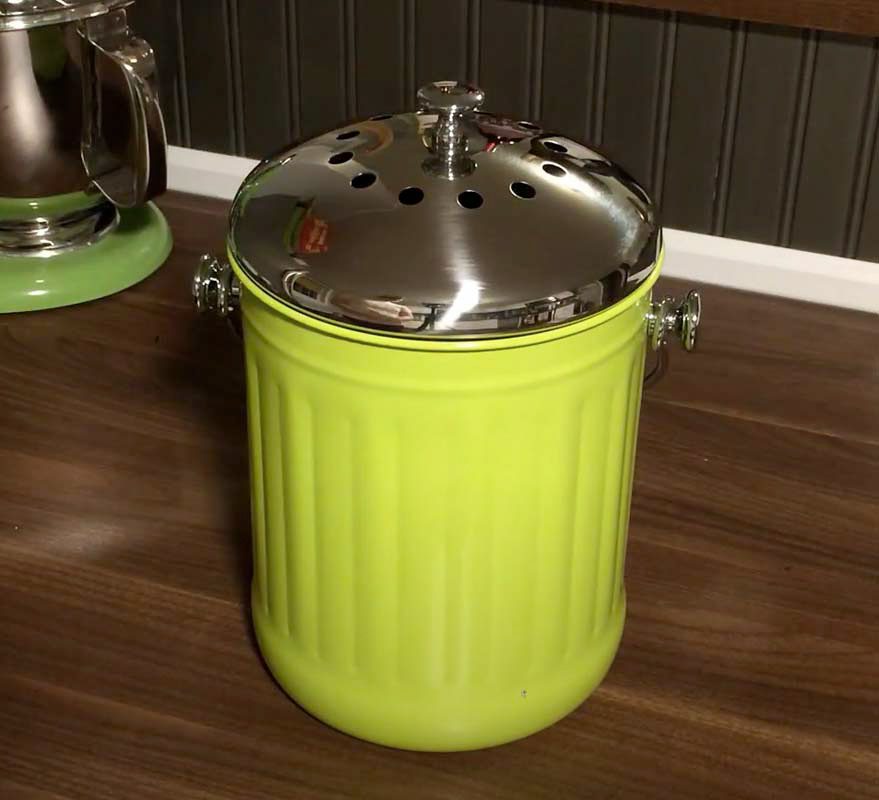 To find the best kitchen composters, we visited major e-commerce sites like Amazon and eBay. Additionally, we trawled through local online marketplaces such as MyDeal, Bunnings, and Everten. Our main goal was to find highly rated kitchen compost bins with good customer reviews. We found several products that met our criteria, but we only needed seven.
As such, we had to trim down the list, taking into consideration each product's size, material, price range, ease of cleaning, and lid design. In addition to this, we considered kitchen composters commonly recommended by professional gardeners. We had to do additional research to get a thorough understanding of how kitchen composters work and how certain features can affect their overall viability.
The selected products were placed side by side to ascertain which of the kitchen composters are better than others. Through this, we were able to eliminate most of the bins, leaving us with 9 of the best kitchen compost bins Australia has to offer. The kitchen composters that you are seeing on this list have been meticulously vetted, so you can choose any that suits your composting needs.
Kitchen Compost Bins: Buying Guide
The best kitchen composters come in different designs, capacities, and are also made from a variety of materials. When choosing a composting bin, ensure that you go for one that matches your needs and kitchen décor.
It does not matter whether your kitchen has a rustic, low profile, modern, or contemporary design, the composters that we have reviewed above can be an excellent pick. However, before you head out to buy a kitchen composter, you should familiarize yourself with the different types that are there.
Types of Kitchen Composters
Countertop compost bins
Countertop composters can store food scraps temporarily before they are dumped into an outdoor composter. These compost bins have a simple design and are very easy to use.
Additionally, they have specially designed lids that seal in the odours while keeping the flies away. All the compost bins listed above are countertop kitchen composters, so feel free to choose any that you like.
Bokashi composting bins
Bokashi composting systems are just as reliable as regular compost bins. This is a Japanese technique that employs anaerobic composting — where organic materials undergo decomposition in an environment with limited or no oxygen supply. Inoculated bran is often used as a catalyst during this process since it is packed with microbes.
Worm composters
These types of composters use worms to increase the speed of decomposition. When you buy this type of composting bin, you will have to acquire some worms to get the desired results.
Food recyclers
A food recycler is somewhat similar to countertop compost bins. However, food recyclers are powered by electricity and can break down food scraps in a matter of hours. This process is time-saving, but the resultant product does not contain as many nutrients compared to naturally produced compost.
As such, you may have to leave the recycled food scraps to ferment properly before using it as compost. The goal is to let the microbes do what they do best.
What to Consider When Buying a Kitchen Compost Bin
Capacity
This is one of the factors that should top your checklist when selecting kitchen composters. As you have seen from our review list, these units come in varying sizes. Large capacity kitchen composters may take a longer time to fill, while small bins tend to fill up quickly.
You should, therefore, choose a compost bin based on the amount of food scraps produced from your household. Most kitchen composters have a capacity of between 2 litres and 6 litres.
Material
You can buy plastic, stainless steel, or ceramic kitchen composters. The materials perform differently when it comes to durability. Plastic compost bins tend to be less expensive and are also lightweight.
Ceramic compost bins are efficient but they are likely to chip or break if they are dropped. Stainless steel kitchen compost bins, on the other hand, are highly resistant to rust. Each material has its pros and cons, so ensure that you pick the right kitchen composter for your needs.
Lid design
A good kitchen composter should have a vented lid that can allow air to circulate freely. The microbes breaking down the food scraps need oxygen to stay alive, so ensure this feature is not lacking in your composting bin.
To add to this, the lid should close tightly to prevent bugs from invading the compost bin.
Charcoal filter
A charcoal filter is essential in a kitchen composter since it eliminates bad odours, thus keeping the air in your kitchen fresh. Most kitchen composters use replaceable filters that you can change after a few months.
Carry handle
Carry handles allow for easy portability when transferring the food scraps to outdoor composters. The kitchen composter bins that we have reviewed are fitted with rotating handles to make your work easier.
What to Put in a Kitchen Composter
To get the best results from your kitchen composter, you need to understand the dos and don'ts when it comes to composting. Furthermore, not all materials are compostable, so ensure you do thorough research before placing any materials inside your compost bin.
Generally, a compost bin should contain materials that contain large amounts of nitrogen and carbon. You should only select compost-safe organic materials such as vegetables, peels, fruits, coffee grounds, pits, eggshells, tea bags, carrots, just to mention but a few.
These materials should be placed inside the compost bin while they are still fresh. so that the microbes can get enough food, thus speeding up decomposition.
Materials That Should Not Be Placed In a Kitchen Composter
You should avoid all materials that contain chemicals since they can kill microbes. This applies to treated wood and plant materials that have been sprayed with herbicides/pesticides.
Additionally, you shouldn't place cooked food, meats, synthetic fabrics, fish, dairy products, and other high protein organic materials inside a compost bin.
---
You may also be interested in:
Last update on 2023-11-30 / Affiliate links / Images from Amazon Product Advertising API