Today, most standard keyboards are inexpensive and easily replaceable. But that doesn't eradicate the sheer frustration when you do manage to spill your drink and commit keyboard murder! Whilst not so much a common occurrence for the sporadic home user, environments at most risk of cross contamination include food processing workstations and medical buildings. Oh, how could we forget hardcore gamers too!
The best waterproof keyboards are designed with extreme care. Typically engineered with minimalism at the forefront, what you receive over a standard keyboard is nothing short of superb quality. Granted, waterproof keyboards are not as sexy as your typical gaming rig. But when function needs to far outweigh form, you cannot go wrong with purchasing a waterproof keyboard that will save the day. Take a look at our top 5 best waterproof keyboards available for purchase throughout 2020. You might just find yourself a nice upgrade!
In a hurry? – Skip to the section specifically for you.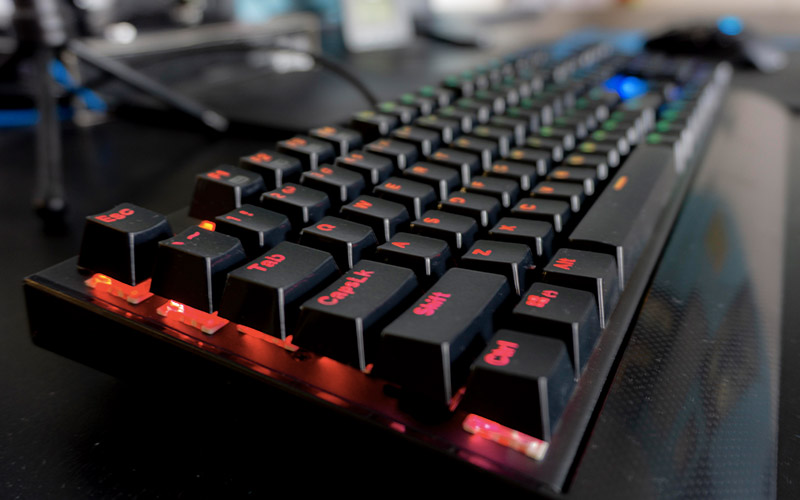 1. Best Waterproof Keyboard (Overall)
Winner: Redragon K557 Waterproof Mechanical Gaming Keyboard.
Despite budget-friendly, the Redragon KALA K557 detachable mechanical keyboard absolutely soars to the top of our best overall waterproof keyboards. The facade is basic, but for gaming and generalist typing, it's very good for the price. That's the real steal here. Mechanical keyboards are typically expensive. Throw in words such as gaming and waterproof and you would expect to pay a lot more. But not with the Redragon.
Offering an aluminium base with highly durable plastic, users of the Redragon acquire a premium feel; without the price tag. Whilst 100% waterproof, the Redragon K557 also features 100% anti-ghosting. This means that users can click multiple function keys simultaneously without an error. Have fun with the 18 different RGB backlighting settings too!
Okay, the sound of a mechanical keyboard may be too loud if you are used to membrane keys. But that's a minor. Apart from this, there really isn't anything wrong with the KALA K557 at all. We were genuinely super impressed. Whether you're into gaming or just looking for a waterproof keyboard that has more clout than standard options, the Redragon K557 mechanical keyboard is the ultimate choice. They also promote over 50 million keystrokes before the keyboard will begin to malfunction. Now that's impressive.
Key Facts:
| | |
| --- | --- |
| Price: | $115AUD. |
| Waterproof: | 100% Waterproof. |
| Compatibility: | Up to Windows 10 |
| Connection Type: | Wired |
| Weight | 1.3kg |
| Backlighting: | 6 Themes & 18 Backlight Models |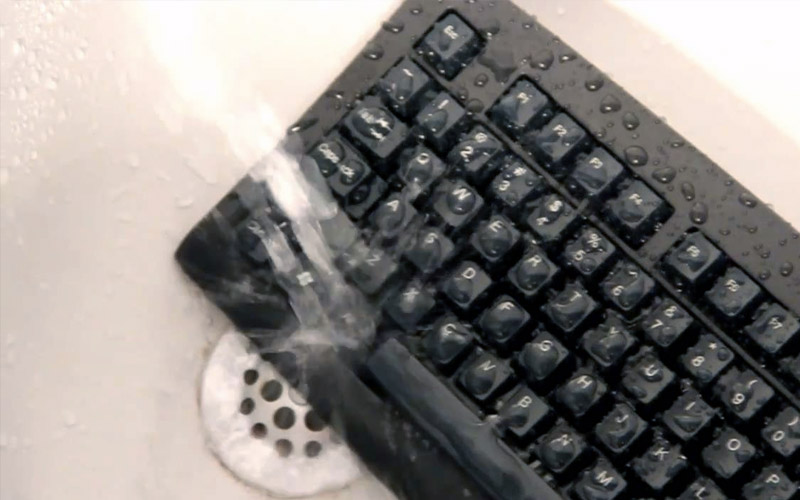 2. Best Medical Waterproof Keyboard.
Winner: Sealshield Plastic Washable Keyboards (Antimicrobial)
If there was one industry that couldn't survive without waterproof keyboards; it's medical. Without question, Sealshield antimicrobial washable keyboards are the perfect choice for hospitals. Available both corded and wireless, the Sealshield range delivers medical grade hygiene and antimicrobial properties. You can even throw the keyboards in the dishwasher or scrub down with regular washing detergent.
How cool is that?
The average workplace keyboard typically contains up to 400 times more bacteria than a toilet seat. Take these facts to a hospital and you have yourself a recipe for disaster. With a growing number of deaths due to infections contracted inside a hospital, the Sealshield waterproof keyboard literally saves lives.
To combat the spread of germs, Seal Shield keyboards utilise silver ions embedded within the plastic. This heavily prevents the presence of bacteria between keys. The objective of the Sealshield range is simple. Prevent the spread of bacteria at all costs.
Key Facts:
| | |
| --- | --- |
| Price: | Avg. $100AUD. |
| Waterproof: | 100% Waterproof & Dishwasher Safe. |
| Compatibility: | Windows & Mac. |
| Connection Type: | Varies. |
| Weight | Varies. |
| Backlighting: | Standard. |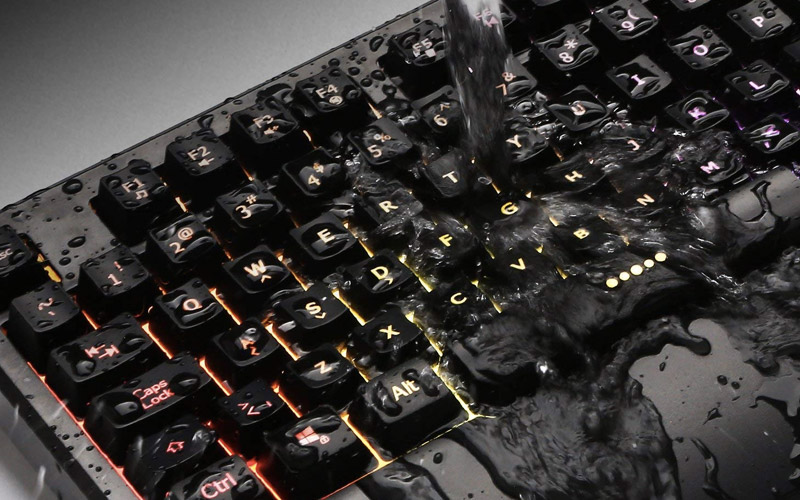 3. Best Gaming Waterproof Keyboard.
Winner: Redimp GK100S Ergonomic Waterproof Gaming Keyboard.
There's a common trend with good products starting with the word 'Red' and the Redimp GK100S follows suit. If the Redragon doesn't take your fancy, the Redimp ergonomic GK100S wins our award for best waterproof gaming keyboard. Suitable for PC or Mac, the GK100S features everything an avid gamer would need. Okay, so it uses membrane keys which typically are not the go to for gamers. However, with 19-key anti-ghosting, lockable Windows key and waterproof features, it's a quality purchase all-round.
The reason why we selected this keyboard over the Redragon is solely due to it's extended wrist rest. As any gamer will know, prolonged use of keyboards can play havoc on your hands and this ergonomic feature alone ensures extended typing comfort. Not to mention it's super comfortable as well!
What's more, the Redimp will happily share your mountain dew with you. Oh yes, it does love a good drink once in a while. With one of the most important streaming tips being to stay hydrated, the Redimp ensure that you don't have to sneak off camera just to rehydrate.
Key Facts:
| | |
| --- | --- |
| Price: | $35AUD |
| Waterproof: | Yes (Aluminium Alloy Panel) |
| Compatibility: | Up to Windows 10 |
| Connection Type: | USB Wired |
| Weight | 1.4kg |
| Backlighting: | 9 Preconfigured RGB Lighting Modes |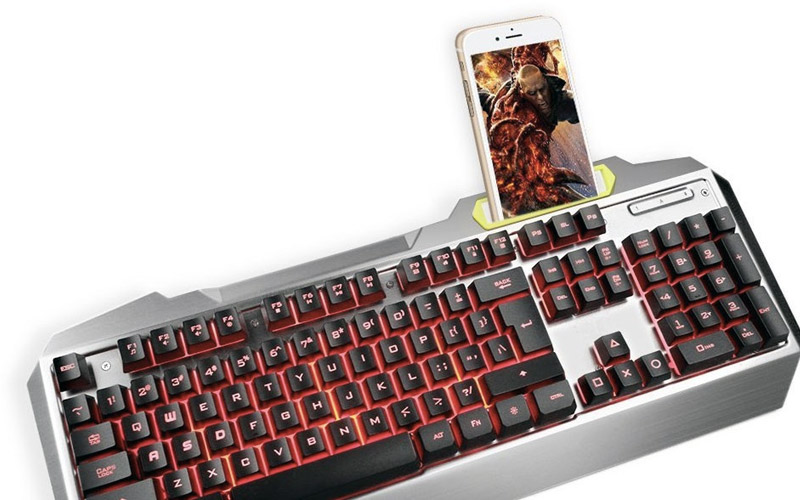 5. Best Waterproof Keyboard Design
Winner: LeaningTech LTC K828
Occasionally used by gamers, the LeaningTech LTC K828 wins our best washable keyboard design award. You could argue better looking washable keyboards, however, what you receive for the price is why this keyboard trumps close competition. Great for surfing the web or navigating your way through Ezio's storyline, the LTC K828 is simple, but powerful.
A key feature we liked was the ability to lean our mobile back within the holder. There's nothing worse than having to pause a game to check iPhone 11 notifications. This function allows you to keep an eye on your social media whilst you play. Heck, you could even store your powerbank, a packet of sweets or your loose change within this holder. It doesn't really matter.
Overall, the K828 not only has great performance, its design provides you with many different lighting modes. Simply press the function key plus any number to get a different backlight. From solid colours to rainbow effects, you can even make your keyboard lights dance with your music with the sound-reactivity.
As for waterproof keyboard functionality, the LeaningTech is made from aluminium allow which has a sleek finish. Combine this with the membranes of the keys themselves and you've got yourself a super water-tight keyword. Okay, so the feel of the keys themselves are nowhere near your high-end gaming devices. However, for just $35AUD, you can't go wrong!
Key Facts:
| | |
| --- | --- |
| Price: | $35AUD |
| Waterproof: | Yes (Aluminium Alloy Panel) |
| Compatibility: | Up to Windows 10 |
| Connection Type: | USB Wired |
| Weight | 1.4kg |
| Backlighting: | 9 Preconfigured RGB Lighting Modes |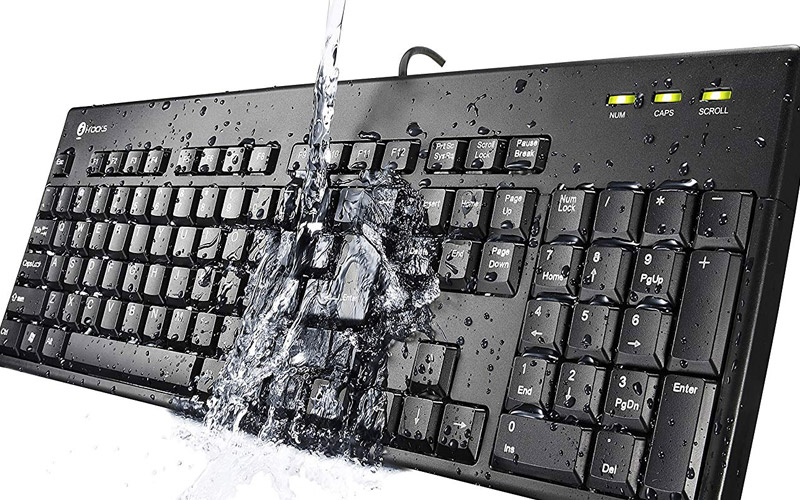 6. Best Waterproof Keyboard Value
Winner: I-Rocks Washable Keyboard, Black
Whilst you could argue that the LeaningTech LTC is the best value waterproof keyboard, we have gone with the I-Rocks washable keyboard as our overall winner. With a sleek design, adjustable foot stand and cleaning brush, it would be great deal for a regular keyboard. Throw in the fact that it's waterproof and you've got yourself an awesome waterproof keyboard.
The I-Rocks also features drainage holes in the base of the keyboard. As obvious as this sounds, not too many waterproof keyboards have this feature which is a big plus for us. Your spills will literally be no match for the I-Rocks.
Speaking of washing, the keys are engraved (unlike many cheap keyboards that just have the letters painted on) so that the letters will last a long time without fading from cleaning or typing. The only drawback to this particular keyboard is the small backspace key that might throw off touch typists used to a traditional double-wide backspace key—but if you need a waterproof budget keyboard it's tough to beat the price.
Key Facts:
| | |
| --- | --- |
| Price: | $45AUD. |
| Waterproof: | 100% Washable. |
| Compatibility: | Windows PC. |
| Connection Type: | Wired (Plug & Play). |
| Weight: | 748g. |
| Backlighting: | Standard. |
–
Content Disclaimer: This 'best waterproof keyboards' article is 100% independent. This article has not been commissioned by any company listed and Mr Gadget has not received any endorsements for this writing. Endorsements would include financial reimbursement, free advertising or waterproof keyboards by way of gift. We hope you enjoyed the article!