ⓘ We are reader-supported and may earn a small commission at no additional cost to you if a purchase is made through one of our links.
Despite large improvements to smartphone batteries over the years, there will always come the day when your anxiety goes into overdrive as your phone bleeps the dreaded 10%. Thankfully, there are cheap products available to ensure you don't have to reduce smartphone addiction.
The Australian Cygnett Power Bank 4400mAh is one such product.
As a lightweight and portable power bank, the Cygnett 4400mAh suppresses battery anxiety and allows for convenient charging on the move. Simply load up the power bank before you step outdoors and enjoy up to 2x additional battery life. In this Cygnett Power Bank 4400 Review, we explore whether the 4400mAh model is powerful enough for your obsessive phone relationship and explore some additional power bank features.
Time short? – Click here to see our Cygnett Power Bank 4400 review summary.
The Look Station:
As far as appearances go, the Cygnett ChargeUp Sports 4400mAh Power Bank is what we like to call 'function over form'. The rubberised coat reduces the risk of dropping the device whilst also keeping it secure in your pockets. However, rubber tends to get dirty quickly and this device is definitely a massive sucker for grime. We're not sure why brands have an obsession for the word 'sport' with product names as there really isn't anything sporty about this device. There are no racing stripes or two-tone paint jobs but rather a black rectangle with somewhat smooth edges. On the plus side, it's lightweight, compact and you'll barely notice the power bank in your pockets or carry case.
Released primarily as a black device with grey trim, the Cygnett 4400 also sits nicely into most offices or homes. We don't know of any fancy cases that can be purchased but who really cares, it's a power bank! For those of you who aren't too fussed about appearances, the good news is that the developers at Cygnett have clearly invested budget into battery and functions.
That's all there really is to say about its appearance. A black rectangle box that's easy to hold and doesn't weigh a ton of bricks. Ta-Daaa! For those of you who do like a bit of style, you'll be pleased to know that you can also choose from a blue or red version of the device. Oooh, fancy.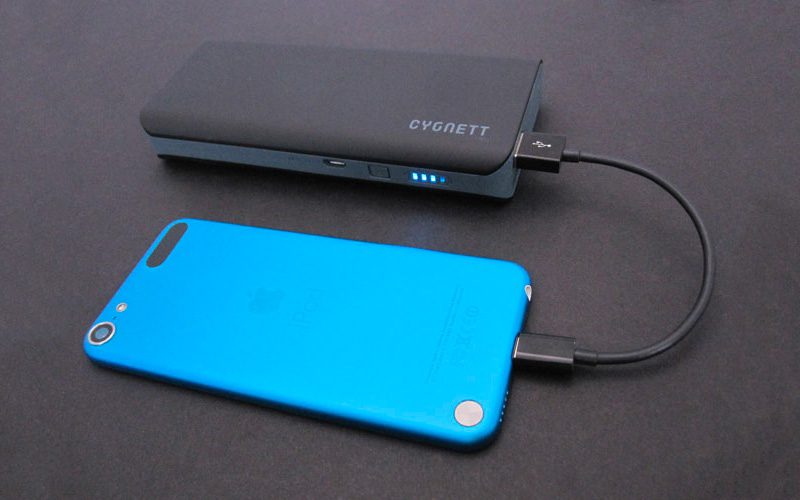 Charging Features & Battery:
The best feature about the Cygnett ChargeUp Sport 4400mAh Power Bank is its Lithium Polymer battery. As the latest in battery technology, this cheap portable charger is the truest form of power at your fingertips. With super portability, the Cygnett 4400mAh provides juice to your favourite micro-USB powered gadgets at the most convenient moments.
Whilst the official website claims up to 2 charges, we tested this with an iPhone 8 and managed to drain the power bank after one and a half charges nearly every time. Having read other reviews online, this also seems to be a common theme. So, if you do manage to squeeze that extra half a charge, then good for you!
If just under 2 full charges are not enough for your busy schedule, you can always look to upgrade to the 5,000mAh or 10,000mAh for an extra $10 or $30 respectively. We haven't tested these upgraded models, however, we have no doubt the principles are the same – just more powerful! Alternatively, we've recently reviewed the Anker PowerCore 10000, so that's worth checking out if you're after larger capacities.
–
Versatility & Other Features:
Despite the somewhat misleading charge time, we were impressed with the versatility of the power bank.  With its total of 1 Amp (5V) output, this allows the Cygnett 4400 to charge pretty much any compatible USB device. These include:
Smartphones.
iPhones & Apple Watches.
Cameras.
Fitness Trackers (E.g. Moov Now & Fitbit).
Portable Speakers.
Another great addition to the feature list is that the device comes pre-charged and ready to roll. Another huge win is that the packaging also came with the inclusion of a micro-USB cable. We can't stand devices that don't include the bare essentials and whilst it's not the best cable in the world, it does the job. We'd recommend that you be careful with the cable as ours broke pretty quickly from harsh shoving into our pockets.
A feature that did leave us confused was the LED torch that comes with the Cygnett power bank. If back in the '90s, this would have been pretty cool. But today, for us, it's somewhat redundant and we haven't ever had a need to use it. Maybe we don't drop our phones at after dark parties enough. Then there's the LED battery level indicator. Now that's a better use of LED lighting technology. The Cygnett 4400 will always let you know when you're running low on power. This is a must-have for any portable charging device, no matter how much you're paying, so props to Cygnett for including this feature.
–
Full Feature List:
Compact and lightweight, with a soft-touch finish, the ChargeUp Sport 4.4K power bank is a super convenient portable charging device making it the perfect addition to every backpack, handbag or briefcase. Take a look at the full features below:
4,400mAh Lithium Polymer Battery
Up to 2x Smartphone Charges
LED Battery Indicator
LED Flashlight
Pre-Charged & Ready To Use.
iPhone Cable or Apple Certified MFI Lightning Cable Compatible.
110g / 90mm (H) x 44mm (W) x 22mm (D)
Price & Value
With prices as low as $25 from major retailers such as Target & JB HI-FI, you can't really go wrong with the Cygnett ChargeUp Sports Power Bank 4400. Yeah, it's a little bulky and doesn't look anywhere near as cool as alternatives in the market. But again, it's a power bank, and it does the job.
As far as total value, this is where it gets serious. The price is ridiculously cheap for the amount of use you will get from this device. Okay, so there are some slightly shady promises of extra charges for your phone but one and a half charges are more than enough for the everyday addiction.
–

Cygnett Power Bank 4400 Review Roundup
Overall, we've given this Cygnett Power Bank 4400 review and a total rating of 4.5 stars. Had the device been more expensive, we would have given a lower rating but the value for money at this price range is clear. The Cygnett 4400mAh charged our USB-powered devices quickly and is compact enough for almost all scenarios. The appearance is basic and the LED torch feature was a big miss in our opinion. But for all that misdesign, a standard power bank for less than $30 doesn't get much better than this device. We were huge fans of the battery level indicator and a trusted Melbourne-based brand, like Cygnett, is always worth taking seriously. Overall, it's a solid purchase for any mid-level smartphone addict or USB-powered device user.
–

Cygnett Power Bank 4400 Review
Look Station

Features

Total Value
Summary
A compact, lightweight and super portable power bank. The Cygnett 4400mAh, whilst on the lower end of battery capabilities, is a great budget purchase for those who only need just over one full charge to their devices.
Pros
Battery Level Indicator.
Lightweight & Compact.
Trusted Australian Brand.
Cons
LED Light Feature
Poor Aesthetics
2x Full Charge (Not Accurate).
Content Disclaimer: Our 'Cygnett Powerbank 4400 Review' is totally independent and has not been commissioned by the company in any capacity. Mr Gadget has not received any endorsements for this writing including financial reimbursement, free advertising or the Cygnett 4400 Power Bank by way of gift. If you purchase this item via an affiliate link on our website, we may receive a small commission from the seller. We hope you enjoyed!