ⓘ We are reader-supported and may earn a small commission at no additional cost to you if a purchase is made through one of our links.
The best juicers are a convenient way to make fresh and nutrient-rich fresh fruit and vegetable juices. If you're not a fan of eating some produce whole, a juicer can be a solution that helps you fit certain fruits and vegetables into your diet even if you don't like eating them.
Even if you do love eating all of your greens, let's not forget how amazing a cup of fresh orange juice in the morning can be! So, start your day right by using one of the best juicers available in Australia.
TL;DR: The #1 Juicer for Most People 👇
The Best Juicers Available in Australia
If none of the above three juicers take your fancy, then check out our reviews of the 7 best juicers currently available to buy in Australia:
Best Overall Juicer: Breville The Big Squeeze Juicer
Best for Most People: Russell Hobbs RHSJ100 Luxe Cold Press Slow Juicer
Best Juicer for Celery: Breville The Juice Fountain
Best Value Juicer: NutriBullet NBJ07200 Juicer Pro
Best Juicer for Vegatables: Mueller Austria Juicer Ultra 1100W Power
Best Juicer for Orange Juice: Princess Master Juicer
1. Best Overall Juicer: Breville The Big Squeeze Juicer
The The Big Squeeze Juicer from Breville takes the number 1 spot for the best juicer to buy because of its top-notch build quality, incredibly efficient juicing ability, and auto-clean feature.
Breville has done a fantastic job at designing this juicer for maximum nutrient extraction. It uses a slow squeezer to grab every last drop from fruit or veg. There's no need to chop your fruit since this juicer has the largest feed chute of any juicer in Australia. Just grab your apples and you're ready to juice!
The  240w motor makes light work of anything soft to medium-firmness food items and it does it all incredibly quiet. This device is much quieter than your average juicer but is also able to extract much more nutrients as well.
This juicer isn't cheap, but its quality is undeniable, and if you're planning on using it regularly over a long period of time, this is excellent value for money. In fact, Breville designed this juicer to last a lifetime and even offer a 10-year warranty.
---
2. Best for Most People: Russell Hobbs RHSJ100 Luxe Cold Press Slow Juicer
The Russell Hobbs RHSJ100 Luxe Cold Press Slow Juicer may be significantly cheaper than the Breville juicer, but that doesn't mean it isn't good, it just serves a different purpose! This juicer is perfect for those who aren't fully committed to the juicer life or who aren't quite ready for a lifetime investment.
We had to include this high up the list though simply because of the value for money. This cold press juicer does a brilliant job at extracting nutrients. It comes with two separate filters, one fine, and the other course, to help create a smother or pulpier drink depending on your preference.
It doesn't fit nearly as much in as the best juicer, but it's more than enough for most people, and isn't much trouble at all, even if you have to chope the fruit up a little bit. But don't worry, the effort is worth it because, for the price, it pours an incredibly good juice!
---
3. Best Juicer for Celery: Breville The Juice Fountain
The The Juice Fountain from Breville is the little brother to Breville's Big Juicer, but don't let that fool you because this juicer packs a serious punch.
This is a very easy-to-operate juicer that uses its 13,000RPM motor to cut through fruit and veg with ease. In fact, it's so powerful it makes light work of pineapple spears, celery, apples, to mention just but a few. If that's a little overkill and you just want some blueberry juice, then you can turn it down to 6,500 RPM.
The mesh filter is excellent and does a brilliant job of separating the liquid from the pulp. There is a little bit of waste, but that's normal for basically every juicer. You can use the leftovers in soups or other recipes.
And it doesn't just perform excellently, it looks great too. With stainless steel finish and chrome buttons, this juicer looks the part on any countertop. It does, however, take up a fair bit of counter space, so keep that in mind.
This is a high-capacity juicer suited to someone who's ready to live the juicer lifestyle. It can produce up to 70 ounces at once, which can then be stored for a couple of days. So, if you're in the market for a mid-tier juicer, this one is for you!
---
4. Best Value Juicer: NutriBullet NBJ07200 Juicer Pro
The NutriBullet NBJ07200 Juicer Pro is a 3 precision speed juicer that provides a high level of control when juicing different produce. Take advantage of its extra-wide chute which allows for larger pieces of fruit to be juiced without the need for cutting.
It's not the most powerful juicer on the market, but its 1000w motor is more than sufficient for 99% of people's needs.  The result is an incredibly smooth, and high-quality juice that anyone would be happy to drink.
This juicer is sold with a nice set of accessories including 2 juice flasks, a large jug, and 2 storage trays. If you love your NutriBullet blender, you'll definitely love the NutriBullet NBJ07200 Juicer Pro.
---
5. Best Juicer for Vegatables: Mueller Austria Juicer Ultra 1100W Power
The Mueller Austria Juicer Ultra has over 19,000 5 star reviews on Amazon and with good reason! This ultra-sleek and modern juicer has a 1100w motor under the hood and is one of the most powerful juicers for its size.
It has two-speed settings; the low setting runs from 12,000 RPM to 15,000 RPM, which is perfect for softer produce like kiwi fruits, bananas, and cucumbers. The high-speed setting runs from 15,000RPM to 18,000 RPM and cuts through firmer produce like carrots, celery and apples with absolute ease.
The feed chute is 3 inches in diameter, making it one of the largest on the Australian market. This means you can drop larger pieces of fruit into the chamber at once, which saves a lot of time cutting produce into smaller pieces.
---
6.  Best Juicer for Orange Juice: Princess Master Juicer
The Princess Master Juicer is for the budget conscious among us who still want a quality juicer. Yes, it lacks some of the finer features found in more premium models but this guy still produces a qaulity juice.
This juicer is only suited to soft produce, namely oranges, lemons, kiwis, tomatoes, etc… Its motor is only 160W but this is sufficient for this type of product and with the lever-based mechanism.
This is super simple to use; simply place a cut in half orange on the cone, press down with the lever, and turn it on. In seconds, you will have high0qaulity, fresh OJ in your glass!
The Princess Master Juicer offers excellent value for money and is quite possibly
the best juicer within the budget category. So, if you're in the market for the best budget juicer, look no further!
---
How we picked the Juicers in this List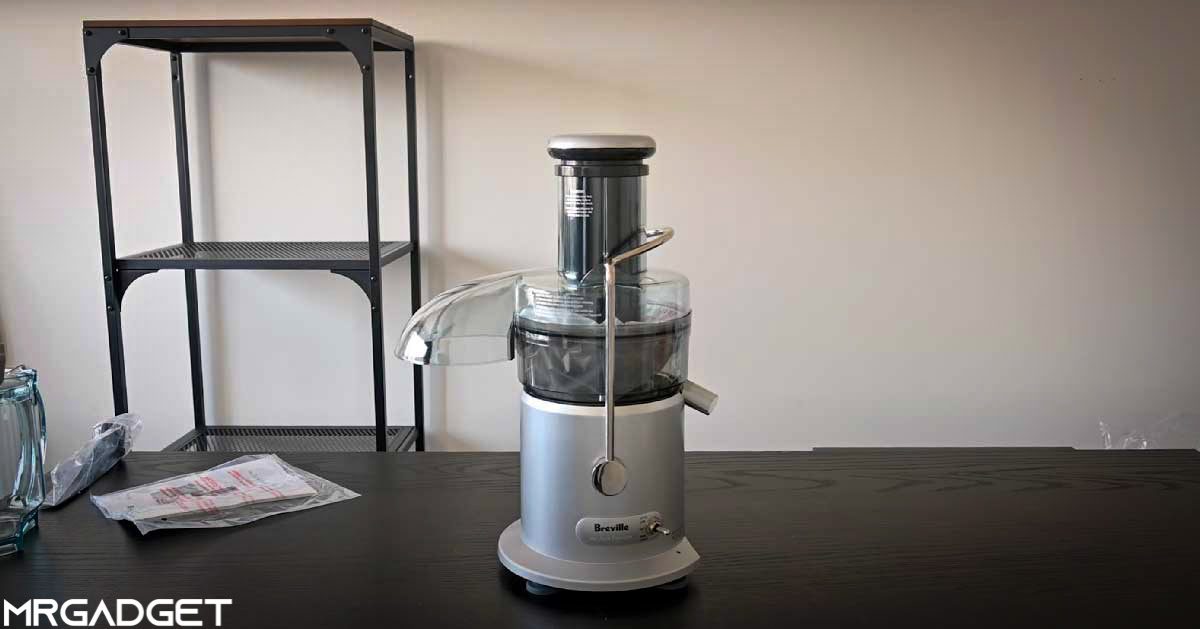 There are 100s of different juicers to consider when putting together a list of the best juicers. So how do we whittle it down to the 7 you see on this list? We shortlisted an initial set of 43 juicers from major retailers, marketplaces, and independent brands. From there, we categorise them into different costs and functions.
We then look at the features and specs of similar juicers and remove the loser. This is repeated twice over until we were left with the list below, which we believe truly represents the best juicers in Australia.
Juicers: Buying Guide
This juicer buying guide will help inform you on the benefits of owning a juicer, what to look for when buying a juicer, and how juicers work:
What are the Benefits of Owning a Juicer
There are many claimed benefits of owning a juicer and drinking juiced fruit and vegetables but are these claims true and if so, to what extent? We refer to the scientific literature to determine this.
Is Juicing Healthier than Eating Whole fruits or Vegetables?
This is a hot topic in the world of juicing, but how true is it? According to Katherine Zeratsky, R.D., L.D.:
there's no scientific evidence that extracted juices are healthier than the juice you get by eating the fruit or vegetable itself.
So if you're only interested in the nutritional benefits you may not need a juicer. However, if you're unlikely to eat whole fruits or vegetables, a juicer may be a good way to add them to your diet.
Does Fruit Juicing Protect Against Cancer and Cardio Vascular Disease?
According  to this study conducted by Carrie H. S. Ruxton , Elaine J. Gardner & Drew Walker, there is a weak positive correlation between juicing and cancer protection:
The impact of PFV juices on cancer risk was weakly positive, although a lack of human data and contradictory findings hampered conclusions.
However, the correlation between juicing and CVD (Cardio Vascular Disease) is stronger:
For CVD, there was convincing evidence from epidemiological and clinical studies that PFV juices reduced risk via a number of probable mechanisms.
Can Juices Help with Inflammatory Diseases?
According to the study titled "Could Pomegranate Juice Help in the Control of Inflammatory Diseases?", there is a correlation between drinking pomegranate juice and the improvement of some inflammatory diseases with the study stating:
Furthermore, there exists strong evidence from rodent models suggesting that pomegranate juice can be used to effectively treat IBD, and as an anti-inflammatory agent to treat CID. The effects of pomegranate intake should be further investigated by conducting larger and more well-defined human trials.
What to Look for When Buying a Juicer
There are a few different types of juicers and within those categories some key considerations you should pay attention to. Here are the most important things to look out for:
Different Types of Juicers
There are two main types of juicers, Centrifugal and Cold Press. Both have pros and cons, so let's take a look.
Centrifugal Juicers
Centrifugal juicers use powerful motors to spin the fruit or veg extremely fast to separate the juice from the solid. They are used in combination with filters to ensure a smooth juice, with some brands offering different types of filters for different juice results.
They typically produce the juice very quickly but do produce a lot of noise. They're also typically quite large and will take up a spot on the counter, however, they can very easily be put away.
Cold Press Juicers
Cold press juicers are also known and slow juicers because of the time they take to produce juice. Typically they take around 5 minutes per glass, which can be too long for some people. However, they do have a lot of pros; for example, they're quiet, easier to clean, are extremely durable and long-lasting, and also in some people's opinions produce a higher quality juice.
Size
We all have different-sized kitchens with varying amounts of countertop space. Just keep in mind that some juicers, especially centrifugal juicers can take up a significant amount of countertop space. If you plan in using your juicer daily but have a small kitchen it could become a bit of annoyance having to put it away each day. If that is the case perhaps opt for a cold press juicer instead.
Feed Chute
This is where you place the fruit or veg to enter to the juicer. The larger the chute the less cutting that is required. a good juicer with a large chute should be able to easily fit a typical apple in whole.
Speed Settings
Good juicers should have at least 2-speed settings with some of the best juicers having 3 settings. The speed settings are useful if you plan on juicing different types of fruit or veg. The faster the speed the better it is at cutting through firmer produce.
---
You may also be interested in:
Last update on 2023-12-11 / Affiliate links / Images from Amazon Product Advertising API