When it's too quiet, even the tiniest sudden sounds can startle a sleeping child or adult. More so for louder noises such as a slamming door. But when there are too many things going on, like dogs barking, sirens the TV playing, falling asleep can be a challenge too. So to drown out all of these distracting sounds, consider getting a white noise machine.
White noise machines can mask the noises and hide the sudden changes in the sound consistency in your surrounding by providing a steady, soft, and continuous sound. You may know it as a "shh" sound, which is commonly associated with TV or radio static. These machines can create a more relaxing environment, helping your child not only sleep but also stay asleep. As a result, they can achieve the healthy and high-quality sleep they need. Plus, you get to have a good night's rest, too.
Aside from white noise, other white noise machines can also produce natural and ambient sounds, such as crashing waves, campfires, rain, etc. Some even have lullabies and other extra features. That said, there are many models and brands of such machines, which makes it difficult to choose which one to go with. So to help you out and make your search easier, here's a list of our best white noise machines you can buy in Australia.
How We Researched the Best White Noise Machines
To find the very best products to include in our list, we scoured leading online marketplaces such as Amazon and eBay for their best-selling and highest-rated white noise machines. We also looked at local online stores, including Sleep Solutions and Ear Jobs. But we didn't stop there. We then dove deep into the reviews section to know what users like and dislike about each product. From there, we read up on what critics and other blogs had to say, allowing us to know every machine from the inside out.
We then discussed it among ourselves and decided on which ones to include and which ones to cut, further narrowing down our list. After considering the functions, features, design, and price, we were then left with only the top 7. So whichever white noise machine you go with, we guarantee that it is of the highest quality and fully able to get you and your baby your much-needed z's.
The Best White Noise Machines to Buy in Australia
1. Dreamegg Sound Machine for Baby
The Dreamegg Sound Machine for Baby is an all-in-one white noise machine that every parent will surely love. Aside from being a noisemaker, it is also a sleep soother, and night light. It offers an impressive 2 white noise, 2 fan sounds, 7 nature sounds, and 2 lullabies. It even uses a real human voice, shushing and soothing your fussing baby back to sleep. You can let these sounds play for 30, 60, or 90 minutes continuously before it automatically turns off or you can let it play non-stop all night.
Another thing we like about this machine is its adjustable night light. You can adjust the brightness, depending on what you need to do. This is perfect for nighttime nursing or feeding and when you need to change nappies. With it, you can see better without waking up your baby. For bigger kids, you can let it stay on all night to make them feel secure. Or, you can also just turn it off if you prefer a pitch dark room.
Since babies sleep and cry practically anywhere, this white noise machine is also equipped with a rechargeable battery. When fully charged, it can last up to 12 hours. So you can take it from room to room, to the car, or when traveling. You can also plug it in if you want.
Sure, the Dreamegg Sound Machine for Baby isn't cheap. In fact, it's the second most expensive product on this list. But for its portability, functionality, and quality, you won't regret it.
---
2. Baby Soother Toys Owl White Noise Sound Machine
Here's a cute white noise machine that can double as your child's plush toy. Unlike others, the Baby Soother Toys Owl White Noise Sound Machine is soft and cuddly. Plus, it's hand-washable. So your baby can safely cuddle and play with it anytime they want. Or, you can hang it on your child's crib, pram, or anywhere with its handy adjustable strap.
This machine can calm and soothe your baby through its 10 classic lullabies, a heartbeat, or bird song. You can play all these sounds in a loop and after 30 minutes, it will automatically turn off. No need to sneak into your baby's room to turn it off and risk waking them up. Unfortunately, though, there's no option to let it play longer or to have it playing all night.
Like the Dreamegg Sound Machine, this is also a portable white noise machine. It is battery-operated, so you can take it everywhere. You can use it to soothe your baby on car rides, stroller walks, or when feeding. It can serve as a calming distraction too when you need to do a photoshoot or visit the doctor. It would've been nice, however, if it used a rechargeable battery instead of an AAA battery.
What's different about the Baby Soother Toys Owl White Noise Sound Machine is its dazzling star projection, which also acts as a comforting night light. Aside from that, this starry night sky constellation can also get your baby's attention when it's not bedtime, allowing you to get some things done.
---
3. Dreamegg White Noise Machine
Another product by Dreamegg, the Dreamegg White Noise Machine is certainly one of the best white noise machines with 24 soothings sounds, warm night light, and memory function. It offers 7 white noise, 7 fan sounds, and 10 relaxing natural sounds. So you'll definitely find the perfect sound for you or your baby's sleeping needs.
While its night light isn't adjustable like the Dreamegg Sound Machine for Baby, its warm night light is still useful for nighttime feedings. It also provides an extra sense of comfort and safety when babies move to their big kid rooms. This machine has a minimalist design, too. If you want to use white noise in the office, then this is a good choice. Remember, however, that this is USB powered. So you have to keep it plugged in.
Full control and memory functions are other neat features of the Dreamegg White Noise Machine. You can choose to let the machine play continuously or set the timer for 30, 60, or 90 minutes. You can then set the light, sound, and volume. Even better, it will remember your last settings, so you don't have to push buttons every time you need to sleep or relax.
---
4. Dreamegg Portable Sound Machine for Baby
If portability is your main concern when shopping for a white noise machine, then the Dreamegg Portable Sound Machine for Baby is a great choice. It is small and lightweight, measuring only 3.4 inches in diameter and weighing 5.7 ounces or 0.03 kg. So you can easily throw it in a diaper bag or backpack and carry it around with you wherever you want. It also runs on a rechargeable battery, which makes it the perfect travel companion. Plus, it has a baby-safe clip to attach it virtually to anything.
While this white noise machine is small, it is surprisingly mighty. You can use it as a noise blocker, night light, and sleep soother. It offers 11 soothing sounds, including white noise, lullaby, music box, fetal tone, cricket, shushing, brook, ocean, fan, vacuum cleaner, and fair sound. And unlike other similar devices, it provides you full control over the light's brightness, timer, volume level, and a child-lock for safety. However, even with its smaller size, the Dreamegg Portable Sound Machine for Baby is the most expensive white noise machine on our list.
---
5. Project Nursery Giraffe Sound Soother
Here's another cute animal white noise machine that will look good in your nursery. The Project Nursery Giraffe Sound Soother is a simple device that does its job well. With it, you can soothe your baby to sleep with its 3 lullabies and 3 natural sounds, including heartbeat, waves, and white noise. It even has an adjustable sleep timer, so you can let it play for 15, 30, 45, or 60 minutes. Or, you can also keep it playing continuously.
For those looking for something they can take with them from room to room, to the park, or while traveling, consider the Project Nursery Giraffe Sound Soother. It is small and light, measuring 93 mm high and weighing only 0.32 kg. It can also operate on 3 AAA batteries, which are included in the package, so you can carry and use it wherever and whenever. You have the option to keep it plugged in, too. Some buyers, however, noted that it can be a little loud even in its lowest volume level.
---
6. myBaby Soundspa On the Go
Need a budget-friendly yet quality portable white noise machine? If so, then the myBaby Soundspa On theGo might just be the one you are looking for. While it is the cheapest device on our list, it doesn't fall short in terms of features. Aside from white noise, it can also play other soothing sounds such as heartbeat, ocean, and a lullaby. It even has a timer, which you can set for 15, 30, or 45 minutes before it automatically shuts off.
The myBaby Soundspa On theGo is very portable as well. It is small, lightweight, and runs on 3 AAA batteries. It also has an adjustable clip, so you can easily attach it to your diaper bag, stroller, car seat, or crib. Sure, it doesn't have a night light and it doesn't offer as many soothing sounds like the others. But for its price, it's hard to beat.
---
7. Dreamegg Cube White Noise Machine
The Dream Egg Cube White Noise Machine is another white noise machine from the popular brand "Dreamegg". Just like the others, it has a timer that you can set for 30, 60, or 90 minutes before it automatically turns off. Or, you can also leave it on all night to play continuous soothing sounds. It has an impressive speaker system as well, giving out clear and soft sounds to create the perfect environment to sleep and relax.
Now, what makes this device different is that it has more soothing sounds to offer. It has 3 white noises, 3 fans, 8 natural sounds, and 7 of the most favorite sounds of babies, including shushing, lullaby, vacuum cleaner, gentle waves, 2 music box sounds, and heartbeat. All in all, it can play 21 soothing sounds, so everyone in your family can find their fave sound to get an amazing sleep.
However, the Dream Egg Cube White Noise Machine doesn't have a night light like the other Dreamegg products. But this also makes it more affordable. It's much simpler and smaller, too, measuring only 3 by 3.5 inches. So it is easy to carry around. Unfortunately, it does not run on batteries. You have to keep it plugged in when in use.
---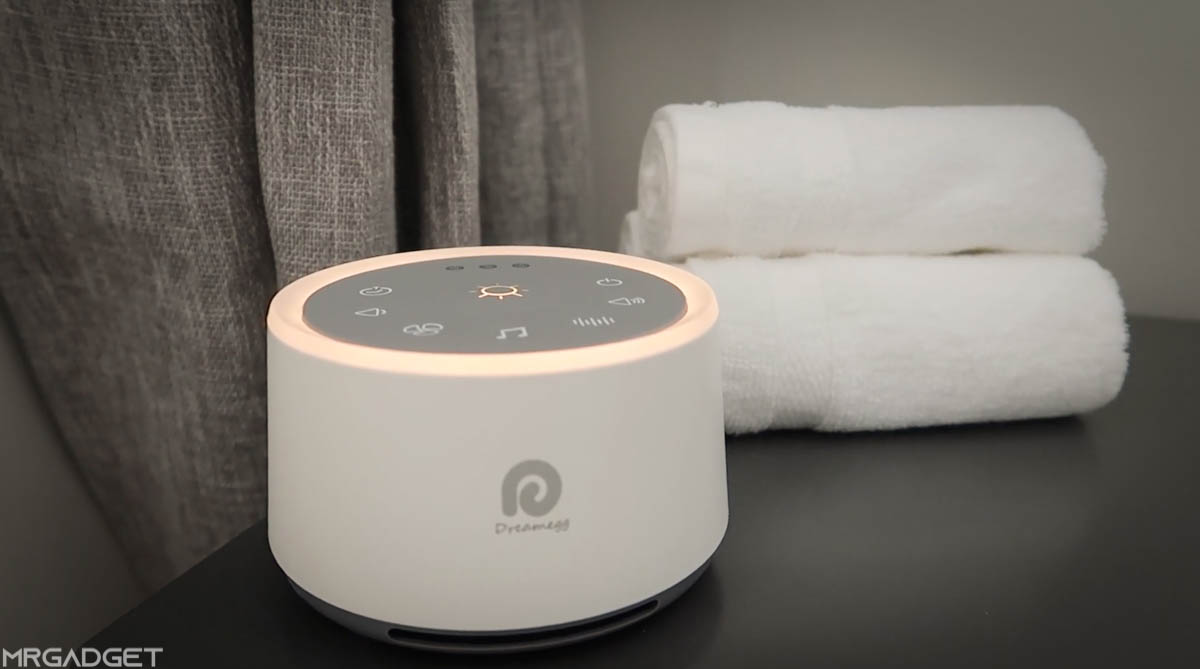 White Noise Machines: Buying Guide
Today's selection of white noise machines varies greatly, from basic machines that only emit white noise to high-end products that not only offer white noise but also lullabies and natural sounds. There are those with lights, timers, and other handy features as well.
With all these models available in the market, choosing which one to buy can be a daunting task, especially when you don't know what to look for. So to help you out and make sure you only end up with a quality product that can make you or your baby fall asleep easier and better, here's a buying guide on white noise machines.
What to Look for When Buying White Noise Machines
Sound Options: While your main purpose is to play white noise, a machine that offers a wider variety of soothing sounds can also be very useful. This is because people respond differently to noise and sounds. What you want may not be necessarily what your child wants. So when choosing a white noise machine, look for more sound options so you can find the right sounds that work best for your baby and/or family.
Design: Naturally, you don't want a big and unattractive device in your home or nursery, right? So when choosing a white noise machine, consider which one you would like to see in your child's room or on your bedside table. It shouldn't take up too much space as well.
Volume: A white noise machine should not be too loud as it could damage your child's ears. It should never go higher than 50dB, which is the recommended noise limit for infants in hospital nurseries according to the American Academy of Pediatrics (AAP).
Timer: Look for a machine with programmable timers that will automatically shut down the device after a specific time. Not only will this save battery (if applicable), but it will also save you time going to your child's room and turning it off yourself.
Portability: If you're planning to use your machine in different rooms or places, then consider the portability. Is it small and light enough to fit your diaper bag or backpack? Will it run on batteries, or do you need to plug it in every time?
Other Features: Extra features such as a night light, alarm, USB ports, and headphone jacks are not necessary, but they can be very useful.
What are the Benefits of White Noise Machines
White noise machines mask annoying background noise to create the perfect soothing environment for a person to relax, take a rest, and recharge. For many parents who are exhausted, sleep-deprived, and trying to do a hundred things at once, it can be a godsend by helping babies fall asleep and stay asleep. The constant noise reminds babies of what it was like inside their mothers' wombs, making them feel calmer and encouraging them to sleep faster.
According to a study on "White Noise and Sleep Induction", white noise can help mothers settle difficult babies. It is also said to help prevent children from waking up at night or resisting going to sleep. This is according to another study published in Child & Family Behavior Therapy. So if your child is having trouble sleeping, then a white noise machine may just be what you need. It can even aid in sleep training and teach your child's brain to know when it is time to sleep.
Having a white noise machine is beneficial for adults as well, especially if you live in metropolitan areas. From a study published in 2021, it was found that white noise significantly improved sleep for those experiencing difficulty sleeping due to high levels of environmental noise. By muffling sounds like your partner's snores, traffic, shouting, a dog barking, or a dripping faucet, you can block the sounds that can disturb your slumber. As a result, you can keep snoozing peacefully and have a better quality of sleep.
A white noise machine is also great for tinnitus patients, those who suffer from insomnia, shift workers, or when you have a loud neighbor. It is said to help you focus too, making it great for studying or finishing your work.
Now that you know more about white noise machines, we are hoping that it will be easier for you to find the right one for your baby.
---
You may also be interested in:
Last update on 2022-05-26 / Affiliate links / Images from Amazon Product Advertising API