If you went back in time a decade or so ago, you'd have found that owning a half-decent gaming mouse would've set you back some serious coin. Nowadays, however, with the rapid advancements in technology and the rise of lesser-known yet exceedingly capable tech brands, the choices of excellent but affordable gaming mice have increased exponentially.
There are so many of them, in fact, that picking the most suitable one for you can sometimes feel like an insurmountable task. With that in mind, we've put together a list of the best budget gaming mice that we've had the opportunity of thoroughly testing.
Can't spare the time to go through the entire list? Just click any of the links below and we'll take you right to that section.
Why go for a budget gaming mouse?
Don't get me wrong, as a gamer that spent his entire childhood gaming on a very modest PC, I've completed many a video game and played countless online matches using a run-of-the-mill office mouse. That being said, the day I bought my first gaming mouse (a Logitech G102) was when I realized that the difference in looks, performance, and feel was like night and day.
For one thing, no respectable gaming rig is complete without a killer gaming mouse to top off the look. Whether it's the RGB lighting, creative form factor, or edgy colourways, these mice have been specifically crafted to suit the hands and eyes of gamers.
Next is the matter of performance and functionality. Not only do gaming mice have sensors that offer superior levels of precision and sensitivity, but they also often come with extra programmable buttons and robust companion software that allows for increased customization and fine-tuning.
Best Budget Gaming Mice Overview
---
Logitech G502 HERO
An awesome budget gaming mouse for those who don't mind wires!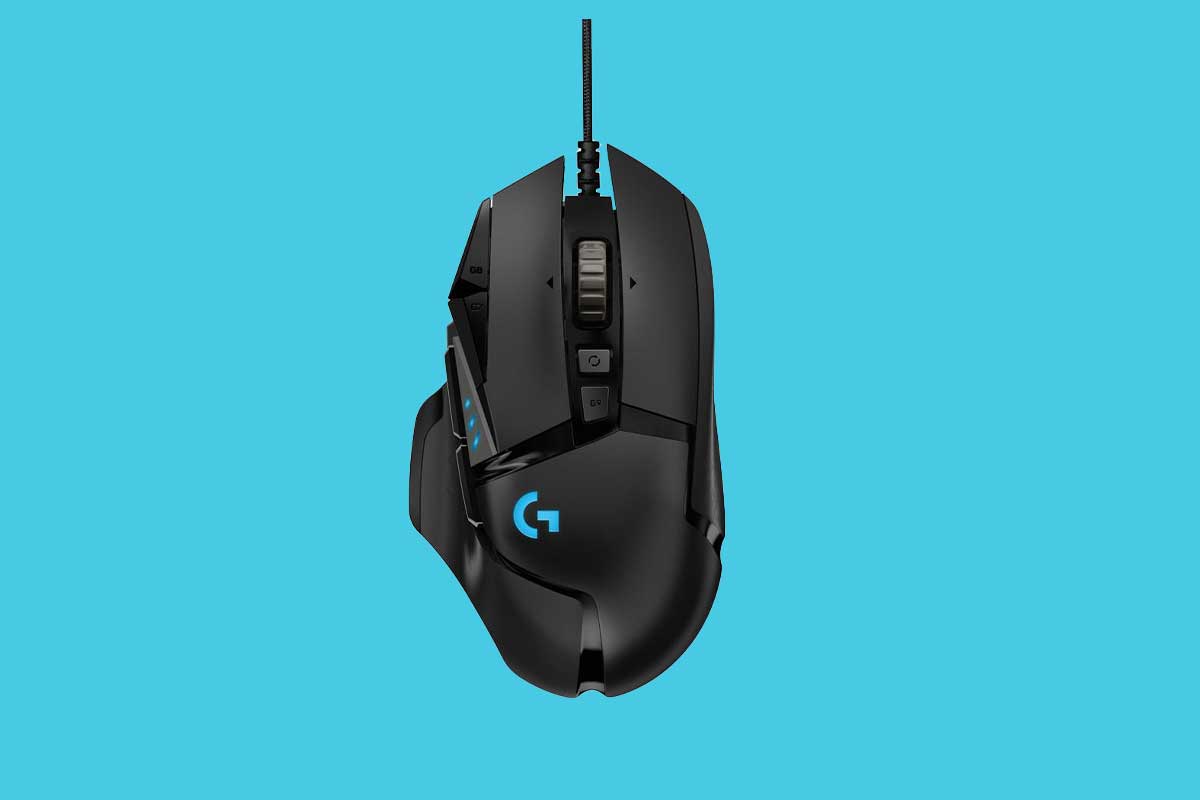 Weight: 121 grams
Connectivity: Wired USB
No. of buttons: 12
RGB: Yes
The G502 LIGHTSPEED ranks high on the list of the greatest all-around gaming mice of this generation. If you don't mind giving up its wireless connectivity, its older brother – the Logitech G502 Hero – offers the same exceptional level of performance, comfort, and functionality, but at a far more affordable price point.
Here's what makes it so great:
 Logitech's signature HERO 25k optical sensor boasts some of the highest DPI on the market and has an impressive polling rate to boot.
It comes with five 3.6g weights to help you get the mouse's heft exactly the way you like it.
You'll have 12 well-placed, fully programmable buttons to play with, making it a great choice for FPS, MOBA, and MMO titles.
The G502 HERO reigned supreme upon its release a couple of years back and it remains a spectacular gaming mouse till this day. Its age even works in your favour, as it's become more affordable than ever. If you can overlook its overly edgy design and bulky form factor, you won't regret picking up the Logitech G502 HERO.
Full Logitech G502 Hero review can be found here
---
HyperX Pulsefire Surge
A great budget gaming mouse for those who want responsive clicks!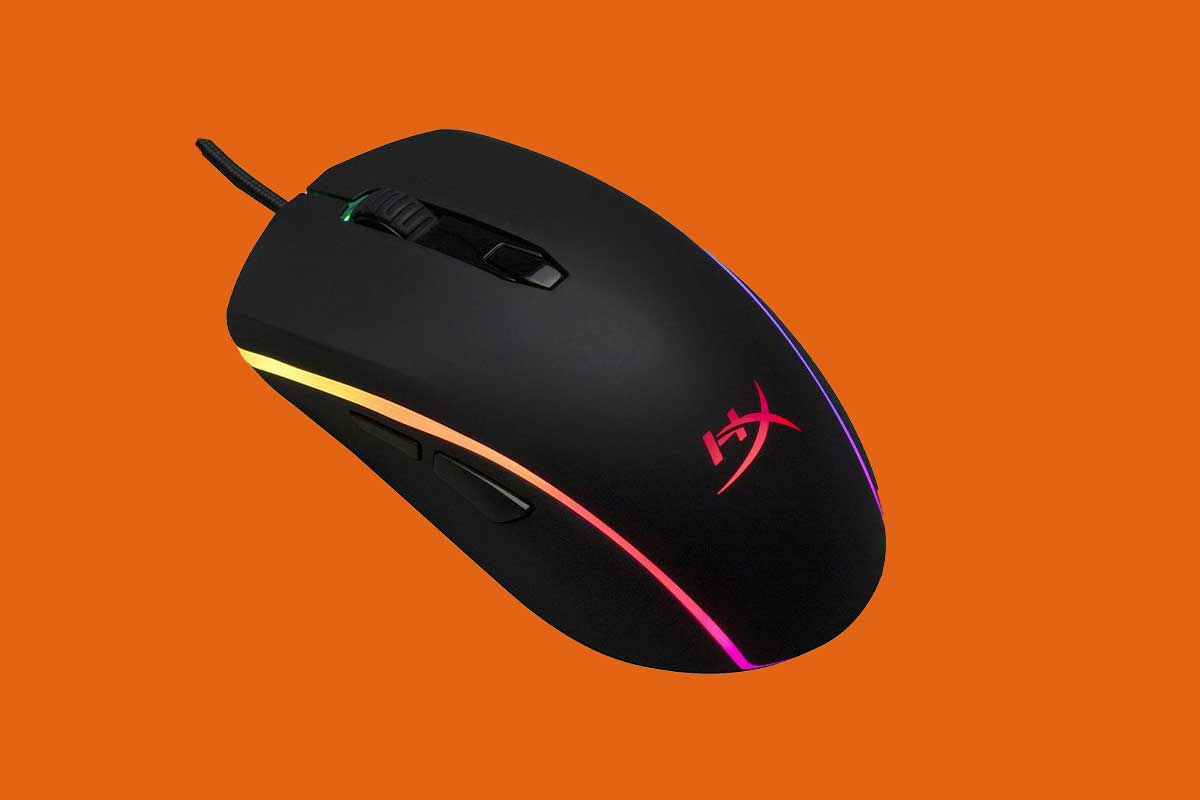 Weight: 100 grams
Connectivity: Wired USB
No. of buttons: 6
RGB: Yes
The HyperX Pulsefire Surge remains one of the best-looking (but not the best) gaming mice we've ever laid eyes on but its allure isn't only skin-deep. Despite its 16,000 DPI not being as high as some of the other entries on this list, it's still more than the average gamer will ever need and the sensor's precision is top-notch.
These are its high points:
It features a creative 360° RGB lighting design that's as innovative as it is gorgeous, making it one of our favourite RGB systems of all time.
The mouse utilizes excellent Omron switches for its primary buttons which feel extremely satisfying to click.
Its HyperX Ngenuity software offers a wide range of customization options and is one of the most user-friendly companion apps around.
It may be a little too lightweight for some and oddly enough, it employs an ambidextrous shape yet its extra buttons are optimized specifically for right-handed users. But if you're in the market for a low-profile gaming mouse that wows with its RGB lighting, feels and performs brilliantly, and manages to remain light on the wallet, the HyperX Pulsefire Surge is definitely a prime option.
Full HyperX Pulsefire Surge review can be found here
---
Steelseries Rival 3
Arguably the best value budget gaming mouse on this list!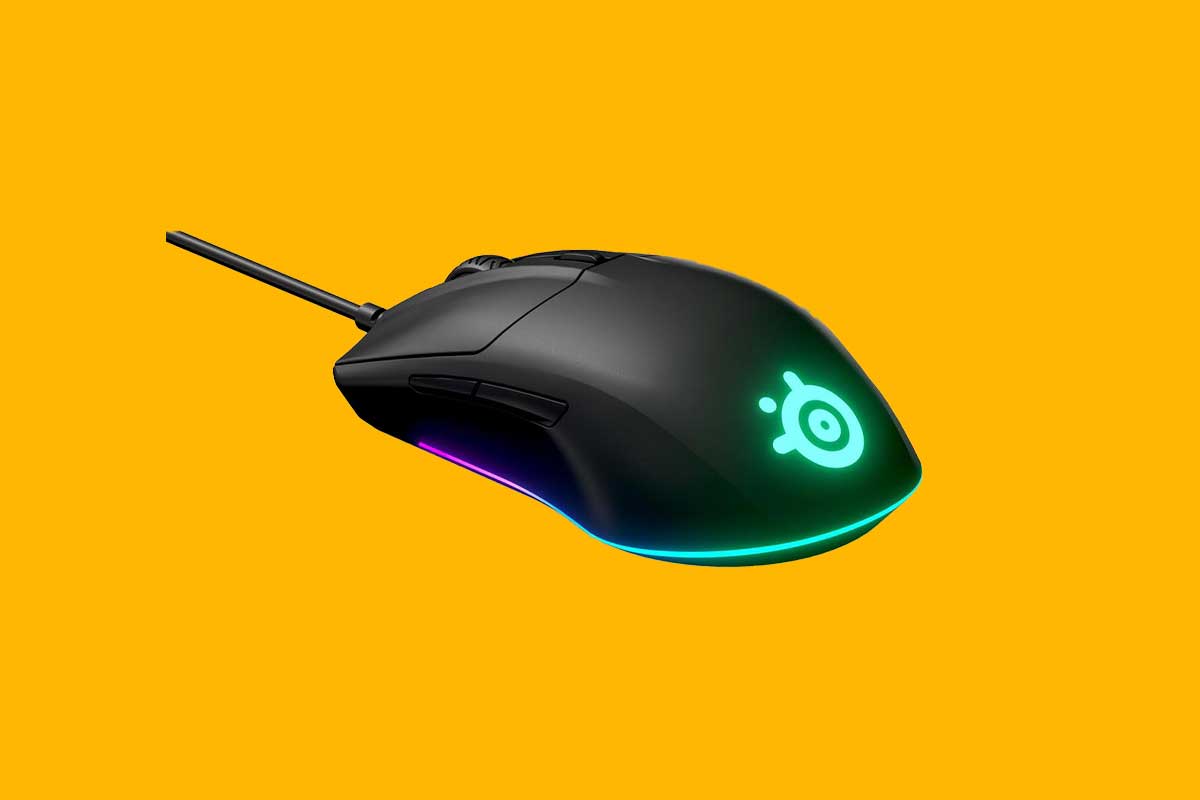 Weight: 77 grams
Connectivity: Wired USB
No. of buttons: 6
RGB: Yes
The SteelSeries Rival 3 is the Danish tech brand's entry-level offering, but that's not to say that its budget price tag takes away from how amazing this mouse is. Whether it's the sturdy build, solid performance, or stunning RGB lighting, this bad boy has a ton of great things going for it.
Here are some of its best features:
The SteelSeries Engine 3 companion software is always a joy to use with its plethora of customization options and easy-to-use UI. It also makes it incredibly easy to sync up your other SteelSeries peripherals and is compatible with macOS.
It features a gorgeous RGB strip that runs along the edge of the mouse's base and is fully customizable through its companion app.
Despite its low price, the Rival 3 feels surprisingly sturdy thanks to its tight construction and quality all-plastic build.
Its DPI may be a fair bit lower than many of its rivals and some of the extra buttons could've been a little softer, but all of the high points the SteelSeries Rival 3 has under its belt make it a fantastic gaming mouse, budget or otherwise.
Full SteelSeries Rival 3 review can be found here
---
Razer DeathAdder Elite
An incredibly comfortable budget gaming mouse!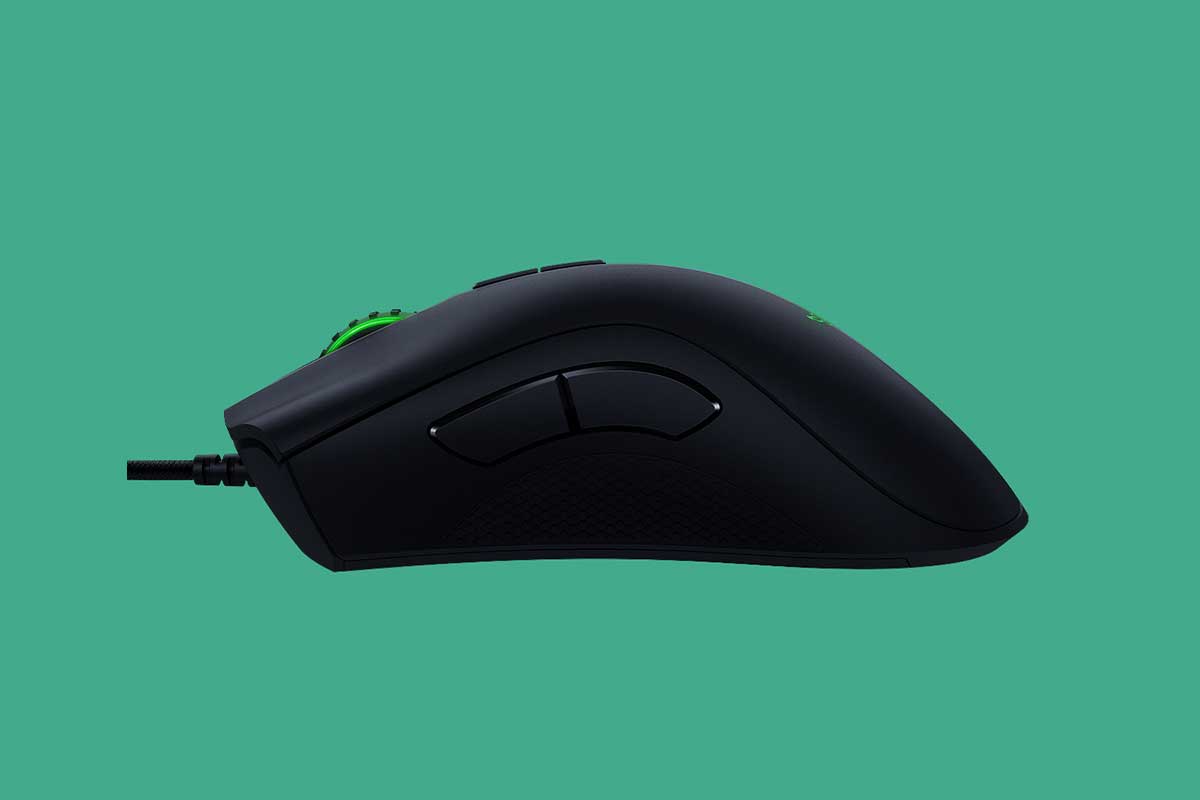 Weight: 105 grams
Connectivity: Wired USB
No. of buttons: 7
RGB: Yes
The DeathAdder Elite serves as a successor to the fantastic DeathAdder Chroma, boasting a solid sensor, timeless design, and comfy build, all at a price that isn't too heavy on the wallet.
Check out some of its highlights:
Its tasteful RGB lighting revolves around its catchy triple-snakes logo and mouse wheel, accentuating the mouse's classy, low-profile design.
The Razer Synapse 3 is one of the most accessible and sophisticated software suites around, allowing you to customize and tune your DeathAdder Elite with ease and sync it to other RazerChroma and Philips Hue peripherals effortlessly.
The mouse's ergonomic design makes it comfortable for a variety of hand sizes and grips styles, while its buttons are all well-placed and feel satisfying to press.
Apart from its rigid cable and lack of on-board memory, there really is no reason not to recommend this awesome mouse. If you've been itching to join the Razer clan but aren't keen on spending a fortune on the price of admission, the Razer DeathAdder Elite is your best bet.
Full DeathAdder Elite review can be found here
---
Corsair Dark Core RGB Pro SE
In our opinion, the best-looking budget gaming mouse!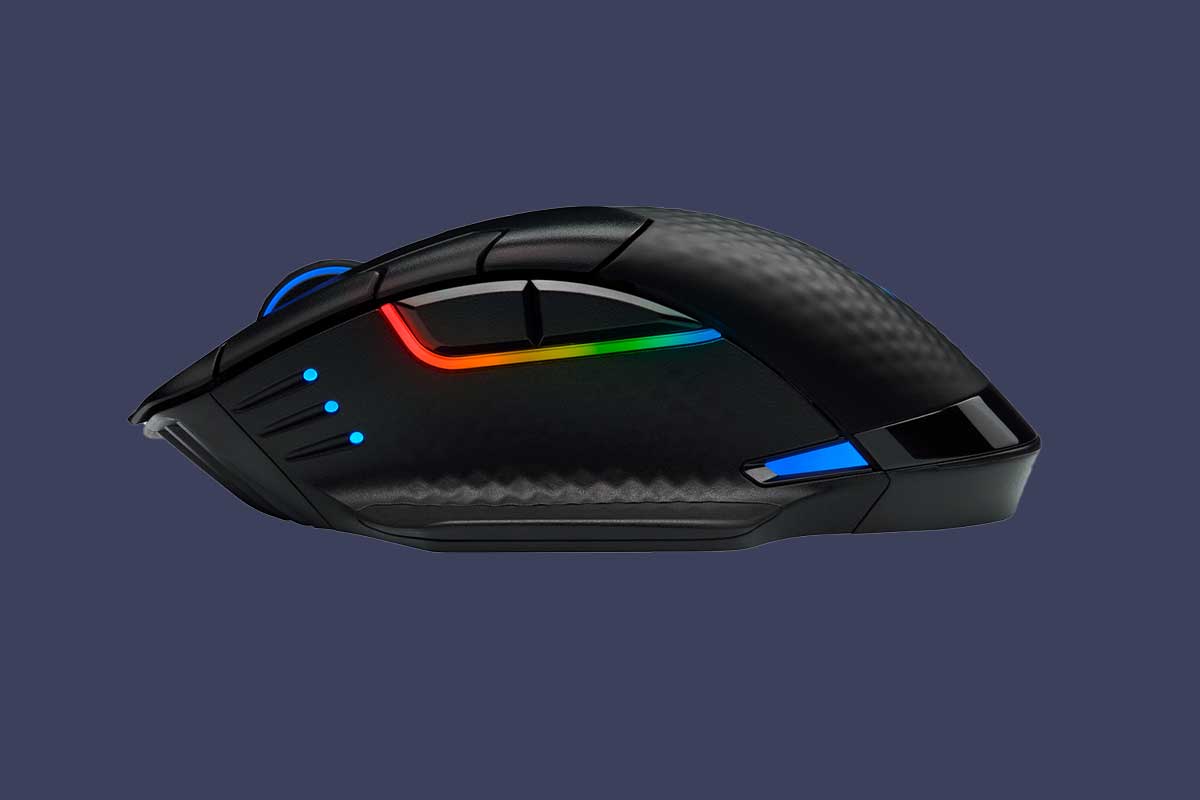 Weight: 133 grams
Connectivity: Wireless/Bluetooth/Wired USB
No. of buttons: 8
RGB: Yes
The final entry on this list – the Corsair Dark Core RGB Pro SE – also happens to be the only wireless peripheral of the bunch. But don't let its budget price fool you, it's also one of our favourite wireless gaming mice thanks to its stellar performance, a wide range of connectivity options, and its handsome design. Here are a few of its best assets:
Whether it's wireless, Bluetooth, or a wired USB connection, this mouse has it all.
While connected via Bluetooth, the Corsair Dark Core RGB Pro SE holds out for up to 50 hours of continuous use and it fully supports Qi Wireless charging.
It has a classy yet striking design that's the perfect blend of sleek and edgy.
For serious gamers who are dying to go wireless but can't afford the usually steep cost that comes along with it, the Corsair Dark Core RGB SE serves as the perfect option. Not only does it offer outstanding performance, terrific design, and a bunch of connectivity options, but it also costs about as much as a mid-ranged wired alternative.
Full Corsair Dark Core RGB Pro SE Review Here
---
Final Thoughts
Whether it's a striking design, tons of extra buttons, or wireless connectivity that you're after, there are heaps of great gaming mice on the market that are as affordable as they are impressive. We tried to ensure that our list of best budget gaming mice was as varied as possible, but if you think we missed out on a great gaming mouse that's easy on the budget, then we'd love to hear about it in the comments section below.
Best Selling Budget Gaming Mice 2021
Here are the best selling budget gaming mice in 2021 on Amazon.