When it's first created, drones weren't meant for the greater group of consumers. But ever since they became commercially available to the public, drones have soared in popularity. Whether you're a photographer or not, it's a nice gadget to have.
Considerations In Buying A Drone
While drones have taken off and soared to great heights literally and figuratively, this doesn't mean you can jump right onto the bandwagon without putting your purchase much thought. Like other high-tech gadgets, the DJI Mavic drone series and others come with a price, so you've got to be certain you're buying a good one.
Here are some tips to consider before purchasing:
Know What You're Going To Use It For
Because it's still relatively new, when you choose from among the different kinds of drones to buy from, the process won't be as daunting and exhaustive as buying a smartphone. However, this doesn't mean you aren't going to have options.
One very good way to narrow down your choices is to think about their purpose. For instance, what are you going to use the DJI Mavic Air 2 drone and other models for? There are drone types suitable for hobbyists while there are those also best for professionals.
Here are some of the different types:
As its name implies, this is one of the easiest to set up because they're automatically ready to fly. There's only minimal assembly work needed to be done.
These types come without a transmitter, so you'll need to make the mental note to buy one as well. If you've got advanced tech knowledge, then a BNF drone will do well in your hands.
In this type, you're only paying for the drone itself. It's great for beginners, as you don't have to learn a whole lot of things surrounding new controls.
Understand The Features
As a beginner, your choice will highly boil down to a matter of personal preference. Like any other gadget, it's not always the price that'll determine quality. Rather, it'd be how the price matches with the features the drone has. Also, you don't necessarily have to go for the most advanced options, especially if you're still a beginner.
Here are some of the important features you should consider to help your buying decision:
Even the most advanced and pricier options will still have a hard time making it beyond half an hour of straight flying without re-charging in between.
This is an important decision for those who are looking to buy a drone for photography purposes.
Global Positioning System (GPS) is a necessity so your drone can find its way back home.
Gimbal is needed so the drone can stay steady even in high altitudes of flying.
Range determines the extent of how far the drone can fly before you lose complete control over it.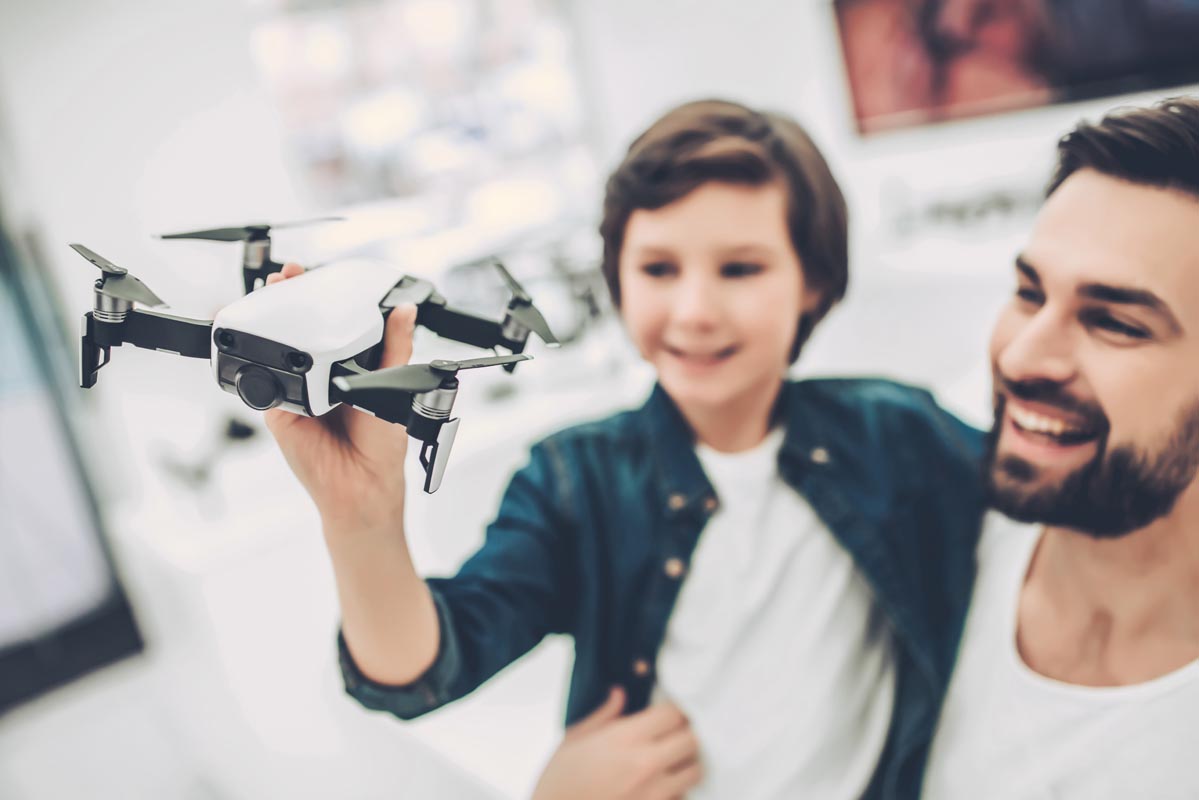 Factor In The Extra Costs
Remember, the expenses attached to buying a drone don't end at the final purchase price per se. If you want to continue using it for a long time, it's important to also consider the extra costs. Maintaining your drone regularly shouldn't break a hole in your budget.
For instance, there's an addition of always keeping a backup set of extra batteries. If you're using the drone for photography, you may also want to add in filters if it doesn't come with one. Then there's the computer needed for processing the videos. The list here would go back again to the purpose you've set for buying a drone.
Keep Your Budget In Mind
Alongside factoring in all the other costs inherent in owning a drone, it's important to keep your budget in mind. It's like buying any other gadget, so it's not worth getting into debt just for you to purchase.
Because you're only still starting this hobby, don't go full force yet with the expensive parts and features. Take it one day at a time, so you can learn more before buying newer parts and add-ons.
Conclusion
With these tips, you can now be more convinced in your decision about buying a drone. Have you long wanted to fly one? Go ahead and get started with it. These guidelines can help you through the process, reducing the likelihood of making a regrettable purchase.
Whether it's something you'd like to do professionally or just a hobby, this gadget would bring so much fun and enjoyment. They're awesome, and as they continue to become more popular and advanced, they'll always be trendy.