The mechanical takeover is here as keyboards with membrane switches are steadily being phased out particularly in the gaming scene. But gaming keyboards aren't the only ones making the switch, with more and more mechanical keyboards geared towards typing and general-use entering the market.
Whether you're a gamer looking to take their skills to the next level or a writer itching for the most satisfying keystroke, we've put together a list of what we think are the best mechanical keyboards currently on the market.
Can't spare the time to read through the whole list? Simply click any of the links below and we'll take your right to that section.
Why switch to mechanical?
Aside from being more expensive than their membrane counterparts, mechanical switches are superior in pretty much every way. For one thing, they offer a wide variety of switches,  each of which caters to a different feel and taste.
Cherry MX Blue switches, for example, come with a resounding "click" sound with every keystroke, while Cherry MX Red ones are more responsive thanks to their shorter actuation distance, making them more popular with gamers.
Mechanical keyboards are also far more customizable on account of their easily removable keycaps, allowing you to easily switch out your stock ones to whatever better suits your style. Finally, there's the shelf life. Mechanical switches live way longer than those of the membrane variety, with some of them lasting up to 100 million keystrokes.
Best Mechanical Keyboards Overview
Product Name
Logitech G Pro X Keyboard
Das Keyboard 4 Professional
Mechanical Keyboard
Product Name
Logitech G Pro X Keyboard
Mechanical Keyboard
Mechanical Keyboard
Vinpok Taptek Keyboard
Connect to three different devices simultaniously with this low profile echanical keyboard!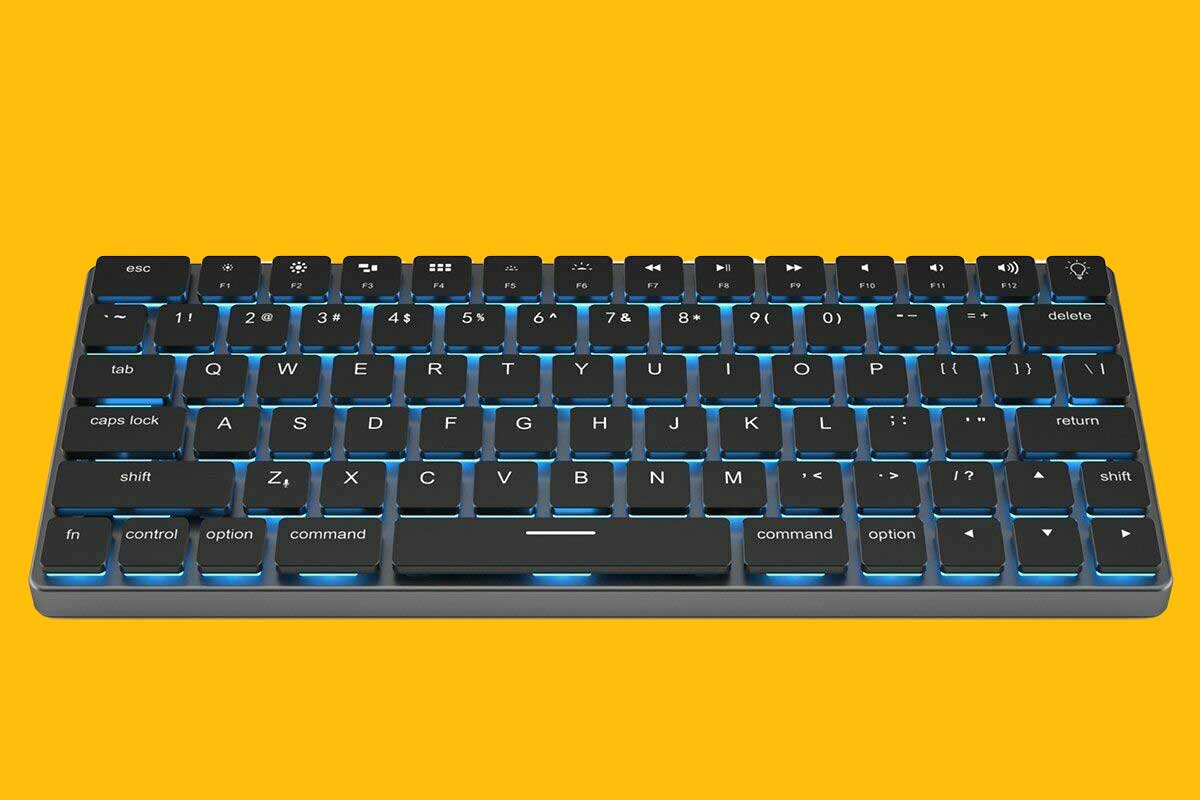 Dimensions: 28.1 x 11.7 x 1.9 cm
Switch Type: Vinpok's own low-profile mechanical switch design
Connectivity: Bluetooth/Wired USB
RGB: Yes
Don't let the Vinpok Taptek keyboard's relatively obscure pedigree fool you. It's a sturdy piece of work that performs fantastically and looks great to boot. And the best part? It's wireless. Here are a few of its highlights:
Its Bluetooth connectivity allows it to easily sync with a vast array of devices, including Windows, macOS, iOS, and Android machines.
 The Vinpok Taptek keyboard allows you to connect to up to 3 different devices at the same time, switching between them at the push of a button.
It features a gorgeous low-profile design that's exceedingly compact, making it both space-saving and easy to transport.
Aside from its relatively steep price tag and odd "shift" key placement, the Vinpol Taptek keyboard is a fantastic wireless peripheral that leans more towards Mac users with its design. So if you love how Apple crafts their keyboards and want a cordless alternative that is built well, feels great and connects to just about anything with Bluetooth, then you should definitely give the Vinpok Taptek a closer look.
Full Vinpol Taptek mechanical keyboard review here
---
Logitech G Pro X Keyboard
An incredibly well-designed and durable premium mechanical keyboard!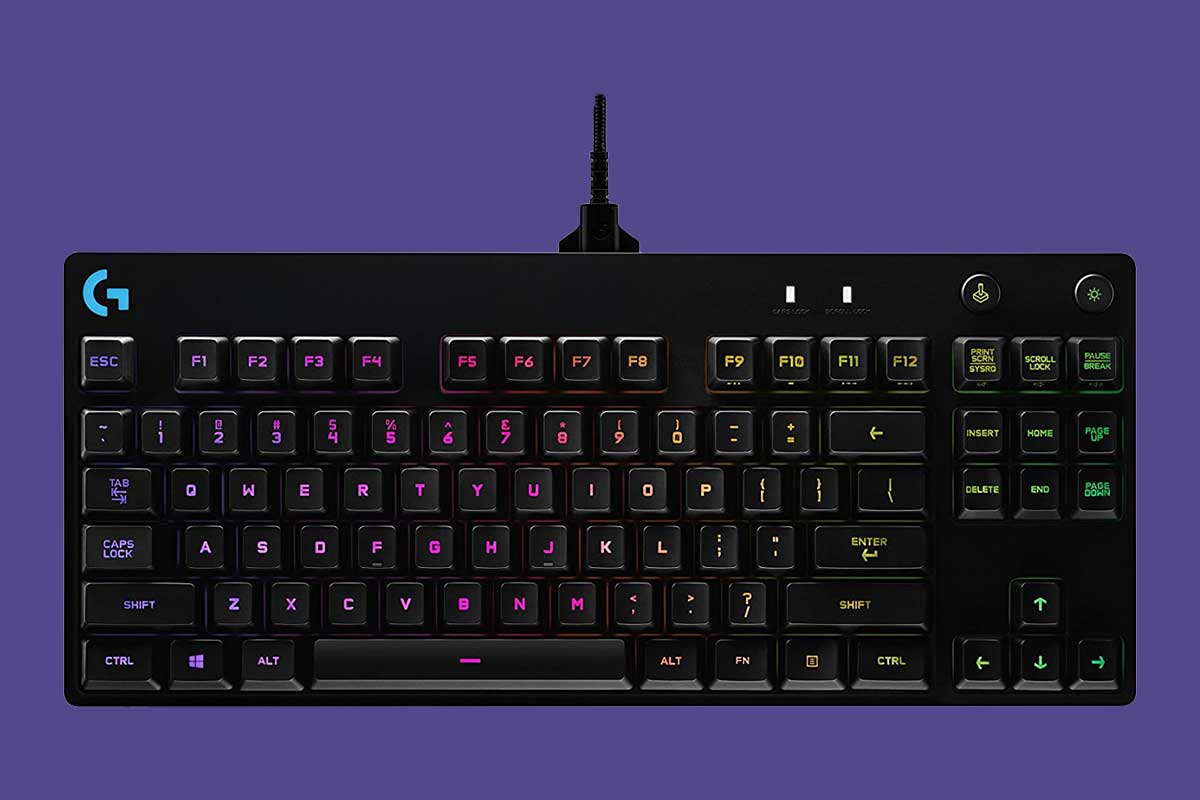 Dimensions: 36.1 x 15.3 x 3.4 cm
Switch Type: Logitech GX Blue, GX Red, or GX Brown
Connectivity: Wired USB
RGB: Yes
Ever look at your mechanical keyboard and just wish you could replace its switches with another variety? Maybe you're sick of the clickety-clack that your Cherry MX Blues make and want to replace them with something more subtle like the MX Browns.
Usually, this is a risky and complicated process, but the Logitech G Pro X Keyboard actually makes it its selling point. Not only can you swap out your switches easily, but you're also getting a peripheral that oozes style and performs exceptionally. Check out some of its strong points:
The keyboard comes with your choice of Logitech's signature GX Blue, GX Brown, or GX Red switches, while the rest of them can be purchased separately for whenever you want your installed switches replaced.
The G Pro X Keyboard's minimalist RGB lighting is subtle but charming, making it great for both gaming or work.
It's extremely well-built from its frame to its keycaps, so you can expect it to last for many years even with intense usage.
The G Pro X isn't particularly expensive, but if you plan on collecting all the different switch varieties then be prepared to spend some serious coin. Its characters are also pretty much invisible unless the backlight is on which is an odd design choice. If these things don't bother you much and you're dead set on a hot-swapping mechanical keyboard, the Logitech G Pro X keyboard is hands down the best choice.
Full Logitech G Pro X keyboard review here
---
Das Keyboard 4 Professional
The best mechanical keyboard for typing and professional work!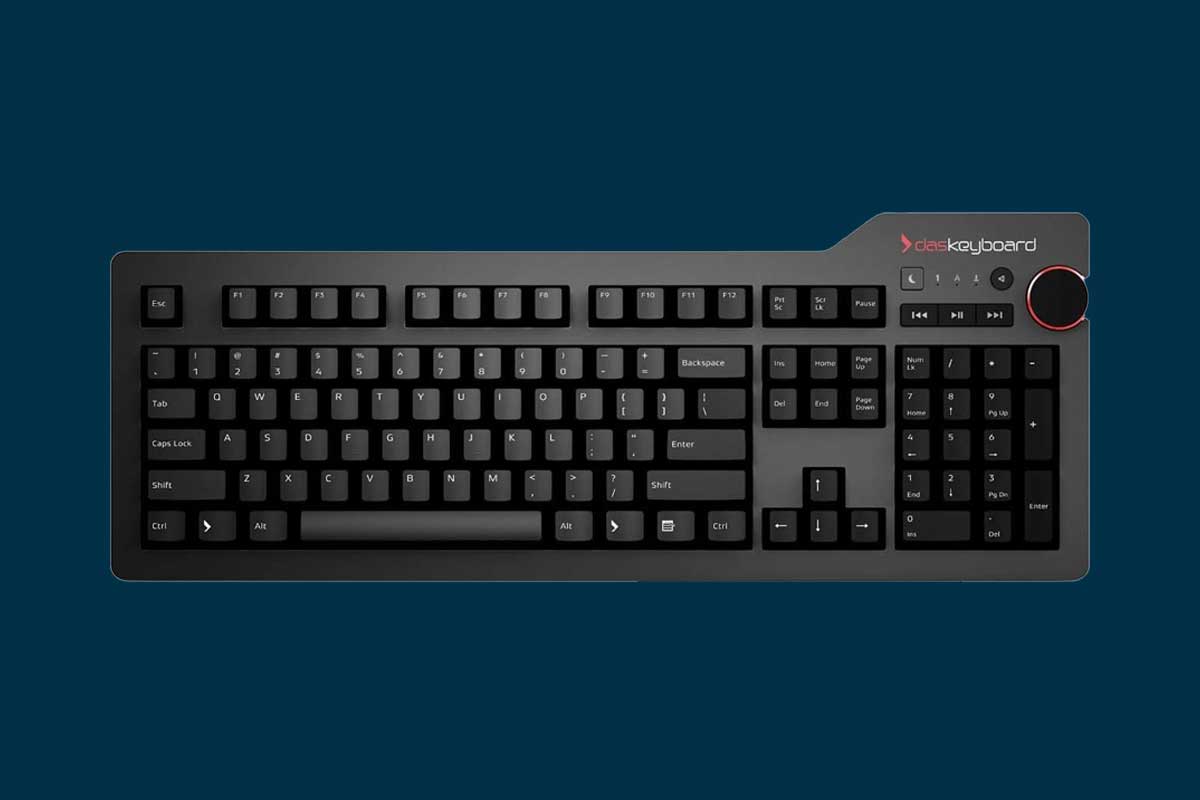 Dimensions: 45.72 x 17.272 x 2.032 cm (height is 3.1 cm when elevated)
Switch Type: Cherry MX Blue or Brown
Connectivity: Wired USB
RGB: No
As its name suggests, the Das Keyboard 4 Professional was built for people whose jobs revolve a great deal around typing such as programming and writing. This is on account of its exceptional switch performance and sturdiness, making it a competent gaming keyboard as well. Here are a few reasons why it made the list:
It comes with either Cherry MX Blue or Brown switches, meaning you can choose between a more resounding click or a subtler typing experience that still offers satisfying tactile feedback.
The keyboard acts as a USB 3.0 hub, featuring 2 extra USB ports for easier access.
The Das Keyboard 4 Professional's top panel is made of high-grade anodized aluminium, making it extraordinarily durable and giving it a nice premium feel.
Das Keyboard 4 Professional
Cherry MX Brown mechanical key switches with Gold contacts for a soft...
rugged construction to withstand 50+ million keystrokes with aluminum top...
two port USB 3.0 Super speed hub 5 GB/s; 10x the speed of USB 2.0
oversized volume knob and dedicated media controls and instant sleep button
Not having a companion app and failing to add a backlight may be serious missteps to some people, but as far as performance and build qualities go, the Das Keyboard 4 Professional is one of the best full-sized non-gaming mechanical keyboards money can buy.
Full Das Keyboard 4 Professional review here
---
Corsair K95 RGB Platinum
A quality all-round mechanical keyboard!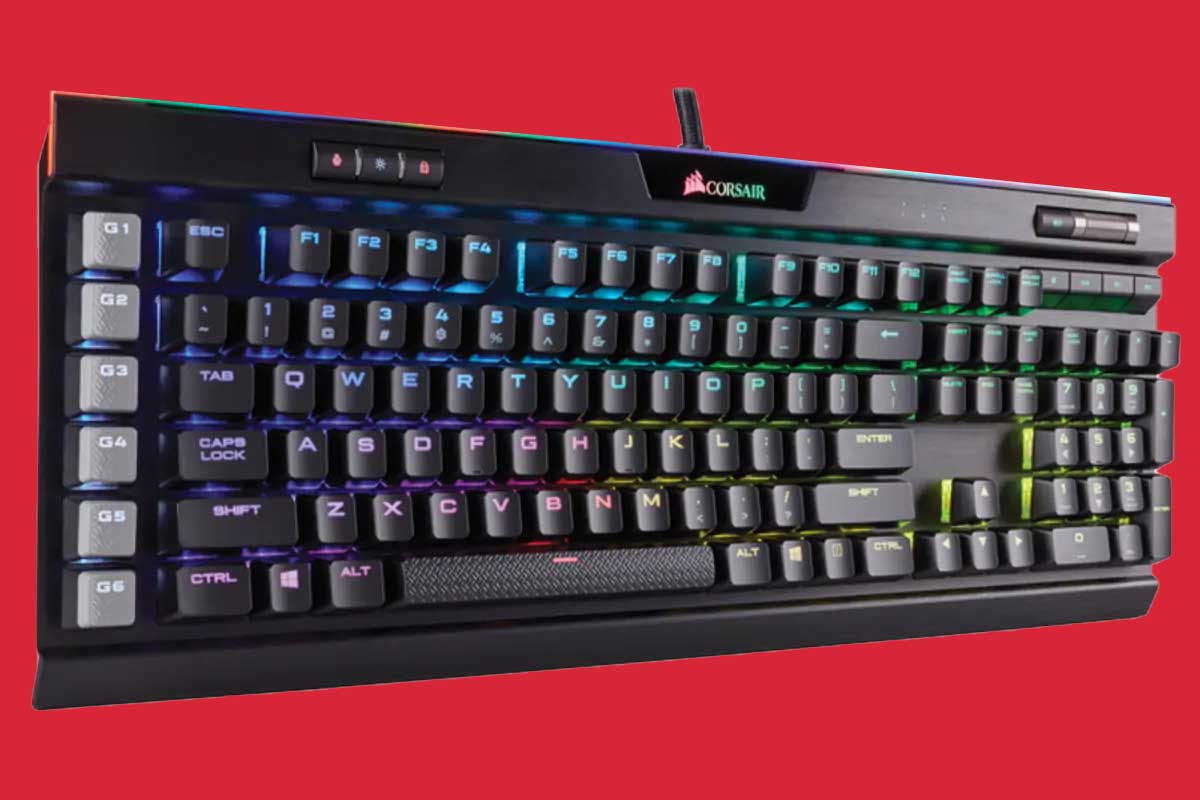 Dimensions: 46.5 x 17.1 x 3.6 cm
Switch Type: Cherry MX Speed, Red, or Brown
Connectivity: Wired USB
RGB: Yes
The K95 RGB Platinum is the successor to the brand's flagship K95 Vengeance, offering up a design akin to its predecessor but with more impressive RGB lighting and some upgraded switches. Here's what makes it so great:
You get to choose from 3 different Cherry MX switches, either the MX Speed, MX Red, or MX Brown, all of which perform exceedingly well.
The keyboard's aluminium frame is phenomenally sturdy and able to withstand daily doses of the most intense video game sessions.
It comes with a nifty detachable wrist rest and some extra keys.
Corsair K95 RGB Platinum
Aircraft grade anodized brushed aluminum frame: Built to withstand a...
8MB profile storage with hardware macro and lighting playback: Allow access...
Dynamic multicolor per key backlighting with Light Edge: Adjust each key's...
100percentage CHERRY MX Speed RGB mechanical key switches: Unleash...
Fans of clicky switches will be disappointed with the lack of a Cherry MX Blue variant and its steep price tag might be off-putting to some, but if you can get past those shortcomings, you'll find that the Corsair K95 RGB Platinum is among the greatest mechanical gaming keyboards around.
Full Corsair K95 RGB Platinum review here
---
Ducky One 2 Mini Mechanical Keyboard
The Duck One 2 Mini Mechanical Keyboard is a cult-classic and for good reasons!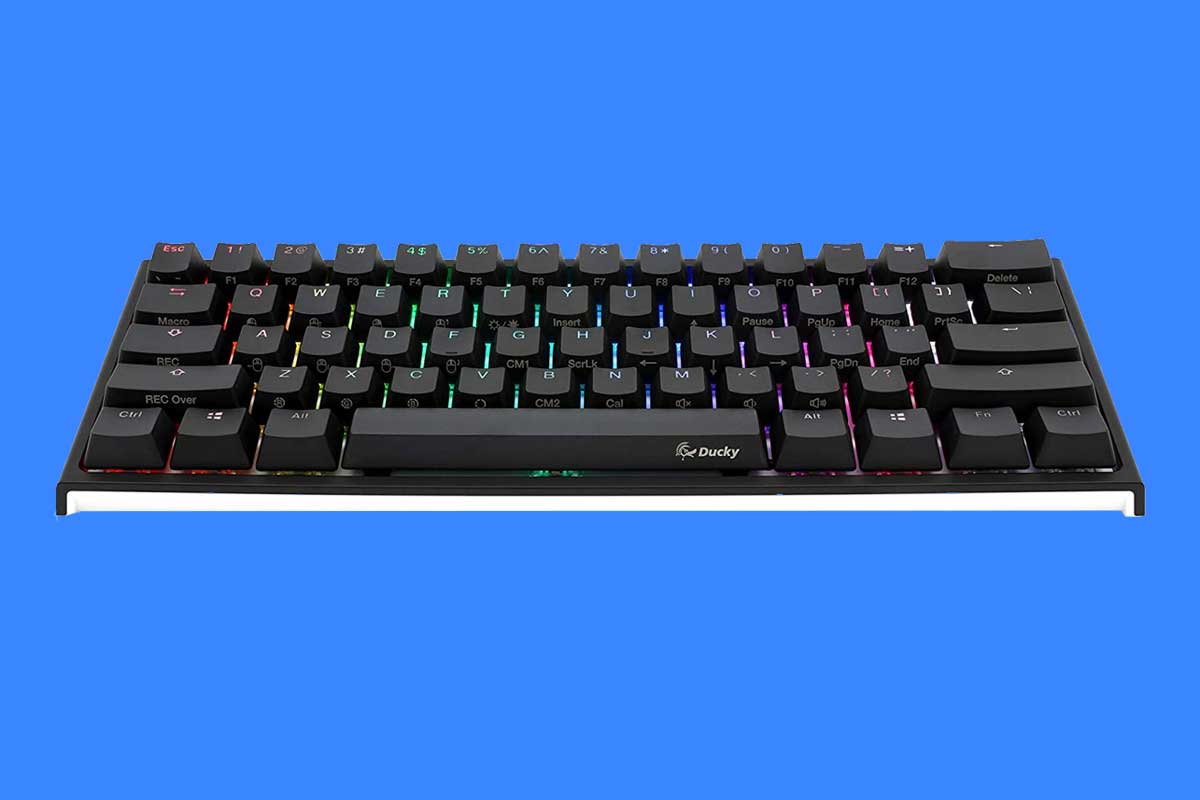 Dimensions: 31.5 x 10.7 x 3.8 cm
Switch Type: Cherry MX
Connectivity: Wired USB
RGB: Yes
The Ducky One 2 Mini is the Taiwanese brand's mainstream 60% mechanical keyboard model, boasting a diverse collection of colourways and keycap designs. Looks aside, you're also getting top-notch performance and a tough-as-nails build. These are some of its best features:
The keyboard comes in a bunch of different colour schemes and you can also purchase all kinds of aftermarket keycaps, meaning there's a Ducky One 2 Mini design out there for everyone.
You can choose whichever Cherry MX switch type suits your taste.
This keyboard still offers lots of features despite not having a companion app, such as profile configuration, macro creation, and RGB customization.
Having to set up the Ducky One 2 Mini's extra features without a UI is undoubtedly frustrating and giving up arrow keys will surely be a big deal to some, but that's all fair game in exchange for what is perhaps the best and most customizable 60% mechanical keyboard on the market.
Full Ducky One 2 Mini review here
---
Final Thoughts
Nowadays, whether it's for work or for play, full-sized or compact. wired or wireless, there's a mechanical keyboard for everyone. Hopefully, our list of best mechanical keyboards helps you finally graduate from a life of membrane switches and onto a far superior mechanical experience. If you think there's an amazing keyboard that deserves to be on this list, we'd love to hear about it in the comments section below.
Last update on 2021-09-30 / Affiliate links / Images from Amazon Product Advertising API