Anyone who's familiar with travelling knows how overwhelming it can be to figure out which gadgets and gizmos are coming along for the ride, especially if you're a techie who's itching to bring all the cool toys. It's difficult enough deciding what clothes and supplies you're going to stuff into your luggage without having to make room for that jumbo-sized Bluetooth speaker.
To save you the hassle, we've come up with a list of the Best Travel Gadgets for Techies so you know what are the perfect tools to keep handy while you're out on the road. Knowing the right gadgets for the job can make all the difference between a fun-filled trip and a nightmare vacation.
Don't have the time to read through the whole list? Just click on any of the links below to skip right to that product.
 Anker Powercore 10k: Best Portable Charger for Travelling
Ever watch a movie where the protagonist is lost in some foreign city and pulls out their phone only to realize that the battery is dead? Be better. Avoid getting caught with your proverbial pants down by having one of the all-time best gadgets to take travelling, the portable charger. Also known as a power bank, having a portable charger handy ensures that your smartphone has a second wind or two in case your next encounter with an outlet is still a ways away.
It's also nifty for juicing up your portable video game console, tablet, camera, or any mobile device for that matter. That being said, it's a device that's useful not only for travelling but for everyday life as well. But with so many brands and types of portable chargers flooding the market, which one should you choose?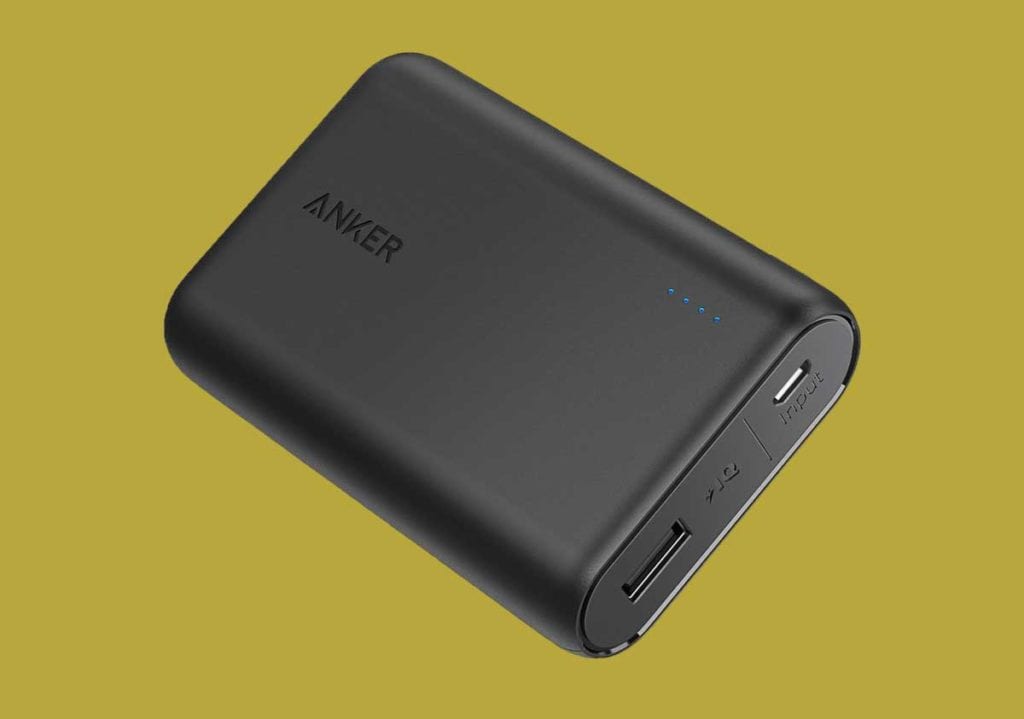 While the hallmark of a great portable charger is its power capacity, its size and weight also come into play especially when you're travelling. Wouldn't want to carry a brick in your bag or purse no matter how well it charges. Anker has been in the power bank game for a while now and has already managed to cement its name as one of the leaders in the space. These guys know what they're doing. And the Anker PowerCore 10,000 Portable Chargeris one of their greatest masterpieces.
"All the power but light on your pocket and wallet"
This sleek little beauty's best feature is its initial power capacity of 10,000mAh, which is very impressive considering its weight and size. This provides around 2 full charges, give or take, for current flagship smartphones. The PowerCore 10,000 is a mere 181 grams so you'll hardly even notice it in your bag while you're on the go. It's also only 9.2 cm long, 6 cm wide, and 2 cm thick meaning it'll easily fit in your hand or pocket in case you're wandering about without any sort of container. Its output charging sits at speedy 2.4 Amps allowing it to accommodate most fast charging devices.
Design-wise the PowerCore 10,000 doesn't exactly break any boundaries but remains quite pleasing to the eyes with its rounded edges and variety of colours. Perhaps its only flaw lies in the fact that it only has 1 charging port. But that only really means that this particular portable charger was meant to be used by a single person at a time, and sports the higher power capacity of power banks with multiple ports.
Anker PowerCore 10000 Review
Design

Features

Total Value
Anker PowerCore Review Summary
The Anker PowerCore 10000 is an unexpectedly well-built portable charger that's delightfully tiny and light as a feather, making it the perfect little gadget to take with you travelling. Its large power capacity ensures that you'll have plenty of juice for all your gadgets and it's affordable to boot. With its only downside being its singular charging port, the Anker PowerCore 10000 is easily one of the best ultra-compact portable chargers you can buy for $20.
Pros
✓ Compact and lightweight
✓ 10,000 mAh power capacity is massive for something so small
✓ Affordable
✓ Ergonomic design
✓ Fast output charging means devices charge at full speed
Cons
✘ Contains only one charging port
EPICKA: Best Universal Travel Adapter for Travelling
Essentially, a universal travel adapter's main purpose is to allow you to plug in a device from one country into the outlet of another. Any experienced traveller is well-aware of the fact that outlets differ from one country to the next, and carrying around a bunch of different socket converters would be pretty cumbersome, to say the least. That's where the universal travel adapter comes in.
With this incredibly useful device, you'll never again have to worry about what the outlet's going to look like no matter which country you're visiting. As an added bonus, recent strides in universal travel adapter technology have added a host of new features beyond just altering the shape of a plug. Problem is, there are just so many varieties of universal travel adapters to choose from, so which one should you pick?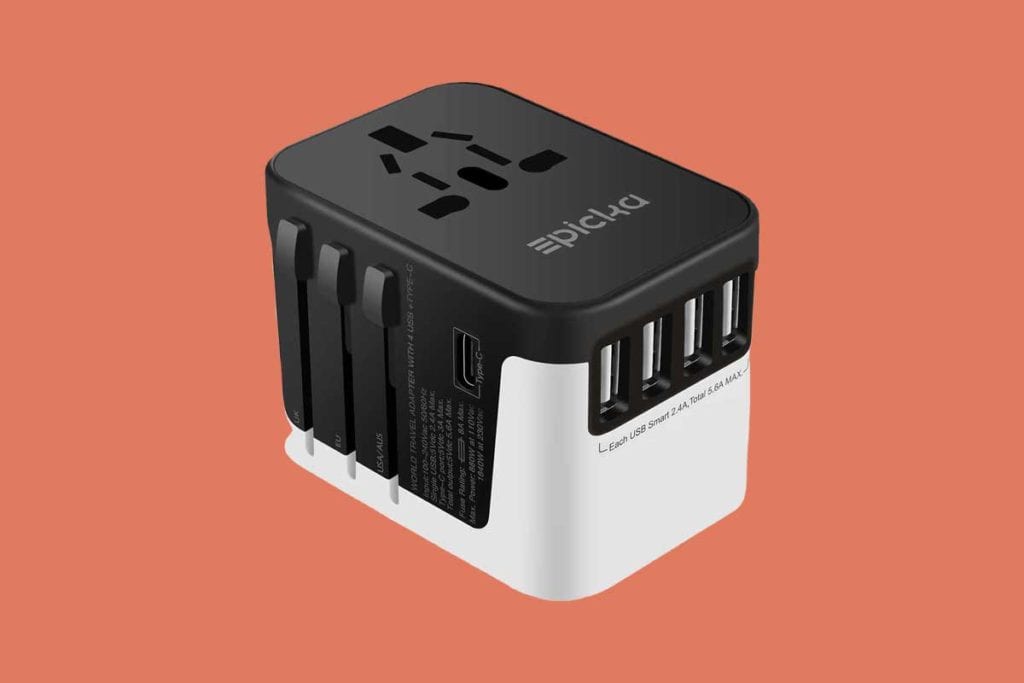 A common trait among the best travel gadgets is portability and universal travel adapters don't get much more portable than the one from EPICKA. The EPICKA Universal Travel Adapteris only around 7cm long and 5 cm wide and thick, making it painless to stow away in your bag or luggage. It also weighs a mere 204 grams so you won't even notice its there. It's also designed to require no accompanying cords, so you just need to tuck it away somewhere with its free storage pouch.
"All the ports and then some"
What really sets the adapter apart, however, is just how many ports it packs. It features a whopping 4 standard USB ports, a USB Type-C port, and an AC socket, which is absolutely bonkers considering the adapter's size and weight. That's a total of 6 potential devices you can charge simultaneously. It even comes with an iPhone charger, which is one less charger to worry about if you carry an Apple smartphone.
Unfortunately, we all know that no gadget is perfect and the EPICKA Universal Travel Adapter Achille's heel lies in its button and slider mechanism. The concept behind it is fairly straightforward and easy to manoeuvre. All you have to do is hold down the button, figure out the plug you want, then move the corresponding slider to push it out.
Problem is the sliders can feel a little sticky at times and the button safeguard can seem a tad inefficient. But these are all minor inconveniences that don't take much away from how stellar the EPICKA Universal Travel Adapter really is.
EPICKA Universal Travel Adapter Review
Look Station

Features

Total Value
EPICKA Travel Adapter Review Summary
The EPICKA Universal Travel Adapter truly has it all. It's portable, affordable, safe, easy to use, and has all the charging ports that you could ever ask for. If you can get past the sliders' slight stickiness, you'll find one of the best travel gadgets for a life on the road.
Pros
✓ Impressive number of charging ports
✓ Compact and lightweight
✓ Affordable
✓ All the safety features you can ask for
Cons
✗ Sliders can feel sticky at times
UE Wonderboom: Best Portable Speaker for Travelling
What's a trip to the beach without the right speaker to blast some banging tunes? Nowadays almost everyone owns some kind of portable speaker. They're often affordable, easy to lug around to your friend's house or the pool, and are a whole lot better than having to play music using your phone's speakers. The question is, is it the right kind to take with you on your travels.
The makings of a great portable speaker fit for travelling lie in its durability, size, waterproofing, battery life, and, of course, audio quality. Having it look cool is also a huge plus since aesthetics matter to most people – myself included. But with a seemingly endless variety of portable speakers to choose from, which do you pick?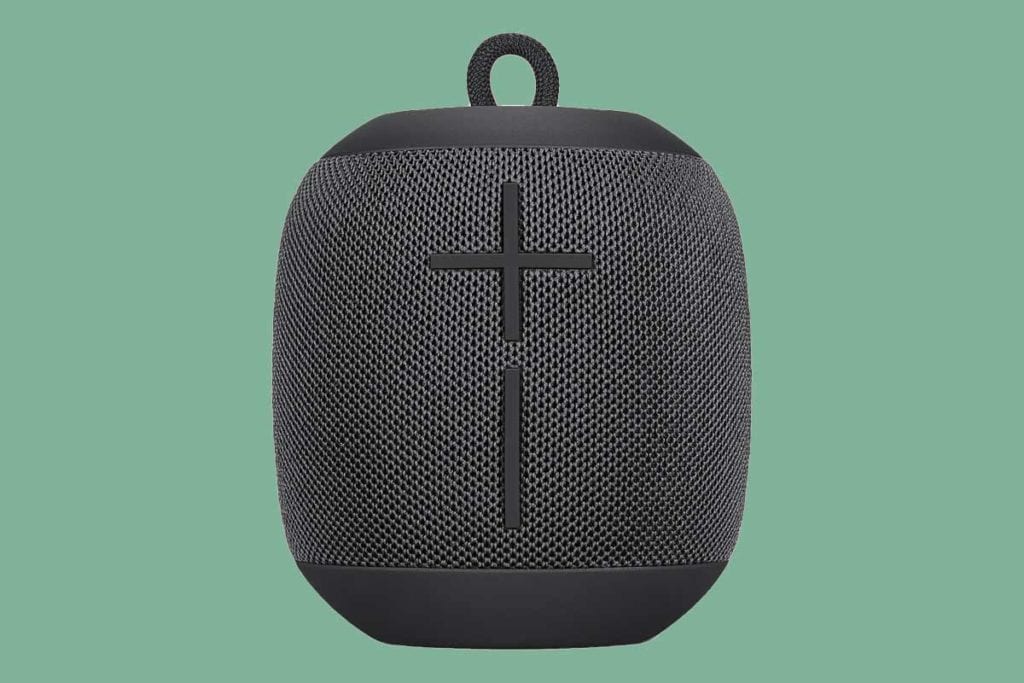 UE (short for Ultimate Ears) has been in the business of manufacturing earphones and speakers for the past 25 years, venturing into the portable speaker market in 2013. That's 7 years of creating mobile speakers, earning them a reputation for coming up with innovative and high-quality products.
One of their more oddball releases is a quirky little device called the UE Wonderboom. While UE's flagship line of Boom portable speakers are tall and cylindrical in shape (kind of like a Pringles can),  the Wonderboom, on the other hand, looks like the end product of grabbing the Boom from both ends and smushing it till it's almost a third its size.
They've also rounded out the edges to make the device look a lot more sporty and youthful. Its best feature has to be its overall design through which UE has succeeded not only in creating a speaker that's easy on the eyes but also compact enough that you can throw it in your bag or luggage without having to worry about giving up too much space.
 "A pretty little guy with a powerful voice"
UE made sure to keep their signature oversized "+" and "-" buttons on the front of the speaker to make volume control easier than ever. On top of the speaker, you'll find three buttons that control power, playback, and Bluetooth, along with a utility loop that you can use to hang it on various surfaces.
On the bottom, you'll find a flap that hides a micro USB port and the final button which actives the Outdoor Boost. This instantly boosts clarity and loudness by tuning the audio specifically for outdoor playback. Just like its predecessors, the Wonderboom's middle part is wrapped in waterproof material, boasting a waterproof rating of IPX7. This means you can dunk it in a metre of water for up to 30 minutes. You won't have to worry about it sinking either since the speaker automatically floats up to the surface on its own.
Bear in mind that the UE Wonderboom is completely wireless, so you shouldn't expect an aux jack that you can plug in your audio devices with. But when it comes to connectivity range, the speaker works great for over 24 meters without causing skips. UE included their trademark feature of allowing a device to pair with two different Wonderboom speakers for double the power.
As far as sound quality goes, the Wonderboom doesn't exactly win any awards but is perfectly capable of producing above-average output both indoors and outdoors. What it does excel at is being surprisingly loud for such a tiny little fella. Putting it on full blast, however, takes a heavy toll on its battery life which UE claims is around 10 hours.
All things considered, the UE Wonderboom may not be the speaker you want to keep at home for everyday use, but its small stature and Outdoor Boost mode make it the perfect waterproof portable speaker to take with you on the road.
UE Wonderboom Review
Look Station

Features

Total Value
UE Wonderboom review Summary
The Wonderboom is one of UE's prettiest portable speakers that also happens to punch way above its weight class when it comes to loudness. It features stellar audio quality for its size and its compact and lightweight design in tandem with its IP67 waterproof rating make it the perfect travel buddy. The audio does tend to get a little shoddy at louder volumes, but that doesn't stop the Wonderboom from being a spectacular portable speaker.
Pros
✓ Rugged yet attractive design
✓ Portable and lightweight
✓ Good battery life
✓ IP 67 Waterproof
✓ Affordable
Cons
✗ Audio distorts at high volumes
OCLU Action Camera: Best Action Camera for Travelling
Smartphone photos and videos have come a long way since the days of VGA cameras and footage blockier than a game of Minecraft. And while a modern mid to high-tier phone is perfectly capable of taking stellar photos and videos of everyday occurrences, it's not exactly the best choice for recording top-notch footage of more exciting situations. That's where action cameras come in.
Action cameras are sturdy, compact versions of the standard point-and-shoot cameras that can be mounted on different surfaces to make capturing more extreme adventures a breeze. Whether it's skydiving, windsurfing or anything in between, an action camera's the recording device that you'll want by your side during your travels.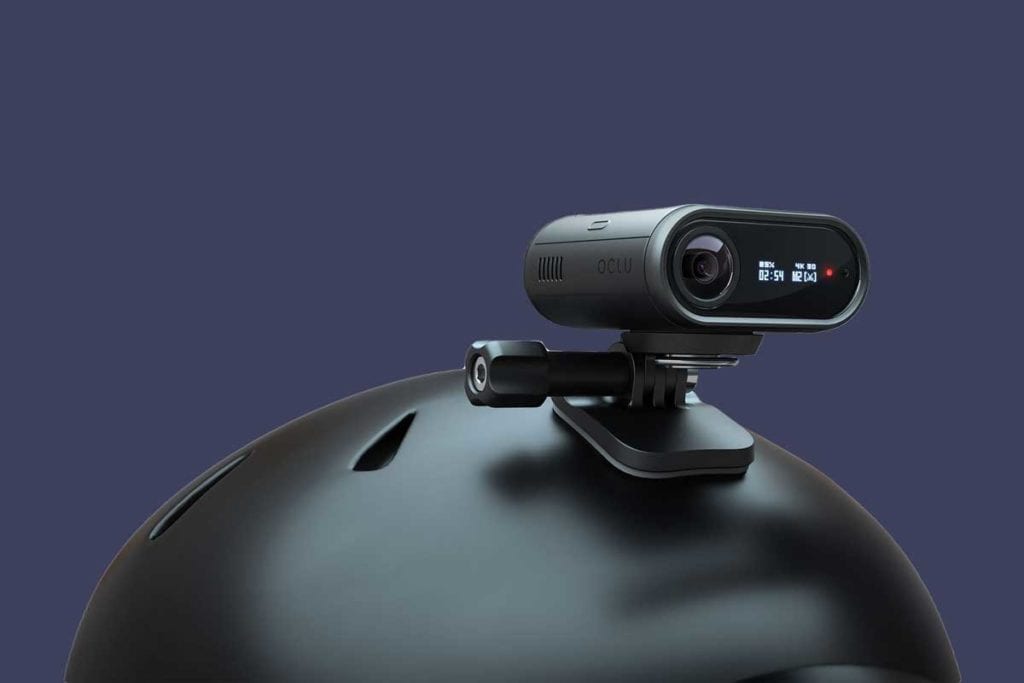 When most people hear the term "action camera" the first device that comes to mind is the GoPro, but it definitely isn't the be-all and end-all for devices of its nature. The introduction of the OCLU Action Camera gave the GoPro a run for its money, introducing a bolder design at a lower price point. Most action cameras share a bland, rectangular shape that isn't much to look at, whereas OCLU's version has a sleeker body with rounded edges. It's easily one of the prettiest (if not THE prettiest) action cameras around.
"Capture your adventures in 4K!"
The best thing about it is its overall design which is a lot more aerodynamic than the competition and offers revolutionary camera placement and body layout. Instead of placing the camera lens on the body itself like most action cameras, OCLU positioned its lens on the top edge of the device, leaving plenty of room for the LCD screen. This layout is absolutely perfect for mounting on motorcycles or other highspeed vehicles since you can easily see what the OCLU is filming.
It also has a tripod thread built into its bottom part so you can attach it to a tripod without the need of an external case or mount. On its own, the OCLU Action Camera sports a waterproof rating of IPX7 meaning it can handle being submerged in up to 1 metre of water for up to 30 minutes. If that's not enough for you, you can purchase its OcShell IPX8 waterproof case which allows it to reach depths of up to 50 metres.
So now you know it looks great, sports a cutting-edge design, and doesn't mind getting wet. But just how good are the pictures and videos? The good news is that it's not just a pretty face. The OCLU shoots 4K resolution videos at 30fps and features electronic image stabilization with 1080p at 30 or 60 fps to give you crystal clear footage that's buttery smooth. It doesn't stop there.
There's a host of filming modes and presets to chose from to elevate your shots even further. Its LiveCut feature allows you to easily manage the videos you plan on keeping while discarding the rest. It also has an incredibly convenient app that connects it to your smartphone via WiFi or Bluetooth, allowing you to set your shooting mode, edit your photos and videos, and share them on social media.
The only downside that comes to mind is the OCLU Action Camera's inability to shoot at 60fps when set to 4K – a feature present in some GoPro iterations. While that may turn off some photophiles, it shouldn't take away from just how much the OCLU Action Camera has to offer – groundbreaking design, quality accessories, a robust smartphone app, and top-shelf recording capabilities all at a knockout price.
OCLU Action Camera Review
Look Station

Features

Total Value
Summary
The OCLU Action Camera is a fantastic device that's a lot more than just a GoPro alternative. It's innovative camera placement and aesthetically-pleasing yet function design are reasons enough to choose it over any of its competitors. Add that to its revolutionary Live Cut feature and stellar image quality and you've got one of the best action cameras currently sitting at the $199 mark.
Pros
Excellent image quality
Live Cut feature is groundbreaking
Innovative camera placement and overall design
Good battery life
Well-built and easy to use
Affordable
Cons
Shooting in 4K locks you at 30fps
DJI OSMO Mobile3: Best Smartphone Gimbal for Travelling
If you're wondering why your videos don't look as silky smooth as the ones posted by your favourite travel blogger, it's probably because you're shooting without the help of a gimbal. A gimbal is a stabilizing mechanism that was initially more common in professional-grade filming equipment.
Nowadays, however, there are more than a fair share of smartphone gimbals/stabilizers to help you elevate your videos to new heights. You too can shoot jitter-free, buttery footage of your travels that'll have your social media followers wondering if you're actually a professional. Now all you have to figure out is which one to pack for your trips.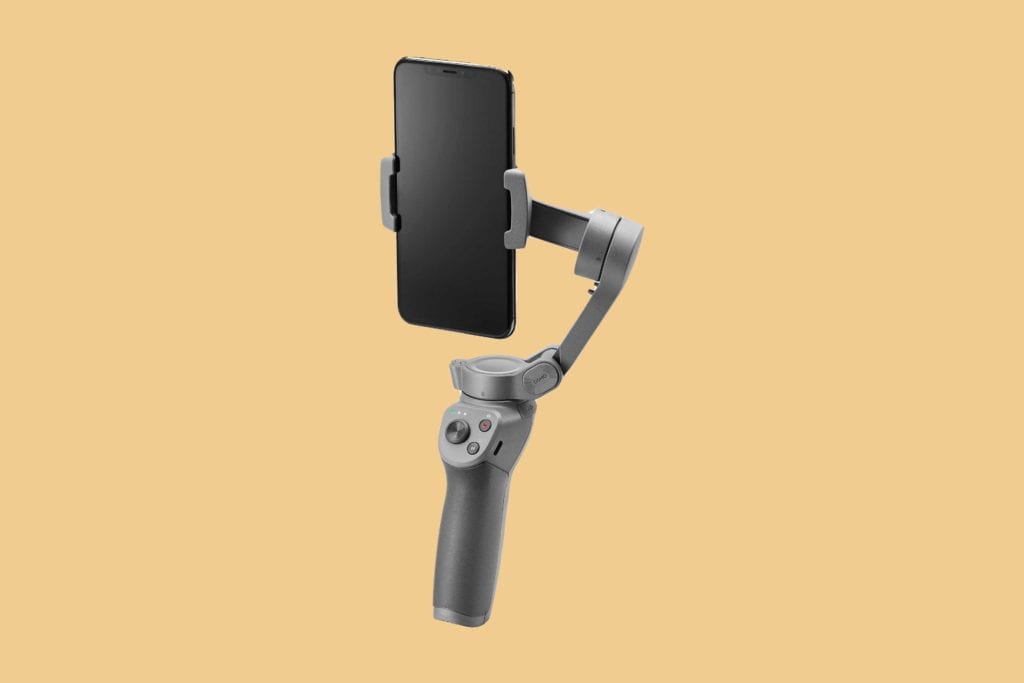 "Big things come in small packages"
DJI successfully broke into the smartphone stabilizer market a few years back with their Osmo Mobile lineup of phone gimbals. Each generation provided some notable upgrades to the last, with the most impressive jump coming in the form of the DJI Osmo Mobile 3.
The third iteration's biggest improvement and most prominent feature is its unprecedented portability on account of its brilliant new design. The Osmo Mobile 3's foldable design makes it one of the smallest and lightest phone gimbals on the market, while still remaining remarkably sturdy. It's only 405 grams and folds into a size of 157×130×46 mm. It's also one of the cheapest so you know you're getting top-notch gear for a modest price.
The Osmo Mobile 3 was built with comfort and simplicity in mind, making one-handed use – for the most part – a breeze. Working it becomes even easier with DJI's signature Mimo app which puts an impressive array of shooting modes right at your fingertips. ActiveTrack, for example, allows you to specify a target object or person which the phone and gimbal will then follow.
The icing on the cake is the gimbal's lengthy 15-hour battery life that blows most of the competition out of the water. The only drawback – and this is me being extra nitpicky – is the fact that it doesn't work with larger smartphones that have lenses or filters attached. Minor hiccup aside, the DJI Osmo Mobile 3 is simply king of the hill for what it's worth.
Osmo Mobile 3 Review
Look Station

Features

Total Value
DJI Osmo Mobile 3 Review Summary
The DJI Osmo Mobile 3 is an extremely well-built gimbal that sits at the top of its class for its price point. Its foldable design and remarkably light weight truly attest to DJI's claim of it being the ideal travel companion. Easily one of the best budget smartphone gimbals around that can please both novices and veterans alike.
Pros
✓ Sturdy Design
✓ Affordable
✓ One of the smallest and lightest phone gimbals on the market
✓ DJI Mimo app is fantastic
✓ Easy to operate, even using one hand
✓ Impressive 15-hour battery life
Cons
✗ Can't accommodate larger phones with filters or lenses
Final Thoughts
You've probably noticed by now that the common denominator in this list is portability, which is paramount when deciding what are the best tech gadgets for travelers. They shouldn't get in the way of all the other stuff you've got packed, and shouldn't be so complex as to ruin your fun. Being light on the wallet doesn't hurt either.
That being said, make sure you grab the right portable charger so your gadgets are always juiced, a top-notch universal travel adapter to plug in your devices anywhere in the world, a handy little waterproof portable speaker for you to blast music wherever you go, a killer action camera to record the crazier parts of your trip, and last but not least, a nifty smartphone stabilizer to make all your videos look like they're shot by a pro.
Last update on 2021-09-21 / Affiliate links / Images from Amazon Product Advertising API