ⓘ We are reader-supported and may earn a small commission at no additional cost to you if a purchase is made through one of our links.
Spyra Two Review
Summary
The Spyra Two is a remarkably autonomous water gun that makes refilling a breeze, allowing you to focus most of your energy on leaving your opponents drenched. It features some welcome improvements over its predecessor as far as the battery is concerned, though the increase in price can be a tough pill to swallow. All things considered, it's safe to say that the Spyra Two is the new king of the water guns.
Pros
Improved battery life is fantastic
Digital display comes in incredibly handy
Water bolts are way better than the traditional streams of water
Cons
Even more expensive than its already pricey older sibling
Smaller tank is a bummer
Looking to be the big dog of the water wars this summer? Then you'd better be ready to bust out the big guns, and it doesn't get much bigger than the Spyra Two Water Gun. Promising a smart refilling system, generous battery, and deadly accuracy, this new-age super soaker looks to blow the competition completely out of the water.
In this Spyra Two Water Gun review, we're field testing this bad boy to see if truly has what it takes to beat out its incredibly impressive older sibling – the Spyra One.
Can't stick around for the entire review? Just click any of the links below and we'll take you right to that section.
Overview
The first Spyra dropped a couple of years ago and we couldn't stop raving about its quick automatic refilling system, digital display, water bullets, and constant pressurization. It was the most high-tech super soaker around by miles and was sure to take water fights to the next level.
The Spyra Two manages to one-up its predecessor by retaining much of the features that made it so great and significantly improving on some of them. With this guy, you'll be getting double the battery life, better firing range, a slightly quicker refill time, and an overall quieter experience.
On the flip side, the Spyra Two's water tank is a bit smaller than the original and it comes with a fairly notable price hike over the original which was already pretty darn expensive.
If you like the look of this you would like the Rubberban Mini Gun!
Features
Water Bolts
The Spyra guns do away with the traditional spray system that most water guns employ and instead fire bolts of water that are far more accurate and capable of travelling further distances. Compared to the original, the Spyra Two has superior effective and maximum ranges of 30 and 46 feet respectively, allowing you to soak your enemies from further away.
Improved Automatic Refilling System
Similar to its predecessor, this model features an innovative refilling system that just requires you to dunk the front of the gun in some water and hold a button for a few seconds and you'll be locked and loaded. Ammo running low? Just jump into a pool or find yourself a bucket of water and you'll back in the fray in no time.
Where the previous model offers a 750ml tank, the Spyra Two, unfortunately, comes with a smaller 600ml capacity. As a result, it produces around 22 bolts per refill as opposed to the 25 bolts that the older version is capable of.
Digital Display
The Spyra Two comes with an awesome digital display that looks like it was ripped straight out of a video game, allowing you to keep track of your water reserves and remaining battery life. That way you'll never get caught off guard by an enemy while running on empty.
Larger Battery Capacity
The first Spyra iteration could last for around 45 refills and 1125 water blasts on a single charge, which was pretty impressive in its own right. The Spyra Two, however, features double the battery capacity, giving you up to 90 refills and approximately 2000 shots. This means that you'll be charging less and shooting a whole lot more.
Self-Pressurizing Tank
One of the coolest features of the Spyra water guns is its self-pressurizing tank, which allows the weapon to maintain maximum pressure every time it's used. This eliminates the need for the manual pump that's still utilized by a lot of the competition, ensuring that your water bolts always fire at a consistent power and range.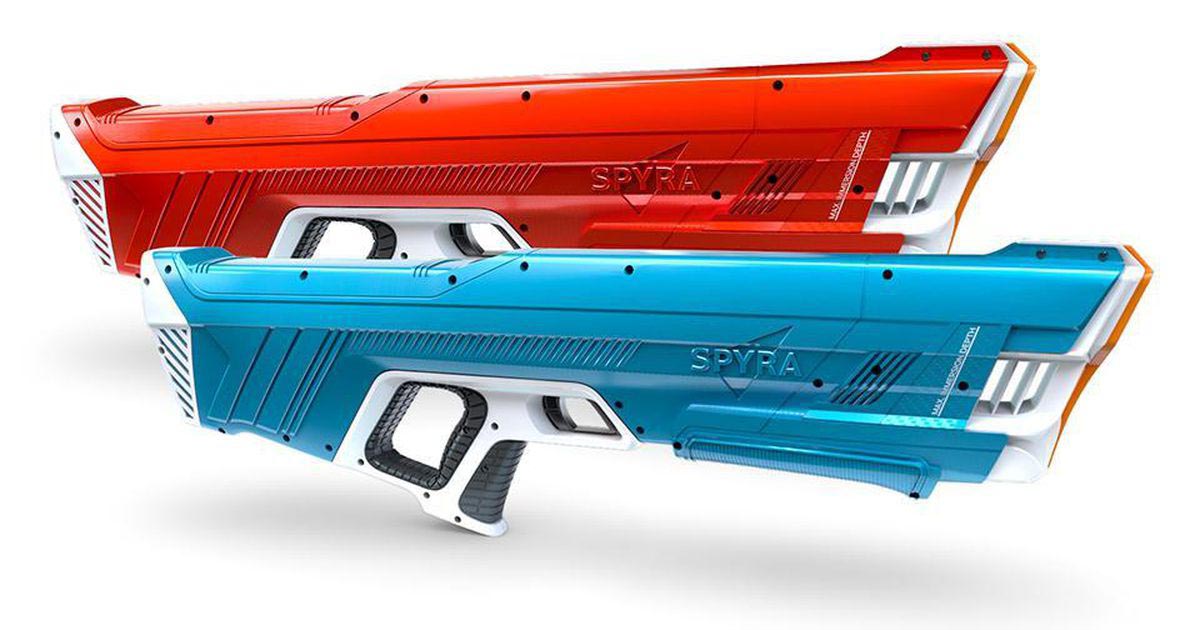 Specs
| | |
| --- | --- |
| Capacity | 22 Bolts |
| Effective Range | 30 feet |
| Maximum Range | 46 feet |
| Refill Time | 12 Seconds |
| Blast Size | 30ml |
| Tank Size | 600ml |
| Battery Life | 90 Refills / 2000 Bolts |
| Battery | Lithium-ion |
| Recharging Method | USB Type-C |
Aesthetic
The Spyra Two features a similar aesthetic to its predecessor, boasting a futuristic look that would feel right at home in one of the Halo games. It has the same trapezoidal shape with a protruding grip along the bottom, along with some added accents to give the weapon a sharper, edgier style. Its digital display sits along the top of the gun, making it easy to keep track of how much water you have left in the tank and how much juice is left in the battery.
The gun comes in two very bright primary colours, red or blue, both of which include white highlights around the edges and a bit of dark grey when it comes to the grip. It's a stylish looking weapon, all things considered, and its bright colours are a perfect fit for having a blast at the beach or pool.
What's it like to use?
The Spyra Two succeeds at streamlining the most arduous parts of using a typical water gun, leaving mostly just the fun part which is shooting at your foes. Refilling your tank is easier than ever and requires you to just dunk the front tip of the gun into a body of water then press the button located on the side. Doing so will start refilling the Spyra Two, with the process completing in less than a minute.
The improved battery is a huge advantage over its older brother, giving you twice the number of refills and bolts fired. But perhaps our favourite part is the digital display, which offers you a significant edge over your enemies by allowing you to monitor the number of shots you have left and how much battery you have before needing to recharge. What other water gun does that?
Conclusion
The first Spyra water gun managed to cast a very large shadow with its innovative design and kickass features. Yet somehow, the Spyra Two managed to level up the water-fighting game even further by providing significant improvements to the gun's battery life and overall range, making it even more effective and efficient at soaking your enemies.
Unfortunately, it does come with a few drawbacks, namely the decreased tank size. There's also the matter of the increase in price over the original which is was already plenty expensive. Missteps aside, the Spyra Two Water Gun is the epitome of super soaker technology and a must-have for people who enjoy dominating water fights.