GIGABYTE has been making a lot of good moves of late and seems to be making a couple more here. Today GIGABYTE launched two new ranges to its notebook range in the form of upgrades to the AORUS and AERO series. The AORUS series is known in the gaming world as a high performance and portable gaming notebook that ticks every box. The AERO range is used by many creatives to produce power-hungry designs on the fly. Today we'll take a look at what's been announced and how these new notebook ranges can benefit you!
If you're short on time click the links below:

AORUS: Innovative Design X Professional Gaming
Firstly, let's take a look at the AORUS range. Previously we reviewed the AORUS 15 and were very impressed with it. So impressed in fact, that we gave it an excellent rating of 4.8/5 stars! Well, how does the new lineup stack up?
GIGABYTE has announced three flagship gaming notebooks to the AORUS range, the AORUS 17X, AORUS 17G and AORUS 15G. The notebooks were designed in collaboration with the global e-sport gaming organisation G2 Esports. With this collaboration, you can be confident that gaming performance was at the forefront of every design choice.
Built-in Mechanical Keyboard
So, what do these gaming notebooks have to offer? Well, quite a lot actually! The new AORUS series of gaming notebooks are the lightest in the industry to sport a mechanical keyboard. Anyone who takes PC gaming seriously understands the advantage a mechanical keyboard offers over cheaper variants. There is a decrease lag time between your finger clicking a key and the computer recognising the input. This reduction can make all the difference for serious gamers looking to frag out online. GIGABYTE decided to work with OMRON on the mechanical keyboard to ensure that the mechanical keyboard was of the highest quality. Fitting a mechanical keyboard into the chassis of a notebook is more than challenging, and by all accounts has been pulled off fantastically.
A 240Hz Gaming Notebook Display
The 240Hz monitor is a huge addition to a portable gaming set-up and provides a truly desktop-like experience. GIGABYTE has included one in each of the new AORUS gaming notebooks. Most portable gaming set-ups include a 144Hz monitor but with major eSport leagues upgrading their requirements to 240Hz it's important to reflect that change on your own machines.
The New AORUS Gaming Notebook Specs
We've covered the display, and we've covered the keyboard, but how about the engine under the hood! Well, we're dealing with the supercar of gaming notebooks here! Included with each device is the latest 10th Gen Intel processor, each overclocking-capable for the most demanding games!  Below is the processor for each of GIGABYTE's new AORUS notebooks:
AORUS 17X: Intel® Core™ i9-10980HK
AORUS 17G: Intel® Core™ i7-10875H
AORUS 15G: Intel® Core™ i7-10750H
What caught our eye here is the i7-10875H. This seems to be the first  Core i7  with 8 cores ad 16 threads in a mobile device!
In addition to cutting-edge processors, GIGABYTE has included options for both the all-new flagship NVIDIA® GeForce® RTX 2080 SUPER™ and RTX 2070 SUPER™. These truly are the best of the best and provide you with the capability to play absolutely ay game at the highest graphical settings without a dip in frames.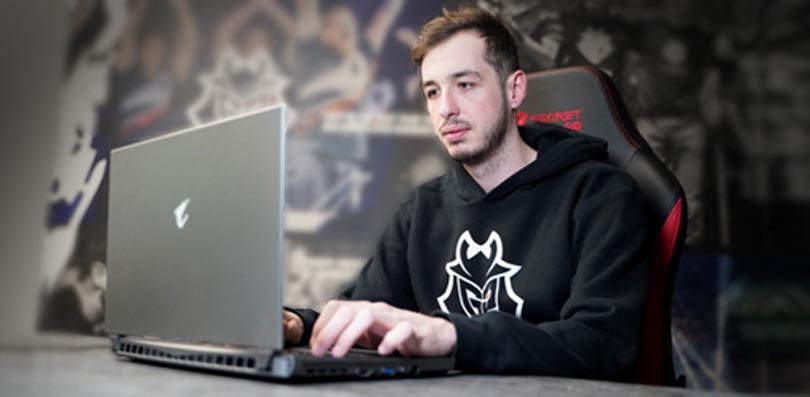 E-sport Certified!
It's easy for tech reviewers to look at the hardware on paper and consider it a job well done. However, it says something else when a legendary CS:GO fragger puts his seal of approval on a product. Kenny S, the 2015 eSports Player of the Year, and current G2 gamer member complimented the AORUS 15G's high performance and portability.
The New AORUS Gaming Notebook Summary
On paper, these portable gaming notebooks look fantastic. With high-end gaming desktop components, a 240Hz display and a truly mechanical keyboard you could be forgiven for thinking it was a desktop. Obviously with great power comes great financial responsibility. So expect these gaming notebooks to be towards the top end of most peoples' budgets. However, if you're a hardcore gamer and want to invest in a truly powerful portable gaming set-up then keep an eye out for the latest GIGABYTE AORUS series gaming notebooks.
AERO: Professional Content Creation

The AERO Series is well-known for its ability to deliver exception power for creative pursuits on the move. The rise of the freelancer has put an emphasis on portable powerhouses and the new AERO range doesn't disappoint.
AERO has a strong pedigree with award wins such as the  2019 European Hardware Association Notebook of the Year and the Taiwan Excellence Award. Perhaps more importantly, it's been used by some of tech's titans like Jensen Huang, who is CEO of NVIDIA.
There are two new additions to the AERO series (both with two different display variations):
15" AERO 15 OLED (Supports 4K resolution and HDR400)
15″AERO 15
17" AERO 17 HDR (Supports 4K resolution and HDR400)

17″ AERO 17
This is a little confusing but basically, there are two main models. Each model comes with a sister model with a more capable screen. Depending on your requirements you may choose the premium version, over the standard version.
Detailed Displays
The quality of GIGABYTE's AERO Series new display units cannot be under-emphasised. In certain industries, colours must be as true to life as possible, and this is where you could consider the new AEROs. It's worth mentioning that this section is a little techy, but it's worth the explanation. The biggest selling point of these devices is fantastic displays. So, please bear with us.
The vast majority of consumer displays deliver a Delta E around 3 (as I said, bear with us). Anything with Delta E < 2 is considered a high standard, but the AERO, with the help of Xrite Pantone, display units achieve Delta E < 1! So, what does this actually mean? Well Delta E or dE as it's known refers to the difference between two colours. Delta E 1 means that the display is capable of displaying colours so close to each other that the human eye can barely tell there is a difference. In other words, Delta E < 1 displays are more lifelike and vivid than you've probably seen on a notebook before. In addition to this, the display is an AMOLED 4K display with HDR True black high contrast. Phew!
Premium Performance
The CPU and GPU have both received significant upgrades over previous models and include the latest 10th Gen Intel processors ad NVIDIA GPUs. What makes this possible in such a small package is GIGABYTE's WINDFORCE Infinity technology. WINDFORCE does a great job of cooling a device, which was one complaint from previous AERO versions. In addition to great hardware, AERO takes advantage of NVIDIA Studio Driver, which optimises hardware for creative usage.
The New AERO Notebook Summary
With all of the above and more ports than you can shake a stick at (Thunderbolt 3, HDMI 2.0, and UHS-II SD card reader), the AERO truly is a contender for the most versatile notebook on the market. Oh, we forgot to mention, the display outputs at 144Hz too! So, although it's to quite the 240Hz you'd find in the AORUS, you can still game pretty hard on the AERO.
Pre-orders start on the 9th April here in Australia and purchases commence as of the 16th of April. The entry levels will be available slightly later around the back end of April. For more information, please visit GIGABYTE/AORUS website: https://www.gigabyte.com/au/Laptop
The New AORUS and AERO Spec Overview
Below we have included the top-level specs for all the of the new AERO and AORUS notebooks. On paper, these are some serious machines and can't wait to get our hands on them!
The AORUS 17X

AORUS 17G

AORUS 15G

AERO 17 HDR / AERO 17

AERO 15 OLED / AERO 15

AORUS 7

AORUS 5

Extreme Pro Gaming
Creator
Premium Gaming

The New AORUS Flagship Laptop
G2 Esports CS:GO Certified
Omron True Mechanical Keyboard
240Hz Gaming Display
WINDFORCE infinity Cooling
10th Gen Intel® Core™ i7/i9
NVIDIA® GeForce RTX™ 20 Super

Designed for Creators
NVIDIA Studio Laptop
Xrite Pantone Color Calibration
Light Chassis+ All-day Battery
Multiple Varieties of I/O
10th Gen Intel® Core™ i7/i9
NVIDIA® GeForce RTX™ 20 Super

RGB Backlight Keyboard
144Hz Gaming Display
3 External Displays Connectivity
2x SSD+1x HDD
10th Gen Intel® Core™ i7
NVIDIA® GeForce® RTX 20 / GTX 16