ⓘ We are reader-supported and may earn a small commission at no additional cost to you if a purchase is made through one of our links.
Orbitkey Nest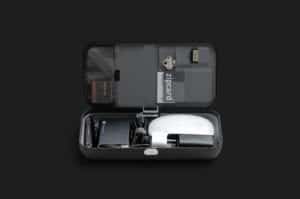 Product Name: Orbitkey Nest
Brand: Orbitkey
Look Station -

9/10

Features -

9.2/10

Total Value -

9/10
Orbitkey Nest Summary
The Orbitkey Nest is a great place to store your essentials when working and when on the go. It is elegant, simple, and functional. More importantly, it allows your things to stay in place and keep them organised so you can always find them when you need them.
Pros
Supports wireless charging
Customisable organisational tabs
Luxurious feel
Great build quality
We've previously reviewed their Orbitkey key organiser and were very impressed. With such an impressive foray into the organisational gadget market, we couldn't help but review their newly launched Orbitkey Nest.
Editor's note: we just reviewed the new Orbitkey Desk Mat and the Orbitkey ID Card Holder – check them out!
The Orbitkey Nest Kickstarter campaign was just launched in February 2020 and has received an impressive $646,244 pledges with 5,614 backers. That's a huge accomplishment for a company that was only seeking a $25,000 funding. So what makes the product such a hit and why did it attract so many people? Let's find out here.
If you don't have time to read our full Orbitkey Nest review, you can click on any of the links below to skip to that section.
Orbitkey Nest Review – Overview
For many people, including us, keeping things neat and orderly is a challenge. Come to think of it, it's just easier to throw everything inside a drawer or a bag, right? But that makes it difficult to find what you need. You could just scatter things over your desk. But that creates a cluttered work environment, which doesn't really help with productivity. We've all had moment during work where we've had our focus taken away by a low phone battery or misplaced key or wallets. Or perhaps you forgot your trusty USB stick or SD card. The Orbitkey Nest does a good job of solving all of these problems, with one well-designed desk organiser.
This product aims to help you declutter and keep your everyday essentials all in one place so you can spend less time searching through the mess. It's similar to your EDC pocket organisers but instead of a pouch or bag, it's an incredibly well-designed, premium case. It's worth mentioning that it's marketed more for towards professionals rather than for travellers. Additionally, it has a unique feature that not all EDC organisers have, which is wireless charging.
The Orbitkey Nest price is USD$109.90 or A$149.90 and offered through the company's website, which certainly makes it a premium product. But considering its design, features, and build quality, this is a pretty great product.
Obitkey Nest Features
The Nest has three killer main features: wireless charging, customisation, and portability (and USB C – woohoo!). Let's dig deeper into these features below.
Wireless Charging
One of the Nest's main selling points is its wireless charging capabilities, which none of the other EDC organisers has. Its lid has a built-in wireless charger on the left-hand side, allowing you to simply place your device on top while you work. It's compatible with any device capable of wireless charging, whether it is your phone or your AirPods. So it's pretty convenient, right? Well, yes, but we would have liked to have seen a built-in battery, so the Nest doesn't have to be plugged in to use the charging functionality.
Storage Customisation
Now, let's move on to what we think is the Nest's most useful feature – its customisation. This product uses detachable velcro dividers that you can move around to fit your gear. This is perfect since most of us have specific and different needs. For example, a video editor will certainly have different accessories to bring compared to a reporter or a salesman. In total there are six velcro dividers which offer lots of different possibilities.
Aside from the main compartment, this product also has pockets on the underside of the lid. You can use it to store your memory cards, keys, business cards, and even your passport. There's also a pouch where you can store wires, medicine, USBs or any loose items usually chucked in your bag.
Additionally, there's a loop on the exterior for your pen and there's an elastic loop that you can use to secure a small notebook.
While space and functionality are what we think is the best features for this product, we still hope that it has a bigger option. Currently, the product is only available in one size and for me, a tad too shallow.
Portability
One of the best things about the Nest is its portability. While it's designed as a desk organiser, it works perfectly as a hub to hold all your things together and carry them all at once. Just close it, secure with the elastic loop, and throw it in your bag, pocket, or hold it. And if you need to access something inside, you can easily open it up like a book, take what you need, and close it again. Certainly, this is a portable product that's great for when you're on the go.
USB C
I have a thing for USB C. In fact, I'm obsessed and continuously disappointed whenever a device doesn't support. The fact is it's the best USB for a myriad of reasons and thankfully the Orbitkey Nest utilises one. It's just so much more convenient when all of your devices use just one cable, especially when its the best USB. Orbitkey has included a petty high-quality braided USB C cable in the box, which is a nice touch.
Specs
Here are the full specifications of the Orbitkey Nest:
Size
Width: 240 mm / 9.5 inches

Depth: 120 mm / 4.7 inches

Height Exterior: 41 mm / 1.6 inches

Height Interior: 28 mm / 1.1 inches

Material
Leather

Polycarbonate shell with nylon poly melange fabric

Dacron elastic with latex core

Zinc alloy

Max Output
10 Watts
Power Input
USB-C Input
Compatibility
iPhone 8 and newer iPhones

Pixel 4, 4XL, 3, 3XL

All Qi-enabled devices

AirPods Pro and AirPods with wireless charging case
When you purchase the Nest, the following are included:
1 USB-C Braided Nylon Power Cable

6 Movable Dividers

2 Cable Organizer

1 Top Tray

1 Bottom Tray

Instructional Manual

The Look Station
In terms of look, the Orbitkey Nest looks chic and elegant. At first glance, it looks like an incredibly cool pencil case. It's subtle and minimal with subdued branding, and it's available in black and ash. A highlight aesthetically is the matte zinc allow clasp. This really adds to the premium look.
If you are familiar with Orbitkey, you know how they love to use premium materials with their products. This is no different from the Nest. Immediately, you'll notice the exterior leather which looks and feels beautiful. This leather lid can serve as a tray for the things that you'll usually reach for at work. And when you open it, you will see the foam padded interior. This doesn't just look nice but it also keeps your belongings safe and protected from scratching.
Compared with other desk organisers, which is another popular organiser bag, the Nest has a more luxurious touch to it.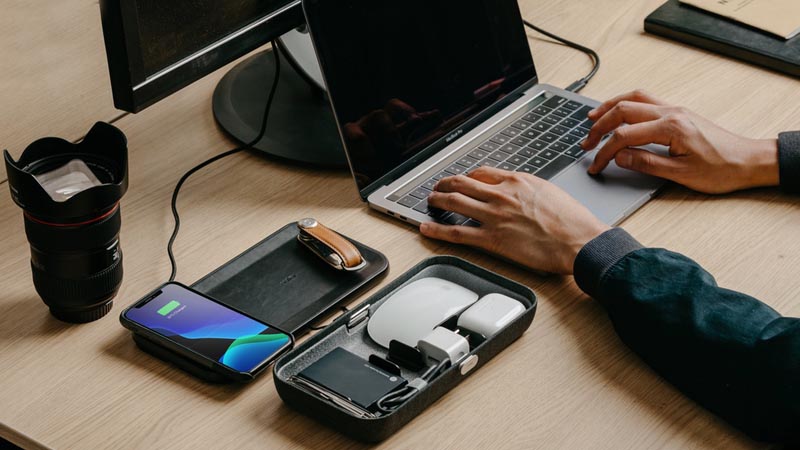 What's it Like to Use?
There are two ways to open the Nest, either to lift the lid or flip it open. This is possible due to its dual-function hinge. With this feature, you can use the top lid separately to charge your device and hold your other things. This will also allow you full access to the compartment. On the other hand, if you're in a rush and simply need to take out one item inside, you can just flip the lid open.
The nest is small and handy so you can easily carry it around or throw it inside your bag. This makes storing your things easier and more convenient since you don't have to worry about your items being jumbled around inside your bag. Also, because of the movable tabs, you can arrange your accessories in any way you want. However, it does take a bit of time to figure out how you can fit all your essentials with you. You might need to move your things and tab a few times to make sure that everything is optimally positioned.
Conclusion
If you need to keep your things organised and get rid of the clutter, Orbitkey's newest offering can help you. It's great for individuals who are always in between meetings, those who work remotely, and for those who always carry a lot of things with them.
However, we do believe that this product can improve more in terms of its charging capabilities and size selection. But overall, it's a great accessory for your accessories. We hope you enjoyed our Orbitkey Nest review and found it helpful!