In this Razer Raptor 27 review, we will discuss Razer's first gaming display and what it has to offer the world of gamers!
The monitor is an integral component of anyone's gaming set-up, and with the new consoles just released, there will be a bigger spotlight on gaming monitors.
[wd_hustle id="69″ type="embedded"/]
Razer Raptor 27 Review
Image Quality -

8.2/10

Design & Build -

8.7/10

Features -

8/10

Ergonomics -

7.8/10

Total Value -

7.2/10
Razer Raptor 27 Summary
The Razer Raptor 27 is an impressive debut for a gaming monitor. It does not sacrifice some of its features for you to have a great experience with it. You can play at 144 Hz without lowering your resolution.
So they made it sleek and futuristic for enthusiasts; bright and vibrant for content creators; and quick and powerful for diehard Razer fans who have been waiting their whole life for an excellent first-party monitor. It is steeply-priced, compared to similarly specced monitors but there is a certain charm the aesthetic offers which may be irresistible to Razer fans.
Pros
✓ Quality design and build quality
✓ Interesting Aesthetic
✓ Great response time
✓ Low latency
✓ Wide angle viewing
Cons
✗ Expensive for the specs
For most people, a good gaming monitor does not need to have all the bells and whistles, just deliver the fundamentals really well. And that's exactly what the Razer Raptor 27 does. It may not be the most cutting-edge monitor – which is surprising from a well-established gaming brand like Razer — but it performs extremely well for its price.
Speaking of basics, the Raptor 27 is Razer's first gaming display. Razer is known for creating great accessories and peripherals like the Razer Nari & Razer Basilisk V2  to name a couple, but not monitors.
Now they have a fantastic display that checks all the boxes for what to find in a quality gaming monitor – high resolution and high refresh rate, vibrant colours, and a stunning design.
If you're short in time, feel free to skip ahead to the different sections of the this Razer Raptor 27 Review:
Overview
The Raptor is a 27-inch gaming monitor that offers gamers what they want and need: high refresh rate and a low response time. It may not have the highest resolution in a display, but it can minimize pixel response time to one millisecond and refresh up to 144 times/second (144Hz).
By combining high refresh rate and low pixel response time, you can become more competitive in any game you play. You can also pick from three game modes to suit what you are playing.
The Raptor works flawlessly with AMD and Nvidia GPUs, allowing you to game using your preferred computer hardware. No need to worry if your monitor is compatible with your rig; it will just work.
Editor's Note: The Razer Raptor 27 made it onto our list of best gaming monitors for 2021.
Photo and video editors can also take advantage of the Raptor. Colours look punchy and sharp, and its backlight does not bleed so nothing would distract you from viewing your content. It's no recommended for professional requiring the absolute highest standards in colour accuracy but for those who do a bit on the side or for enthusiasts, it's very good.
However, the Raptor is not a perfect display. It is not capable of 4K and it is priced steeper than the similarly specced competition. The design is not for everybody — it uses flat, bright green cables that connect at a right angle. If they break, you will need to get one from Razer or third-party vendors that sell something similar or risk ruining the design. There are certainly some bold design choices in typical Razer fashion.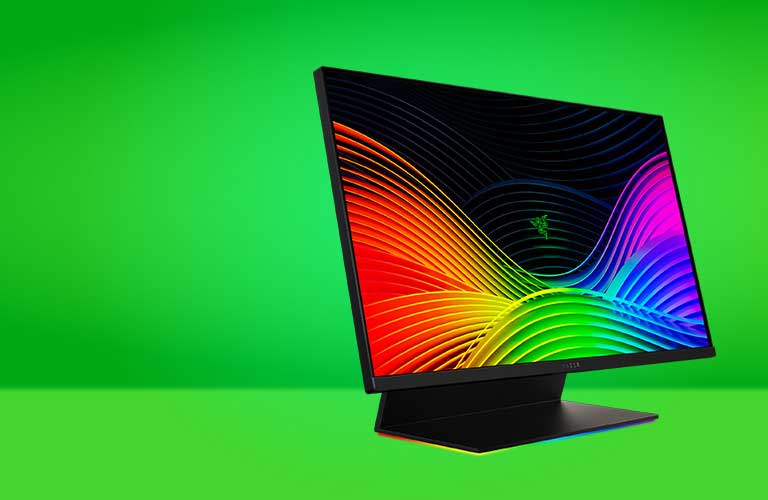 Features
The Raptor is a 2K gaming monitor with a resolution of 2,560 x 1,440 pixels. It has support for AMD FreeSync and Nvidia G-Sync, which provides gamers with what they want and need — high refresh rate.
Featuring adaptive sync, the Raptor has a refresh rate range of 48 to 144 Hertz (Hz). Refresh rate refers to the number of times the screen updates in a second. Games feel much smoother to play because the display refreshes fast. This will give you an edge in games that require quick reaction time because everything feels so responsive.
You can select from three game profiles to fit what you are playing: First-person Shooter (FPS), Massive Multiplayer Online (MMO), and Racing. Using G-Sync, the monitor can lock the refresh rate with the frame rate.
If you want to be more competitive in your game, you can enable Motion Blur reduction mode. It will set pixel response time to one millisecond, but your screen will dim to 63 nits and double the number of images.
Games also look more lifelike on the Raptor because of its cinematic 16:9 aspect ratio and wide colour gamut (WC-G). With WC-G, you will have deeper and richer primary (red, blue, and green) and secondary (cyan, magenta, yellow, etc.) colours. Images look sharp and vibrant on it, even though it is not for content creators.
You can raise the Raptor's display 13 inches from the desktop or lower it significantly using its channels on the back. But you cannot rotate it. Luckily, you can tilt it back 90 degrees, giving you access to its flat cables.
Specs
Razer is competing with brands like Dell and Acer for your money. They have 27-inch monitors that are similar to the Raptor, but also have key differences you should know.
For example, Dell's UltraSharp does not have a high refresh screen nor game modes to choose from. It's understandable because it isn't a gaming monitor. But to price it higher than the Raptor at $800, which could also function as a monitor for content creators, makes it a tough buy.
The Acer Predator XB272 and Alienware AW2720QF are capable of 240Hz refresh rate, but they sacrifice one thing for another. In order to achieve the maximum refresh rate, both monitors have a native resolution of 1920 x 1080p display. The refresh rate may be important, but the difference between 240 and 144Hz is barely recognizable to most people and is only really important at the top level of competitive gaming.
Size

27 inches (measured diagonally)

Resolution and type of panel

2,560 x 1,440 in-plane switching (IPS)

Refresh rate

48 to 144Hz

Typical and max brightness

380 to 420 nits

Audio input

3.5mm. headphone jack

Compatibility

AMD FreeSync and Nvidia G-Sync

Windows 10 High Dynamic Range (HDR)

Games, video, WC-G

Ports

1 HDMI 2.0b, 1 DisplayPort (DP) 1.4, and three Universal Serial Buses (1 USB-C, with support for DP 1.4, and 2 USB-A 3.2)

Response time in milliseconds (ms)

4 ms
Razer produced its first monitor with the intention of giving you a smooth gaming experience. It may not have the fastest refresh rate, but it will not sacrifice display quality just to give it to you. You may be dealing with a 2K panel, but it's fast enough for most games. If you want an industry-leading pixel response time up to 1 ms, you can with just a press of a button.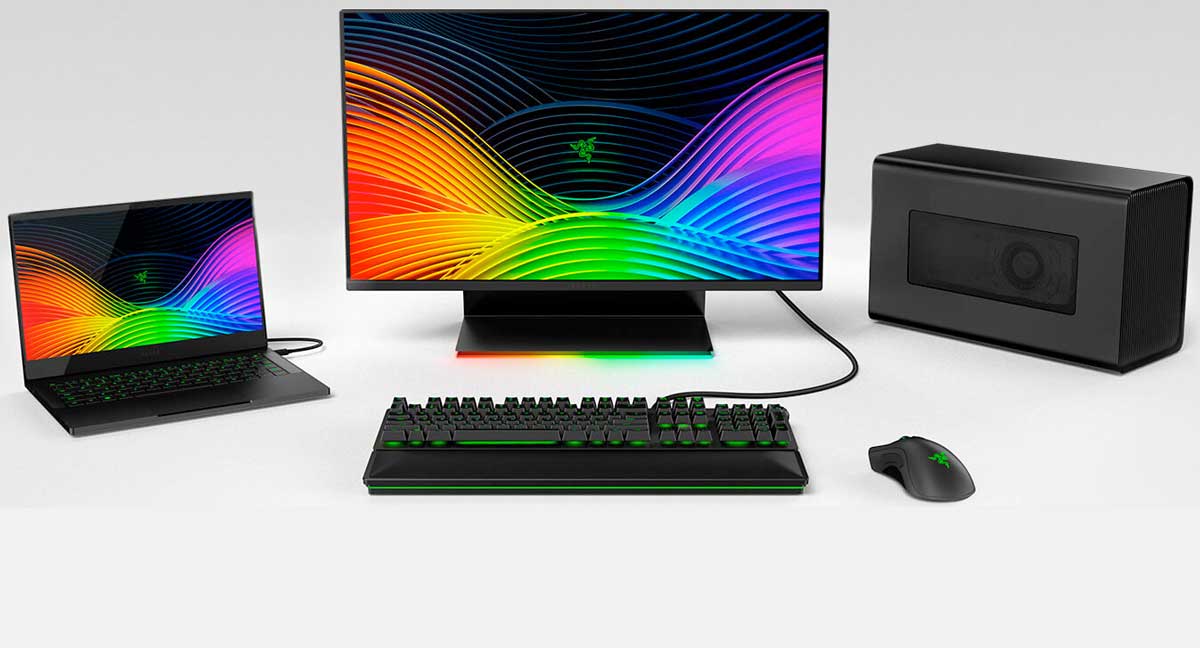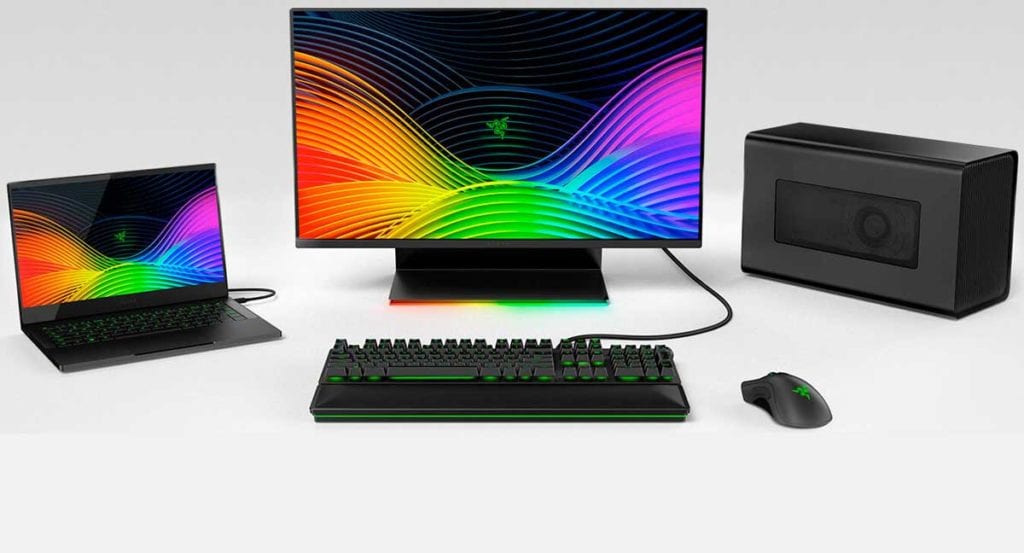 Aesthetics
Razer carries its design language to the Raptor, which is most evident in its flat, bright green cables that connect at a right angle.
You can view content on the Raptor either horizontally or vertically. Since the cables are at a right angle, they won't get in the way when you tilt it. You could lower it significantly to the desk like Samsung's Space Gaming Monitor, raise it until eye level, or lay it flat, the display facing upwards.
While its wiring system may look silly, its Chroma-compatible underglow and dark grey fabric back is reminiscent of Razer's Blade line of laptops. The fabric makes it look more luxurious than the competition and gives the Raptor the signature Razer look.
To adjust the orientation of the Raptor, there are channels on the back of the monitor that you can control. This Razer Raptor 27 review suggests not placing the display on top of a desk without a cloth underneath it. It has a rubbery underside that leaves a residue on surfaces.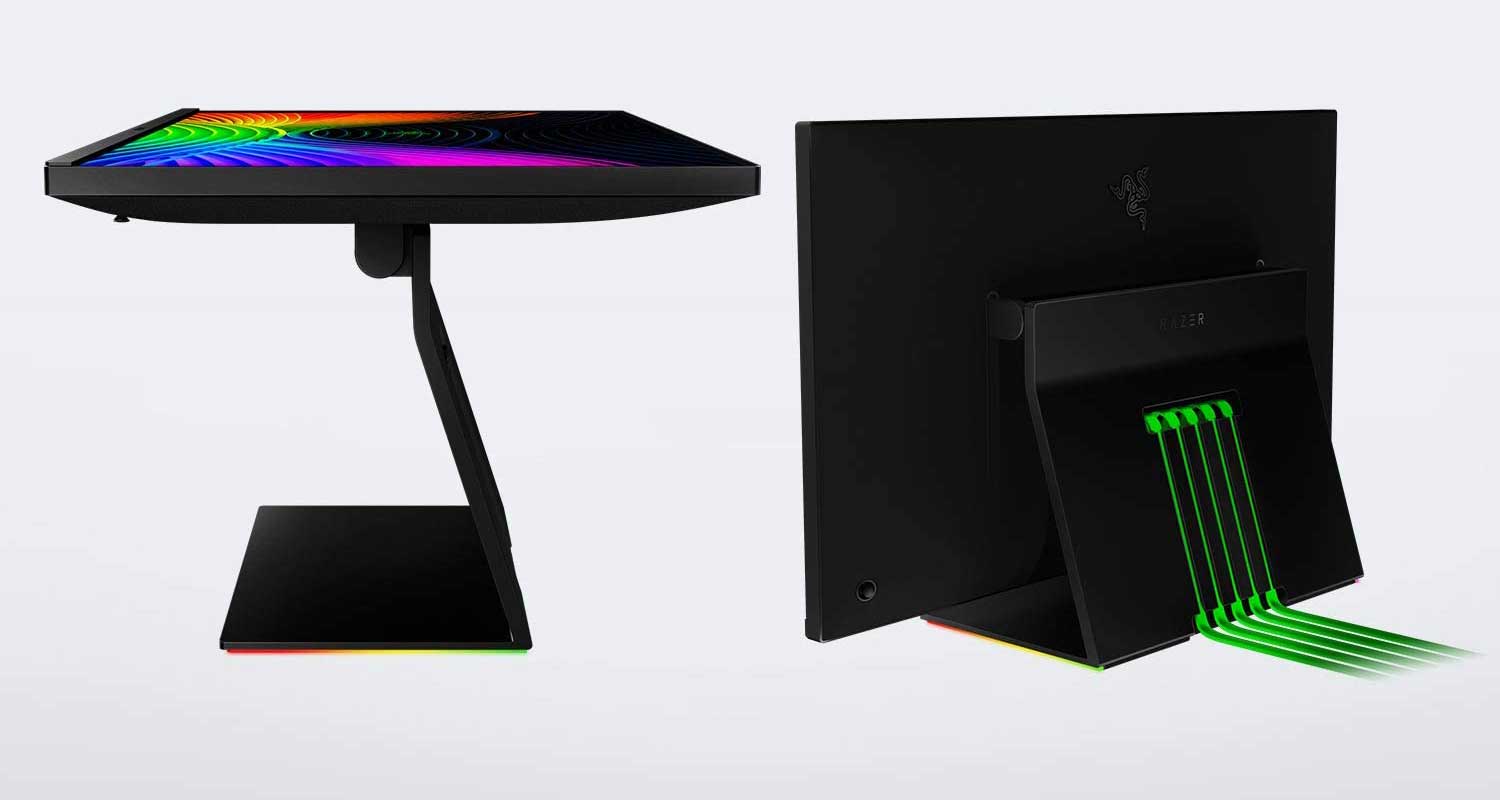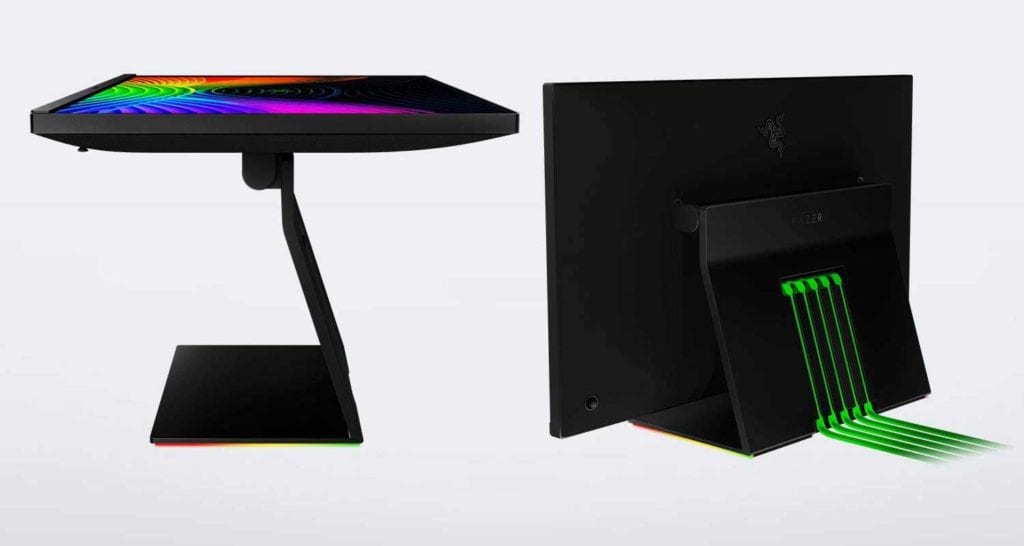 What's it like to use?
The Raptor is a well-built gaming monitor that can adjust to any gaming position. Its engineers thought about every small detail, such as its cable system and underglow that also serves as a nightlight.
Gamers are in for a treat with the Raptor. Content is smooth thanks to its high-refresh-rate screen and adaptive sync, which can be toggled to 1 ms in Motion Blur mode.
Setting up the Raptor is easy. Managing it can be challenging if you have a small, cluttered desk. Its wires need a lot of space to flow on your desk. Should you break a cable, you need to go direct to Razer or risk ruining its design aesthetic.
Last update on 2022-05-15 / Affiliate links / Images from Amazon Product Advertising API