[wd_hustle id="16″ type="embedded"/]
In this WooBloo SMASH review, we want to see just how far projectors have come. They no longer just mirror your laptop's screen, but some have built-in speakers and batteries. They have become smaller, smarter, and more functional too, making them a great addition to your home entertainment system.
So where does the WooBloo SMASH portable projector fit into things?
30 Second Review: WooBloo SMASH
Summary
SMASH is a brilliant smart projector that offers a great image display, amazing quality sound, and an easy user experience. This is a good choice for those looking for a mid-range projector for their home entertainment needs.
Pros
Impressive sound
Plenty of connectivity options
Alexa compatibility
Cons
 Slightly weak brightness level
And if you're interested in buying one, here's a product you might want to check out: the WooBloo SMASH. WooBloo SMASH is a portable projector that you can use in your living room, bedroom, backyard, and practically anywhere you want.
It's a project that got fully funded and reached its goal of US$10,000 just 6 hours after its launch on Indiegogo. But what is it, and how does it compare with other projectors? More importantly, is it the smart projector for you?
To help you decide, here's our WooBloo SMASH review. Don't have time to read the whole thing? Click on any of the links below to skip to that section:
Overview
Compared to other smart projectors available today, the SMASH certainly doesn't fall short on features. It's also a lot cheaper now with 42% and 35% discounts offered on Indiegogo. Instead of paying around US$689, you can experience a smart and portable projector at only $399 or $449.
So it's no wonder why this project became such a big hit with backers.  Considering the list price of US$689, which we got based on the discounts given and sale price, the SMASH is not a cheap projector. It is at the same price level as the ViewSonic (US$649.99) and LG PH550G(US$611.90).
While SMASH is more expensive than these two, it does offer better resolution, brightness, and battery life than the LG PH550G. And while the ViewSonic M2 has slightly similar features, it does not have a built-in battery. Moreover, the M2 can't work with Alexa without buying another device.
The SMASH also tops most of the smart projectors in its discounted price in terms of its features. But what exactly are these features? Find out below.
[wd_hustle id="16″ type="embedded"/]
Features
Amazon Alexa Compatibility
The SMASH is the world's first smart projector with Alexa compatibility. So if you are an avid Alexa user or would like to incorporate smart connectivity in your home, WooBloo's SMASH is the best projector for you.
Picture Quality
Compared to other smart projectors around, SMASH is among those with better picture quality. It has a 1080p full HD resolution and 4K resolution capability. So if home entertainment is one of your reasons for buying a projector, then this is definitely among your better options.
Connectivity
SMASH offers plenty of connectivity options. You can use it with Bluetooth, WiFi, HMDI, and USB. So you'll have no problem using it with your laptop or streaming sticks. It also features Airplay and Miracast, allowing you to use the screen mirroring function with both Android and Apple devices. Also, through Bluetooth, you can connect SMASH with any external speaker or use it as a smart speaker with your phone.
Speaker
This portable projector is built with 10W dual surround speakers and passive radiators. This is pretty great and plenty loud for most living rooms and other spaces. Compared to other products like the ViewSonic M1 with two 3W Harman Kardon speakers or the Anker Capsule II with an 8W speaker, the SMASH certainly has better speakers than most projectors today.
Auto-Focus
Remember when projectors were like cameras and you had to adjust the lens to make the images clear? Well, with SMASH, there's no need to worry about that. It is integrated with an Auto Focus feature that automatically adjusts the focus in just seconds.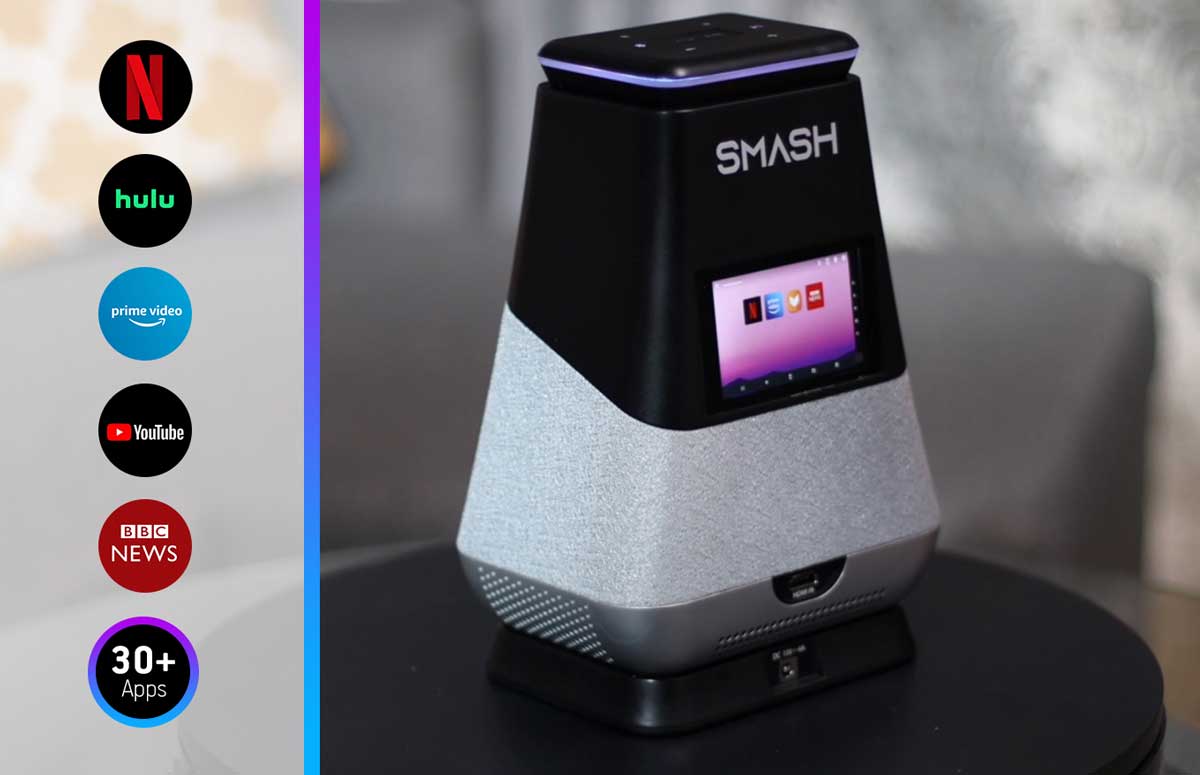 Specs
Here are SMASH's technical specifications based on its campaign page on Indiegogo.
Technology

Display technology: DLP Texas Instruments
Light Source: RGB LED
LED Bulb Life: 30,000 hours
Brightness: 300 ANSI Lumens
Native Resolution: 1920 x 1080p
Supported Resolution: 4K
Throw Ratio: 1.2:1
Screen Size: 30 inches up to 120 inches diagonal
Focus Adjustment: Auto Focus
Operating System: Android
Internal Memory: 16 GB
CPU: 4 Core 1.8 Ghz

Connectivity

HDMI Port
USB Port
Bluetooth 5.0
WiFi (Dual Band – 802.11 b/g/n/ac 2.4 and 5 Ghz)
Screen Mirroring (Airplay and Miracast Features In-built)

Sound

10W Dual Speakers with passive radiators

Power

Adapter: 12V DC Power Adapter
Battery: 10,000 mAh

Dimensions

Net weight: 1.8 kg (4 lb)
Height: 300 mm (11 in)
Base: 130 mm (5 in) x 100 mm (4 in)
Control Unit: 50 mm (2 in) x 100 mm (4 in)
SMASH has some pretty great features that most projectors don't. For one, it has 16GB of internal memory, allowing you to save your favorite content onto the device itself. It also has a 10,000 mAh, so you can use it without plugging it in an outlet. Specifically, it can last 30 hours with music streaming and 3 hours with video streaming. Furthermore, it offers a lot of connectivity options.
There is, however, one aspect where WooBloo can improve on – the brightness. Sure, the 300 Lumens brightness is excellent for viewing at night. It's also reasonable for low-lit rooms. However, it is not bright enough for daytime use or in bright environments.
[wd_hustle id="16″ type="embedded"/]
Aesthetics
This projector has a 4-inch LED display that can show you the song details from your phone. When no smartphone is connected with the device, this LED screen will display a typical wallpaper with the date and time.  SMASH looks nothing like a projector.
At first glance, we thought it was a humidifier or a speaker. It is also pretty big and tall as a portable projector. It's quite on the heavy side too. But other than that, it looks very futuristic and modern. And it will look great in any home.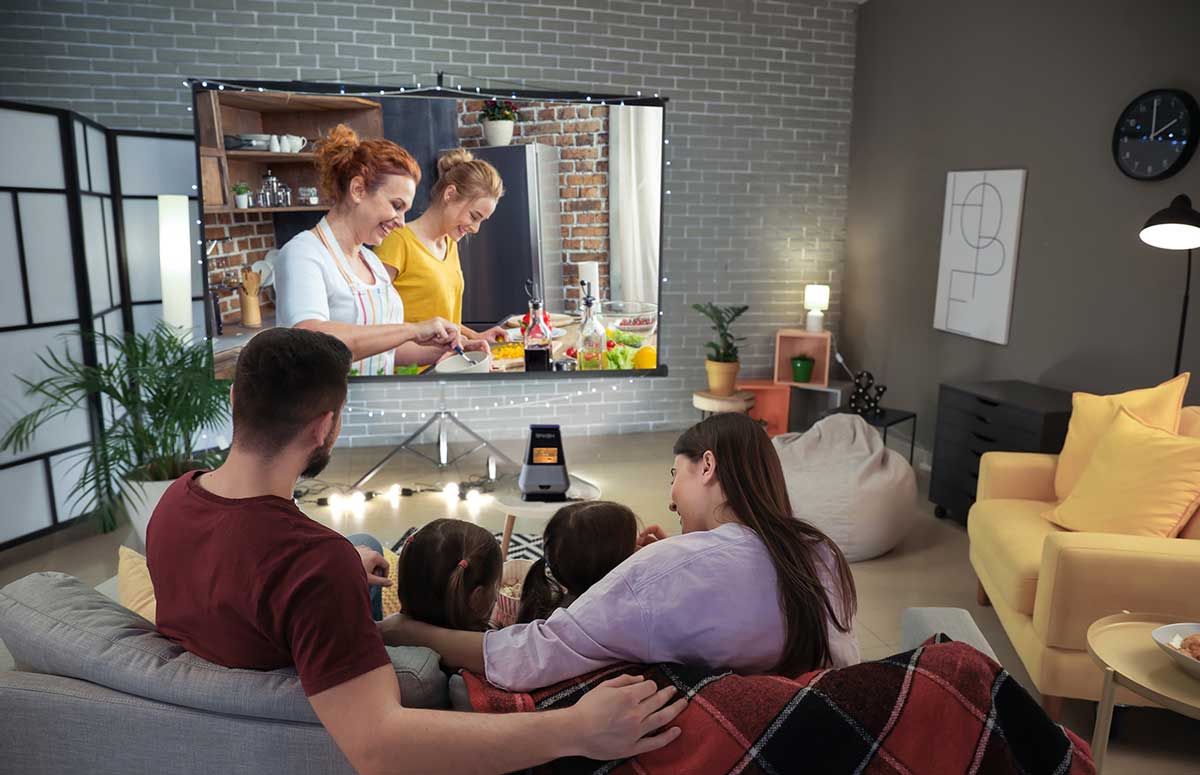 What's It Like to Use?
As mentioned in the Features, SMASH has Alexa built into its system. This makes using it much easier. Not to mention the many connectivity options it offers, allowing you to use it with almost everything – from your smartphone to tablet, laptop, games, and a USB stick.
On the other hand, if you want to watch from your favorite streaming services, you can do that with SMASH too. It features Netflix, Hulu, Prime Video, YouTube, and other applications. Indeed, this is an easy-to-use device that will let you watch anything you want from any source – just not memory cards since it doesn't have a MicroSD slot.
Final Thoughts
The WooBloo SMASH may not be the most portable projector, but it is certainly among the most versatile, functional, and easiest to use. With this device, you can binge-watch all your favorite shows and movies no matter the source. On top of that, you get to enjoy impressive sounds without needing to connect with another speaker.
[wd_hustle id="16″ type="embedded"/]
Last update on 2022-05-15 / Affiliate links / Images from Amazon Product Advertising API