ⓘ We are reader-supported and may earn a small commission at no additional cost to you if a purchase is made through one of our links.
The best ring light can reduce shadows around your face while providing you with even lighting. Additionally, a ring light can help you create amazing catchlights that will make your photos and videos more elegant. Also, most ring lights have adjustable colour temperature settings, which will enable you to customise your videos according to your preference.
Some models are also dimmable, so you'll be able to adjust the brightness level based on your photography needs and the lighting condition in your environment. When paired with the right camera, a ring light can greatly boost the quality of your videos and photos. This makes them ideal for content creators, makeup artists, product advertisers, etc.
TL; DR: The #1 Ring Light for Most People 👇
However, with so many options to choose from, finding the most ideal ring light can be difficult. To give you a helping hand, we have hand-picked the 6 best ring lights Australia has to offer.
The Best Ring Lights to Buy Today in Australia
1. Best Overall: Elgato Ring Light
The Elgato Ring Light has amazing features that will help you improve the quality of your photos and videos.  It offers a range of colour temperature settings that you can choose from based on the lighting condition of the room that you are in.
You can make adjustments from 2900K to 7000K, making this one of the most versatile ring lights on our list. In addition to this, it features a 6.35 mm screw mount on which you can attach a smartphone holder, digital camera, webcam, just to mention but a few. During the testing process, we mounted the Sony DSC-WX500, which weighs approximately 236 grams.
The telescopic rod did not wobble even when we made height adjustments, and neither did it collapse under the weight of the camera. Besides, it has easy-to-use knobs that will allow you to customise the length in seconds. In terms of performance, the OSRAM LEDs on this ring light can emit up to 2500 lumens on the highest setting, thus providing you with enough light to record videos, stream, or take photos in poorly lit environments.
Moreover, the ring light is compatible with stream deck, making it an ideal choice for gamers. As such, it will allow you to customise your videos whilst you play. Thanks to its edge-lit architecture, this ring light will provide you with maximum illumination, allowing you to record shadowless, smooth videos. More importantly, the ring is multi-layered to increase the dispersion of light.
To elaborate, the aluminium film scatters the beams outwards, while the opal glass blends the light. But that is not all; the grid panel splits the light into soft beams that will give your face an even glow. Since the LEDs are flicker-free, the light won't hurt your eyes. Also, the ring light is app-enabled in that you can customise the settings using a smartphone.
The app is compatible with both Android and iOS operating systems. You can as well control the lights from a Mac or PC. Alternatively, you can use the on-board buttons when adjusting colour temperature and brightness. The ring head is adjustable, so you can set it at an angle that best suits you.
---
2. Best for Content Creation: KODAK LED Ring Light with Tripod
If you are looking for a ring light that strikes a perfect balance between quality and performance, the KODAK LED Ring Light with Tripod is the way to go. This unit comes from a brand that is known for making premium quality products, so rest assured it will deliver great results in all scenarios. We recommend this ring light to content creators who are looking to take their videography and photography skills a notch higher.
It is compatible with action cameras, smartphones, and DSLR cameras. With the help of this ring light, you will be able to eliminate shadows while highlighting the important features of your face. Like the Elgato Ring Light, this equipment will allow you to adjust the colour temperature to the preferred level.
Nonetheless, it only emits 1800 lumens, so it is not as bright as the first ring light on the list. This does not, however, mean that it is not bright, the entire length of the ring is lined with high performance LED beads that are designed with your lighting needs in mind. What's more, it has a colour rendering index (CRI) of 91, which is great since this creates the ideal conditions for rendering more colours.
As a result, your camera will provide you with actual colours in every scene. To add to this, you can adjust the brightness from 10% to 100%, so it is up to you to choose the perfect lighting for your videos. When you buy this ring light, you will get a sturdily built tripod that will keep your equipment in the correct position at all times.
And because the tripod stand is made of aluminium alloy, it won't weigh you down when travelling. Plus, the manufacturer has included a well-built carrying case that you can use when transporting the unit. The case is compartmentalised to prevent the parts from knocking against each other during transit.
Best of all; the kit is inclusive of Bluetooth remote that will allow you to control your phone's camera from a distance. On the downside, this ring light doesn't come cheap. All factors considered, it is an amazing tool that is worth adding to your photography kit.
---
3. Best Value: Neewer 10-inch LED Ring Light
The Neewer 10-inch LED Ring Light is the same size as the unit just before it. It comes with several accessories, including a wireless remote that allows for hands-free operation. Also, there are two types of phone holders that you can choose from based on the type and size of your smartphone.
But it doesn't end there; it also has a ball head mount that is compatible with most camera mounting systems. This ring light has a higher colour rendering index than the KODAK LED Ring Light. At 93 CRI, it will vividly render all colours, thereby allowing you to capture high-quality videos.
The brightness level is dimmable from 20-100%, with 20% increments, while the colour temperature is adjustable from 3200K to 6000K. As you can see, you'll be able to customise all parameters depending on our shooting needs. This makes the ring light ideal for live streaming, outdoor photography, indoor filming, etc.
It will deliver great results even when recording in low light conditions. Besides, the phone clips can hold most iPhone and Android smartphones, making it even more convenient. Nevertheless, the clamps can only work with phones with a width of 5.2cm to 8.5cm.
The tripod has a maximum load capacity of 2 kilograms and can be extended to 137cm. And since the feet are rubberised, you won't have to worry about them slipping. As if that is not enough, the tripod has a low centre of gravity, so the chances of it toppling over are minimal. The flip locks will ensure the light stays in the right position every time you are recording.
This device is powered via a USB cable, so you can plug it into a laptop, power bank, or PC. You also have the option of using a USB power adaptor. Nevertheless, you'll have to buy the adaptor separately since it's not included in the kit. On the plus side, the ring light ships with a string bag for easy storage.
---
4. Best Ring Light with Wireles Remote: Endurax 10" Selfie Ring Light
The Endurax 10'' Selfie Ring Light is also another great option that you can use when taking photos, recording videos or live streaming. Like all ring lights on our list, this unit utilises LED technology. With up to three colour temperature settings to choose from, you can customise the lighting according to your preference.
It has a dimming range that is similar to that of the KODAK LED Ring Light, meaning you will be able to adjust the brightness level at 10% increments up to 100%. The tripod stand is made of high-quality aluminium alloy and is also coated for durability purposes. In addition to this, the telescopic sections are lockable, so the stand won't collapse after you have made the needed height adjustments.
The 254mm ring is powered by a USB cable and is compatible with virtually all USB-enabled devices. Additionally, the 360-degree phone holder will allow you to set your smartphone at the perfect angle. The ring head, on the other hand, can make a 180-degree tilt, so you can direct the light towards your direction with minimal strain.
Nevertheless, the phone holder is rather small, so it can limit you when using smartphones with a larger width. However, it can securely hold phones that are no wider than 8.40cm. The ball joint will make your work easier when shooting from different angles.
All you have to do is tilt your gadget to the most ideal position and you will be good to go. The ring head is fitted with 120 pieces of LED beads that offer maximum illumination. Plus, the grid panel is uniquely designed to increase the dispersion of photons. The tripod has a hollow design, so it is not as heavy. This means you can carry the light from one location to another without experiencing any problems.
The fact that it comes with a long USB cable makes it super convenient since you can set up the lighting system without being restricted. To top it all up, this ring light is very easy to assemble, making it ideal for all users.
---
5. Best for Most People: Neewer Selfie Ring Light for Laptop Computer
If for some reason you dint like the Neewer 10-inch LED Ring Light, we hope that the Neewer Selfie Ring Light for Laptop Computer will impress you. This particular model is not so different from the former since both share several features.
However, the previously reviewed ring light from Neewer allows for colour temperature adjustments up to 6000 Kelvin, while this unit has an adjustment range of 3000K to 6500K. Also, it has 10 brightness levels that you can use in different lighting conditions. Besides all this, Neewer's ring light provides you with three light modes for added versatility.
That said, you can set the LEDs to emit warm yellow, white, or warm white light. With this unit, you'll be able to employ the perfect light setting for every scene. The ring head comes with a durably built rod that will provide you with the stability that you need to create masterpiece after masterpiece.
You will also get a circular base that will allow you to prop the light on your desk. Because the base is weighted, the ring head won't fall over easily. Aside from having a flexible gooseneck phone holder, you can rotate the ring head up to 120°.
The clamp can hold phones with a width of 5.8 cm to 8.9 cm. Plus the LEDs on this unit are not only of high quality but also energy efficient. This feature can come in handy when using a power bank and other portable USB-enabled power packs. It will save you the hassle of charging the batteries from time to time, thus boosting your performance.
Both the ring head and base are made of lightweight materials to allow for easy portability. The parts are easy to disassemble just as they are to assemble and will only take a few minutes of your time. Unlike the Neewer 10-inch LED Ring Light, the Neewer Selfie Ring Light for Laptop Computer does not come with a wireless remote.
---
6. Best Ring Light for Zoom: Acetaken Selfie Ring Light with Webcam Mount
The Acetaken Selfie Ring Light with Webcam Mount is the most compact unit on the list and is, therefore, ideal for those who have limited space on their desks. Even while staying light and compact, this ring light is compatible with a wide range of devices, making it yet an excellent option that you can consider buying.
It is specially designed for webcams and compact cameras, but you can as well attach the phone holder when working with smartphones. And like most ring lights that we have hand-picked for you, the Acetaken Ring Light has three light modes that will help you get high-quality videos and pictures.
There are also ten levels of brightness that you can employ when taking selfies, recording videos, video conferencing, and more. The most unique feature about this ring light is that both arms are fully flexible. As such, you can angle them at whichever position that you want without damaging the unit.
It can particularly prove helpful when taking flat lay photos and videos for product advertisements. The easy-to-attach clamp allows you to install the ring light within the shortest time possible. To prolong its durability, ensure that you attach the clamp to tables that are less than 6.50cm thick.
---
How We Researched the Best Ring Lights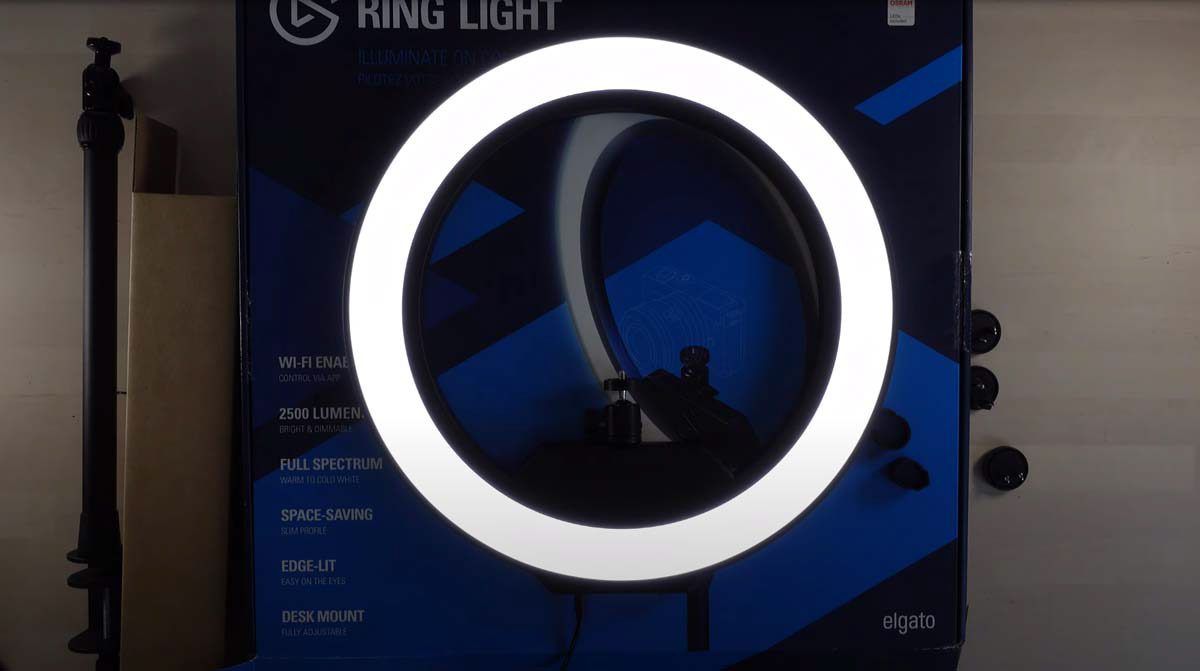 To find the best ring lights in Australia, we initiated our search by visiting trusted e-commerce stores such as eBay, Harvey Norman, and Myer. We chose 21 ring lights and compared over 15 brands to find the most reliable manufacturer. This gave us a good starting point since we were able to identify some of the highly-rated ring lights frequently bought in Australia.
We only went for ring lights from reputable brands such as Kodak, Elgato, Neewer, Acetaken, and Endurax. This left us with 13 ring lights, which we further compared based on Colour Rendering Index (CRI) value,Size, Adjustability, Power options, Accessories, Colour temperature settings, Accessories, Dimmability, Price, and Portability.
After sifting through the second list, we removed 7 more products, leaving us with 6 ring lights. We proceeded to Amazon Australia to check if the ring lights we had chosen are available on the site. But that is not all; we went through the customer reviews and also considered the rating of each ring light.
Our team only selected ring lights with a 4+ star rating. We then ranked the ring lights depending on their performance, features, and build quality. The products that we chose are reasonably priced, so you can pick any that suits your photography needs.
Ring Lights: Buying Guide
If you are having a difficult time finding the best ring light for your photography needs, this buying guide can help you make an informed decision. As with most products, ring lights come in different sizes and also vary when it comes to features and overall performance. Plus, manufacturers use different lighting technologies, meaning not all ring lights are built equal.
With that being said, there are factors that you need to think about when selecting a ring light. Moreover, the type of light that you choose will determine the quality of your photos and videos, so ensure that you go for nothing but the best.
What to Consider When Buying a Ring Light
Below is a list of the important factors that you should take into consideration when shopping for a ring light:
Ring diameter
As earlier mentioned, ring lights come in different sizes. Most of the units have a diameter of 10 to 18 inches, so you can make a selection based on your lighting needs. Large diameter ring lights produce more light than their small diameter counterparts.
You can calculate the actual ring diameter by subtracting the inner diameter (ID) from the outer diameter (OD).
Power options
A good number of ring lights are powered via USB cables, which can be directly connected to laptops, power banks, desktop computers, and USB adapters.
However, some models come with rechargeable batteries while others are powered by AC. Battery-operated ring lights are ideal for those who are always on the go. We recommend that you buy a ring light with multiple power options so that you can use the most convenient or readily available power source.
Adjustability
The best ring light is one that can allow you to make both height and angle adjustments. You should check if the ring head is rotatable as this will enable you to customise the equipment based on your needs.
If you are looking to prop the ring light on your desk, it would be wise to buy a unit with a flexible neck. That way, you can set up the lighting system according to the placement of your camera. To get the best results, you should purchase a ring light that can make a 360° rotation and a 180° vertical tilt.
Accessories
Before confirming your order, you need to check if the package is inclusive of all the accessories that you need. Many ring lights come with a wireless remote for hands-free operation, a carrying case for easy storage and a tripod stand for maximum support.
Most brands will provide you with ball head swivel mounts and a smartphone clamp for added versatility.
Colour Rendering Index (CRI) value
Colour Rendering Index, commonly abbreviated as CRI, determines how colours are perceived under an artificial light source in comparison to when the same colours are viewed under natural light. To get the true colour of subjects/objects, ensure that you pick a ring light with a CRI value above 90.
A CRI value of 95+ is highly recommended since it will provide you with the actual colours of the scene. In a nutshell, the higher the colour rendering index, the better. Nonetheless, not all brands list the CRI value under the product specifications, so ensure that you do in-depth research to find out if the ring light you are about to buy offers the CRI value that you need.
Colour-temperature settings
Colour temperature refers to how cool or warm light from a given source appears. This parameter is measured in Kelvin (K) and has a direct impact on the quality of your pictures and videos.
Only go for ring lights with adjustable colour temperature settings. A Kelvin rating of 2700-3300K is considered warm, while 3300-5300K is cool. 6500K is the colour temperature for daylight, so ensure that you apply the most ideal setting to get the perfect shot.
Dimming range
Besides the CRI value and colour temperature, you also need to consider the dimming range of the ring light. A dimmable ring light will allow you to increase or decrease the level of brightness according to the environment that you are in and how the ring light is positioned.
The dimming range varies from one ring light to another. For example, the Neewer 10-inch LED Ring Light has a dimming range of 20% to 100%, while other models can be adjusted from 10% to 100%. Experts recommend that you go for ring lights with smaller increments since they will give you more control over the lighting system when making adjustments.
Battery life
If you decide to go for a cordless ring light, ensure that you check the capacity of the battery. Large capacity batteries will provide you with longer run times than small capacity batteries. You should also consider the battery's overall charging time as this will determine your downtime.
Portability
Most ring lights on the market are foldable and lightweight, meaning you can take them with you to different shooting locations. Besides, models like the KODAK LED Ring Light with Tripod feature a convenient carrying case that will make your work easier during transportation.
Price
The cost of buying a ring light may vary depending on size, features, accessories, and overall performance. In Australia, the price of a ring light can range anywhere between $50 and $200, with some models costing more or less. When buying a ring light, you should see to it that you choose a unit that is worth the amount that you'll pay.
You should compare and contrast all the available options before settling for a particular ring light. Also, try as much as you can not to overspend on ring lights that are of questionable quality.
---
You may also be interested in:
Last update on 2023-12-11 / Affiliate links / Images from Amazon Product Advertising API