ⓘ We are reader-supported and may earn a small commission at no additional cost to you if a purchase is made through one of our links.
In this CX9 Smart Face Mask review we attempt to help you make an informed purchase decision for what has become one of the most used products in the world! Face masks have become part of our lives. In fact, so much so, for most countries today, this has become mandatory. There are mainly only two options: cloth and single-use disposable surgical masks. There are also N95 masks but with the limited supply, they are difficult to acquire, especially for daily use. 
Cloth masks are affordable, some are trendy, but their filtration effectiveness is lower than medical masks. Then, there's the most popular choice: single-use masks. They are effective and affordable. However, they can harm the environment. Also, for some people, surgical masks and cloth masks are hard to breathe into. 
These are common problems with face masks. However, there's a product that claims to answer these problems. And that's the CX9 Smart Mask. What is it, what does it do, and how can it help you? Let's try to answer these questions here. 
Don't have time to read the full CX9 Smart Mask review? Click on the links below to skip to that section.
Overview
The CX9 Smart Mask is a campaign that is seeking funding in Kickstarter. As of writing, they have already exceeded their goal of USD$5,000 pledges. The product claims to be the world's first customizable eco-friendly smart mask. It has a filter, vents, and you can choose either to equip it with a fan or LED lights. And it's offered at USD$299, which probably makes it the most expensive mask you'll ever wear.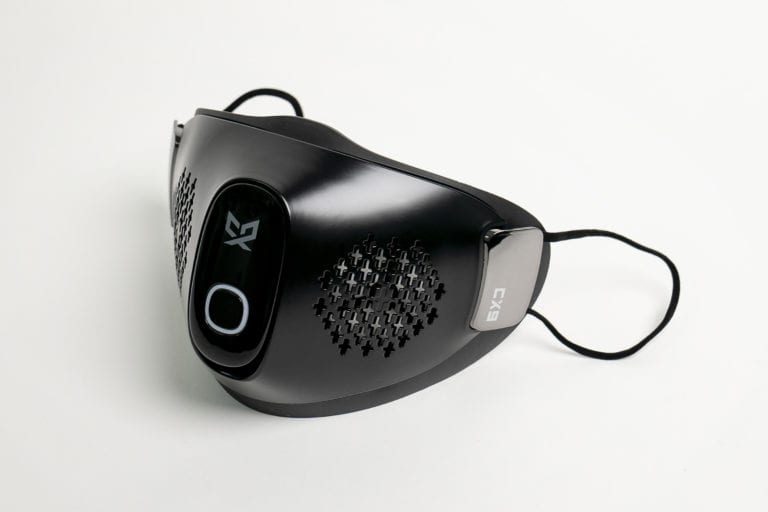 This is a mask marketed for exercising and daily use, aiming to protect you from pollution, harmful germs, and provide you with better air quality. It even claims to help you restore your skin that has been damaged by unclean air. However, this mask is not intended to protect you from COVID-19, which is a big letdown, considering that's what we need masks for.
After the coronavirus pandemic and when everything has normalized, it's hard to believe that people will still be wearing masks with the same frequency. Well, unless the air quality goes nuts that is. Nonetheless, this mask does have some merit. What struck us the most is that it can block particles at around 97%, according to its Kickstarter page. If this is accurate, it beats even the air filtration of N95 masks which is around 95%. 
Features
Certainly, the CX9 is different and the first of its kind. It has a large-sized 4-ply filter, which you need to replace once per day or once per 2 days. This aims to purify the air you breathe by filtering everything from pollen to ultra-fine particles and bacteria. Also, one of its promises is to smoothen your breathing and it can do so with its built-in valves which allow airflow when you exhale and inhale. While this is a great feature for some, this is why it's not recommended as COVID-19 masks. 
According to the Centers for Disease Control and Prevention (CDC), "masks with one-way valves or vents allow air to be exhaled through a hole in the material, which can result in expelled respiratory droplets that can reach others." 
However, since the mask isn't sold as the next protection for the virus, this mask does aim to help with some issues people often experience. It has a fan that offers much-needed cooling, especially during hot weather conditions. It is reusable and can be disassembled and washed, which can help solve lessen the number of disposable masks in our oceans.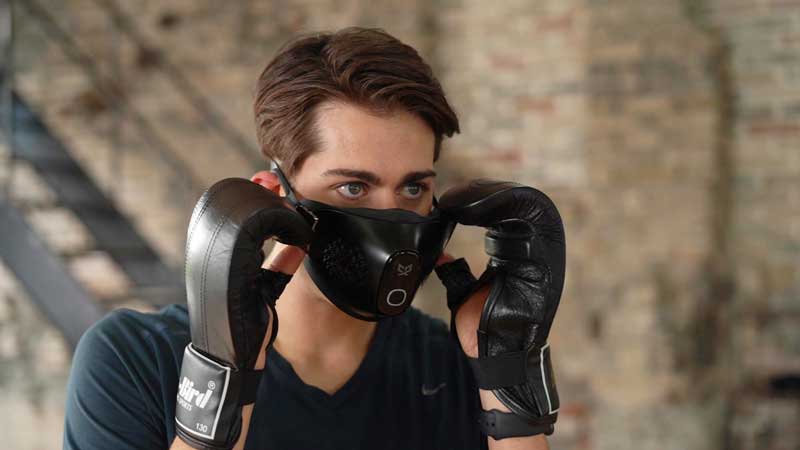 Additionally, if you want to exercise or travel with a mask on, the fan module is the product for you. Lastly, the LED-embedded mask option claims to block the virus infections around your mouth and prevent aging. It also claims to help with skincare. Of course, since this isn't a full face mask, only part of your nose and around your mouth gets to experience those benefits – if it works. 
Specs
Here's the full list of the CX9's specifications:
Filter

4-ply filter structure 

Exhaust Valve

1 piece located below the controller

Interface

1 button for power and mode conversion

Status display LED 

Buzzing sound

Adjustable ear strings and headband strap

Size

169 mm X 103 mm X 112 mm

Battery

Lithium polymer battery 3.7V 450mAh

Input power source

DC 5V/1A (USB-C Type cable charging)
You can choose whether you want to receive the fan module or the LED pad module. Currently, there's no option to have both. Here are their specs:
LED Pad Module
The LED function can be used in 3 modes. According to their product information page, the Daily mode and Block mode can protect the skin from harmful bacteria. It can also improve damaged skin and manage inflammation. On the other hand, the beauty mode is said to increase collagen production, improve skin texture, reduce wrinkles, and soften skin. This skincare technology is similar to the popular LED masks from South Korea.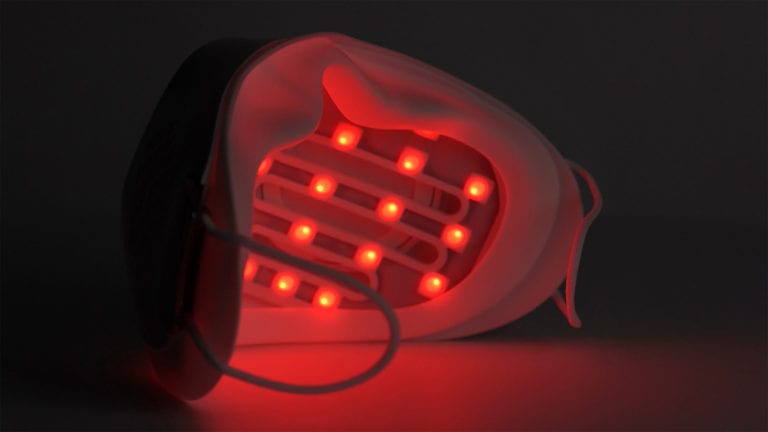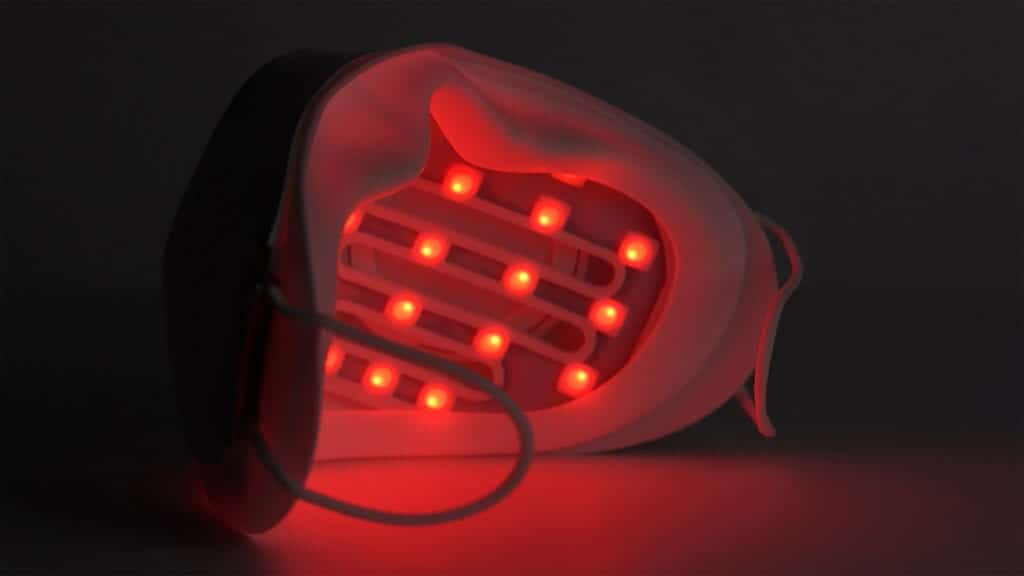 Number of LED lights

72 pieces (RED: 36; NIR: 36)

Modes and run time on batteries

Daily mode: 30 min

Block mode: 90 min

Beauty mode: 20 min

Other features

Filter sterilization UV-C LED 2 pieces

(This feature allows sterilization of the filter while charging)

Approx. weight

170g
Fan Module
The fan module is designed to allow you to cool down when exercising or when you're just outside during a hot day. It is also said to be made of new materials that can reduce skin irritation and outbreaks. 
Number of units

2 fans

Modes

Low mode

Medium mode

High mode

Run time

30 minutes

Approx. weight

Less than or equal to 150g
Aesthetics
Overall, the CX9 Smart Mask looks good. It's available in black and white. The charging hub and control button are in the center along with the company's logo. And there are adjustable ear strings at the sides. It looks chic and stylish, and it's somewhat discreet too until you power it on.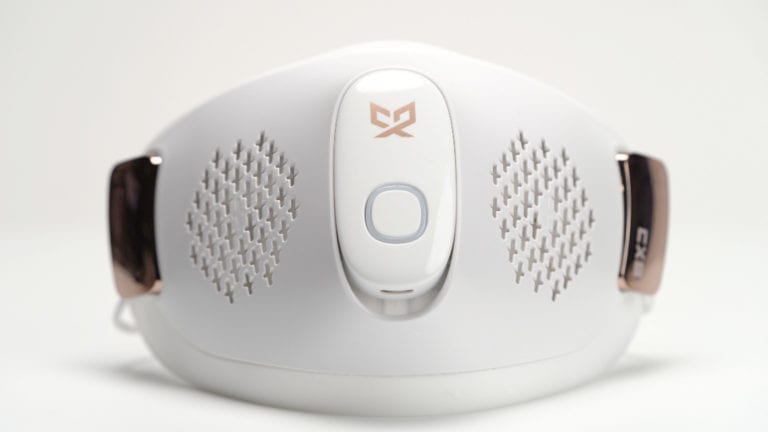 It has a bit of a futuristic feel to it, which we think matches its goal perfectly. It also reminded us of a few characters in Mortal Kombat like Sub-Zero and Scorpion. 
What's it Like to Use?
The CX9, while packed with extra features, is designed to be lightweight and slim. It's also made with aseptic silicone, which is the same material used in medical equipment. Moreover, it has a solid 3D design. Thus, you can expect to stay comfortable while wearing it. You can also use it for long hours.
If you're worried about the fans while in use, the manufacturer designed the mask so the fans won't ever come close to your skin or mouth. It can also be set in 3 different levels of intensity, depending on your need. 
Another feature we especially liked about the product is that it's easy to clean and wash. The outer parts can be wiped with wet wipes or moist cloth and the body can be disassembled in just 3 steps. You can then wash the silicone of the mask by simply rinsing in running water for 9 seconds.    
The LED lights, however, when activated and worn at the same time can be a bother when walking since it can reflect close to your eyes.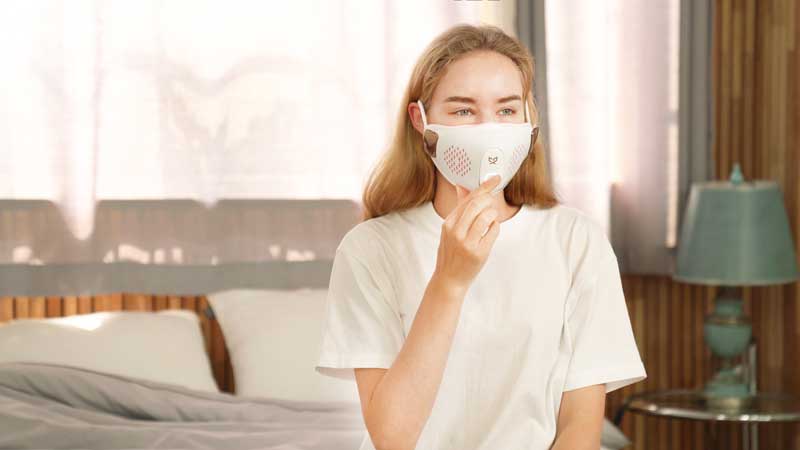 Conclusion
In our. CX9 Smart Mask review, we found the $299 price tag may sound like too much, especially when you only get one or the other (fan or LED). Additionally, the filter requires to be changed every day or every other day. There's no information about how much their filters are but that's additional recurring costs you should consider. However, this is a serious piece of kit and an investment into your health and future. When you consider the cost of single use masks, and far inferior masks, the $299 doesn't seem too bad.
Sure, the CX9 mask is cool to own and it sounds amazing too, with the cooling and LED functions. But is it necessary? That's for you to decide. 
CX9 Smart Mask Review Box
CX9 Mask Review
Look Station

Features

Total Value
CX9 Mask Summary
The CX9 mask can keep you cool and help you breathe smoothly. It claims to have a 97% filtering capability, which is ideal for those with allergies and those who want to improve the quality of the air they breathe. It can even help you with skincare. However, it's not suitable for COVID-19.
Pros
✓ Cooling function
✓ Easy to clean
✓ Strong filtering function
Cons
✗ Not apt for COVID-19
✗ Expensive
✗ Can only come with fan or LED; no option for both