ⓘ We are reader-supported and may earn a small commission at no additional cost to you if a purchase is made through one of our links.
The Hibermate Sleep Mask is designed to improve the quality of your sleep by significantly reducing noise and by blocking light. In this Hibermate sleep mask review, we put these claims to the test and provide you with a breakdown to help you make a more informed purchasing decision. This review will cover the manufacturing quality, comfort, looks, and most importantly, the Hibermate's ability to improve sleep quality. We tested this product for 10 nights in total to ensure that we gave it a fair crack. Naturally, I am a very light sleeper, so keep this is mind when reading this review of the Hibermate Sleep Mask.
Time Short? – Click here to see our Hibermate sleep mask review summary.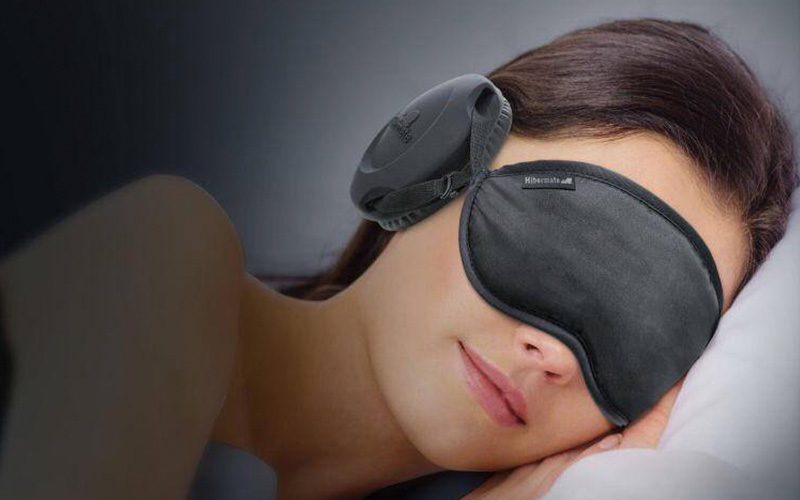 Who Are The Hibermates For?
Anybody who needs to improve their quality of sleep or rest while travelling or at home. The new Gen 6 version is better suited towards children as the mask with now fit them a lot better due to improved adjustability. This is perfect for light sleepers or those with partners who snore.
–
Hibermate Sleep Mask Review – Build Quality
Hibermate has always focused a lot of their attention on the quality of the materials used. And this has never been truer than with their latest iteration, the Gen 6. model. The company promote the product as a 'luxury sleep mask', and we think this claim is fair. Unlike most other sleep masks which are made from very cheap and poorly put together materials, Hibermate takes the opposite approach. By taking the time to conduct thorough material research, they have created something that feels much more premium than any other sleep mask we have tried in the past. This makes you want to wear it.
–
The Sleep Mask
The sleep mask is made from 4 separate layers each with a different function. The first layer is a satin outer cover that is incredibly soft and feels lovely. At no point did it irritate my skin or bother me in any way. Under the satin is a firmer material (I'm not sure what it is) that helps the sleep mask hold its shape. In the ten days that I used it, at no point did it lose its shape, so it's doing its job! The layer under this blocks 100 per cent of light and is made from premium wadding. I can attest to the fact that no light gets through the Hibermates! Finally, the layer that rests on your eyes and skin is made from incredibly soft cotton. This cotton is so soft and nice to the touch that it is actually comforting to wear.
–
The Earmuffs
In addition to the sleep mask, the Hibermate Gen6 come with earmuffs that significantly reduce noise. These are equally well-made. Although they don't compete on build quality with Bose or Sennheiser, they aren't far off. The earmuffs use a thick, medical-grade silicone to create 'softer-than-you-think' silicon cups. The interior of these cups is covered by a, newly designed for the Gen 6 model, custom ear cushion. The use of custom ear cushions is something borrowed from some of the top headphone manufacturers. This manufacturing technique results in a seal that feels satisfying but never uncomfortable. This tight seal, in combination with the materials used elsewhere in the earmuffs, is what reduces the noise. It is passive noise cancelling.
Adjustability & Comfortability
We all come in different shapes and sizes and thankfully the Hibermate recognises this. The Hibermate Gen 6 is newly designed to allow for greater adjustability compared to previous versions. It does this by including 2 easily adjustable and soft bands which allow you to find just the right fit for your head shape. These straps are noticeably longer than previous versions, which means big heads and little heads can rejoice.
The Gen 6 sleep mask is slightly narrower as well, which means that the ear cups fit correctly over more peoples' ears than before. My head is probably around average, and with a little playing around with the straps, I found earmuffs to be extremely comfortable, even during longer sessions of wearing them.
Each box comes with two different types of ear cushions. A new addition is the ear 'pad' which can be swapped out for the default doughnut-shaped cushions from the previous versions. The new ear 'pad' is designed with side sleepers in mind and provides a more comfortable experience for those with larger ears. Just test them both out and see what works best for you. Personally, I have average-sized ears, so I stuck with the standard cushions. I couldn't really notice the difference between these and the new ear 'pads' when sleeping on my side. However, I do have very soft pillows, which may have impacted this.
The sleep mask, which can be worn without the ear muffs,
–
Sound Reducing
Hibermates ear muffs block is estimated to block around 15-20dB of sound. To put that into perspective, it's around the same volume as heavy breathing or the wind rustling through leaves. So it's not a huge amount of reduction, but it's certainly noticeable and has a somewhat comforting feel to it.
The Hibermates are nowhere near as effective as traditional in-ear earplugs, but that is to be expected. Earplugs are generally quite uncomfortable, tend to fall out and get lost on the odd occasion. However, in saying that, if reducing sound is absolute number one priority and you are in a very noisy environment, then earplugs are the way to go.
For an almost completely muted sleep, you can use both earplugs and Hibermates together to block out pretty much anything.
–
Light Blocking
The Hibermates absolutely block 100 per cent of light. The 4 layers of material between your eyes and any source of light guarantee this. In addition, the adjustability of the mask prevents any light seepage from around the eyes or the bridge of the nose. Occasionally, there were times when I accidentally moved the mask and a bit of light did sneak in, but moving it back into place is extremely quick and easy. I then adjusted the straps to create a snugger fit, which prevented this from ever happening again.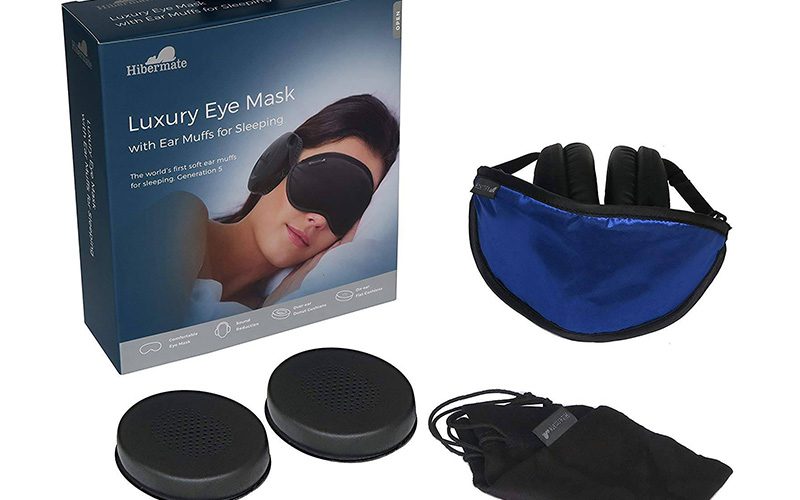 What's In The Box?
Inside each box, you will receive the following items and accessories:
1x Sleep Mask
2 x Ear Cushions (1 x Doughnut, 1x Ear 'pad')
1 x Travel case
The Verdict
From our Hibermate Sleep Mask review, we can say that these certainly did improve my sleep quality. They are extremely comfortable and non-invasive, while still being exceptionally good at blocking all light. The sound reduction is OK, but won't completely block out traffic or other common noises. However, the reduction is noticeable and they can block out heavy breathing and low-level snoring.
I would consider these to be an expensive sleep mask at around $97 AUD, but for the problems they solve, and for how well they do solve them, I think it is a fair price. The build and material quality are much better than most sleep masks and overall do a much better job than anything else I have tried in the past.
–
Comfort

Features

Total Value
Summary
Overall this is a quality sleep aid that will reduce noise and block light. It is very adjustable so should fit almost everybody and contribute towards an improved quality of sleep. The cost is a little high, but for a good night's sleep, it's probably more than worth it.
Pros
✔ Blocks 100% of light
✔ Very Comfortable
✔ Great Adjustability
✔ Noise reduction is ok
Cons
✘ Relatively expensive
✘ Won't block louder sounds
✘ Can get warm
Content Disclaimer: Our 'Hibermate Sleep Mask Review' is totally independent and has not been commissioned by the company in any capacity. Mr Gadget has not received any endorsements for this writing including financial reimbursement, free advertising or the Hibermate Sleep Mask by way of gift. If you purchase this item via an affiliate link on our website, we may receive a small commission from the seller. We hope you enjoyed!