ⓘ We are reader-supported and may earn a small commission at no additional cost to you if a purchase is made through one of our links.
It's rare to come across a product at is cheap and good, but that is exactly what we found our review of the Jlabs Jbud Air. These true wireless earbuds blew my expectations out of the water and ushered in a new age of cheap, but good wireless earbuds. Of course, the Jbuds Air don't have the polished finish or feature-packed resume we can expect from other wireless earbuds on the best of 2020 list, but they arguably offer the best bang for the buck!
CHECK TODAY'S PRICE HERE: See at Amazon
30 Second Review: Jlabs Jbuds
Look Station

Features

Sound Quality
Summary
Despite scoring low overall, this is only because of the high standard set by much more expensive wireless earbuds. The Jbuds Air are ideal for newcomers to the market of for gym-goers looking for a fuss-free pair of wireless earbuds!
Pros
✓ Cheap!
✓I P55 rating
✓ OK-ish sound quality
✓ Did I mention cheap?
Cons
✗ Plastic everywhere
✗ Uncomfortable
If you're short on time, feel free to skip ahead to different sections of the Jlabs Jbud Air review:
Who should consider buying the Jbuds Air?
The Jlabs JBuds are a very good purchase if you fall into these categories:
People on a budget. The majority of wireless earbuds in the same price bracket are terrible no-name products on Amazon. The Jbuds actually deserve your consideration.
Gym-goes & Runners. Surprisingly, the Jbuds Air has an IP55 rating meaning they won't be damaged by some sweat or rain.
People new to the wireless earbud market. Wireless earbuds are incredibly convenient but also easy to lose and require battery management. Because these are so cheap, it's a good test to see if this type of product works for you.
What are the Jbuds Air like to use?
Honestly, I am very impressed with the Jbuds Air ability to compete against more premium true wireless earbuds. Of course, I am lowering the bar due to the insanely low price, but honestly, there is nothing about them that automatically rule them out. They do cut corners with material choice (plastic, plastic, plastic) and functionality, but honestly, I enjoyed the time I spent reviewing the Jbuds Air.
Pairing the Jbuds Air
Pairing these guys is easy as pie thanks to the inclusion of Bluetooth 5.0, which delivers a stable and strong connection up to meters away. To pair the Jbuds Air, simply open the case and hold down the button on both earbuds for 3 seconds. This will connect each earbud to one another. Once this process is complete the right earbud will flash blue and white, letting you know they are ready to pair to your phone. Simple open your Bluetooth settings and connect.
I found this process to be a little more involved than the majority of other true wireless earbuds, but what can you expect for the price point. They're a long way away from the seamless set-up of the Pixel Buds 2 or Apple AirPods Pro, but it's still super easy.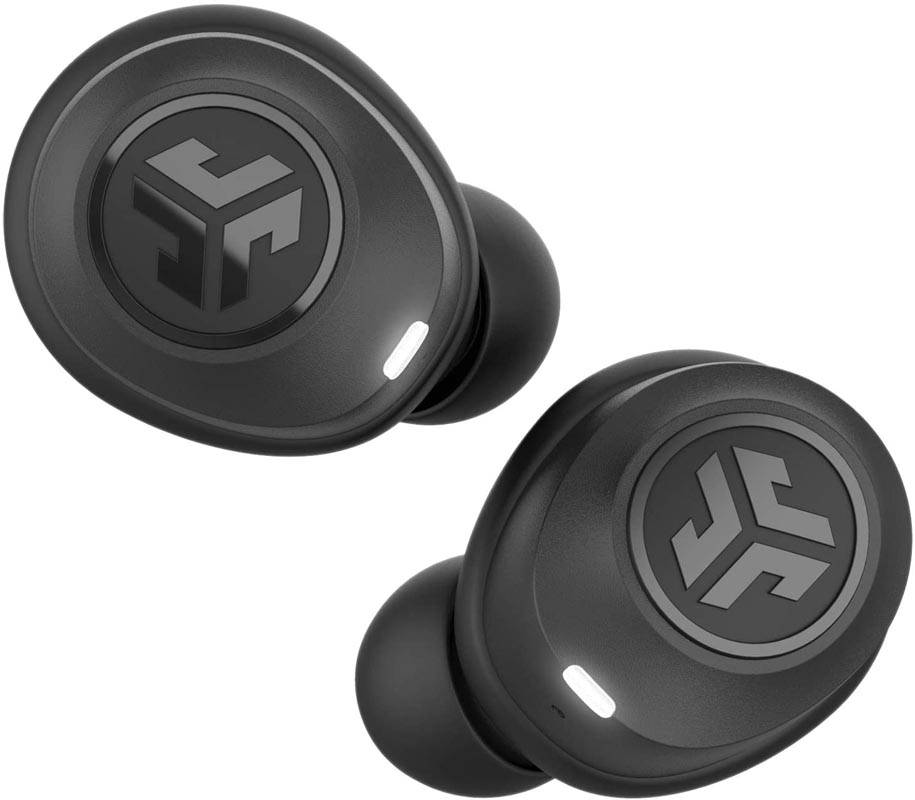 Comfort
The Jbuds Air is a little clunkier and larger than most other wireless earbuds but remains lightweight due to the all-plastic casing and come in at just 6 grams per earbud. This is certainly on the lighter end of the scale but isn't enough to make them a comfortable fit.
However, if your ears on the larger side of things the Jbud Air may work for you, but they didn't work for me. After just 20 minutes they became an annoyance and after 45 minutes I had to give my ears a rest from the discomfort.
Jlabs does include 3 separate pair of ear tips to accommodate different-sized ears, which is commendable at this price point, but they weren't enough to make these comfortable for me. There is also the inclusion of cush-fins to provide better in-ear stability, which again, is a generous inclusion at this price point, but didn't do much to improve comfort.
Controls
The Jbuds Air has surprisingly good controls for such a budget pair. And utilise a single button per earbud approach to managing the device. The buttons control is a little frustrating and finicky but I did get used to them pretty quickly.
The required multiple clicks on the eardrum area in combination with the large plastic casing is a bad combo. So, I learned quite quickly that it's best if hold the buds in place while pressing the button to avoid discomfort.
The left earbud is used to control volume down and to skip back a track, while the right ear does the opposite. You can switch through three different audio presets (more on that later) with three clicks on either earbud and activate the voice assistant with a double-click on the right earbud. Play and pause are controlled by a double click on the left earbud.
You can see why they take a little bit of getting used to but honestly, the controls are decent enough.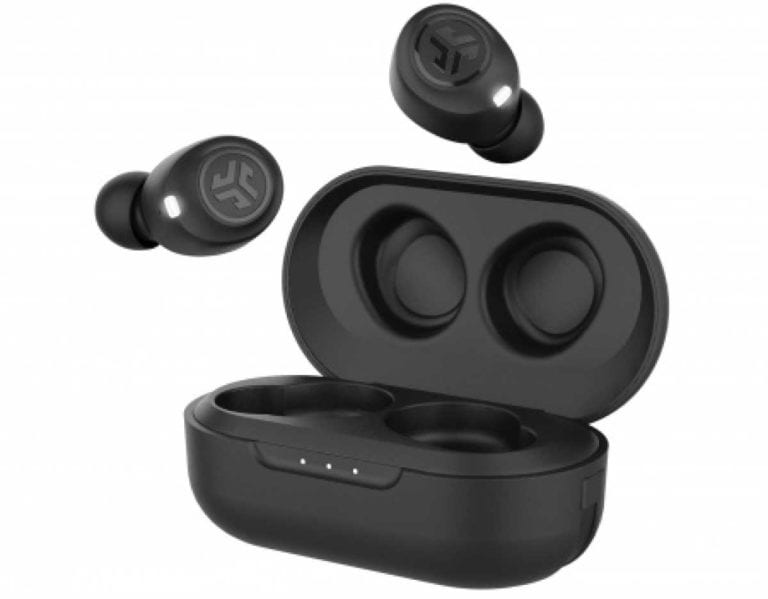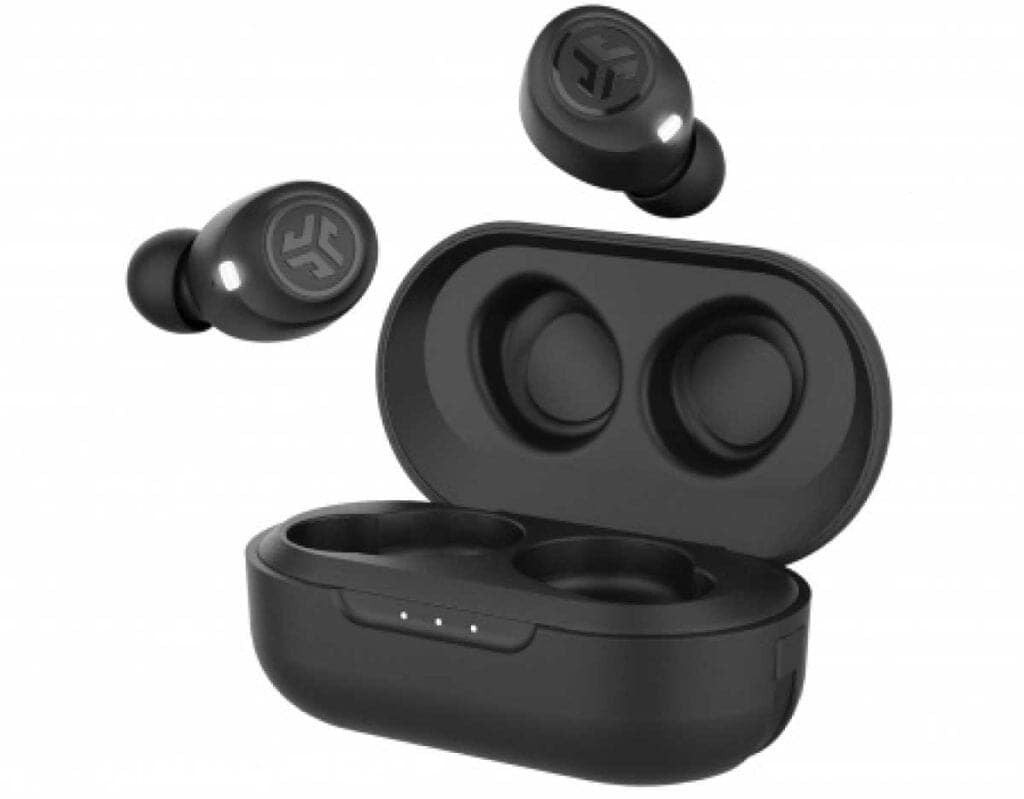 Jbuds Air Battery Life
OK, this is where I started to really notice the cost-cutting. The Jbuds Air holds a measly 3 hours of battery in the bud. This is certainly enough for 90% of people working out or for your daily commute, but three hours means they'll have to be charged daily for more people. 3 hours of battery life isn't the end of the world, but it did require me to make sure they were fully charged at the beginning of each day.
Thankfully the charging case holds an additional 10 hours of juice and can fully recharge the earbuds in around an hour and a half. It's not brilliant, but again, these are cheap!
Charging Case
The pillbox-shaped charging case is made from the same plastic present on the earbuds. Yes, it does look a little cheap, but honestly, it doesn't look too bad in person. There is an integrated USB cable that folds in neatly to the underside of the case. This is a good idea, but what happens if it breaks?
Jlabs has stated that it should survive 10,000 bends before it shows signs of damage, but I've heard this before. It's also a USB A cable and these ports are becoming rarer and rarer. However, it is one less cable to carry around with you!
Overall the Jlab Jbuds Air charging case does its job well enough. It doesn't have the sophisticated design of the Sony WF-1000XM3 or the tiny form factor of the AirPods Pro, but it does hold up well for the price.
Are they good for workouts?
Yes, the Jbuds Air are an excellent choice for workouts. The IP55 rating and 3-hour battery life make a good combo for exercise. You won't have to worry about sweat damage and the three hours battery will get you through all but the longest workouts. The only thing to consider is the discomfort, but it may not be as uncomfortable for others as it was for me.
Also, if you happen to drop a weight on them, well you're only out 50 bucks!
Are they good for productivity & focus?
No, not really. They have no noise cancellation, a very average microphone and become uncomfortable quite quickly. For me personally, I found these to be more a distraction rather than productivity aid!
Are they good for commuting?
They're OK. They play music which will remove some of the sounds around you, but they don't block out much noise. The three hours will get through most commuted back and forth on a single charge but will require a recharge in the evening.
Worthy of a listening experience?
Maybe. Let's me be clear, these are far from audiophile-grade but do compete with wireless earbuds much more expensive than the Jbuds Air. I'd say they're close to the original AirPods in sound quality but miles away from the Sennheiser True Momentum 2.
Bass
The bass is easily the weakest part of the sound profile. Bass-heavy tracks can become distorted during intense bass sections, and in others, the bass almost disappears. It's a bit disorientating and disappointing.
Mids
The mids are the best part of the sound profile. It is very well balanced and supports lead vocals and instruments very clearly.
Treble
The treble is well represented in the Jbuds Air. The highs come through crips and clear and only very occasionally sound piercing. The piercing effect is very rare but it is present at high volume on the very high pitched sections of a track.
Aesthetics
The aesthetic is simple and functional. These won't win any design awards but the low-key, functional design won't offend anyone either. The same can be said about the case. Sure, it's a bit bland but it's usually in your pocket or bag anyway.
If the aesthetic is an important factor in your purchasing decision, it's hard to recommend these, but if you're not fussed by this type of thing, the Jbud Air design is fine.
Jlabs Jbud Air Review Summary
The Jlabs Jbud Air punch well above their weight class and may be the best value for money true wireless earbud available. For the low price you do miss out on a lot of the useful features found elsewhere but the core functionality is present, and they don't look bad either.
If you just want a pair of simple wireless earbuds for working out, then these are for you. If you want a pair of wireless earbuds that enhances your music, then you'll have to look elsewhere!
I'd be happy to recommend the Jbud Air to somebody new to the market and wants to dip their toe in before forking out $200+ dollars for a more premium pair.
Jbuds Air Price
You can pick up very the Jlabs JBuds very cheaply on Amazon. I told you these guys were cheap. It's worth spending some time finding the best deal because different vendors sell them at slightly different rates. Some of them offer free shipping, some don't.
FAQs
Yes, JLabs Jbuds are a top-notch pair of wireless earbuds. They offer great value for money as well as a solid all-round performance. They are considered very comfortable by most users and the controls are very intuitive.
Last update on 2023-12-11 / Affiliate links / Images from Amazon Product Advertising API
Yes, Jlabs has an excellent track record of producing great headphones and earphones. They generally score very highly among reviewers and customers.
Yes, the Jlab Jbuds Air do have active noise cancellation (ANC). This is a surprise given their price point. The ANC is actually pretty good, so if reducing noise is important to you, give these guys a shot.
Full Spec List
INCLUDES: JBuds Air Earbuds, Charging Case, 3 Sets Gel Tips, 1 Set Cush Fins™, JLab Two Year Warranty.
AUDIO
Speaker: Φ8mm Dynamic, Neodymium Magnet, 20Hz-20kHz, 32 Ω
Output: 103±3db
Microphone: Right ear only, MEMS, – 38dB ±3dB
BATTERY
Battery Life: 6 hours in each earbud, 18+ hours in charging case
Input Power: DC 5V, 50mA
Earbud Battery: 60mAh lithium polymer
Earbud Charge Time: 1.5 Hours
Rapid Charge: 15 min charging = 1 hour playtime
Charging Case Battery: 500mAh lithium polymer rechargeable
Case Charge Time: 2 Hours
BLUETOOTH
Version: Bluetooth 5
Range: 30+ ft.
GENERAL
Weight: 5g per earbud, 50g charging case
IP Rating: IP55
Warranty: 2 year warranty