ⓘ We are reader-supported and may earn a small commission at no additional cost to you if a purchase is made through one of our links.
Design & Build -

0/10

Features -

0/10

Sound Quality -

0/10

Mic Quality -

0/10

Battery Life -

0/10

Comfort -

0/10

Total Value -

0/10

MONITORS -

0/10

Image Quality -

0/10

Refresh Rate -

0/10

Ports -

0/10
Summary
The Uwant B200 isn't like any other spot cleaner. It offers powerful suction power, high-pressure water, and high-temperature steam to boot, helping you remove stains quicker and easier even at the deepest level.
Pros
Stronger suction power
Offers Steam Mode for stubborn stains and sterilizing textiles
Self-cleaning
Can be used as a garment steamer
Marketed as the "World's first spot cleaner with steam mode", the Uwant B200 features a 4-in-1 washing process. It's designed to clean the surfaces of carpets, sofas, cushions, mattresses, car interiors, and other textiles and upholstery in the most efficient way. Even better, it can also turn into a garment steamer. Pretty neat, right? Continue reading to know more about this new product here.
Overview
Dealing with food spills, dirt stains, and pet messes can be a real headache, especially on upholstery, rugs, carpet, and car interior. Sure, you could try getting them out with a cloth and stain remover spray. But fighting such stains by hand can be a lot of work. You may not even fully remove them no matter how hard you try.
So here's where the Uwant B200 comes in. It is a spot cleaner with high-temperature steam and high-pressure water, allowing you to suck up stains with the 12KPa suction and wet spills better. It also allows you to power through stubborn spots with ease. With it, you will never have to lug heavy rugs and blankets to the cleaners or wash them outside ever again.
Now, compared to other popular portable spot cleaners. The Uwant B200 has the most features. As mentioned, it offers high-temp steam and higher water pressure. It also has a detachable hose, universal wheel, self-cleaning feature, three cleaning modes, and an ironing mode. Moreover, aside from being a spot cleaner, you can also use it as a garment steamer.
More features and uses, however, do come with a price. Compared to other brands like the Hoover Spotless Spot Cleaner and Bissell SpotClean Pro, the Uwant B200 is way pricier at US$339.
The good news is, you can avail of the Uwant B200 at a much cheaper price when you catch its campaign on Indiegogo. Instead of the full price of US$339, you will only have to pay US$259 to experience faster and easier textile and upholstery cleaning. Take note, however, that such a special promo is available for a limited time only. So hurry!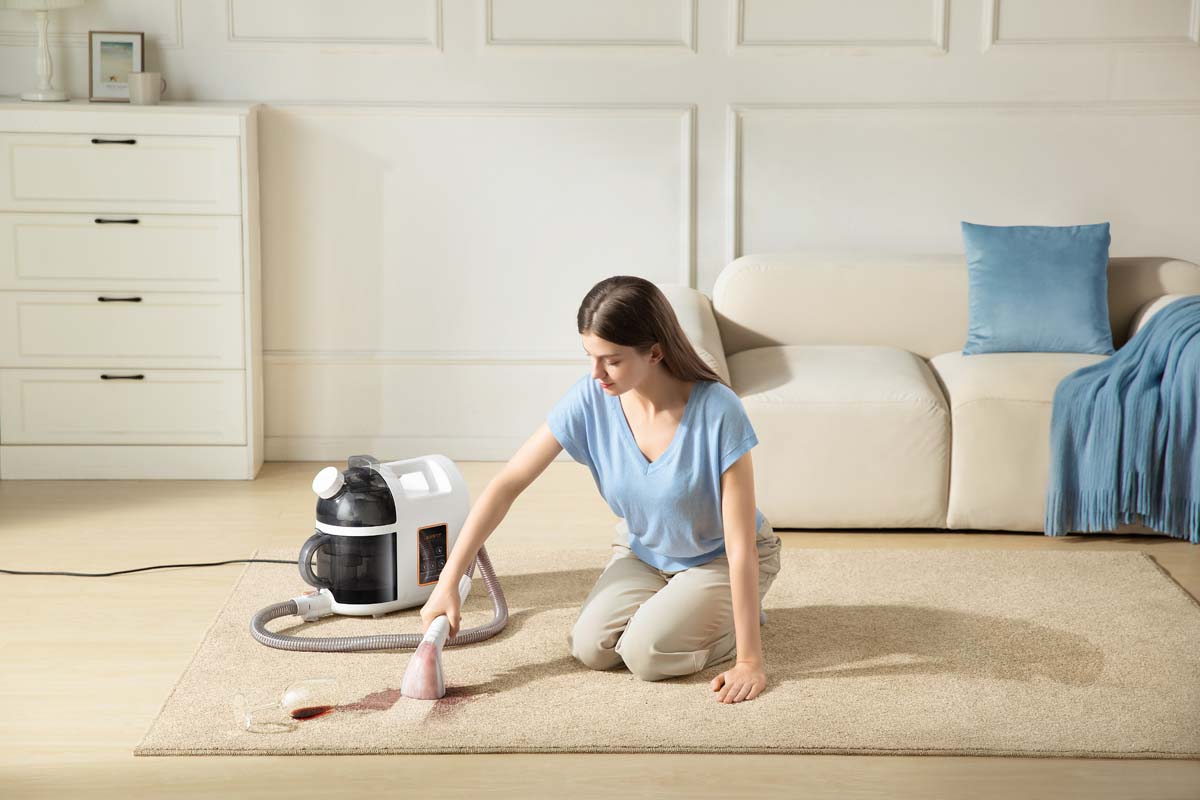 Features
4-in-1 Cleaning
One of the most notable features of the Uwant B200 is its 4-in-1 cleaning process, which involves getting the surface wet with its high-pressure water stream, dissolving and removing the stains with the brush, draining the water, and finally drying it with its amazing 12KPa suction power.
Such a cleaning process makes the Uwant B200 fully capable of taking on tough spots out of every thread of fabric. It promises a powerful deep cleaning, making it ideal for stains, dust, liquid, and even germs.
Wide Compatibility
What we really like about the Uwant B200 is that it works on different surfaces. You can use it to clean your sofa, curtains, cushions, carpeting, clothes, and mattresses with a compact design. It's also great for cleaning out your car's mats, and seats.
Self-Cleaning Technology
Another advantage of the Uwant B200 over other spot cleaners is its patented self-cleaning technology. With it, the hose and spray head can clean themselves with just a press of a button. Not only does this save you a lot of hassle, but it's also more efficient than manual cleaning.
Multiple Cleaning Modes
Aside from the "Standard Cleaning Mode" for light stains, the Uwant B200 has 3 other modes for different cleaning purposes. For one, it has a "Cleaning Solution Mode", which is perfect for dealing with stubborn stains. Simply fill the solution tank with your favourite detergent, and it will do the rest. This option is great as it takes away the guesswork on how to get the perfect collusion of water and soap to get stains out of the fabric or surface.
You can also use the Uwant B200 as a garment steamer. Just replace the brush with the ironing head and select the "Ironing Mode". Meaning, you no longer need a hot iron or a huge ironing board to get the wrinkles out of your clothes.
Now, the most unique feature of the Uwant B200 is its "Steam Mode". In fact, it's the first spot cleaner in the world that has a high-temperature steamer. It can reach temperatures up to 212℉, making it fully capable of sterilizing stains and fighting germs – which no other spot cleaner can do.
With the Uwant B200's high temperature, you can sterilize textiles. Add that with the anti-bacterial tools that it comes with, and it's great for disinfecting your child's or pet's belongings like beds and cribs. It also softens even the toughest stains, making cleaning so much easier.
High-Pressure Water
To thoroughly remove stains, the B200 shoots water at the deepest level. With its powerful water pressure, it can shoot up to 2.36 inches into a fabric or surface, which is farther than most spot cleaners can reach. With a single push of a button, you'll get a stream of water fired into the heart of the stain, breaking it down from the inside.
Specs
Voltage Rating / Rating Frequency

EU: AC230-240V / 50Hz
US: AC120V / 60Hz

Power (Steam)
Weight
6.3 kg (13.9 lbs)
Noise Level
76dB
Suction 
12000 Pa
Steam Temperature
212 °F
Modes

Standard Mode
Cleaning Solution Mode
Steam Mode
Ironing Mode

Tank Capacity

Clean Water Tank: 50.7oz (1500ml)
Dirty Water Tank: 50.7oz (1500ml)

Cleaning Solution Container
6.8oz (200ml)
Power Cord Length 

EU: 4m (157 inches)
US: 3.5m (138 inches)

Hose Length (Cleaning Hose)
1.5m (59 inches)
Product Size
477 x 264 x 372 mm (19 x 10 x 15 inches)
The Uwant B200 promises an impressive 12,000Pa of suction while most spot cleaners only have 8,000Pa. This allows it to clear more dirt and water from an area and dry spots faster. This also makes it a better choice if you want to leave your carpets and/or fabrics spotless.
As for its tank capacity, the B200's clean water tank is pretty much the same as the Hoover Spotless. However, its dirty water tank is much bigger. With two large separate tanks, you can take on bigger messes without constantly emptying and refilling. It also has a 200ml separate solution tank to carry soap wherever it goes and keep leftover detergent always ready whenever you need it.
Speaking of the solution, the Uwant B200 offers 3 types of cleaning solutions that you can choose from, such as deep cleaning, mite control, and textiles. You can also use any detergent you like if you want to save some money.
Design
The Uwant B200 is offered in two colours: space grey and white. Both are simple and durable with a much tamed-down look than their predecessor, the B100. For its size, the Uwant B200 is bigger and heavier than the Bissell SpotClean Pro, Hoover Spotless, and even the B100. Thankfully, it comes with a universal wheel that's fully 360° rotatable plus two smooth wheels on the bottom. So it's still surprisingly easy to steer and move around. No need for lifting.
This spot cleaner also comes with a 4m (for EU) or 3.5m (for US) power cord and a cleaning hose that's 1.5m long. So you'll have about 5.5m to 5m of cleaning range. This is more than enough to reach the stains in every part of your home. The best part? The B200's entire power cord can retract with just one click. Thus, helping you avoid cord tangles and tripping hazards. This also helps protect the cord for longer use.
Another thing worth mentioning about the Uwant B200 in terms of aesthetics and design is its brushes, which come with an anti-bacterial material. This provides you with an extra level of protection against odour and the spread of bacteria. They are also firm enough to knock loose dirt and stains at the deepest level yet gentle and delicate enough to prevent damage to your favourite threads.
Final Thoughts
The B200 is like every spot cleaner. It allows you to clean spots with water, scrub with a brush, and suck it all up with a vacuum. But Uwant took it a step further by adding in a steamer, which helps dissolve the toughest stains below the surface and even sterilizes textiles.
Additionally, adding in the steamer also made it possible for this machine to turn into a garment/clothes steamer. So aside from cleaning the surfaces of your carpeting, upholstery, mattresses, car interior, and the like, the new Uwant B200 can also be used to get rid of wrinkles from your clothes and curtains.
Aside from that, what made the Uwant B200 unique is its multiple cleaning modes. So there's sure to be a mode for your particular cleaning needs. Plus, it has a strong 12,000Pa suction, can clean itself, has two large separate tanks for both clean and dirty water, and has a powerful 4-in-1 cleaning process.
That said, the B200 offers more features and functions than many of the spot cleaners in the market – which is also why it's bigger, heavier, and a little pricier than the others.