ⓘ We are reader-supported and may earn a small commission at no additional cost to you if a purchase is made through one of our links.
Summary
Complete your winter outdoor gear and stay warm and cozy wherever you are with the Blackcan II Pro. It's a heated outdoor mattress that takes only 5 minutes to assemble and 10 minutes to heat up.
Pros
Can provide up to 12 hours of heating from 1 can of gas
Safety alarm
Easy to clean and wash
Can charge phones and other devices
Cons
Uses fossil fuels; not sustainable
Gas is a constant additional expense
If you enjoy traveling, camping, backpacking, hiking, and fishing, then here's a product you may want to check out: the Blackcan II Pro. Marketed as the "world's first hot water mattress", it is a heated mattress with a built-in internal electrical power generator. It uses either propane or butane gas to keep you warm and cozy while outdoors. Just add water and you are good to go.
The Blackcan II Pro is designed by EURO, which is a company that specializes in camping mats and mattresses. It features a fully patented heater water mattress technology and runs on the same gas tanks you usually use for cooking while outdoors. Pretty handy, right? But in times when you have to keep it light, is the Blackcan II Pro worth the extra weight? Let's find out here.
Overview
With all the new gears and equipment coming out, going outdoors has never been easier. At MrGadget alone, we were able to review some pretty neat camping products, such as the Zero Breeze Mark 2 and Dy Stove. But today, we'll focus on the newest camping gear on the market – the Blackcan II Pro.
The Blackcan II Pro promises to make your trips more convenient and comfortable by providing you with a heated mattress on which you can rest and sleep on. It's similar to the Heated Sleeping Bag Liner by Agemore and Mantuole Heated Sleeping Bag Pad. But instead of electronic heating elements, it uses and circulates hot water to keep you warm. This means that you'll feel the heat throughout the device and not on specific areas only.
Also, the Blackcan II Pro runs on gas while the others rely on power banks. While this adds more weight for you to carry, it does offer better heating for a longer period. In fact, you can use it for 12 hours straight with a single gas canister. Plus, if you're looking to share the heat, it's a better option since it is offered in different sizes.
Unfortunately, the Blackcan II Pro is expensive. Priced at US$819, it's way, way more expensive than both heated products from Agemore and Mantoule. Even its discounted price on Kickstarter, which starts at US$539, is still too costly.
Features
Gas-Powered
You can use the Blackcan II Pro with either propane or butane gas. When you go with propane, it can provide heating in temperatures as low as 31°F (-35°C). On the other hand, butane gas can keep you warm even at 14°F (-10°C), but it's recommended to use antifreeze instead of water under such temperatures.
For those who usually carry such gas tanks while going on trips, the Blackcan II Pro is a great addition. However, for those that do not, then the gas tank is another extra weight you have to consider.
Adjustable Heating
What's great about the Blackcan II Pro is that it works great no matter how cold it is. The water in the mattress can heat up to over 86°F (30°C) even when temperatures reach 22°F (-30°C) outside. It's adjustable, too. There's a gas valve that allows you to turn up the heat or cool down a bit.
Power Generating
Another thing we like about the Blackcan II Pro is that it can generate its own electricity. That's right. You can connect it to LED lights and even use it to charge your smart devices.
Hot Water Circulation System
Unlike most outdoor heated products, the Blackcan II Pro doesn't use heated pads for heating. Instead, it features a hot water circulation system where hot water flows through the hose and into the mattress, circulating throughout the device. This means that you'll feel the heat anywhere on the mat as opposed to specific areas only.
Safety
Blackcan II Pro comes with different safety features to prevent accidents and forest fires. It doesn't use electricity, a battery, and electromagnetic waves. More importantly, it's made with an ERV-10 safety valve, which automatically cuts off the flow of gas when the device is accidentally knocked over.
This valve also prevents overheating and stabilizes gas pressure. There's an internal sensor as well that will alert you when the device is running low on water or overheating.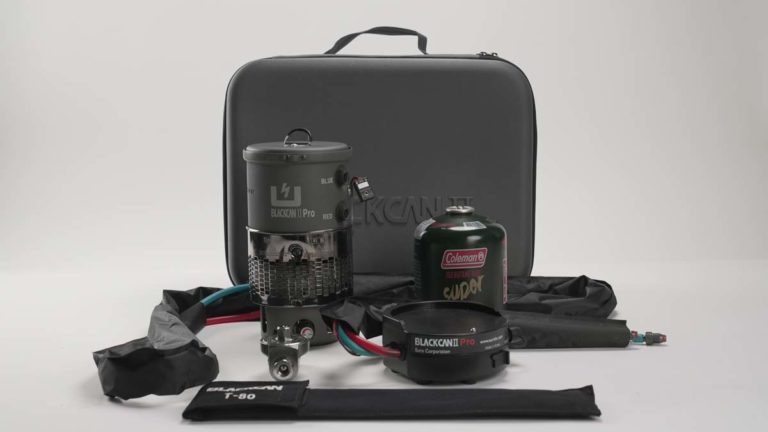 Specs
Dimensions
PowerPot: 4.6 x 9.6 in (11.68 x 24.38 cm)
Carrying Bag: 15 x 12 in (38.1 x 30.48 cm)
Heated Outdoor Mattress: 70 x 35 in (177.8 x 88.9 cm)
Weight
PowerPot: 1.8 lbs (0.82 kg)
Carrying Bag: 6 lbs (2.72 kg)
Heated Outdoor Mattress:

Single: 3.5 lbs (1.59 kg)
Queen: 5.7 lbs (2.59 kg)
King: 7.2 lbs (3.27 kg)

Minimum Ambient Temperature
Isobutane: 14°F (-10°C)
Propane: -31°F (-35°C)
Maximum Temperature Output
122°F (50°C)
USB Port Voltage Output
DC 5V
The power source is the most significant difference between the Blackcan II Pro and other heating devices. It runs on gas while others run on power banks. Some, like heated blankets, rely on rechargeable batteries, too.
On the downside, the use of gas or fossil fuel makes the Blackcan II Pro not sustainable. It also makes it more expensive since you will have to keep buying gas to make it work. However, it does have some benefits, too.
For one, a gas canister can be used at any temperature, while lithium batteries can't be used when the temperature reaches below 14°F (-10°C). It also lasts longer. For instance, power banks and rechargeable batteries with 300Wh capacity can only last up to 3 hours. On the other hand, a single canister can last up to 12 hours. So if you are sleeping in harsh weather conditions, it's a better option.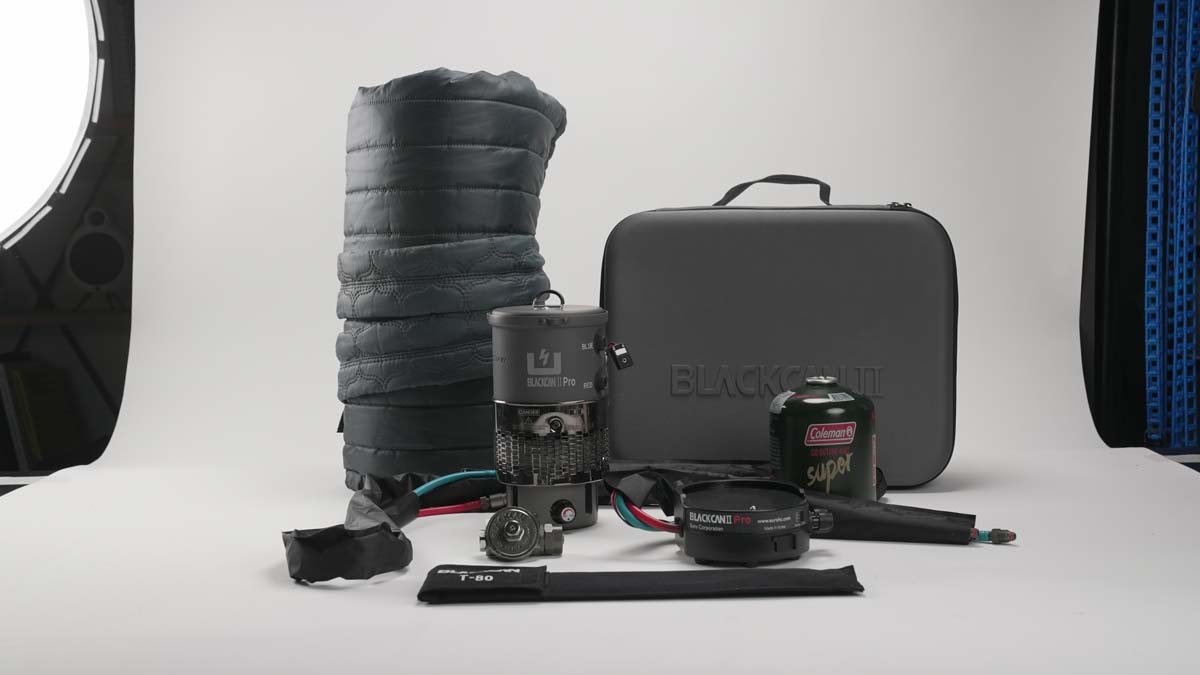 Design
The Blackcan II Pro comes with a carry bag where the mat, PowerPot, and all the other parts are safely stored. Like most outdoor gear, it requires assembling. But once you've gotten used to it, it'll take only 5 minutes to set up. Just make sure not to install it inside your tent to avoid accidents.
This heated mattress is available in three sizes: single, queen, and king. For those looking to share it with a friend or family, having it in bigger sizes is great. Plus, it's made with waterproof material, so you'll have no problem handwashing or washing it in the laundry. As with the PowerPot, or where you put the water, it has a display where you can easily check the water temperature and voltage.
Now, all these are great. But since we're talking about camping gear, we'll focus more on the weight. The bag and the PowerPot already weigh 3.54kg. Depending on the size of your choice, the mat will weigh another 1.59-3.27kg. So all in all, you'll be having around 5 to almost 7kg of extra weight in your pack – and that's for the mattress alone. You still have to consider the weight of the gas canister. For backpacking, hiking trips, and whenever you need to keep it light, all these would be too heavy to carry.
Final Thoughts
For outdoor activities in the cold, the Blackcan II Pro is a great choice for heating and staying warm. It is safer than a bonfire and portable heater. Plus, it provides more dependable and continuous heating in temperatures well below freezing. By generating its own power, it's pretty convenient for charging and lighting, too. So no doubt here's a product that will come in handy in places where electricity is not readily available or in harsh conditions.
So what about in not-so-harsh conditions? Well, there are certainly other cheaper devices that can still keep you warm. But if you're looking to make your winter camping, hikes, fishing trips, and other outdoor activities as comfortable as they could be, then the Blackcan II Pro is perfect for you – that is, if you don't mind the extra weight and its hefty price tag.