ⓘ We are reader-supported and may earn a small commission at no additional cost to you if a purchase is made through one of our links.
Design & Build -

0/10

Features -

0/10

Sound Quality -

0/10

Mic Quality -

0/10

Battery Life -

0/10

Comfort -

0/10

Total Value -

0/10

MONITORS -

0/10

Image Quality -

0/10

Refresh Rate -

0/10

Ports -

0/10
Summary
If you are looking for an e-bike that can do it all, then the ENGWE X26 is a good choice. It's a heavy-duty e-bike that's packed with power, triple suspension, dual batteries, and good looks to boot.
Pros
Triple suspension and fat tires for a stable and comfortable ride in any terrain
Foldable
Battery life can last for longer rides
Great for any terrain
Ever wanted an e-bike that you can take anywhere – from home to work and even off-road? If so, then the ENGWE X26 might just be the one you are looking for.
Designed for every terrain and packed with a 1000W motor, the ENGWE X26 is a beast in the e-bike world. It has three suspensions, dual batteries, fat tires, and a badass design to boot – that is if you are into the bulky bike types. As if that's not enough, you can even fold it neatly into your trunk, too. Pretty impressive, huh? Learn more about it in this review and find out if it's the e-bike for you.
Overview
Here at MrGadget, we've had our fair share of reviewing some of the newest e-bikes coming out on the crowdfunding scene. However, there's nothing quite as successful as the new ENGWE X26 all-terrain e-bike. Raising over US$472,000 of funding on Indiegogo, it's a hit for both bike enthusiasts and commuters.
Unlike many e-bikes on the market, the X26 is built for any type of terrain. It is designed to provide you with a comfortable ride on city streets as well as off-road. You can use it on sand, gravel, mud, and snow – which not many e-bikes can do.
Also, when compared with other eBikes, the ENGWE X26 is faster and more powerful. With its dual batteries, it also lasts longer. This means that you can ride it further before needing to recharge. But most of all, it is surprisingly more affordable.
Offered at US$1599 on Indiegogo, the ENGWE X26 is cheaper than many of the top all-terrain eBikes with similar performance levels around like the RadRover 6 Plus and RipCurrent S. Unfortunately, this price is only available for a limited time. After its campaign, its price will be at US$2699, putting it at the same price point as the RipCurrent S. So if you're interested, better hurry!
Features
1000W Motor
One of the most notable features of the X26 is its powerful motor. Just like other eBikes, it offers a steady and reliable power at 750W. However, if you find yourself needing more power, say you are on extreme terrain, you can push it at 1000W.
With this much power, the X26 can climb 30% inclines. So with it, you'll have no problem going up the steepest hills, gliding over sand and gravel, or dealing with mud in the mountains.
1373Wh Dual Batteries
Another thing we love about the ENGWE X26 is its dual batteries. With a combined 1373Wh capacity, you will be able to ride it a maximum of 62 miles on a single charge. That's almost an entire week of commuting for most people.
With its longer battery life, you don't have to charge the X26 as often as other bikes. In fact, you can charge it once or twice a week if used solely for commuting. For off-road activities, this means that you'll have more time on the trails, thus, more time to have fun.
Both of the batteries are removable. They are stowed away under the seat and can provide you with a full 48 miles or around 77 km. On the other hand, the second battery is swappable and slides out of the top tube. This adds another 14 miles or 23 km to your trip. Together, they can cover a full day of riding without needing to stop for a top-up.
Triple Suspensions
One of the most unique features of the X26 is its triple suspension, which allows you to stay comfortable in any terrain. It has a hydraulic shock on the front, a mechanical shock in the middle, and an air suspension at the rear. So whatever and wherever you take it, the X26 is more than up for the challenge.
Motorcycle-Grade Fat Tires
To ensure a smooth ride even on the toughest terrain, the X26 stands on motorcycle-grade 26 x 4.0 inch fat tires. This gives you a larger contact area and a better grip on the ground. They are also skid-resistant and provide you with better control over the elements, making tight turns and fast stops easier.
One-piece Wheels
The ENGWE X26 is designed with one-piece wheels which means that the spokes and frames are made from a single piece of metal which improved stability, durability and maintenance over traditionally designed wheels.
31MPH Max Speed
The ENGWE X26 has a top speed of 31MPH, beating many bikes on the market. This means that you can cut the time on your commutes and ride faster while on the trails.
If you're worried about speed regulations, don't be. The ENGWE X26 has a factory setting where the max speed is only 25kph (15mph). You can then manually adjust the settings later on to reach the max speed of up to 31mph.
Different Riding Modes
The X26 offers different modes, depending on your chosen activity and purpose.
For instance, if you are cruising down flat roads and open terrain and want to take it easy, you can choose the "Assist Mode". This will allow you to ride at up to 25mph speed. There's also the "Normal Mode", which is best for daily commuters and regular workouts. It will allow you to reach speeds up to 29mph. On the other hand, if you are climbing hills or doing more intense workouts, and require faster speeds up to 31mph, you can choose the "Sports Mode".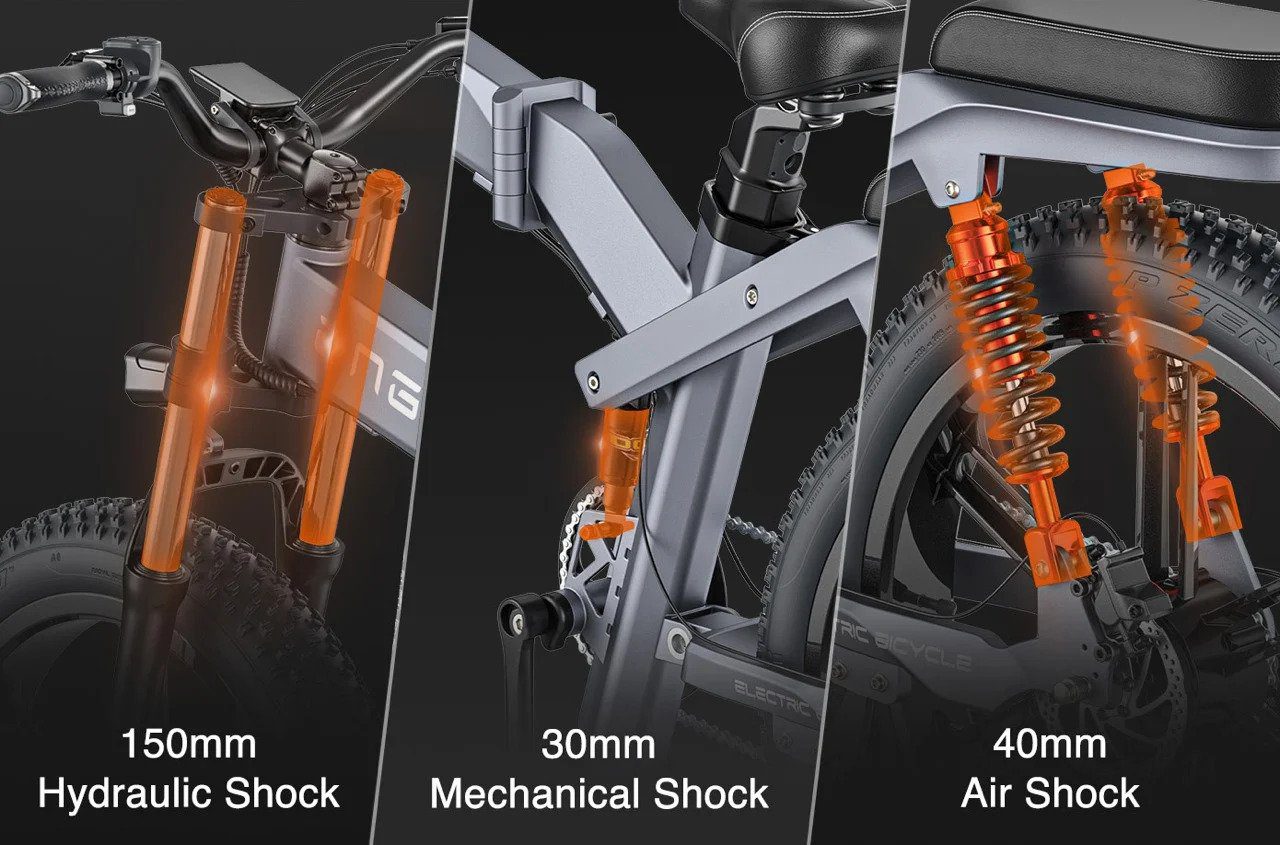 Specs
Dimensions

Folded: 110 x 72 x 120 cm (43 x 28 x 47 in)
Unfolded: 192 x 72 x 120 cm (76 x 28 x 47 in)

Top Speed
50kph (31mph)
Peak Power
1000W
Rated Power
750W
Max Incline Climbing
30%
Tire Size
26 x 4 in
Range Per Charge (Normal Mode)
100km / 62miles
Battery Capacity

Main Battery: 48V 19Ah
Secondary Battery: 48V 9.6Ah

Gears
Shimano 8 Speed
Front Fork
Hydraulic Front Fork
Brake
Hydraulic Disc Brakes
Acceleration
46s (0-50kph)
Charging Time
7 Hours
Front Light
48V 12W LED
Load
330lbs (150kg)
Weight
90lbs (41kg)
Seat Width
195mm (7.7 in)
As for speed, the X26 (31mph max speed) beats out many of its competitors, including the RipCurrent S, which has a max speed of 28mph. You will also have no problem finding the right gear with this bike as you have 8 to choose from. Using the latest gear cassettes from Shimano, which is a well-known brand in the biking industry, you can climb hills and cruise flat roads with ease.
Now, the best thing about the ENGWE X26 is its dual batteries. With a 1373Wh capacity, it offers a maximum range of 62 miles (100km). This is a lot longer than what many e-bikes can cover for a single charge. To give you an idea, the RadRover 6 Plus has only a range of 45 miles (72km).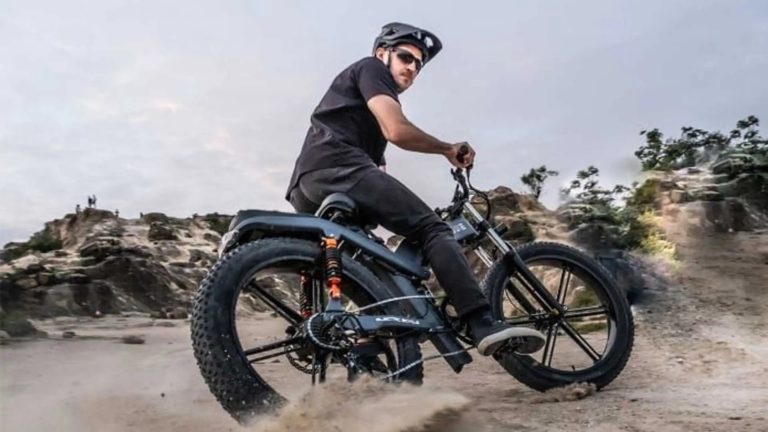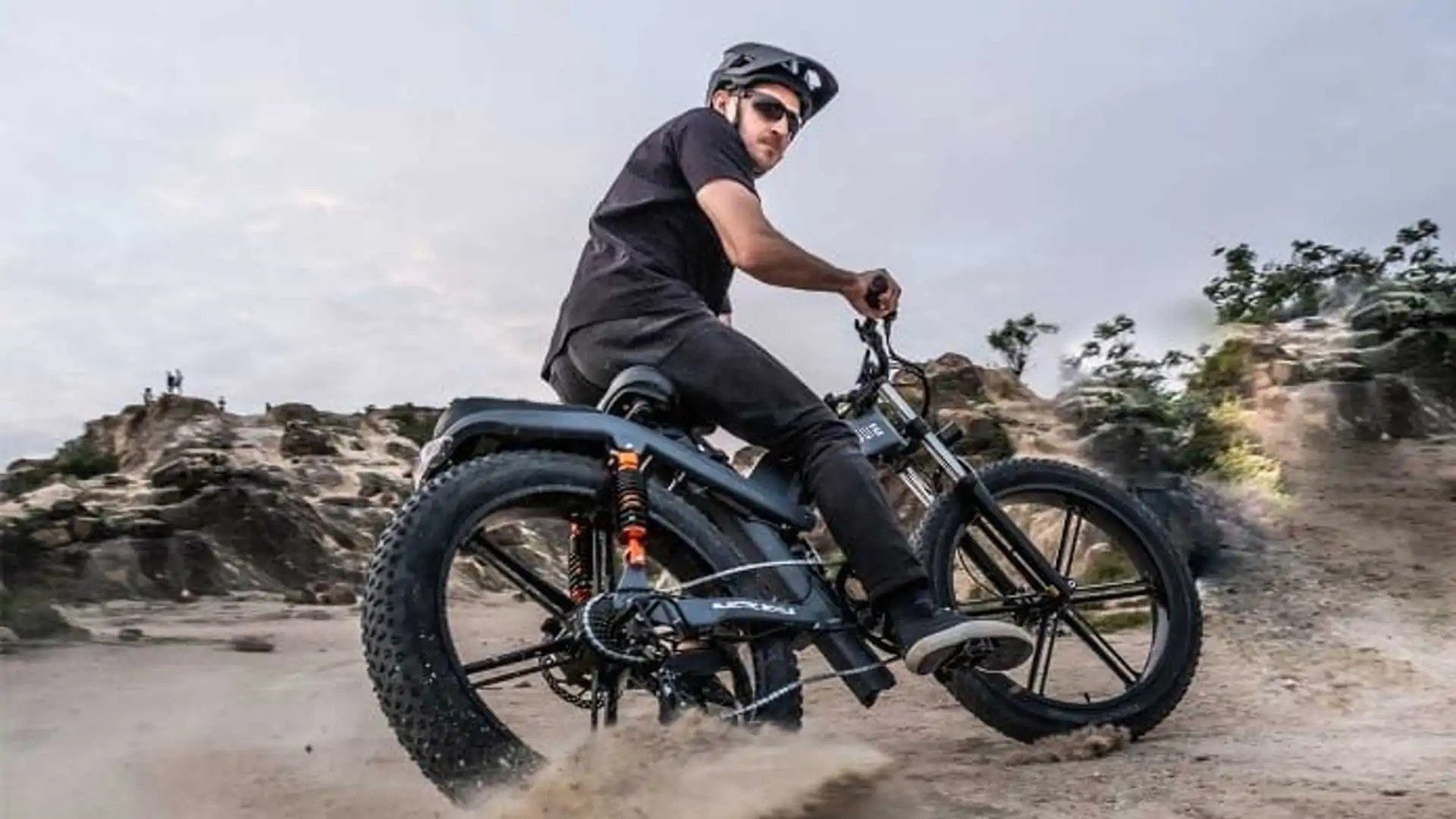 The first thing you'll notice about the ENGWE X26 in terms of design and aesthetics is its massive size. It's not only a beast in performance, but it looks the part as well with its thick tires and bulky body. That said, this is a very good-looking bike. It looks great on both city streets and gritty trails. Plus, it's designed with all genders in mind, so anyone can ride it.
Despite its size, it remains surprisingly light when compared to similar bikes in the market thanks to its aluminium frame. The company also made it foldable. So it's at least easier to pack away and take along road trips as it can neatly fit in your trunk.
For its safety features, the X26 has 48V 12W headlights that turn on automatically when it gets dark. At the back, it has red brake lights that let drivers and other riders know when you are ahead.
This bike also has a large, full-colour LCD screen that displays everything you need to see front and centre. This allows you to know your speed, battery life, riding mode, and more with just a glance. This is great since nobody really has the time to be scrolling down their screens while sharing the road with other vehicles.
Final Thoughts
The ENGWE X26 is an e-bike that can do it all. With its powerful motor, dual batteries, triple suspensions, and thick tires, you'll have no problem riding it on any terrain and slope. On top of this it's great value for money – especially if you take advantage of the campaign offers!
The best part? This isn't ENGWE's first e-bike and product. The company has been selling e-bikes since 2014, and they have a line-up of impressive electric bikes. So unlike many products offered on crowdfunding sites, you are sure to receive the product you will pledge for.