ⓘ We are reader-supported and may earn a small commission at no additional cost to you if a purchase is made through one of our links.
Summary
Summary
Power through all vacuum cleaning tasks with the Enigma V10—an energy-efficient corded vacuum cleaner designed for all floor types and carpets. The V10 can be used as a handheld unit or an upright stick vacuum cleaner. It features a roller head and also comes with a crevice tool for user convenience. If you don't mind working with pesky power cords, the Enigma V10 can be a good buy.
Pros
Lightweight design
Excellent suction
Great for all floor types
Cons
The dust canister is small
If you are after versatility, the Enigma V10 may just be the right cleaning machine for you. Read through our Enigma V10 corded 2-in-1 upright turbo handheld stick vacuum review for more details.
The advancement in battery technology has caused many people to have a preference for handheld cordless vacuum cleaners like the Dyson V11 and Xiaomi Viomi A9 over corded variants. This is primarily because cordless vacuum cleaners are more convenient, as you can manoeuvre them without being restricted by power cords.
However, virtually all handheld corded vacuum cleaners deliver more suction power than their cordless counterparts. And the Enigma V10 is no exception. It is not only well-designed but also has great features that will simplify your work when cleaning your floors. If you have time, you can go through our list of best stick vacuum cleaners.
Overview
The Enigma V10 Corded 2-in-1 Upright Turbo Handheld Stick Vacuum is specially designed for cleaning all floor types. This unit will also provide you with great results when deep cleaning carpets. Equipped with a 1200W motor, the Enigma V10 delivers an impressive 17KPa worth of suction power.
Its powerful suction makes it ideal for lifting deeply embedded dirt and debris. Thanks to its two-in-one design, you can customise the Enigma V10 to match your cleaning needs. You can use it as a handheld unit or an upright stick vacuum cleaner. It allows for easy manoeuvrability in both scenarios and will help you get the job done with no fuss.
What we like most about this corded vacuum cleaner is that it's lightweight. The lack of a battery makes it slightly lighter compared to most cordless stick vacuum cleaners on the market. The Enigma V10 features a 0.8l dust bin that allows for quick and hygienic emptying. It also has a built-in filter that traps particles during the cleaning process.
Also, it comes with a long power cord, measuring approximately 5m that will allow you to vacuum with minimal restriction. However, bear in mind that the cord is likely to get tangled up as you move the vacuum cleaner. The other drawback of using this unit is that your movements will be restricted around the power source.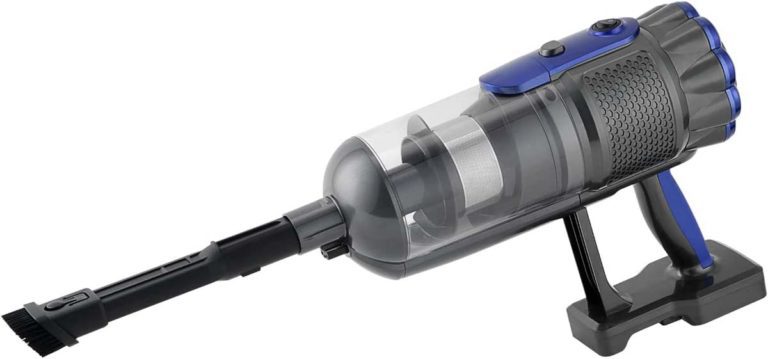 Features
High-performance Motor
The Enigma V10 boasts a 1200W motor that delivers up to 17KPa of suction with each pass that the vacuum head makes. This makes the V10 a good vacuum cleaner for lifting stubborn debris and dust from floors and carpets. More on the motor, it requires minimal maintenance and is made up of durable components for extended service.
Cyclone Filter
This vacuum cleaner sports a multi-cyclonic filter unit to ensure it effectively filters both large and small particles. It can achieve this function with the help of centrifugal forces, which aid in the separation of different sizes of particles. The cyclone filter makes the Enigma V10 more reliable than regular vacuum cleaners.
Turbo Roller Head
The V10 has a soft roller head that is gentle on carpets and hard floors but tough on dirt. But that is not all; the roller head is driven by a powerful motor that allows for smooth movement. It can lift pet hair, debris, dander, and other particles from even the most delicate floors without leaving ugly abrasion marks.
Headlights
For your convenience, the Enigma V10 has bright headlights that offer good illumination. This feature can prove helpful when vacuum cleaning hidden spots with low lighting.
One-touch Bin
A good number of vacuum cleaners on the market use bags, which can at times get messy when emptying the unit. This doesn't apply to the V10, since it uses a dust canister that you can detach and attach with ease.
Working with a canister is not only more hygienic, but also convenient. Furthermore, the bin on this vacuum cleaner has a see-through design, so you will always know when it is about to fill up.
Ergonomic Handle
It's always good to consider ergonomics when buying handheld units, as this will determine your performance and the level of comfort that you will get when working with the tool in question. And that is why the V10 features a nicely designed handle that provides comfort and control. The grip point is contoured to ensure it comfortably fits into the palm of your hand.
Specs
Product Dimensions: 22cm x 26cm x 10cm
Motor Power: 1200W
Weight: Approx. 2Kg (main body)
Bin Capacity: 0.8 Litres
Suction Power:17KPa
Cable Length: 5 Metres
Crevice Tool: Yes
Voltage: 220/240V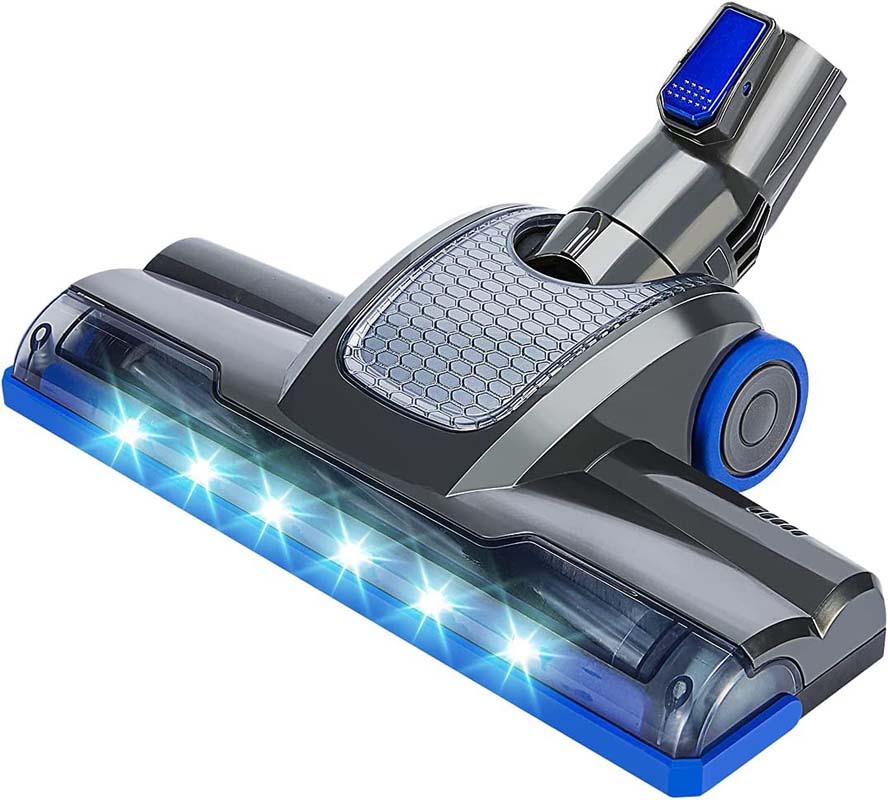 Design
The Enigma V10 is designed with every user's need in mind. As stated earlier, you can transform this stick vacuum cleaner into a compact handheld unit for added convenience. It comes with a crevice tool that can come in handy when cleaning sofas and other furniture. The easy-to-use locking mechanism allows you to make the needed adjustments without using any tool.
In addition, it has a motorised roller head that will help you remove pet hair from your carpet. The bright LED headlights will illuminate the area that you are cleaning. That way, you will be less likely to leave some parts of the floor undone. And like the Dyson V11, the Enigma V10 features an advanced filtration system that utilises cyclonic technology for optimum performance.
To add to this, the vacuum cleaner features an ergonomic handle that will provide you with the comfort that you need when cleaning. The power cord is also placed such that it cannot get in your way when manoeuvring the vacuum cleaner. Similar to most stick vacuum cleaners, this unit is made of lightweight materials that will make your work easier when cleaning.
It is also durably built to give you long-lasting performance with minimal maintenance. Since the vacuum head has a swivel design, you can adjust it according to your needs. With this feature, you can slide the vacuum head under seats for effortless cleaning. As such, you will no longer break your back lifting heavy furniture when vacuum cleaning your floors.
Enigma V10 Corded 2-in-1 Upright Turbo Handheld Stick Vacuum Review Summary
The Enigma V10 is one of the best corded stick vacuum cleaners that you can consider buying. Aside from having amazing features, it is lightweight and powerful. It also has a reliable filtration system and a tightly sealed dust container.
Nonetheless, it is not the most convenient vacuum cleaner when it comes to manoeuvrability, since it's corded. And although the attached power cord is long, it will still limit your movements.
On the bright side, it is ergonomically designed to give you maximum control when cleaning different types of floors. Plus, its 2-in-1 design puts it a step ahead of most corded vacuum cleaners. Best of all, it offers great value for money and is also reasonably priced.