ⓘ We are reader-supported and may earn a small commission at no additional cost to you if a purchase is made through one of our links.
July Carry-On Review Summary
July has created what I consider to be the best Carry-on Suitcase on the market. It effortlessly combines style with substance creating a highly functional, secure and aesthetic case that turns heads while keeping your valuables safe.
Just be prepared to pay for the privilege of owning a July Carry-on Case.
Pros
Incredibly high-quality build and materials
Very stylish inside and out
Includes built-in laptop case and portable charger
Best-in-market wheels
The July Carry-On Pro could be the best carry-on suitcase for digital nomads. In a world where more and more people are travelling freely and working remotely this type of case has a growing and very well-defined audience – people like me.
After travelling for the past 18 months with a large cumbersome check-in suitcase I can say first-hand I regret taking such a large case. I wore only a portion of my clothes, had to pay extra each flight for checked luggage (and it's not cheap), and wait for my suitcase at the baggage carousel.
After arriving back in Australia, one of the first things on my agenda was to find a more suitable case for the next time I travel, and this is where I came across July. July offers quite a wide range of different cases but the Carry Pro caught my attention.
I looked at dozens of other cases to help draw comparisons to better inform this review and you can read my buyer's guide for the best carry-on suitcases here. So if you're looking for something a bit cheaper or for a carry-on case with different features, then make sure to give it a read.
First Impressions
After receiving my package, the first impressions were great. I opted for the charcoal colourway and it looks fantastic. It's a simple minimalist design but it's clearly a refined design worth the price tag. The subtle differences in the blackness or charcoal for each material choice add up to a really sophisticated aesthetic.
A quick hands-on inspection confirms that the quality continues into the material choices and build quality. It's a little heavy but definitely solid. There are genuine leather zippers on the laptop sleeve. The extendable handle extends and retracts smoothly. A slightly rubberised texture makes the handle comfortable to hold. Lots of nice little details that justify the price tag.
Opening up the case shows off more quality, from the smoothness of the zip to the high-quality compression straps and the included branded laundry bag. It is very apparent this is a high-end carry-on suitcase.
External Laptop Sleeve
With an external protective laptop case and document holder, this small suitcase is a big deal when it comes to remote work. Gone are the days of furiously digging through your backpack to pull out your laptop case, to then pull out the laptop itself at airport security. With this feature, you'll simply unzip the external case and place your laptop into the designated tray. The obvious downside is the potential for thievery so keep your case close. That being said, it's actually very difficult for someone to sneaklily open and remove your laptop without you realising it.
Also, I have to mention that if for some reason you are asked to check in your Carry-On Pro, do remove the laptop sleeve from the case even if it's empty. It is very securely attached but it's not airport-baggage-carousel-securely-attached. Trust me I found out the hard way.
It's actually a surprisingly high-quality laptop bag that does an excellent job protecting your laptop from bumps and accidents. It easily holds my 15″ Alienware gaming laptop and I'd be comfortable using the laptop case with it all of the time.
Charge 'n' Go
The convenience of having an ejectable, battery pack with USB-C, USB-A, and other ports as part of a carry-on case cannot be understated for someone like me. The number of times I'm in an airport and want to top up my phone or quickly charge my earbuds only to be let down by a lack of free sockets is far too common. With the July Carry-on Pro this issue is completely removed – you always have 10,000 mAh within arm's reach.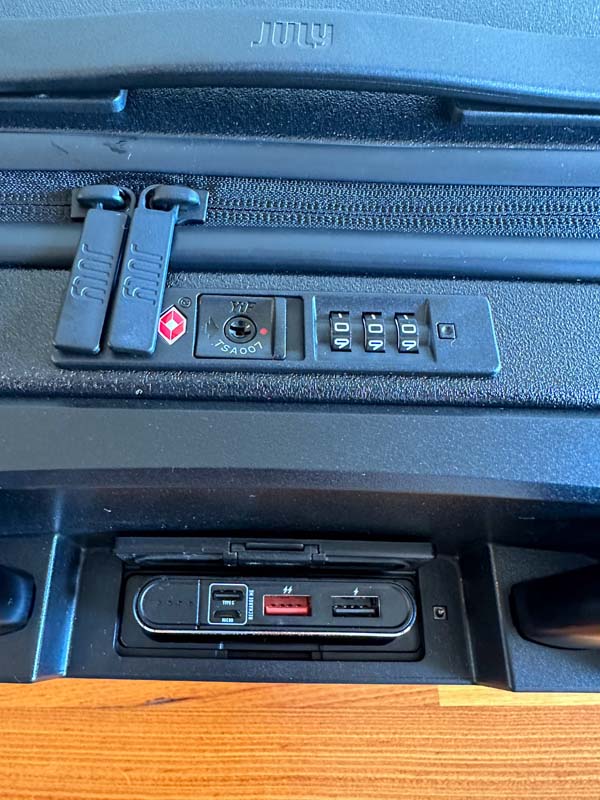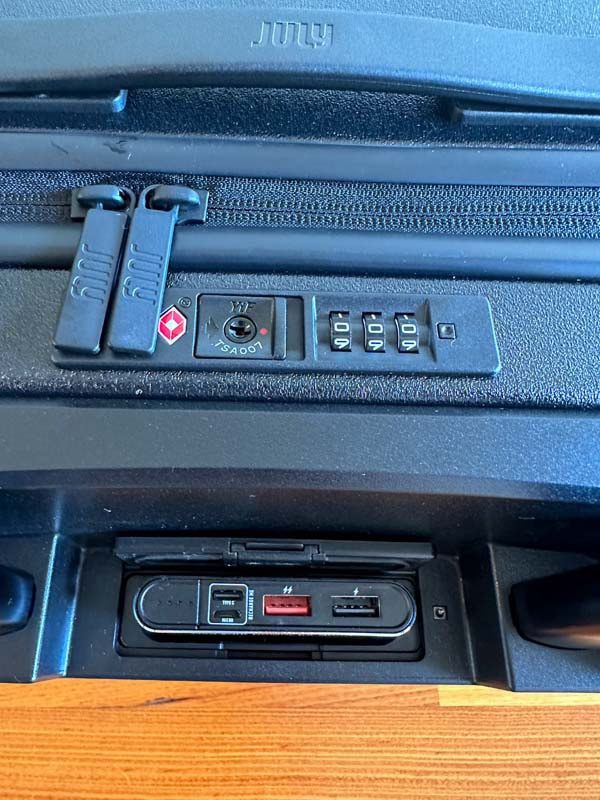 The power pack slots into the case itself underneath the handle and has a protective lid to prevent any possible damage while in the case. And if you're having a beach day you can simply eject the battery pack and take it with you. Very handy indeed.
Wheely Good Wheels
These might be the smoothest wheels I've ever experienced with any type of suitcase. It's hard to put into words but it's almost like this case levitates a couple of inches from the ground. When on a smooth surface like in airports there is almost zero friction.
The wheels all move in unison when changing directions and never get stuck at weird angles preventing the case from moving.
It's honestly one of the best features of the case and a huge upgrade over the cheaper carry-ons on the market.
On the Heavier Side
An immediate downside compared to other cases is the weight. Coming in at 3.6 kg it's almost half the allowed 7kg weight most budget airlines allow for carry-on luggage. Leaving a measly 3.4 kg of packing weight. Now admittedly this type of case isn't targeted at budget travellers but keep in mind you'll be packing light, paying extra or in my case forced to check it in with some airlines.
Handy Handle
As a relatively tall person a problem I've found with previous carry-on cases is the handle height. With the cheaper cases, the maximum handle height is a tad too short for optimal comfort.
July solve this issue with an extra long handle and 20 different levels of adjustments. So whether you're small or large, there will be a comfortable setting.
Packing
I hate packing, but what I hate more than packing is having to repack after I didn't do it properly the first time. This issue is minimised with July thanks to the heavy-duty compression strap.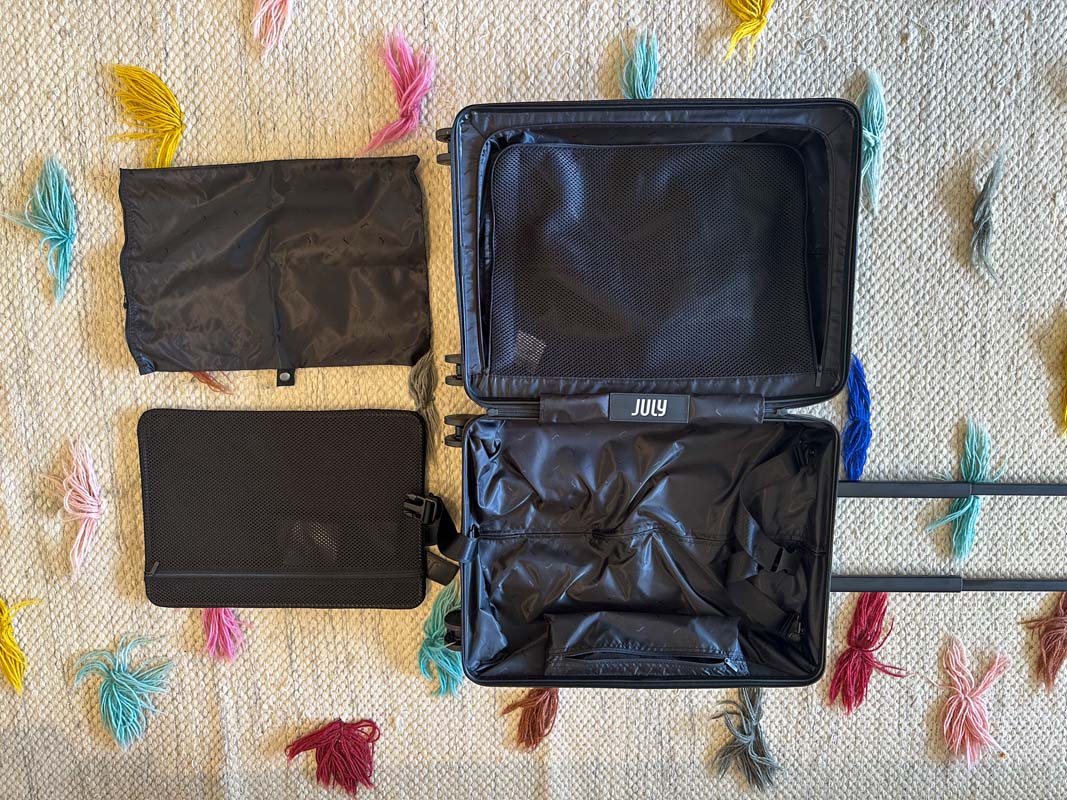 Unlike cheaper cases, I found the July system to be very effective at actually compressing the packed clothes and creating additional useful space.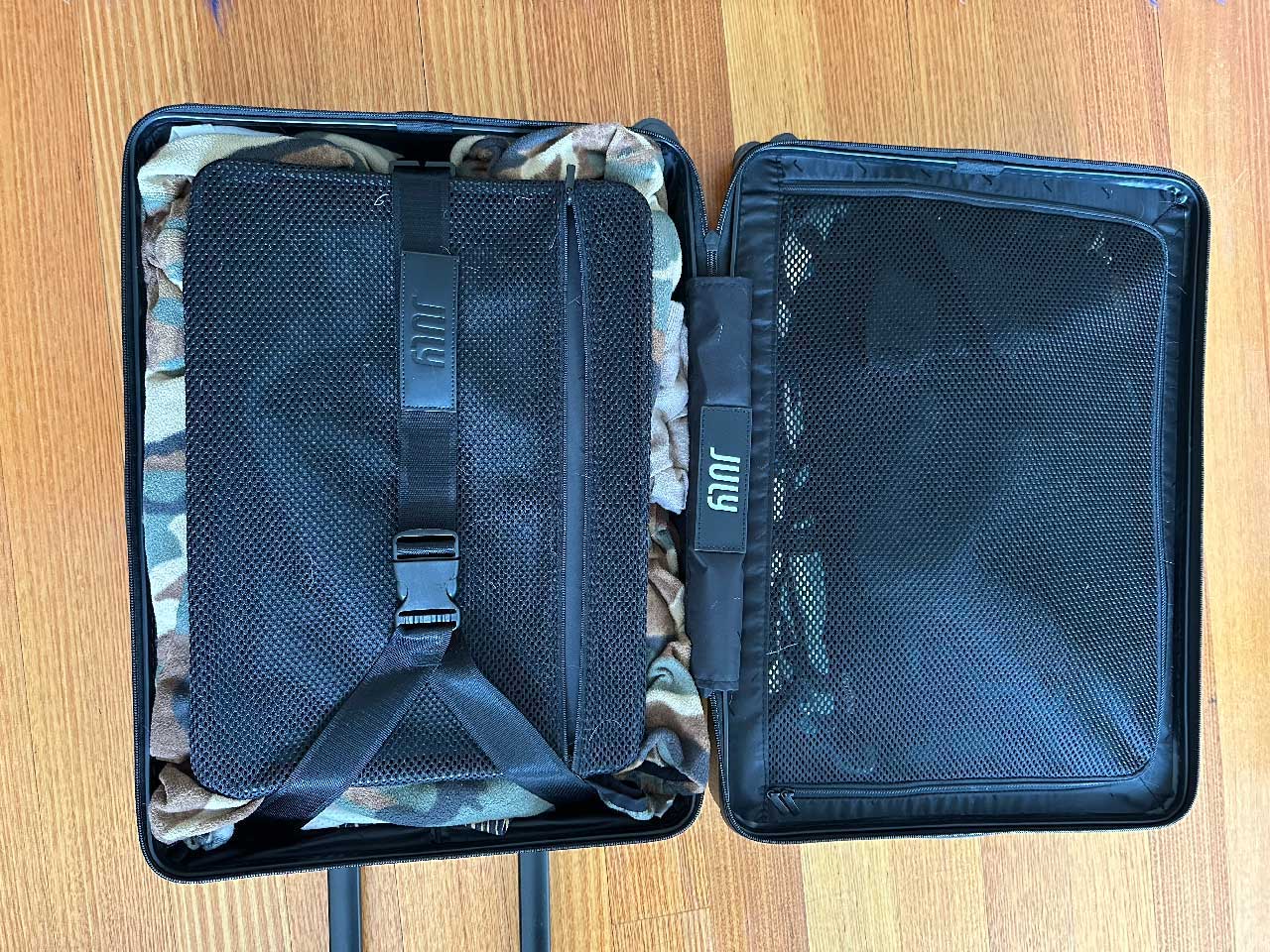 Document Holder
The document holder is connected to the compression strap and plays a large part in the effectiveness of the system by applying the force more evenly over the contents. Aside from this function, it's actually incredibly useful for protecting paper documents while travelling. It's quite rigid, has a reasonably high-quality zipper and is very lightweight.
TSA-approved Lock
Keeping your valuables safe during travel is of course a high priority and the inclusion of a TSA-approved lock on this case is much appreciated. It would have been easy for July to omit this feature as this is designed as a carry-on case but I'm glad they did! As mentioned before, I was asked to check my case which had some valuables but with this inclusion, I had much more peace of mind during the flight.
Laundry
Laundry is a big deal when you're doing a lot of travelling. It's very rare that you don't have at least some dirty clothes when moving to a new location and thankfully July have considered this in their design. I also used it in my hotel to store my dirty clothes before taking them to the laundrette. It's nothing groundbreaking but the included laundry bag is a nice and useful feature.
July Carry-On Pro Specifications
Strong German polycarbonate shell
SnapSleeve™ in toughened 1000D Polyester with leather finishes and Fidlock technology
Leather finishes on the nylon straps and hinge
YKK Japanese zippers
Capacity 42L
Weight 7.9 lbs (3.6kg)
External dimensions including wheels 21.5″ H x 15″ W x 8.5″ D
Internal dimensions excluding wheels 20″ H x 14.5″ W x 8.5″ D
Nylon stain-proof laundry bag
July Carry-On Pro Verdict
For the most part, the July Carry-On Pro justifies its price tag through its aesthetic, clever design, materials and built quality but just like all luxury products, some of the value is in the actual price tag. You won't see many people with this case but many people know the brand and will notice you own one.
If you do a lot of travel and want the best of the best, then this is the case for you. You will not be disappointed! However, if you are on a budget, there are cases that do most of the things this case can do just not quite as well or as smartly.
There is no doubt in my mind that is at least one of the best, if not the best carry-on case on the market. I compared it to the highest-end Samsonite carry-on case and the July had it beat in almost every department. Everything is very high quality, it looks expensive, it feels expensive and it is expensive.