ⓘ We are reader-supported and may earn a small commission at no additional cost to you if a purchase is made through one of our links.
Your nose hair has an incredibly important function. It's like a filter, preventing dust, dirt, pollen, and other particles from entering your body. However, when it grows too long and too thick, it can affect your hygiene. You may also start to feel uncomfortable and a little self-conscious. So it's no wonder why many prefer to remove it. And if you're one of them, then here's a product you may want to try: the M-9 Nose Hair Trimmer.
Summary
Your face is the first thing people see. It's your statement. So if you want to give a good first impression and appear clean and slick wherever you go, then you have to maintain proper hair maintenance – and that includes your nose hair. And if you're looking for a sleek, easy-to-clean, and safe nose trimmer that can easily get the job done, then consider the M-9.
Pros
Versatile and can be used for the sideburns, eyebrows, ears, and mustache
Splash-proof and easy to clean
No blade exposure
Nickel sterilized coating head
Self-proclaimed as the "World's first dome-shaped nose hair trimmer," the M-9 is designed by TR Lifestyle Inc., which is a brand specializing in beauty appliances. It is an upgrade from the company's previous model, the M-7, promising newer and better features. So how is it different, and how does it compare with other nose hair trimmers? Let's find out with this review.
In a rush? Click on any of the links below to find what you are looking for:
Overview
There are many ways on how to remove nose hairs. Some use their hands, small scissors, or even tweezers for plucking. But according to Jason Moche, Assistant Professor of Otolaryngology at the Columbia University Medical Center, "nose hair should almost never be plucked." Not only is it painful, but it can also lead to an infection.
On the other hand, others opt for waxing or getting laser hair removal. However, these methods can damage your mucus membrane and prevent your nose hair from doing its job. So what's the best and safest way to remove hair from your nose? According to Moche, it's to buy a nose hair trimmer.
Now, the problem with some nose hair trimmers is that they can be unsafe too. If you're not careful, you can accidentally stick the device too deep inside your nose. Some also have weak motors, making them slow and imprecise. They can even pinch or scratch your skin as well. For others like the Philips Norelco Nose trimmer 3000, their blades are exposed, which can cause injuries to the user. Not to mention that some products are challenging to clean too.
Thanks to its dome-shaped head and upgraded motor, these are non-issues with the M-9. But on the downside, the M-9 is a little bit more expensive than many of the nose hair trimmers in the market. With a retail price of US$42, it's pricier than some of the top nose trimmers around, including Panasonic ER-GN70-K, Manscaped The Weed Whacker, Zorami Ear and Nose Hair Trimmer, and Wahl Ear, Nose, and Brow Trimmer. But it is a lot cheaper than the Philips Norelco 5100.
The good news is, you can experience the M-9 at a much cheaper price if you catch its campaign on Kickstarter. Instead of US$42, prices start at only US$29.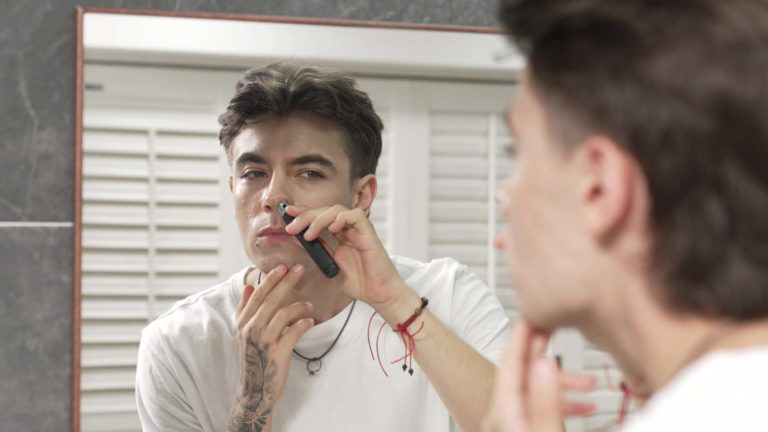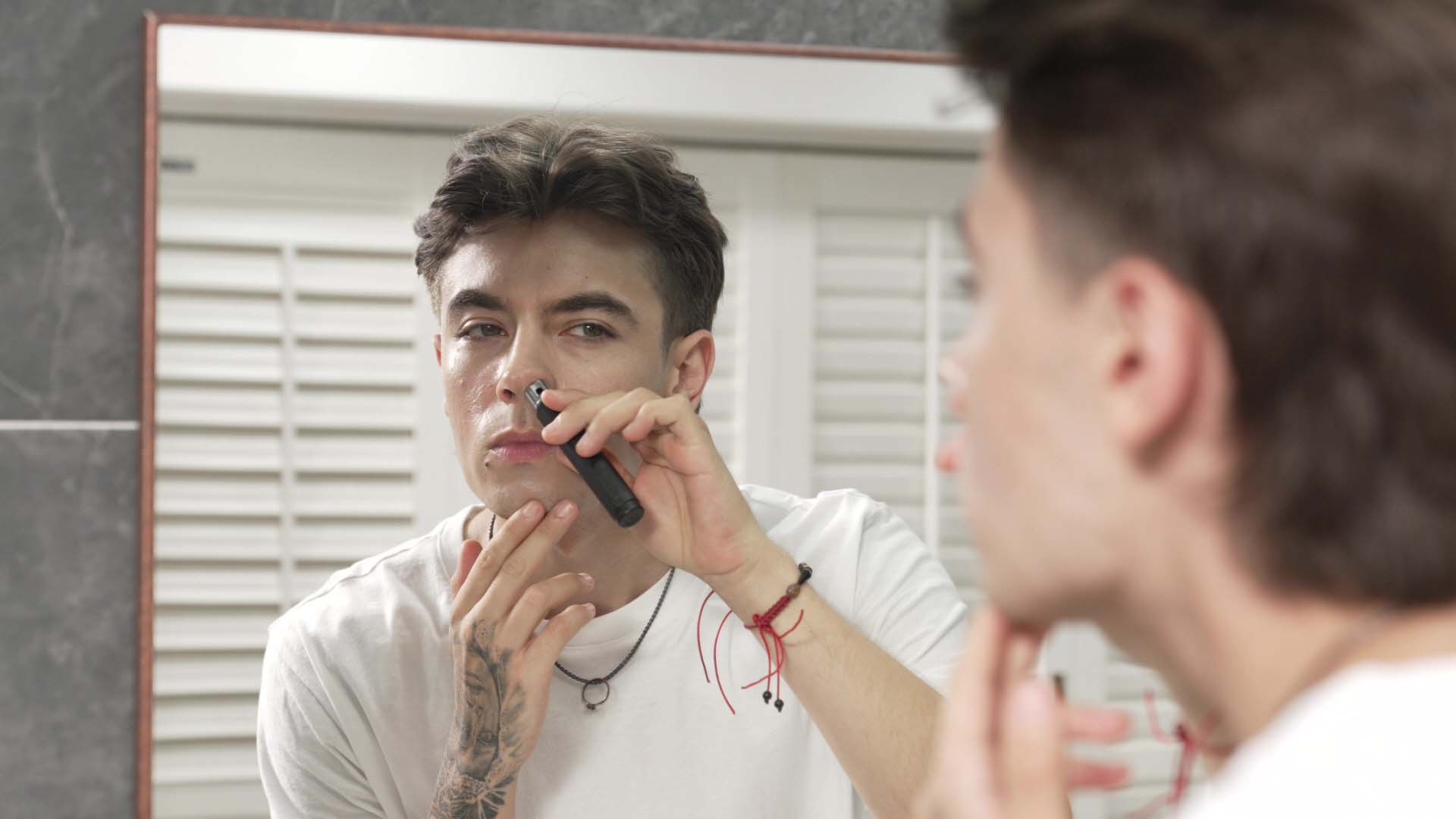 Features
Dome-Shape Net Structure
What's different about the M-9 is its dome-shaped net design, while others have cone-shaped heads. This structure provides you with an extra layer of safety, keeping the blades well-hidden and preventing them from making direct contact with any part of your body. More importantly, it prevents you from accidentally sticking the device too far inside your nose. Its soft curved line finish is also ergonomic, ensuring you a comfortable trimming experience.
Powerful Motor
When looking for a nose hair trimmer, one of the most important features you should look out for is its motor. See, a powerful motor ensures a fast and precise removal of hair, while a weak motor can cause pulling and tugging.
Now, the M-9 is equipped with an 8700 RPM motor. This is a huge upgrade from the company's previous model, which has only 7100 RPM. With this upgrade, the M-9 has indeed a powerful motor. As a result, it can deliver a more delicate, precise, and high-speed trimming.
Sanitary and Storage
Since the M-9 is a device that's designed to be inserted into your nose, it's important to keep it clean and sanitary. So make sure to choose a model that's easy to clean and store. The M-9, for example, is splash-proof and can be easily cleaned. Just sink the head in water, turn the device on, wipe it, and you're done. You can also deep clean it by using the cleaning brush included with the package. After, you can let it stand on a countertop or safely store it inside its bag.
Versatility
While the M-9 is specifically designed for nose hair, it can also be used for sideburns, ears, and even your eyebrows. With its precision, you can also use it to maintain your mustache.
Specs
Dimension
0.98in x 4.92in (2.5cm x 12.5cm)
Enclosure

Body: Plastic
Dome Frame / Blade: Stainless Steel

Motor Rated Voltage
1.5V DC
Motor Rated Speed
8700 RPM
Weight
0.12lb (54g)
Battery
Manganese battery R6 (AA battery)
While the M-9 already has a strong motor, it is by no means the most powerful. Its 8700 RPM is weaker than Panasonic ER-GN70-K's 9400 CPM motor and the Manscaped The Weed Whacker's 9000 RPM motor. But it is still more powerful than other trimmers, including the Zorami Ear and Nose Hair Trimmer, which only has a 6500 RPM motor. Keep in mind that RPM is numerically equal to CPM.
The M-9 requires a simple AA battery to work. This is great since this type of battery can last for a very long time, and it's extremely easy to find. It's also more convenient since you don't have to charge the device every day.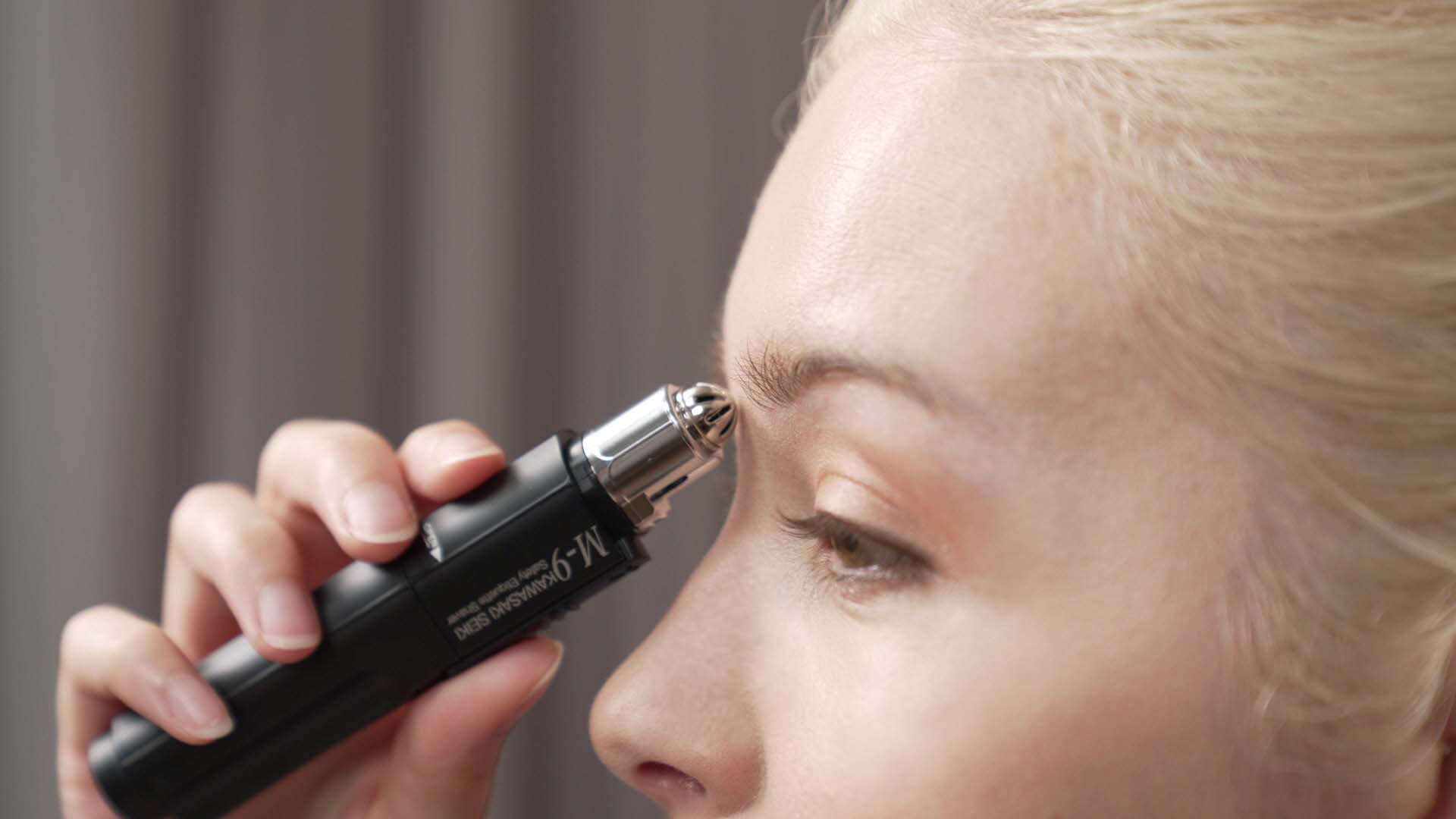 Aesthetics
Aesthetically, what we like about the M-9 is that its dome frame is made with stainless steel, making it durable yet economical. You don't have to replace it too often. It's also coated with an anti-bacterial coating to provide you with extra safety and sanitation. Its non-glare black plastic body is worth mentioning too, as it gives the device a modern and minimalistic look.
The M-9 is small, lightweight, and portable. In fact, it's lighter than other electric shavers. It also comes with its own carrying pouch, so you can easily carry it around and keep looking clean and fresh whenever and wherever.
Final Thoughts
With its powerful motor, sleek look, and simplicity, the M-9 is an excellent choice for a nose hair trimmer. But what truly makes it special is its easy-to-clean dome-shaped head, which makes the experience more comfortable and most importantly, safe. With this device, you are free from the threats of sharp blades. You also don't have to worry about sticking the device too far into your nose. On top of that, it's coated with anti-bacterial nickel. So it's more hygienic.
Overall, based on its features on paper, the M-9 is proving to be the ultimate nose hair trimmer for every bloke who wants to look good.