ⓘ We are reader-supported and may earn a small commission at no additional cost to you if a purchase is made through one of our links.
Summary
The Mighty Vibe is a delightfully simple to use music playback device with its highlight feature being its ability to play content from certain streaming platforms, like Spotify and Amazon Music, without the need to stay connected to the internet. It's a handy little gizmo that's especially useful for people who lead active lifestyles and it comes in a fun range of colours that suit multiple tastes. The Mighty Vibe truly is the future of offline music and podcast playback.
Pros
It's nice to be able to listen to Spotify without having to carry around your phone or stay connected to the internet
Compact size is perfect for exercising
Voiceover playlist navigation is a fantastic feature
Cons
It's cheaper than a smartwatch but still a bit pricey
Had enough of having to lug around a smartphone just to listen to some tunes while you're out for a run? Sure there are tons of compact music players out there, but what if you're like the millions of people out there who get their music exclusively from Spotify? Well, the Mighty Vibe is a nifty gizmo that aims to solve all your sound tripping troubles.
This adorable square-shaped device offers the unique feature of listening to your Spotify or Amazon music tracks or podcasts without needing to stay connected to the internet, allowing you to do your activities without having to bring along your phone.
In this Mighty Vibe review, we'll figure out if this little guy is worth buying over other gadgets that have a similar feature, such as Samsung's newer line of smartwatches.
Cant' stick around for the entire review? Just click on any of the links below and we'll take you right to that section.
Overview
Mighty Audio is a company that's built its identity around developing music devices that cater to the streaming age. Their flagship gadget – the Might Vibe – is a handy little music player about the size of a poker chip that has obvious nods to the old Apple iPod Shuffle. It's both WiFi and Bluetooth capable and enables you to play songs from hit music platforms Spotify and Amazon Music without having to remain connected to the internet.
This allows you to go for a run or work up a sweat at the gym without being forced to carry around your significantly larger smartphone. It also continuously updates your playlists and podcasts every night and is both drop and water-resistant for that extra layer of security most phones just don't have.
Features
Offline Streaming
Mighty Vibe allows you to take your Spotify and Amazon Music experiences to the next level by giving you the capability of offline streaming. You'll be able to listen to your favourite playlists and podcasts without having to stay hooked up to the internet.
WiFi & Bluetooth Capable
You can sync the device with your phone wirelessly and it is fully compatible with either Bluetooth or wired headphones, earbuds, or speakers.
Impressive Battery Life
For such a tiny thing, the Mighty Vibe comes with a solid battery that gives you more than five hours of continuous playback which is more than enough for an average workout session or daily jog
Generous Storage
The Mighty Vibe's 8GB storage system can house more than a thousand songs, which translates to hundreds of hours of your favourite podcasts and music that you can take with you on the go.
Voiceover Playlist Navigation
This device may not have a screen, but it does a great job of making playlist navigation a lot easier by speaking the name of each playlist directly into your headphones.
Automatic Updates
The Might Vibe automatically keeps your podcasts and playlists constantly updated every night so you always remain up-to-date when it comes to your tunes and stories.
Sturdy Build
This little guy is both drop and water-resistant, allowing it to withstand the occasional tumble or splash of water. It's IPX4 rated so it should be able to even handle some light rain without any trouble.
Android & iOS Compatible
Whether you're an Android fan or an Apple enthusiast, the Mighty Vibe is fully compatible with both platforms.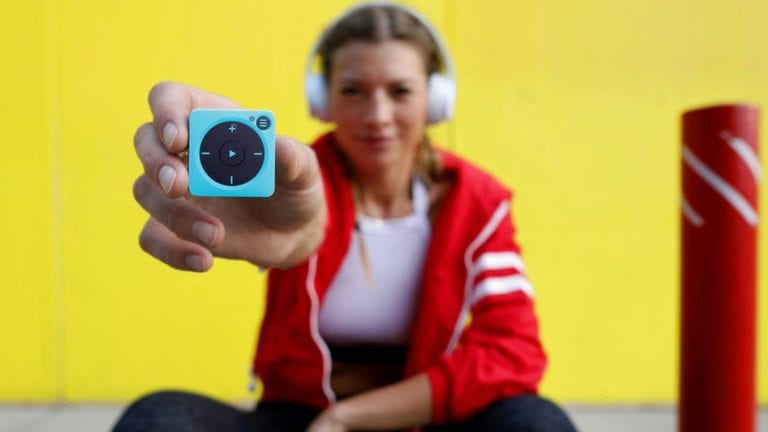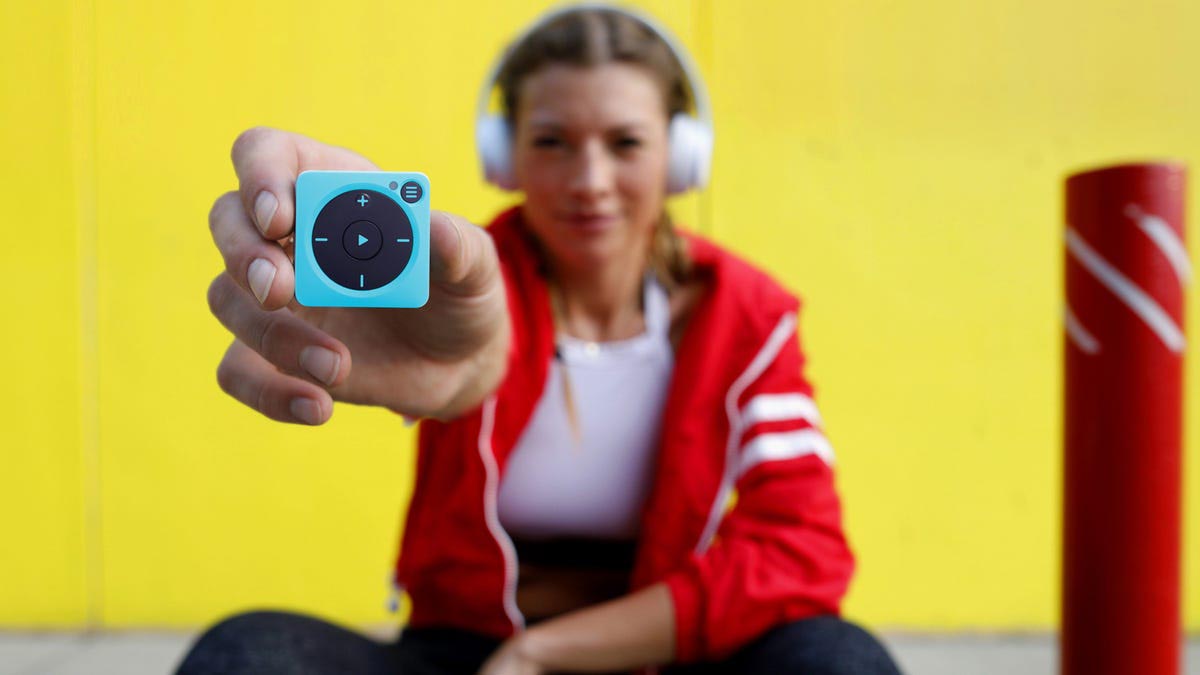 Specs
| | |
| --- | --- |
| Dimensions | 1.5" x 1.5" x 0.7" |
| Weight | 0.7 ounces |
| Storage Capacity | 1,000+ tracks (8GB) |
| Battery Capacity | 5+ hours of listening time on a single charge |
| Temperature Range | 0 to 95 Fahrenheit / -17 to 35 Celsius (battery capacity may decrease in temperatures lower than 32 Fahrenheit / 0 |
| Buttons | Power, shuffle, song fwd/back, volume up/down, playlist selector (with spoken playlist names) |
| Connectivity | Bluetooth for playback, WiFi for syncing |
| Compatible With | Bluetooth and wired headphones and speakers |
| Content Supported | Playlists and podcasts |
| Playback Mode | Offline – no phone or connection needed |
| Playback Requirements | Spotify Premium or Amazon Music |
| App Support | iOS 9 and above, Android 6.0 (Marshmallow) and above |
| Included | Charger, Quick Start Guide (headset not included) |
If you like music then you will like the Lumi Keyboard
Aesthetics
The Mighty Vibe offers a low-profile design that still manages to stay chic and stylish on account of its vibrant assortment of available colours. The device itself is essentially just a flattened cube with a circular panel in the centre that serves as its controls. Here you can pause and play your tracks, as well as shuffle between them or control the volume. On the top-right corner, there's a dedicated button for playlists shuffling.
It obviously draws heavy inspiration from the Apple iPod Shuffle when it comes to its design, and its minimalist nature perfectly suits its simple purpose and control scheme. Depending on your tastes, you can get a Mighty Vibe in either Zazzy Black, Gully Blue, Mooshu Red, or Shamrock Green, with the brighter colourways looking especially flamboyant. There's beauty in simplicity and Mighty Audio understands that exceedingly well.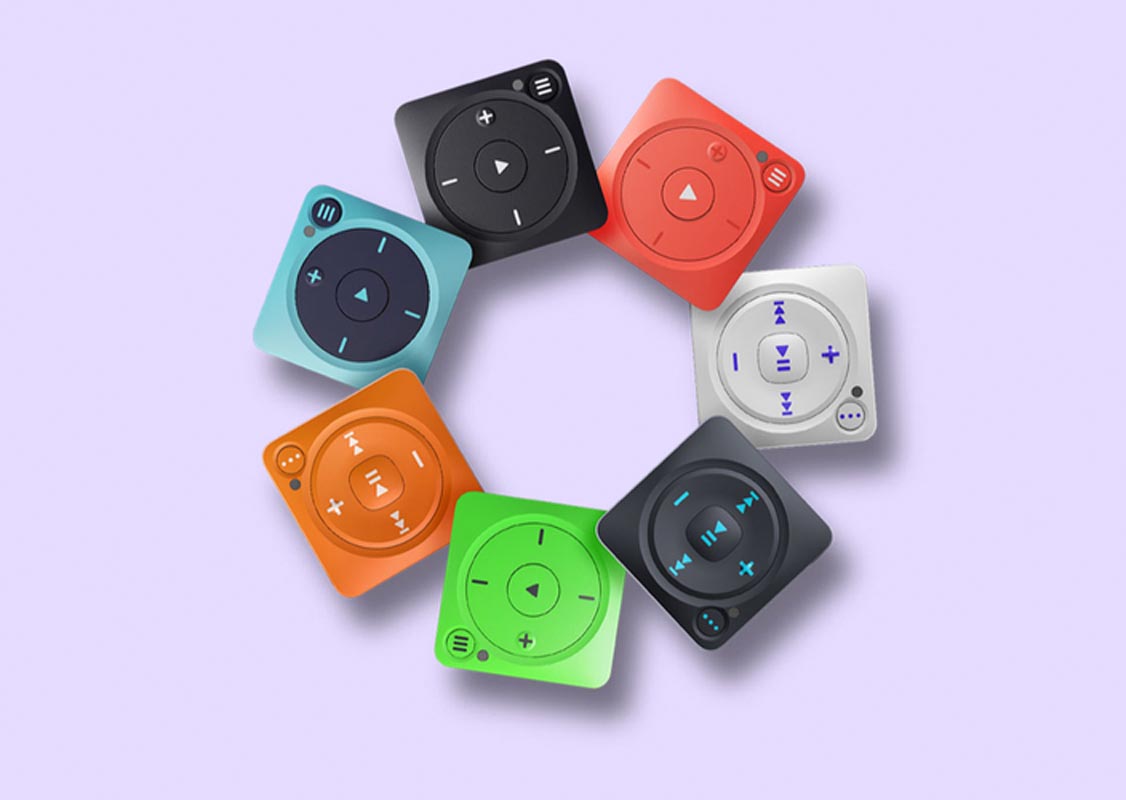 What's it like to use?
Using the Mighty Vibe is as simple as it looks. You've got a bunch of well-labelled buttons across the device's face which you can use to control audio playback, browsing, and volume. The dedicated playlist button allows you to shuffle through your playlists and the Vibe actually reads out the playlist name straight to your earphones to make it easier to navigate even without a screen.
Utilizing the Mighty companion app is equally as effortless. All you have to do is download it from the Apple App Store or Google Play, select the music service that you plan on using, and then sync your playlists via WiFi. After that, you can leave your phone behind and go on that jog or workout sesh.
Final Thoughts
e having to fuss around with your smartphone or stay connected to the internet. It's small enough to just latch onto your shirt or bag and its controls are simple enough to work even with your eyes closed.
The voiceover playlist navigation is also a wonderful feature that minimizes the disadvantage of not having a screen by reading out your playlist names so you know exactly which one you're on. To top it all off, the Mighty Vibe comes in a variety of eye-catching colours to suit different tastes and styles. If you loved the iPod Shuffle and are dying for a successor, the Mighty Vibe will scratch that itch and then some.
Last update on 2023-12-11 / Affiliate links / Images from Amazon Product Advertising API