Despite its official release date back in 2018, the Razer Kiyo Web Camera is still amongst one of the best web cameras available for streamers. When it comes to improving your Twitch stream, looking the part is a major factor of success and the Kiyo has many features to achieve that. In this comprehensive Razer Kiyo Review, we're going under the hood to discover what makes the Kiyo so special and comparing against other market alternatives.
CHECK TODAY'S PRICE HERE: Check Price
Razer Kiyo Web Camera Review Summary
Aesthetics

Features

Total Value
Razer Kiyo Web Camera Summary
The Razer Kiyo solves a lot of starter streamer lighting issues and has superb image quality. It would have received a 4.9 star rating from our team, however, the weak microphone and detachable cable somewhat lets this down for non-streamers. That said, if you're purpose is solely for streaming and you have a separate microphone output, this is one hell of purchase.
Pros
High Quality Imagery
Massively Improves Lighting
60fps With 720p Streaming
Cons
Poor Microphone.
Cable Un-Detachable.
Does the Razer Kiyo solve a lot of headaches from starter bedroom streamers? Or do the negatives outweigh the positives for this live streaming camera? Read on to find out more and don't forget to hit us up in the comments when you're done. We want to know all about your streaming setups. Whether you've just started or believe to have the perfect rig, let us know how you amp up your stream quality.
Time short? – Click here to skip our Razer Kiyo review summary.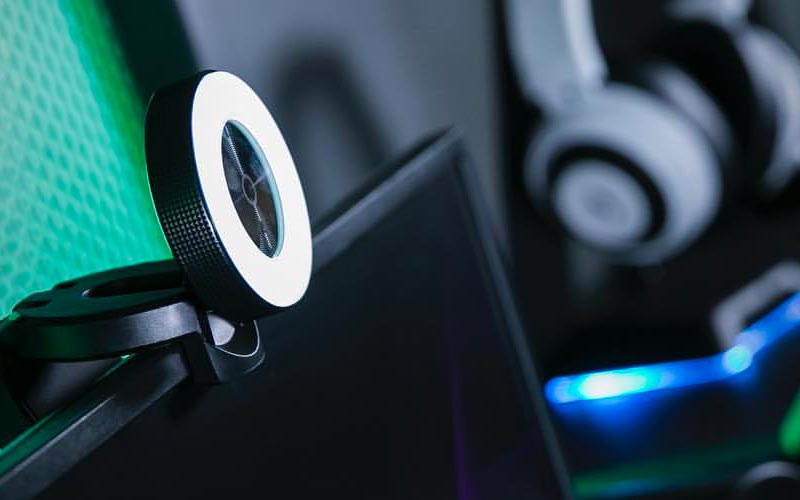 Razer Kiyo Webcam Overview
Designed by streamers, the Razer Kiyo is dedicated specifically to making you look good when live. Heralded by the stream nation, the Kiyo delivers better image quality than most other cameras at this price point and the peripherals are superbly architected. Okay, so $170AUD may sound like a lot of money for the amateur streamer. But when you consider the cost for professional lighting, green screens and a different webcam to capture all of that, it's a drop in the ocean.
Overall, the Razer Kiyo is one of the better mid-tier options when it comes to web cameras and video streaming. From it's sleek design to improved image quality over similarly priced cameras, you won't be disappointed.  The closest competitor, Logitech C920, also has some issues with its microphone so if you're only looking for video capabilities, the Razer Kiyo is a better option. We've used this camera for both Skype and streaming with Mixer on Xbox. It's way overpowered for Skype so you won't have any issues with casual use. As for streaming, it also ran very smoothly with crystal clear images both with wired and non-wired internet connections. We did find the camera a little tricky to set up when streaming with Mixer using OBS but that may just be Mixer.
–
The Look Station:
One of the biggest plus points for us with the Razer Kiyo was not only how you look on camera, but the peripherals of the gadget. The circular camera shape and luminescent effects really make for a sexy looking component to your setup. When closed, the Kiyo looks like a stack of micro CDs with its camera, light ring and grip that hugs your monitor. Where most streaming web cameras can look clunky and square, the Razer Kiyo looks absolutely stunning.
The rubberised base of the Kiyo webcam did make for a device that collects dust quickly but it gives the feel of something more premium. What you would typically expect from a camera of this price range is a plastic shell. The Kiyo is much more than that. Whilst most of you won't care too much about how the camera feels externally but it's important to keep this in mind when purchasing. Manufacturers which attention to every detail of a product often deliver superior outcomes!
Then there's how you look when live streaming. We'll delve further into this when analysing the features, but we'd like to make note that the image quality is extremely crisp. The LED light ring really makes a difference to the balance of your face on the screen. There's nothing worse than seeing dark shadows in places you don't want them to be!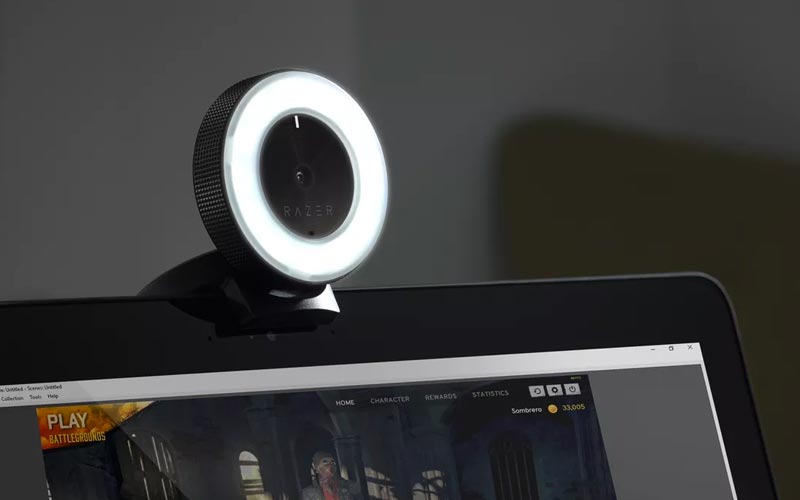 Razer Kiyo Software
The Razer Kiyo cannot be connected to Razer's Synapse software used by the majority of its hardware. This is a very strange choice as it allows for a lot of customisation of colour, zoom, pan, tilt and exposure levels. Depending on your specific needs this may be a deal-breaker.
Despite the lack of official support, there is numerous 3rd-party software the Kiyo will connect to. Two major players that most streamers will be aware of are supported very well, with those being Xsplit and Open Broadcaster (usually known as OBS). Both of these are generally excellent choices.
The Best Features:
It's pretty obvious that your biggest attraction will be the Kiyo's built-in ring of LED lights. This is, after all, the primary function of the camera and we have it say, we were thoroughly impressed. Now, whilst a dedicated lighting setup for streaming will trump everything, the Kiyo is the perfect compromise for starter streamers. The lighting itself is not super powerful, but it's perfect for those of you who are streaming from a room that discludes nature. Even still, if you do have natural light, additional LED lighting will help smooth out your face evenly on screen.
We've been using the Kiyo for a few months now on Twitch and the lighting is simply incredible. Don't be fooled into thinking that the Kiyo is a unicorn, however. It's not going to solve all your stream quality issues but it goes a long way with improving your streams appeal. Not to mention that it renders at 60 frames per second which is 30 frames more than hot rivals such as the Logitech C920.
––
Razer Kiyo Vs Logitech C920
The Razer Kiyo trumps many streaming webcams for image quality and the C920 from Logitech is no different. Whilst a cheaper webcam than the Razer Kiyo, it doesn't capture colours with as much accuracy and the overall quality is weaker. This is important if you are going to be using a green-screen as you really want that background colour to pop. The Kiyo is pretty much a plug and play device whereas other cameras in the market require compromise.
Razer Kiyo Video Quality
For those who really care about your stream quality, the Razer Kiyo also has a better refresh rate. Whilst most cameras in this price range refresh at 30 frames per second (when streaming at 1080p), many remain at 30 frames per second with 720p. This is not the case with the Razer Kiyo as it can deliver 60 frames per second at this resolution. With most streaming platforms like Twitch and Mixer optimising towards 720p, this is a huge win for the Razer Kiyo.
Other than the Kiyo's superior image quality over the Logitech C920, you can't deny that it simply just looks much nicer. We really do love the circular shape and that ring light will never disappoint.
The Worst Features:
Whilst we were super impressed with the lighting and image quality, we have to say that the microphone playback was pretty weak. If there is one thing you don't want to cheap out on with your stream, it's definitely your microphone. Whilst we recommend a dedicated streaming microphone to partner your camera as a separate device, the Razer Kiyo seriously underperforms if you had hoped of an all in once device. It's almost like the team at Razer threw this into the mix just to match features with direct competitors. We really wish they hadn't on this occasion.
Another feature we were surprised by was an undetachable cable. It's fairly common to be able to detach the USB cable completely, but Razer has opted for a firmly fitted version. If you're going to leave your camera in place forever then this is not such an issue. However, for those of us who like to stream from different locations, it's just easier to keep the part separate.
–
Razer Kiyo Full Feature & Specifications List:
Packed with superb image outputs, the team at Razer have put additional focus into developing a product that suits the requirements of an active streamer. Take a look at the full features of the Razer Kiyo below:
Desktop Streaming Camera.
Multi-Step LED Ring Light.
Compatible with Xbox & PC Gaming.
Brightness, Contrast, Saturation & White Balance Adjustments.
Image Presets Available
Compatible With Razer Synapse.
Full Camera Specifications:
Image Resolution: 4 Megapixels
Connection Type: USB2.0
Video Resolution: 1080p @ 30FPS / 720p @ 60FPS / 480p @ 30FPS / 360p @ 30FPS
Video encoding: YUY2/MJPEG or H.264
Still Image Resolution: 2688×1520
Image Quality Settings Customization: Yes
Diagonal Field of View (FOV): 81.6 °
Focus Type: Auto
Mounting Options: L-shape joint and Tripod (Not included)
Cable Length: 1.5 meters braided cable
Illumination: 12 white LEDs
Full Ring Light & Microphone Specifications:
LED Diffuser: Milky White
Buttons: 12 Step Ring Dial
Brightness: 10 Lux @ 1m
Audio Codec: 16bit 48KHz
Polar patterns: Omnidirectional
Sensitivity: -38dB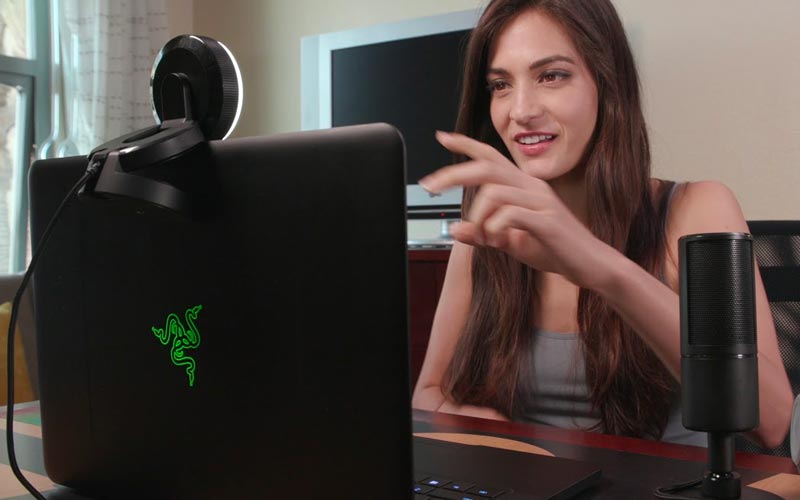 Razer Kiyo Price:
Currently, you can pick up the product online for $150AUD from Scorptec. However, most retailers throughout Australia are selling the Kiyo for around $170AUD so be sure to grab yourself one whilst you can. It's perhaps slightly on the upper end of what you should pay for amateur streaming, but it's definitely value for money and long-lasting.

–
Razer Kiyo Review Summary:
When we began to write this Razer Kiyo review, we couldn't help but continuously mention how the web camera had been extremely well thought out. It really does fulfil the needs of the everyday streamer. Yes, there are quality alternative web cameras on the market. However, the Razer Kiyo takes lighting to the next level without the price tag. Its single light ring alone brings a lot more to a home streaming setup than most cameras and we can't deny how great both the device and we looked when in use.
If you are really on a tight budget, you may swing towards the Logitech C920. However, for an additional $50 you'll be in love with the Razer Kiyo too. We still recommend that you set up with a separate microphone or headset as the playback does suck. But if you are looking for a camera that delivers strong imagery and vibrant lighting, you can't go wrong with the Kiyo.
If you're looking for a microphone to complement this excellent webcam, then check out our Razer Seiren X Review.
Content Disclaimer: Our 'Razer Kiyo Review' is totally independent and has not been commissioned by the company in any capacity. Mr Gadget has not received any endorsements for this writing including financial reimbursement, free advertising or the Razer Kiyo Webcam by way of gift. If you purchase this item via an affiliate link on our website, we may receive a small commission from the seller. We hope you enjoyed it!
Last update on 2021-02-23 / Affiliate links / Images from Amazon Product Advertising API