ⓘ We are reader-supported and may earn a small commission at no additional cost to you if a purchase is made through one of our links.
It's about time I wrote an in-depth review on the Sony WF-1000XM3 wireless earbuds.It's rare that a product exceeds the hype, but the Sony WF-1000XM3 has done just that.
CHECK TODAY'S PRICE HERE: See at Amazon
Sony WF-1000XM3
Look Station

Features

Sound Quality
Summary
The Sony WF-1000XM3 are the best noise-cancelling wireless earbuds on the market. In addition to this, they are beautifully designed, have amazing battery life and deliver very high audio quality. The only downsides are the lack of wireless charging and lack of water resistance.
Pros
✓ Great sound quality
✓ Beautiful design
✓ Best ANC
✓ Long battery life
Cons
✗ No water or sweat resistance
✗ No wireless charging
We all knew that these would be good, but didn't realise just how good. If you want a pair of stylish, feature-rich wireless earbuds with the best ANC on the market, then you're reading the right review.
The Sony WF-1000XM3 has it all, and it does it in style! It's not easy to be considered as one of the best wireless earbuds on the market but the WF-1000XM3 easily makes the list! Let's find out exactly why the Sony's rank so highly!
If you're short on time feel free to skip ahead to the different sections of this WF-1000XM3 review:
Who should consider buying the WF-1000XM3?
People who like to block out noisy distractions. The Sony WF-1000XM3 has the best ANC of any wireless earbud.
People who stay dry and sweat-free. One downside of these is the lack of sweat or water-resistance. Do not get these wet, they have a high chance of damage.
People who like quality. You get what you pay for (and more) with the WF-1000XM3, but they're not cheap. If you want a stylish pair of feature-packed earbuds, consider these.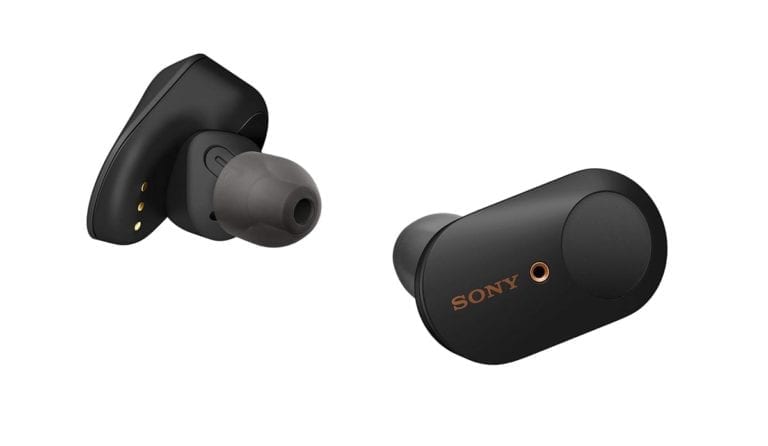 What are the WF-1000XM3 like to use?
The moment you open the box and see what's inside is the moment you realise Sony means business. First impressions count and boy, what a first impression. The Sony WF-1000XM3 has a somewhat unique style and it works! But what are they actually like to use? Let's jump in and look at how well they are designed as a usable device.
Pairing the WF-1000XM3
Disappointingly there is no multi-device pairing, which is a feature that goes a long way in delivering a smooth user experience and is found in some other wireless earbuds like the Jabra Elite 75t.
However, they do have NFC pairing, which is a rare including for wireless earbuds. My daily pair of headphones, the Sony WH-1000XM3 (yes, they share almost identical product names) has NFC pairing and I use it every day to switch from laptop back to my phone while I walk to work.
The WF-1000XM3 NFC is just as useful and consistent and minimised the lack of multi-device pairing significantly. Yes, I wish it was a thing, but it's not a huge turnoff.
Bluetooth 5.0 ensures that the connection is consistent and strong up to meters away and that pairing is a quick and stress-free process.
To initiate the pairing process for the first, all you have to do it remove the earbuds from the charging case and it will start. Then just enter your Bluetooth setting and accept. If you're connecting to a second device after the initial pairing, place both earbuds in your ears and place your fingers on the touch sensors of each bud for 7 seconds to initiate the pairing process.
All in all, the pairing process is incredibly simple and the NFC makes things that much better!
Comfort
Sony has done a good job making the WF-1000XM3 wireless earbuds as comfortable as possible with some clever designs and options. These are relatively lightweight at 8.5g per bud (not as lightweight as the Elite 75t at 5.5g) and utilise a 'Tri-hold structure' to effectively spread the weight.
In addition to a lightweight structure, Sony has included 7 (yes, seven!) ear tips for you try out and find the perfect fit. This is many more than what can expect from other brands).
I have to say that these are more comfortable than the majority of the wireless earbuds I have reviewed. Even after a few hours of use, they were still comfortable which is a rare statement in the wireless earbud world!
Controls
I usually find touch control to be a bit finicky but Sony did a great job with e WH-1000XM3 and they've done it again with the WF-1000XM3. For some strange reason, Sony has done what Apple did with the AirPod Pros and omitted on-device volume controls. Thankfully all of the controls can be adjusted (including add volume controls) using the Sony Headphones App available on both Apple and Android.
The touchpad is found on either earbud and is large enough to comfortably use. Those of you with large fingers may find it a little small, but I had no problems at all. The touchpad does a good job of recognising taps even if you're not tapping in the centre. You can view the full list of controls here on Sony's website.
Overall, I was very impressed with the touchpad and the customisation options. The buds were responsive and the controls were intuitive.
Sony WF-1000XM3 Battery Life
Powerbeats Pro's remarkable 9 hours. It's not often that you'll use a pair of wireless earbuds for longer than 8 hours, but it's there if you need it!
Charging Case
The WF-1000XM3 charging case holds an additional 3 three charges worth of battery, bring the total to potential battery life to 32 hours. This easily has one of the best total battery capacities. In addition to storing a lot of juice, it has quick-charge functionality that will deliver 1.5 hours of juice in just 10 minutes.
The USB-C charging case holds the buds in-place magnetically, preventing them from coming loose during transit and halting any charging. It's also useful in preventing them from toppling out when you open the case. This is something I would like to see from every pair of premium wireless earbuds.
Are they good for workouts?
No. It's that simple. The Sony WF-1000XM3 has no water or sweat-resistant rating, which is an odd immission. Realistically these would be ok for light workouts but for anything strenuous, I really would not recommend it unless you want to be buying a new pair after each workout.
Are they good for productivity & focus?
Absolutely! These guys have the best ANC on the market for this type of device and are impressively effective at blocking out unwanted noise. I work in a pretty noisy office and putting these on feels like you're in your own little world. The noise cancellation was also very effective during my bus commute. The droney bus engine all but blocked out and the chatter around disappeared to a silence.
If you want a pair of earbuds for making and taking calls, it's hard for me to recommend these, as there are better options like the Jabra Evolve 65t.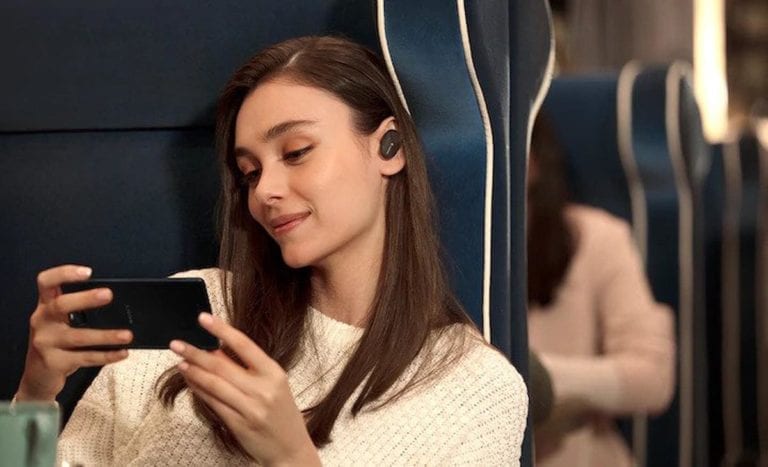 Are they good for commuting?
Yes, these are excellent for commutes. The long battery life, excellent ANC and ability to switch to Ambient Sound mode make these arguably the best wireless earbuds for commuting. If you need to quickly order a coffee activate the Quick Attention feature to have chat without taking the earbuds out or passing.
Worthy of a listening experience?
There's no doubt about, the Sony WF-1000XM3 sound superb. They have brilliant sound quality across the full range and the ANC only makes things better. Let's have a look at things in more detail.
Bass
The bass performance is top-notch. The Sony WF-1000XM3 delivers a lush, rich and thick bass that greatly enhances bass-heavy music like EDM or dubstep. I listened to a classic dubstep album Skream! by Skream and it sounded better than I remembered! The deep, synthy basses were a joy to experience and completely blocked out the outside noise with ANC turned on!
Mids
The mids do a great job of promoting the vocals and lead instruments without crowding out the bass on the treble frequencies. On Skream's album, the vocal came through with amazing clarity and felt as if they were a part of the music without getting in its way.
Treble
WF-1000XM3's treble performance is arguably the best performing part of the sound profile. The snare and cymbals sounded fantastically bright without any distortion or uncomfortable piercing. They punctuated the music with perforating it and deliver a nice sonic contrast the luxurious bass.
Aesthetics
I think the Sony WF-1000XM3's are best-looking wireless earbuds. They are currently available in two colour options that are equally attractive and have their own unique qualities. I am reviewing the back version of the WF-1000XM3 and wow do they look good. The black looks excellent with the copper accent seen on the logo and around the microphone. It's a subtle and refined contrast that makes the earbuds look premium.
They have a sophisticated silhouette that is different from most other wireless earbuds. They're not the smallest but nowhere near the largest and don't look silly hanging out of your ear.
The charging case follows the same design principle and material choice. With the back version of the WF-1000XM3, you receive a black case with a copper lid that looks extremely sophisticated. It easily the most attractive charge case in my opinion.
WF-1000XM3 Review Summary
The Sony WF-1000XM3 is arguably the best wireless earbud you can purchase right now! The ANC is easily the best on the market and surpasses that of the Apple AirPods Pro with ease. The sophisticated and refined aesthetic, coupled with the feature-packed buds make these a top-tier choice for those in the market for a pair of premium wireless earbuds.
Of all the wireless earbuds I have tested, I think the WF-1000XM3 review was my most enjoyable. They enhanced my daily commute by removing the chit chatter while delivering very high-quality sound quality.
I can easily recommend the Sony WF-1000XM3 to anyone except fitness fanatics. The lack of water and sweat resistant is a bit of a letdown but they excel in every other area!
Thank you for taking the time to read this Sony WF-1000XM3 review. I hope that it helped inform your purchasing decision and gave you the insights you need. If you have any questions relating to this review, please let me know in the comments below!
Last update on 2023-12-11 / Affiliate links / Images from Amazon Product Advertising API