ⓘ We are reader-supported and may earn a small commission at no additional cost to you if a purchase is made through one of our links.
Summary
Who says a stylish sleeve can't be functional? The STERO does both extremely well, flaunting a handsome design and an impressive standing design. It's also made out of superbly durable, eco-friendly materials to boot, ensuring that your laptop is well protected but not at the expense of the environment. The STERO will certainly be a bit too pricey for some, but it does its job well and it looks good doing it.
Pros
Stylish leather and suede mix that's made with eco-friendly materials
Remarkable stability even on surfaces that are not flat
Compact design lets it slip comfortably into your bag or backpack
Cons
A tad expensive
Incompatible with certain laptop designs, regardless of size
Laptop sleeves are a must for people who are constantly on the go. Gotta keep your precious machine from getting dented or scratched after all. Problem is, most sleeves don't do much beyond wrapping your device in fabric and they're often bulky and unwieldy when you're trying to fit them into other bags for carrying. Not the STERO, though.
This laptop sleeve not only protects your machine from damage but also flips open to act as a stand for when you need something to prop the device up. It's functional, well-designed, and is made out of environmentally friendly materials. Pretty much everything you could ever ask for in a sleeve, right? In this STERO review, we're going to try the sleeve out for ourselves so we can find out if it really is it's cracked up to be.
Can't spare the time to read through the entire review? Just click any of the links below and we'll take you right to that section.
Overview
The team behind the STERO supposedly worked around the principle of "remedying the stress experienced in our laptop usage", so it was never just about creating a sleeve that looks cool and protects your device. Creating something that provided the right functionality was imperative. The end product is not only an elegantly designed laptop cover but a handy stand that's exceedingly quick and easy to set up.
It's also very form-fitting, so you can fit it into whatever bag you plan on carrying it in without much trouble. They even come with adhesion pads and a mesh design to keep the laptop from slipping or overheating. It certainly isn't one of the cheaper sleeves out there, but not a lot of them have the bells and whistles that STERO has.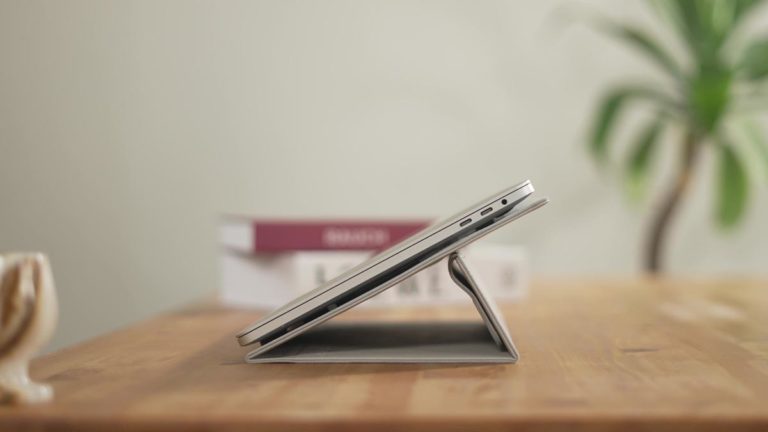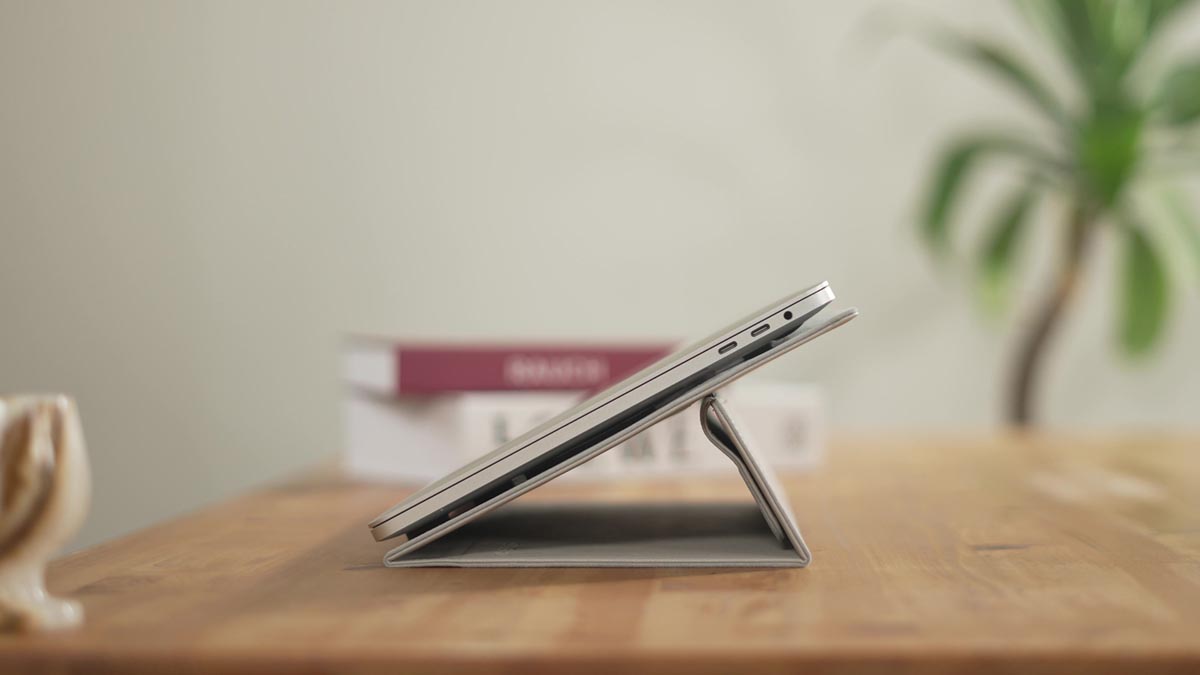 Features
Quick To Set Up and Disassemble
Setting up the STERO while taking your sweet time shouldn't take longer than five seconds, but if you're in a hurry you can do it in around two and a half. While there's no realistic situation that needs you to flip open your laptop cover in 2.5 seconds, the fact that it only takes that long is a testament to how simple it is to get your laptop primed for use.
Closing it up is even quicker and easier, taking an average of about three seconds to accomplish, though if you really put your mind to it, you can probably do it in two.
Advanced Stability
The STERO's stability is top-notch, allowing you to stray from the conventional desk-type setting to a more comfortable position. Feel like hanging on the couch comfortably while working on your screenplay? Just flip the sleeve open and set it on your lap. The STERO was built to withstand the weight and remain steady.
Compact Design
This sleeve was designed to fit closely to your laptop's dimensions and hug it tightly, making it more compact than some of the other designs out there. That way you can easily fit it into your bag or backpack when you have to be on the move.
Adhesion Pad and Mesh Holes
Once you open up the sleeves, you'll find powerful adhesion pads all over the base. These allow the STERO to effectively hold your laptop in place, even if you shake around a little bit. They're also slightly elevated, allowing the heat from the bottom laptop to flow through the STERO's mesh holed surface without putting the heat directly on the sleeve.
Highly Compatible
The STERO was designed mostly for Macbooks and various Ultrabooks from other brands, making it compatible with a multitude of similar laptop designs. Unfortunately, it's not compatible with laptops that have feet of their own or ones that feature hinges at the screen flap.
Specs
13-inch Laptops
| | |
| --- | --- |
| Dimensions | 212 x 320 x 6 mm (8.34 x 12.6 x 0.23 inches) |
| Weight | 401 g (0.88 lbs) |
15 – 16-inch Laptops
| | |
| --- | --- |
| Dimensions | 245 x 370 x 6 mm (9.64 x 14.6 x 0.23 inches) |
| Weight | 531 g ( 1.17 lbs) |
Aesthetics
The STERO is a stylish yet classy looking sleeve, with its elegant leathery exterior and a chic suede inner finish. They're slated to release in Cosmic Grey (a dark shade of grey) and Midnight navy, though its default colour remains Daylight grey which is a fairly light hue as its name would suggest. And the best part is that it's both easy on the eyes and good for the environment since the whole thing uses vegan polyurethane (PU) leather, making it very eco-friendly.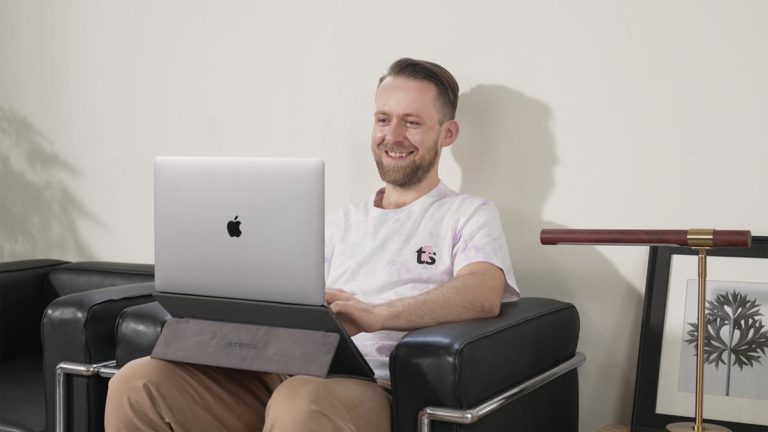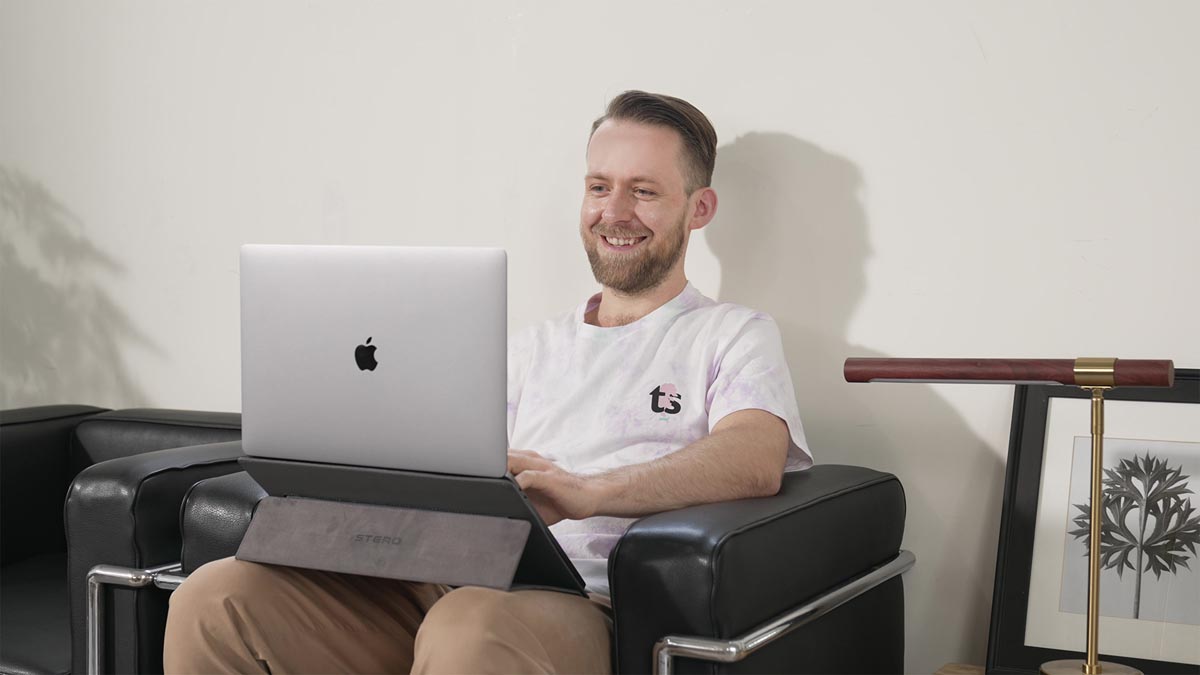 How Does It Work?
The design of the STERO looks pretty much identical to those tablet sleeves whose top flap flips open and can be folded a couple of times, creating a triangle that props your device up at a nice angle. It works perfectly for laptops since the keyboard will be the only thing that's inclined and you can just adjust your screen to stay upright.
With this, you can easily set the laptop and sleeve on a table or your lap whenever you want to surf the web or get some work done. Once you've finished, you can just close your laptop and flip back the top cover. There's a small latch that bridges the gap between the front and back sides of the sleeve, keeping the STERO shut and preventing it from accidentally opening.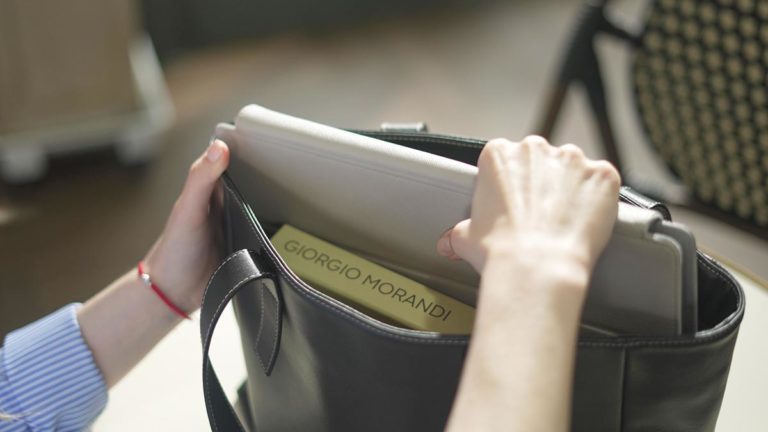 Conclusion
The STERO is an incredibly handy sleeve that doubles as an effective laptop stand whenever you need one. It's made out of remarkably tough, eco-friendly material that – when combined with the excellent adhesion pads on the sleeve's base – keep both the laptop and the STENO steady all throughout, even when you have the machine sitting on top of your legs.
It has a few hiccups, mainly the high price and the lack of compatibility with certain laptops, but chances are, if you own a Macbook then you can probably spare a bit of coin to snag yourself one of these. As far as sleeves that are both functional and snazzy-looking go, the STENO definitely makes the cut.
You can get more details about this awesome Kickstarter project by checking out the campaign page.