ⓘ We are reader-supported and may earn a small commission at no additional cost to you if a purchase is made through one of our links.
Looking for a new gaming headset? Well, here's a new product you may want to check out: the T-1 earset. Doing away from the usual over-the-head design, the T-1 is an in-ear headset that's specifically designed for e-sports and gaming. As some of the best gaming headsets, it also features high-end speakers and a boom mic but minus the weight, bulkiness, and discomfort.
Summary
Whether you're into FPS or TPS games on the PC, Nintendo, Playstation, and Xbox, here's an earset that can provide you with realistic and high-end sounds for the ultimate gaming experience. Light, adjustable, comfortable, and complete with a stunning design, the T-1 is an in-ear headphone that every gamer and streamer will surely love.
Pros
Adjustable fit
Minimizes sound distortion and external noise
Wide compatibility
If that sounds exactly what you're looking for, then continue reading to know more. Can't read the whole thing? Easy. Just click on any of the links below to skip to that section.
Overview
While often overlooked, sounds play a big role in one's gaming experience. It makes playing even more fun, exciting, and thrilling. Aside from that, today's games also allow users to interact with each other remotely. So even if you're far apart, you can still play with your friends in real-time.
Now, to enjoy all these gaming features, you'd need a reliable headset that can produce realistic sounds and a microphone that can deliver your voice clearly. It should also be comfortable and light since you'll be using it for a long time. Easy to find, right? Well, not quite.
See, there are many issues with most gaming audio devices today. If you've been using over-the-head headphones, you know how hot it can get with prolonged use. Your ears will start to feel too warm and uncomfortable. Not to mention that it can also ruin your hairstyle. Some headsets also have low-quality microphones and speakers, which can affect your gaming experience.
To address these issues, HiditionGaming came up with the T-1 Earset. It promises high-end gaming sounds, an ergonomically designed boom mic, and the perfect and comfortable fit to give you the ultimate gaming audio experience. On the downside, however, the T-1 is more expensive than some of the top in-ear headsets around. At US$89 on Kickstarter, it's pricier than the HP Gaming Earbuds and Turtle Beach Battle Buds. But it is still cheaper than the Bose QuietComfort and the new Razer Hammerhead.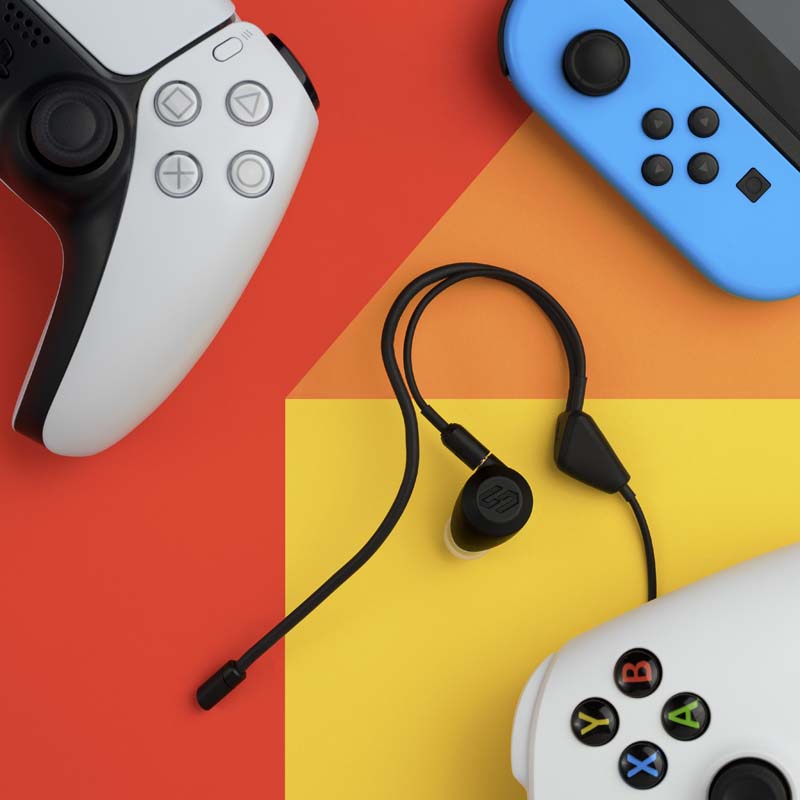 Features
Wide Compatibility
What's great about T-1 is that it utilizes a 4-pole 3.5mm stereo input, which means you can connect it with all the latest gaming devices on the market. So you can use it with your PC, Nintendo, Playstation, and Xbox. You can also use it for video chats and receiving calls. Furthermore, it's great for those who are just starting their live streaming journey as well.
MMCX Connector
One of the unique things about T-1 is its MMCX connector structure. With this feature, you can assemble and disassemble the unit and the cables. So you can replace and upgrade such parts with various accessories that will be developed later on.
Microphone
The T-1 is an earphone with a microphone, so you don't have to purchase additional equipment. Even better, its microphone has a pin structure with a highly sensitive condenser. So you can expect minimal exterior noises when playing or using the earset outdoors. Its boom-mic is also cylindrical with a slight opening on the sides, minimizing sound distortion and providing a steady and high voice quality.
Sound Quality
Another notable feature of the T-1 is its unique sound tunes, which is said to be comparable to the latest sound technologies, including 7.5 Ch, 5.1 Ch, DTS, and Dolby Atmos.
Specs
| | |
| --- | --- |
| Transducer | One single balanced armature driver |
| Frequency Response | 20Hz – 17kHz |
| Impedance | 58 Ohms (1kHz) |
| Sensitivity | 03dB / 1 mw (1kHz) |
| Plug | 3.5mm 4Pole |
| Sound-Signature | Flat, Monitoring |
| Game-References | FPS, TPS, Stealth |
The main advantage of owning a T-1 is that it's optimized for Third-Person Shooter (TPS) and First-Person Shooter (FPS) games. Meaning, it will be easier to locate your enemies accurately. This will also allow you to immerse yourself with obstacles and surroundings better. On the downside, if you're looking for a wireless earset, then look elsewhere. It doesn't have Bluetooth or any other pairing feature options.
Aesthetics
Probably the most notable feature of the T-1 is its ergonomic and light design. Unlike other headphones with a semi-fixed structure (only the height and clamping strength can be adjusted), T-1 is very flexible. You can wear it according to your ear shape and tighten it around your face for a more precise and comfortable fit. As a result, you can move freely without worrying about your headset interfering with your activities. You can also move your head as much as you want or jump up and down and the T-1 will stay in place no matter what.
T-1's design also allows equal weight distribution. It features 4 levels: the first (Helix) and second (Auricular) hanging the device, the third (Concha) supporting the fit, and the fourth (Lobule) providing fixation. This provides a featherlike fit, so you can wear it longer without feeling any discomfort. Its bendable cables and overall flexible design are also better for those wearing glasses than over-the-head earphones.
Final Thoughts
The T-1 earset removes the bulkiness and heaviness of large over-the-head headphones. With it, you can play as long as you want without your ears and head feeling too warm and uncomfortable. And since it wraps around your ears, you'll have no problem moving around with it. Sure, it may not be the most budget-friendly in-ear headset option. But considering the comfort and audio and voice quality it provides, it's certainly worth it.