ⓘ We are reader-supported and may earn a small commission at no additional cost to you if a purchase is made through one of our links.
After a successful run with the Falcon 2-in-2 laptop on Kickstarter, which raised more than US$217,000 in 2018, TopJoy comes back with their newest offering – the TopJoy Butterfly. It is a pocket-sized DES screen e-reader that promises the ultimate paper-like experience. To date, it has already received more than US$545,000 from thousands of backers on the same crowdfunding platform.
Summary
Want to make your reading more enjoyable and, er, colorful? Here's the best color e-reader yet. The TopJoy Butterfly is great for reading eBooks, manga, magazines, comics, and graphic novels in any format. With its stylus, you can also use it to sketch and take notes.
Pros
Low latency and fast response
High resolution for both black and white and color
Supports a wide range of file formats
Adjustable front reading light
Cons
No audio jack
TopJoy Stylus is not compatible with the 6-inch model
So what made the TopJoy Butterfly such a hit, and how does it compare with other e-readers today? More importantly, with the wide selection of e-readers around, is it worth trying out? Let's find out in this review. In a rush and can't read the whole thing? Just click on any of the links below to skip to that section.
TopJoy Butterfly Overview
Currently, Amazon Kindles are dominating the e-reader market, particularly in the US. But since the Kindle is locked into Amazon's store, there's a limit to where you can use it (even though Amazon's store may already have everything you want to read). Nonetheless, if you get your books from other places and they use different formats such as PDF or ePub, then you may want to check out other e-reader options – like the TopJoy Butterfly.
The TopJoy Butterfly can support almost any eBook format. From ePub, MOBI, PDF, FB2, TXT, RTF, and other reading apps. It also runs on an Android 11 OS, giving you the freedom and access to every book resource on the internet. More importantly, it has a full-color display, which is great if you are into reading comics, magazines, or graphic novels.
If you're interested, the TopJoy Butterfly is currently offered at a much lower price on Kickstarter. Its "Super Early Bird" promo is still available, so you can purchase the 6-inch e-reader for only US$169 and the 7.8-inch for US$259. At these prices, however, the Butterfly is still pretty pricey. It's more expensive than the Amazon Kindle Paperwhite and Kobo Clara HD, which are the two leading e-readers today. That's understandable, though, since both have only black and white screens.
Compared to other e-readers with colored displays, TopJoy is surprisingly affordable. Its discounted prices are way, way cheaper than the Onyx Boox Nova 3 Color, Pocketbook Inkpad Color, and a very similar item, the Reinkstone R1.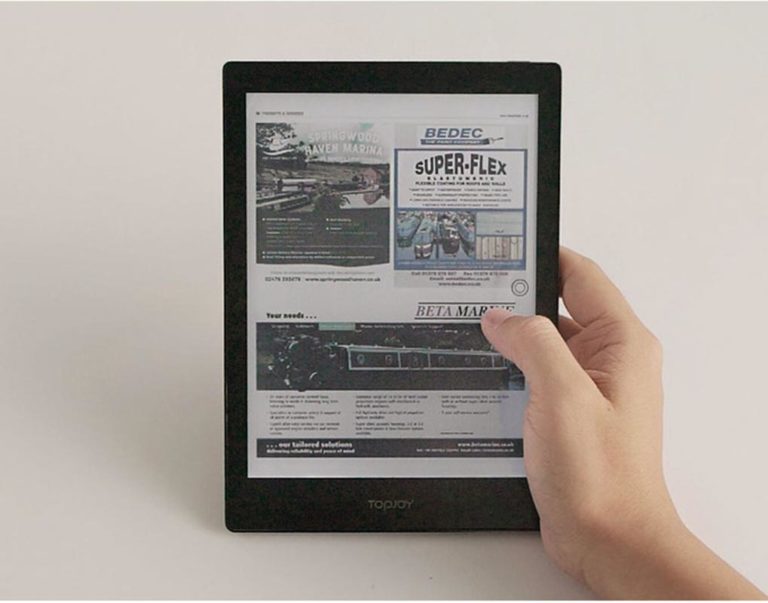 Features
True Color DES Screen
The most notable feature of the TopJoy Butterfly is perhaps its True Color Display Electronic Slurry (DES) Screen. Offering 150 PPI color displays, this e-reader currently has the best color display in the market. This allows you to enjoy full-page color content, including magazines and comics.
Adjustable Front Reading Light
TopJoy has a built-in adjustable reading front light that helps reduce eye fatigue and strain. Its DES screen is also glare-free, so no unwanted light will reflect towards your eyes. This is an incredibly important feature to look out for in e-readers as it will give you the freedom to read and use your device anytime and anywhere.
Android 11 Operating System
TopJoy Butterfly runs on Android 11 OS, giving you full access to basically every book resource available on the internet. This also provides you with the ultimate compatibility, so you can ditch the stressful process of converting different eBook formats.
You may, however, be forced to sideload apps that you want to install – which is honestly a dealbreaker (well, at least for us). See, while TopJoy supports Google apps, it won't pre-install them, including Google Play Store. While you can sideload other apps with ease, the same can't be said when it comes to Google Play Store. It can be quite a task and it's no easy feat. Besides, sideloading is not a viable option given the frequency of app updates.
As of writing, the company has not given its final say on whether or not TopJoy Butterfly models will use Google Play Store and all its software, including Chrome, Gmail, Drive, Keep, etc. If it can't and if there's no available app store to conveniently download Google services, then its purpose of running on an Android 11 OS is defeated.
Stylus
Need to take notes on TXT, PDF, ePub, and other eBook files? Or maybe you're looking for an e-reader that can function as a drawing pad or notebook? Good news. The 7.8-inch models come with a stylus. The bad news, however, is that the stylus doesn't work on the 6-inch model. So if you want the smaller unit but need a pen, you will have to buy the stylus from somewhere else.
Super Low Latency
Speed is another key feature of e-readers. So we were thrilled to know that TopJoy Butterfly offers super-low latency and quick response. Meaning, you can flip pages with ease without having to wait for a long time.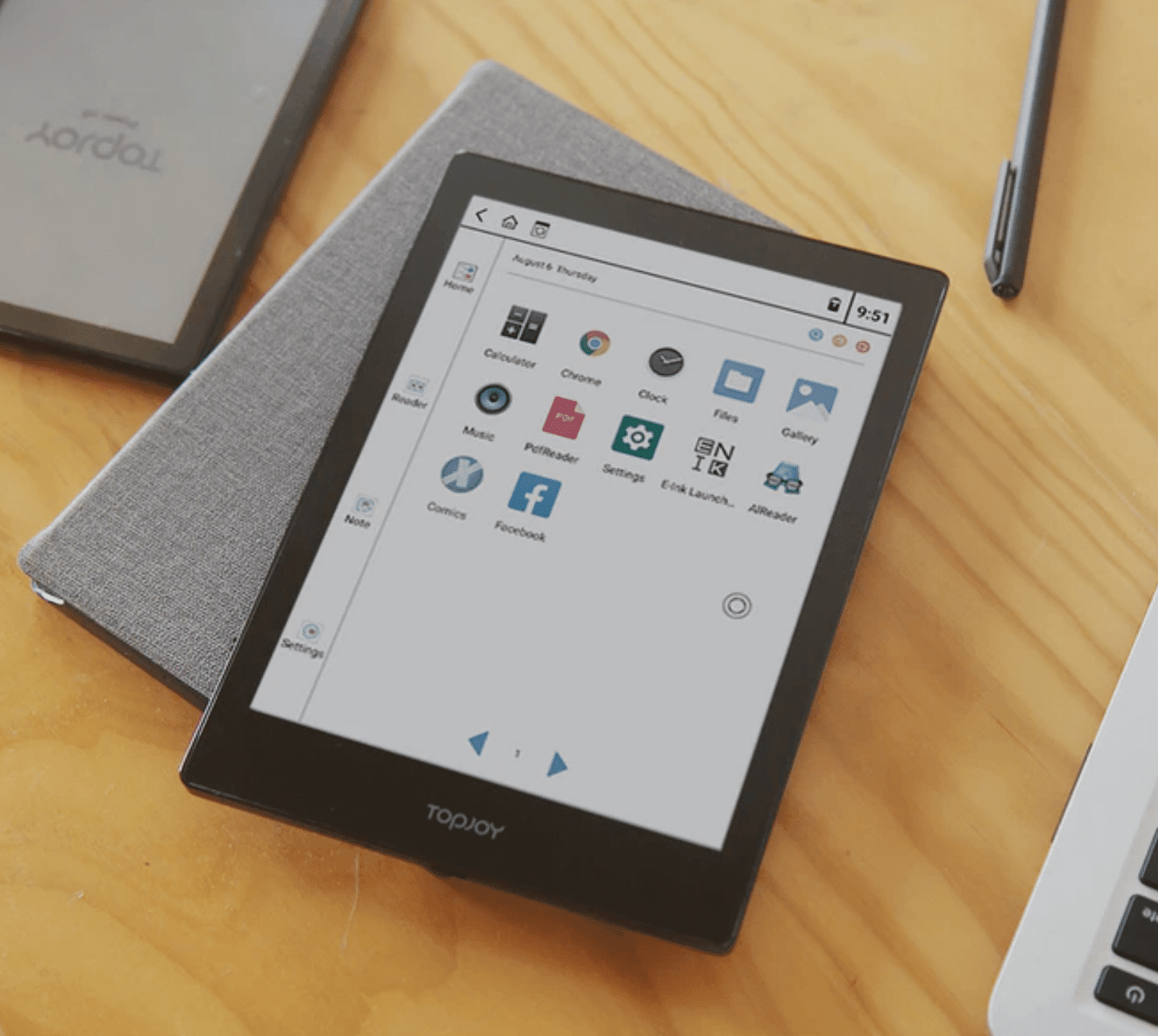 Specs
Specifications
TopJoy Butterfly 6-Inches
TopJoy Butterfly 7.8-Inches / 7.8-Inches Pro
Dimensions
153mm x 108.5mm x 7.5mm
193mm x 135mm x 7.9mm
Screen
6-Inches DES New Color E-Paper Screen
7.8-Inches DES New Color E-Paper Screen
Resolution
1072 x 1448
1404 x 1872
Black and White PPI
300 PPI
300 PPI
Color PPI
150 PPI
150 PPI
CPU
4-core 64-bit Cortex-A55; max 1.8GHz
4-core 64-bit Cortex-A55; max 1.8GHz
GPU
Mali-G52
Mali-G52
RAM
2GB LPDDR4

7.8-Inches: 2GB LPDDR4
7.8-Inches Pro: 4GB LPDDR4

Internal Storage
32GB

7.8-Inches: 32GB
7.8-Inches Pro: 64GB

Touch Screen
Capacitive touch full lamination technology
Capacitive touch full lamination technology
Stylus
None
4096 level with eraser
Reading Front Light
Yes
Yes
WiFi
802.11 b/g/n 2.4G
802.11 ac/b/g/n 2.4G/5G
Bluetooth
4.2 Bluetooth
4.2 Bluetooth
Speaker
None
1 x Built-in 0.8W speaker
Microphone
Noise-cancelling MIC (Dual MIC)
Noise-cancelling MIC (Dual MIC)
Battery
3.8V 1500mAh
3.8V 3200mAh
Standby Time
35 days
70 days
Charging
USB Type C (Supports charging, data transfer, OTG)
USB Type C (Supports charging, data transfer, OTG)
Material
Plastic (UV)
Plastic (UV)
Weight
185g
315g
OS
Android 11.0
Android 11.0
File Formats
PDF, ePub, TXT, DJVU, HTML, RTF, FB2, DOC, MOBI, CHM, etc.
PDF, ePub, TXT, DJVU, HTML, RTF, FB2, DOC, MOBI, CHM, etc.
With a 1404×1872 or 1072×1448 resolution and 300 PPI for black and white and 150 PPI color, TopJoy Butterfly has the best display in the market – especially its color display. Its DES technology, which promises 150 PPI color, beats out E Ink Kaleido Plus' 100 PPI for color. In case you're not aware, most of the colored e-readers today are equipped with the E Ink Kaleido Plus. This includes the Onyx Boox Nova 3 Color and Pocketbook Inkpad Color.
The TopJoy Butterfly also tops another e-reader that's using the same technology – the Reinkstone R1, which has a 300 PPI for black and white and 140 for color.
Now, you may notice the 6-Inch model's smaller battery capacity. Compared with other colored e-readers, it has a 1500mAh capacity while the PocketBook Inkpad Color has 2900mAh, Boox Nova 3 Color has 3150mAh, and the Reinsktone R1 has an impressive 4500mAh. This is expected, of course, since it is way smaller than the others.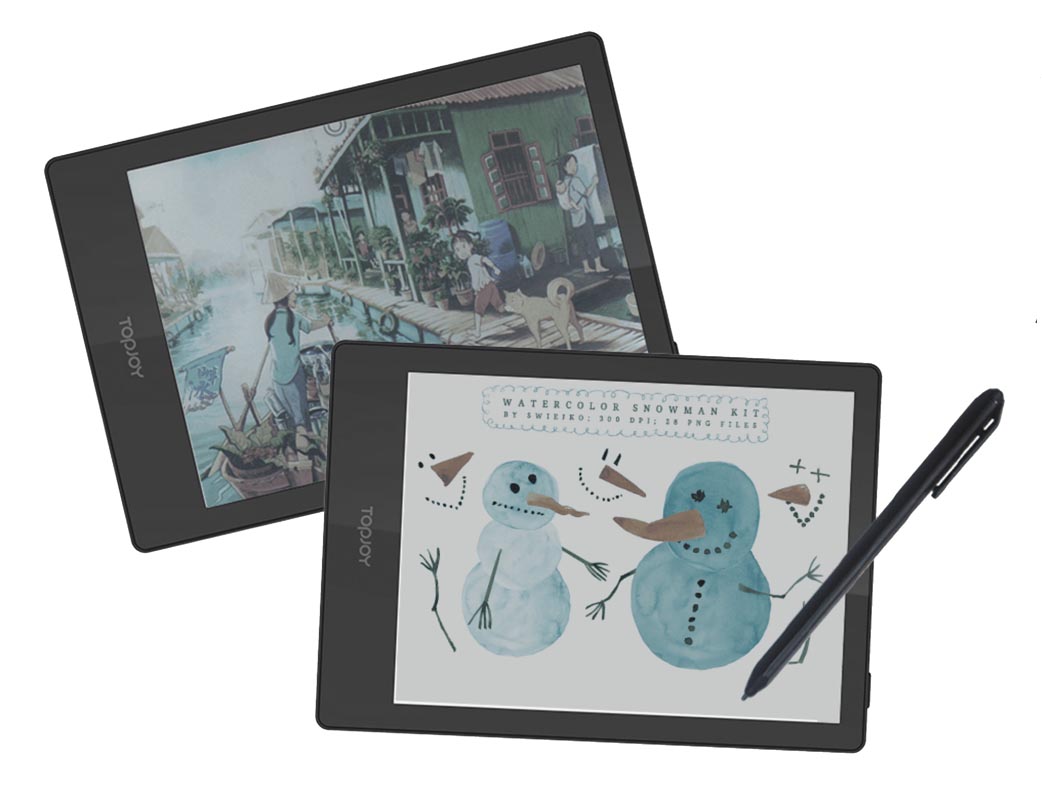 Aesthetics
TopJoy Butterfly is available in two sizes: 6 inches and 7.8 inches. The 7.8-inch models are a bit on the heavy side, weighing more than the Nova 3 Color and PocketBook Inkpad Color. They are also bigger, so we can't really say they are "Pocket-Sized." The 6-Inch model, however, is. It is light and small, and can easily fit in your bag or even your jacket's pockets.
That said, all TopJoy Butterfly models are portable, compact, and incredibly thin. This results in a simple and good-looking device that feels good to hold. But to get that thin and sleek aesthetics, TopJoy had to give up the audio jack. So if you're still using your wired earphones, they won't be of any use here. Luckily, you can still pair it with any other Bluetooth headset.
Final Thoughts
It's true. As far as displays go, this is the best color e-reader you've ever seen. With its higher resolution, DES technology, and market-leading color display, the TopJoy Butterfly is a great e-reader for those looking for a more vivid, real, and paper-like experience. Compared to other colored e-readers today, it offers better black and white contrast and an overall better display. This makes it perfect for creative professionals, artists, and everyday eBook readers. It's also ideal for children.
However, while the TopJoy Butterfly has a lot of neat features and looks very promising, it still needs some work. For one, running on Android 11 but not having Google apps or even Google Play Store is a big letdown. Hopefully, the company can work around this and offer an easier and more convenient option for readers rather than just rely on sideloading.
If you're interested in learning more about the TopJoy Butterfly make sure the check out the campaign on Kickstarter!
Last update on 2023-12-02 / Affiliate links / Images from Amazon Product Advertising API