ⓘ We are reader-supported and may earn a small commission at no additional cost to you if a purchase is made through one of our links.
Summary
The TruSens Z-1000 boasts a three-stage air purification system, UV-C sterilisation function, 360-degree air intake system, and a split airflow system. It has a total floor coverage of 23.2m2, making it ideal for small rooms. However, it lacks an air quality sensor and other features found on the larger models but is a good budget option nonetheless.
Pros
Three-layer filter system for optimum purification
Quality construction
High efficiency
Eliminates bad odour
Cons
Does not have an air quality sensor
Are you looking for an air purifier that is small yet powerful? Then keep reading TruSens Z-1000 air purifer review. It may just end your search! This air purification system is not only compact but also has all the features that one may look for in a standard air purifier. Plus, it is very easy to operate, thanks to its user-friendly design.
TruSens is known for making high-quality air purifiers, so you can buy the Z-1000 knowing that it will deliver great results. If this model is too small for your room, you can choose one that suits your needs from our list of best air purifiers.
Overview
With an airflow level of 2 cu m/hr, the TruSens Z-1000 air purifier can effectively remove pollutants and airborne particles from small rooms up to 23.2 m2. It utilises some of the most advanced air-purifying technologies used by most high-end air purifiers in the market like HEPA filters. In addition to this, the Z-1000 has great features that will completely change how you clean the air in your personal space.
It is built with every user's needs in mind, and also has a straightforward control panel that allows for quick and easy customisation. The good thing about this air purifier is that it sucks air from all directions for maximum purification. When placed at the centre of a room, it will help you get the job done in just a few minutes.
However, the purification time may vary depending on the concentration and types of particulates that you are dealing with and the volume of the room. Nestled in the TruSens Z-1000 air purifier is an advanced filter system that can capture pollutants of varying sizes. With this unit, you can filter out pollen, pet dander, bacteria, viruses, dust, VOCs, and many more.
The filtration is done in three phases to ensure the air you breathe is free of harmful particles. It doesn't end there; the TruSens Z-1000 features a self-sterilisation function for user convenience. As such, there will be no build-up of bacteria on the filters, meaning the air that comes out of the purifier will always be clean. On the flip side, the TruSens Z-1000 lacks an air quality indicator, a feature that is common in most air purifiers with a similar design.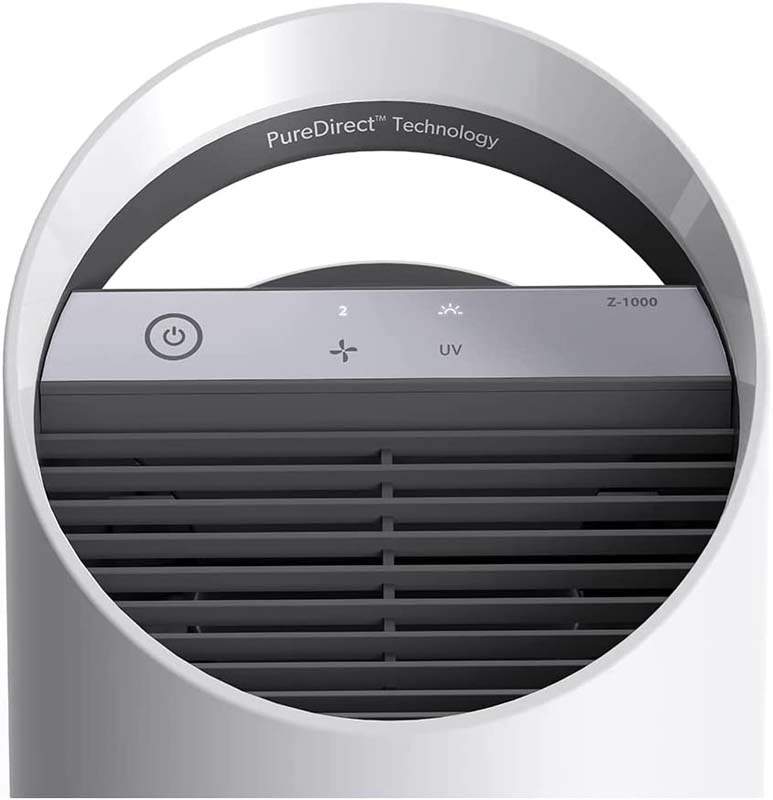 Features
360° air intake system
TruSens Z-1000 has a multi-directional air intake system, meaning it takes in air from all sides. That way, the unit can filter more air while using the least amount of energy. But most importantly, this feature allows the air purifier to capture all pollutants within the shortest time possible. This puts the Z-1000 a step ahead of air purifiers that only draw in air from one or two sides.
Multi-level filtration system
Equipped with a 3-level purification system, the Z-1000 can remove both small and large particulates from the air. The HEPA filter can capture minute particles that are as small as 0.3 µm, while the activated carbon filter removes odours, smoke, and gases. There is also a pre-filter that traps large particles such as dust, pet hair, dander, etc.
UV-C light sterilisation
If you know a thing or two about air purifiers, then you must be aware that they can turn into a cesspool of bacteria, viruses, and mould over time. It is for this reason that TruSens fitted the Z-1000 with a UV-C emitter to ensure bacteria-infested air is not re-circulated back into the room.
Adjustable fan speed
Depending on your needs, you can operate the TruSens Z-1000 air purifier at low speed or in turbo mode. The turbo function can come in handy when you want to purify the air in your room at a faster rate, while the low-speed mode is ideal for those who like leaving the air purifier running throughout the night.
Bidirectional airflow
Unlike most air purifiers that move air vertically, the Z-1000 features a bidirectional vent system that splits airflow into two streams, thereby allowing the purified air to reach all sections of the room. According to TruSens, this feature makes the Z-1000 24% more efficient than air purifiers that only use vertical delivery.
Built-in carry handle
For your convenience, this air purifier has an ergonomically designed handle that you can use when moving the unit from one spot to another.
Simple controls
The TruSens Z-1000 has an easy-to-use touch panel that will make your work easier when customising the system. Additionally, all the touch controls are placed within the user's reach and labelled for added convenience.
Quiet airflow
You would expect a device with an electric motor to generate a lot of noise during operation, but that is not the case with the TruSens Z-1000. It only produces 39 dB-65 dB, so it will all depend on the speed setting that is in use. The turbo mode is the loudest.
Specs
Product Dimension: 19.5 cm x 19.5 cm x 45.1 cm (D x W x H)
Purification Levels: 3
Room Coverage: 23.2 m2
Noise Level: 39 dB to 65 dB
Fan Speeds: 3
Weight: 4 Kilograms
Wattage: 40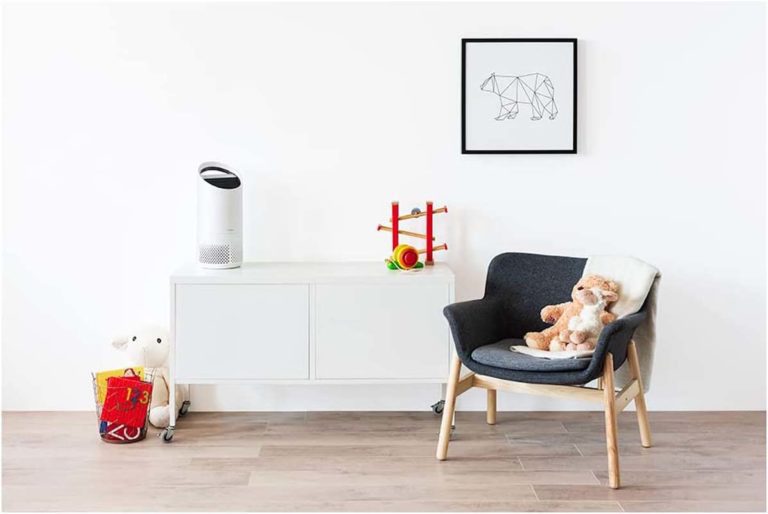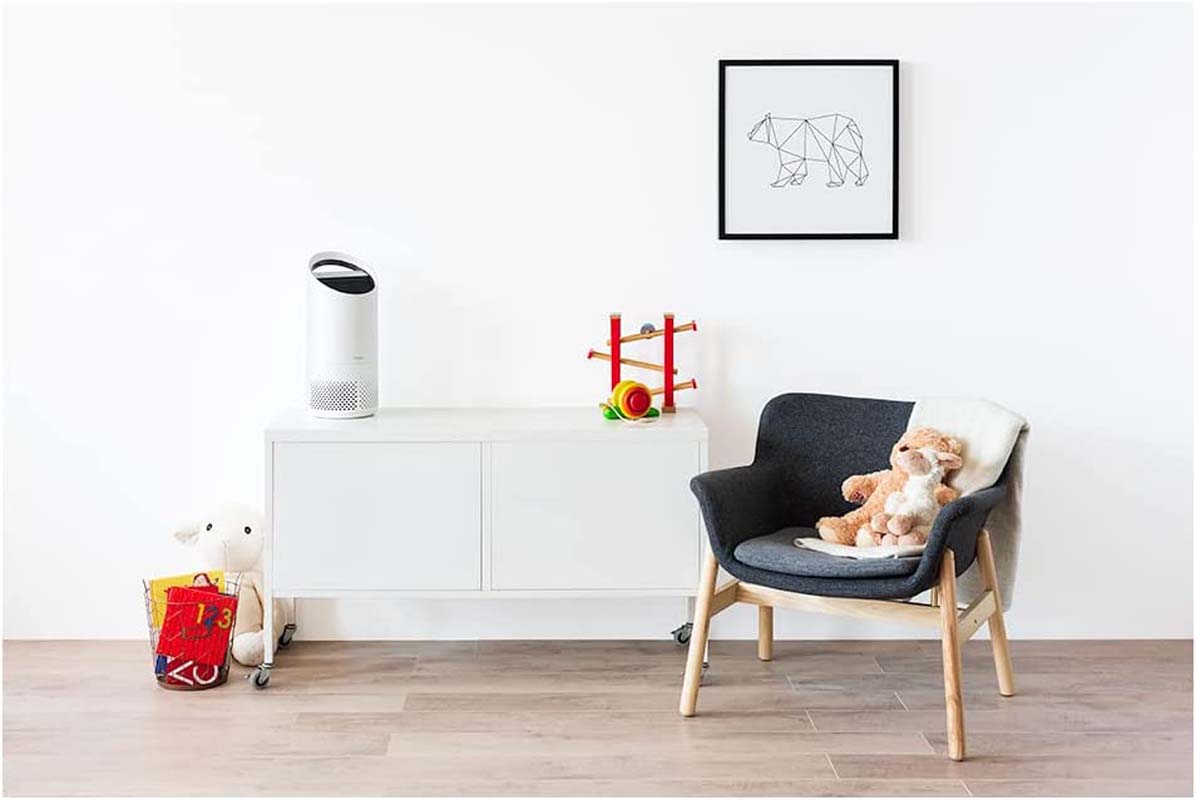 Design
The TruSens Z-1000 air purifier looks identical to the TruSens Z-2000 and TruSens Z-3000, but the two models are larger and also have additional features that you won't find on the Z-1000. The Z-2000 is designed for medium size rooms, while the Z-3000 is more suited for large rooms. This particular model is quite compact and can make a good tabletop air purifier.
Furthermore, it has a sleek design and can go well with most décor styles. The lower section of this air purifier has multiple vent holes that allow for fast intake of air, while the top grill has a louvre-like design to enhance airflow. Although the 40-watt motor on the TruSens Z-1000, it packs a lot of power and will help you get rid of common indoor pollutants.
The other thing that we liked about this air purifier is that it offers optimised operation modes that you can fully count on. With the control panel placed at the top, you can easily make use of the available functions. To add to its list of features, the Z-1000 has a built-in carry handle for easy portability.
Besides, it's equally lightweight, making it very easy to move from room to room. And the fact that the fan speed is adjustable means you can place the Z-1000 in your bedroom without worries. Even though it does not have a night mode like most air purifiers in its class, you can apply the lowest speed setting for undisturbed sleep.
The build quality is also excellent, so this air-purifying device won't break down, provided that you use it correctly. It comes with replaceable filters that you can swap after 3 to 6 months. This may, however, vary depending on the frequency of use, environmental factors, and air quality.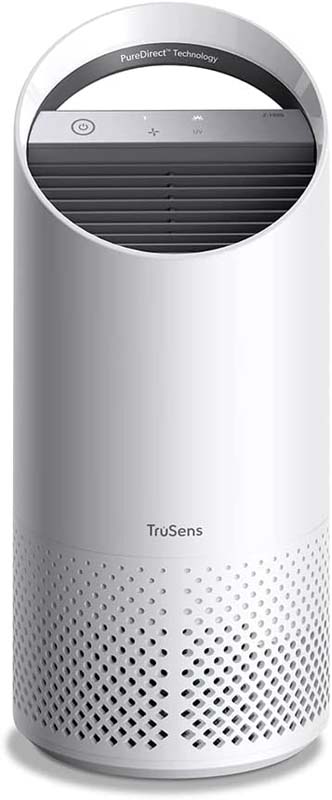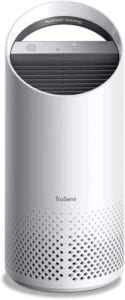 TruSens Z-1000 Air Purifier Review Summary
The Z-1000 can be a great choice for anyone who is looking for an air purifier for small rooms. Its stylish and minimalistic design allows it to blend well with most household appliances and furniture. That said, it can be a great addition to most modern setups.
As you have seen, it also has a range of features that can prove helpful when dealing with different types of indoor pollutants. Best of all, it has UV-light sterilisation, so you won't have to worry about inhaling harmful bacteria. Nonetheless, we feel that TruSens Z-1000 could be better if it had an air quality sensor and auto purification mode.