ⓘ We are reader-supported and may earn a small commission at no additional cost to you if a purchase is made through one of our links.
I'm not the biggest adrenaline junkie in the world but the Insta360 X3 still caught my attention due to its incredible versatility and its fantastic ability to capture all of the best moments, even if it is just a simple hike with friends. The 360-degree FOV ensures you never miss the moments that matter, transforming them into memories for a lifetime.
The Insta360 X3 has stiff competition in the crowded action camera (check out our best action camera article here) market but does a good job of differentiating itself as a stand-out 360-degree video camera. And this is where it truly excels and should be the primary reason to buy this camera. If you're more interested in traditional, single-lens footage then there are better options on the market from brands like GoPro and DJI that offer better resolutions and overall image quality.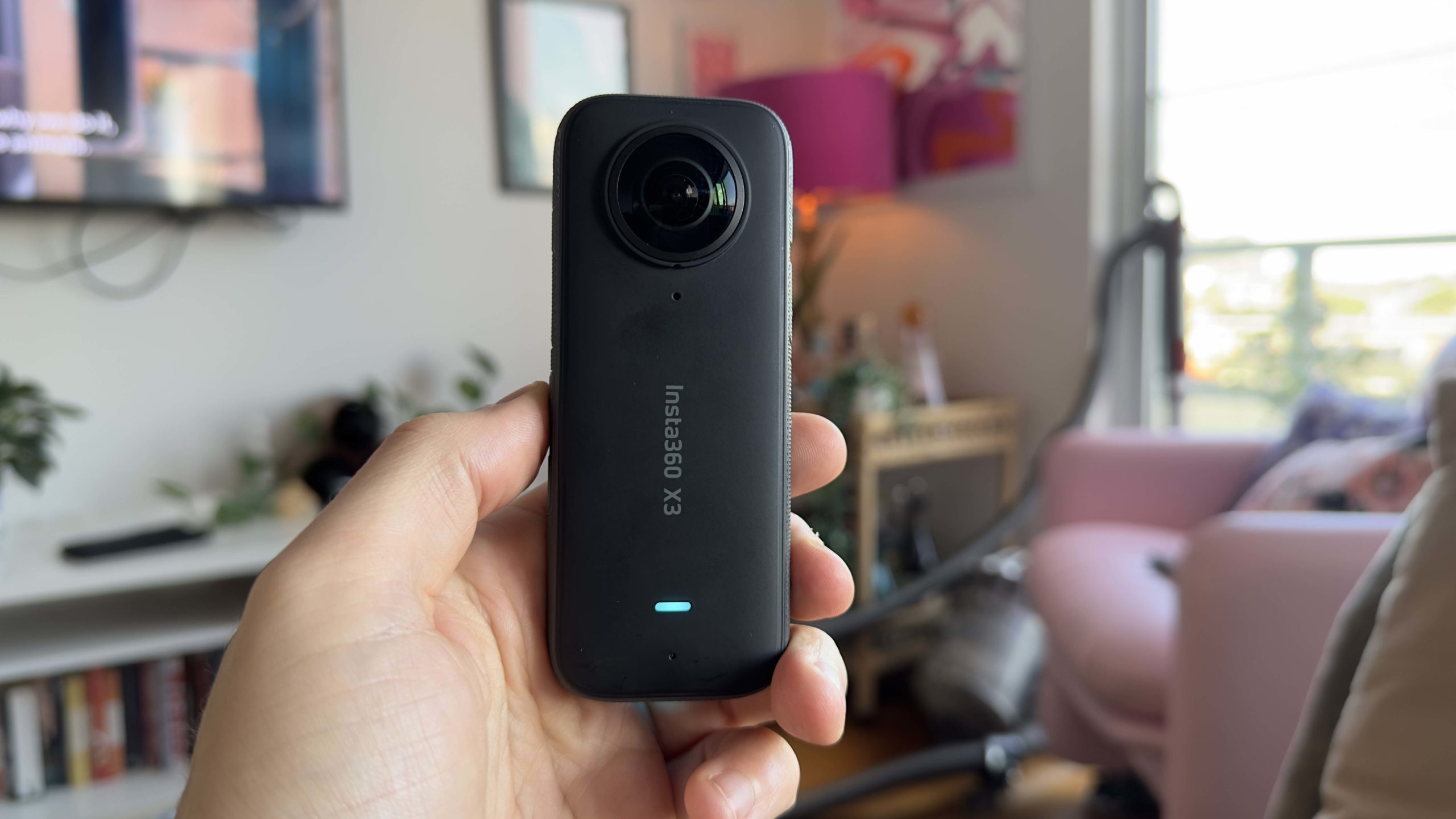 Using the Insta360 X3
I've used it to record some hikes with friends, record my football team's post-match celebration and just take it from a stroll through Melbourne CBD during the day and at night. I also found it to be a unique way to record conversations with friends. We rarely record the day-to-day conversations we share but recording them with this camera adds a unique touch and can candidly capture people being their true selves (once they forget about the camera).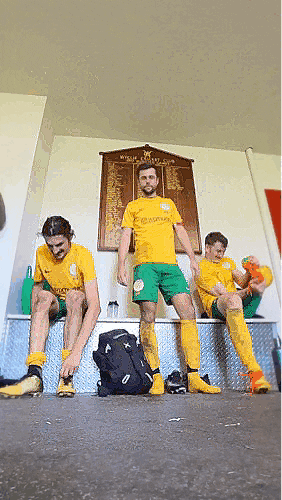 What I found the Insta360 to do exceptionally well is developing an editing system that is incredibly accessible even to newbies like myself. The companion app is excellent, offering a wide range of editing tools while keeping the entire experience simple and intuitive. The only real downside is that it limits the resolution on mobile apps, which is an issue solved by simply using the desktop editing tool, which admittedly I didn't use.
Another standout feature is Me Mode, which requires the selfie stick ( we also have a detailed breakdown on the best selfie sticks) to take advantage of, but it's certainly worth it. This mode will focus on the person holding the camera with the stick, which is edited out in real-time creating the illusion of a camera floating in front of you or behind. It really is cool stuff!
Design & Build
This is a brilliantly-designed device that's comfortable to use and delivers an overall great impression. It's subtly stylish, using a sleek and minimalist design that is both modern and functional. The tactile diamond pattern adds a lot of grips to minimise drops while also adding to the aesthetic.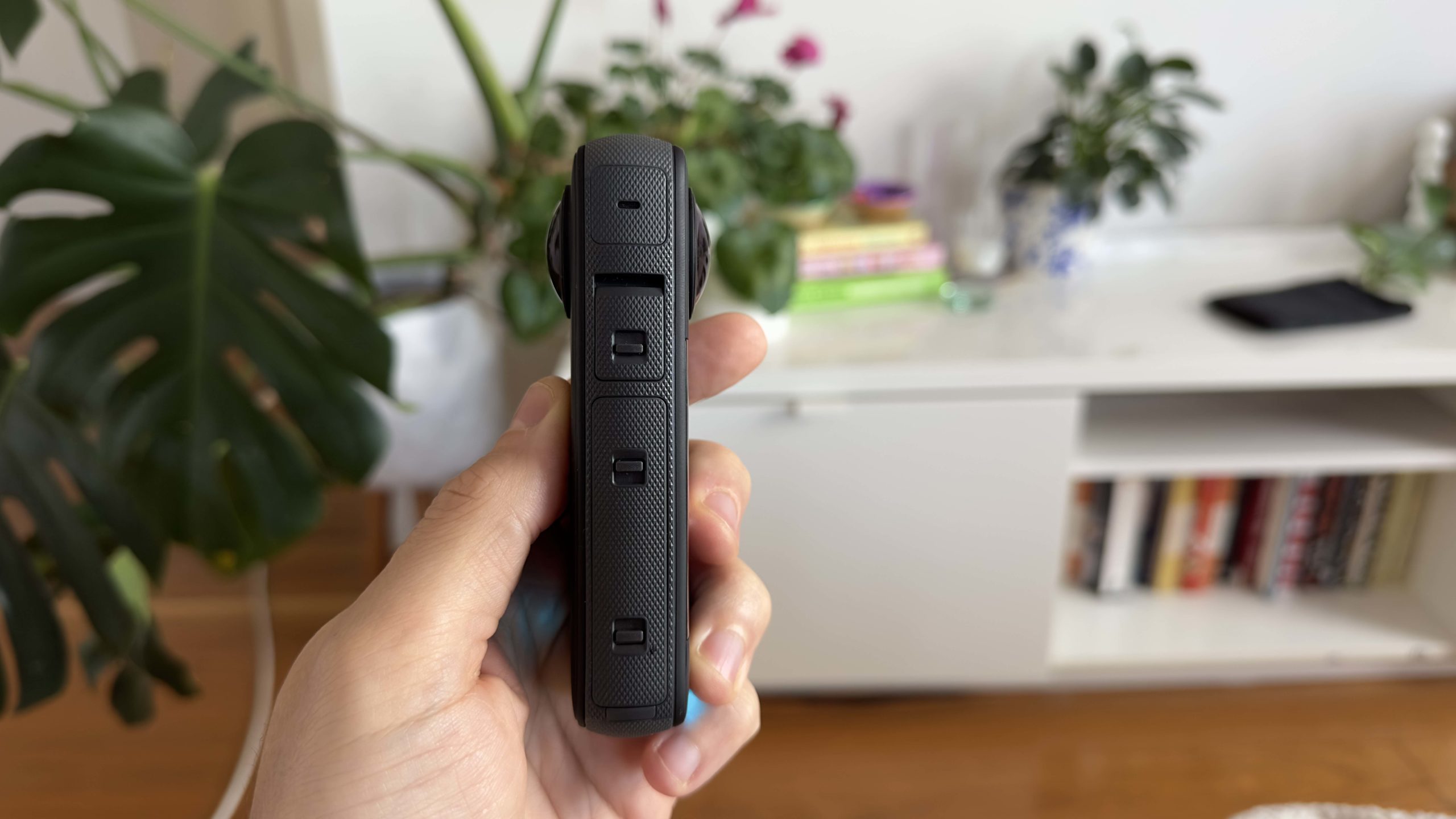 Its compact size doesn't compromise the range of features it boasts, blending form and function seamlessly. The matte finish not only adds an element of sophistication but also enhances durability, standing up to wear and tear that you expect with this type of device.
There are a total of four physical buttons used to navigate and use the device but the vast majority of functions are accessed using the touchscreen interface.  The touchscreen, which is both highly responsive and intuitive, allows users to navigate menus and change settings with aOnee or tap. In fact, one of the biggest upgrades over the X2 is the touchscreen which has been greatly improved in all aspects, especially size which has been increased from 1″ to 2.29″.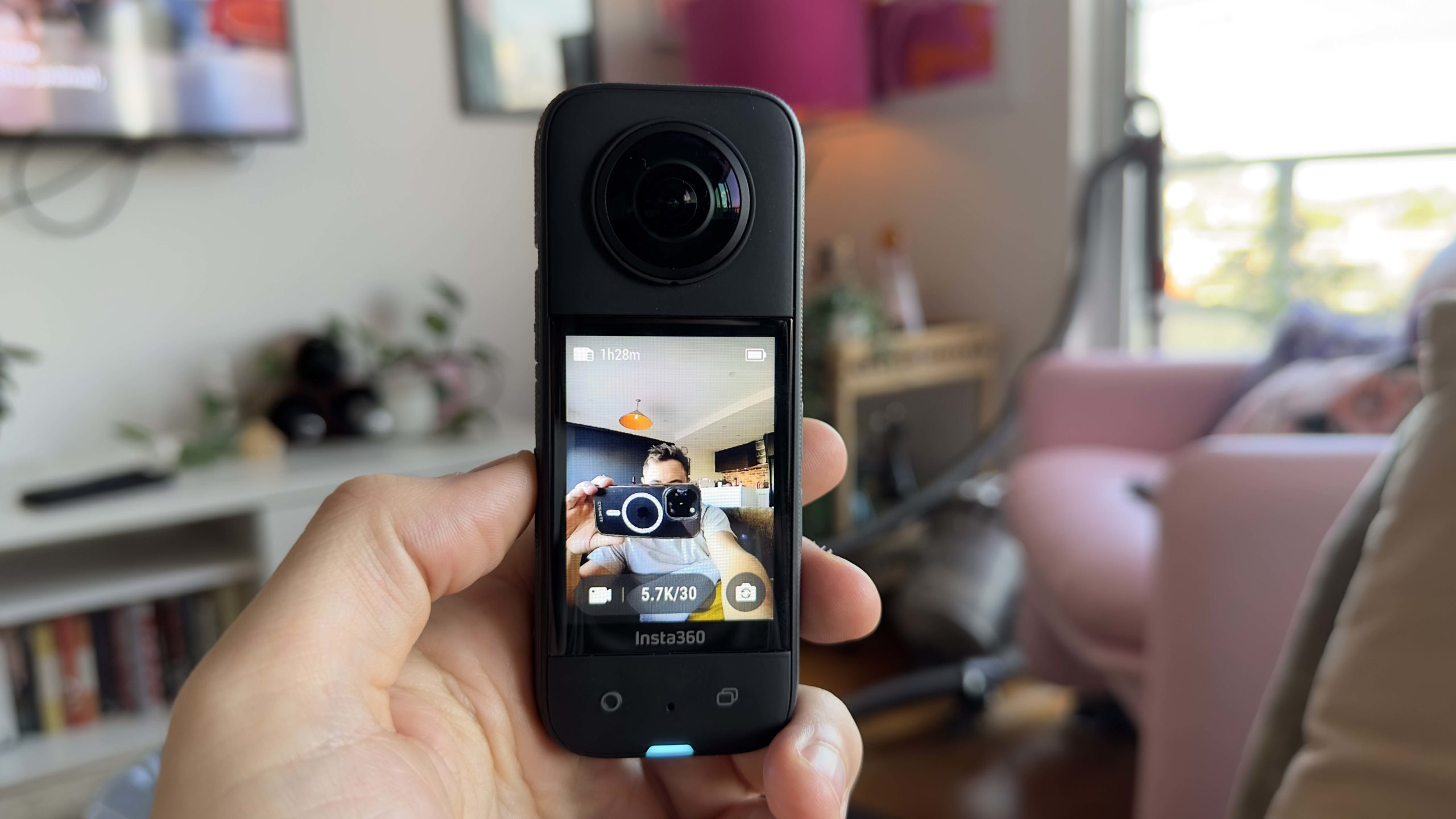 The only accessory I have used is the Invisible Selfie Stick which is clearly very high quality and durable. It's very comfortable to hold, not too heavy and has a good level of resistance when extending the stick.
Capabilities
This is a feature-packed action camera backed up by impressive hardware. From my usage, the battery lasts around 90 mins when recording at 5k resolution in the 360 mode, which is more often than not the mode that will be used. This is impressive and is thanks to its relatively large 1800mH battery, surpassing most action cameras on the market. If you're a power user and need more juice for your shots then the battery is very easy to swap in and out, so pick up a spare one if you plan on long shooting days.
The camera's picture quality doesn't disappoint either. It captures still images at up to 72MP in 360-degree mode, ensuring highly detailed and sharp photos. The camera offers seamless integration with the companion app, where you can fine-tune your settings and edit your captured content with ease. However, there are much better options on the market like the Xphase Pro S if you primarily plan on taking 360 photos.
As for single-lens photos they max out at 36MP and produce decent results but nothing to write home about. The photo below was shot on the Insta360 X3.
Full Spec List
The Insta360 X3 is a cutting-edge 360° action camera that offers a range of impressive specs.
Camera
Aperture: f1.9
35mm equivalent focal length: 67mm
Photo resolution: 72MP (11968×5984), 18MP (5952×2976)
Video resolution:

360: 57K (5760×2880) at 30/25/24fps, 4K (3840×1920) at 60/50/30/25/24fps, 3K (3008×1504) at 100fps
Single lens mode: 4K (3840×2160) at 30/25/24fps, 3.6K (3584×2016) at 60/50/30/25/24fps, 2.7K (2720×1530) at 60/50/30/25/24fps, 1080p (1920×1080) at 60/50/30/25/24fps

Photo format: INSP (can be exported via mobile app or desktop studio), DNG (RAW), PureShot photos (must be edited on desktop)
Video format: Single lens – MP4, 360 – INSV
Photo modes: Standard, HDR, Burst, Interval, Starlapse
Video modes: Standard, Active HDR, Timelapse, Timeshift, Bullet timeColourp recording, Prerecording
Colour profiles: Vivid, Standard, Log
Weight: 180g
Dimensions (W x H x D): 46.0 x 114.0 x 33.1mm
Run time: 81min
Max video bitrate: 120Mbps
Gyroscope: 6-axis gyroscope
Compatibility
Compatible with iOS devices with chips A11 or above and iOS version 11.0 or above
Compatible with Android devices with Kirin 980 and above chips, Snapdragon 845 and above chips, Exynos 9810 and above chips, and Tensor chips
Audio
Audio modes: Wind reduction, Stereo, Direction focus
Audio format: 48 kHz, 16-bits AAC
Connectivity
Bluetooth: BLE 5.0
WiFi: 2.4GHz, 5GHz, 802.11a/b/g/n/ac
USB: Type-C
MicroSD card: UHS-I, V30 speed class, exFAT format (SD cards with a max storage of 1TB are recommended)
Battery
Battery capacity: 1800mAh
Charging method: Type-C USB
Charging time: 90min (5V/3A)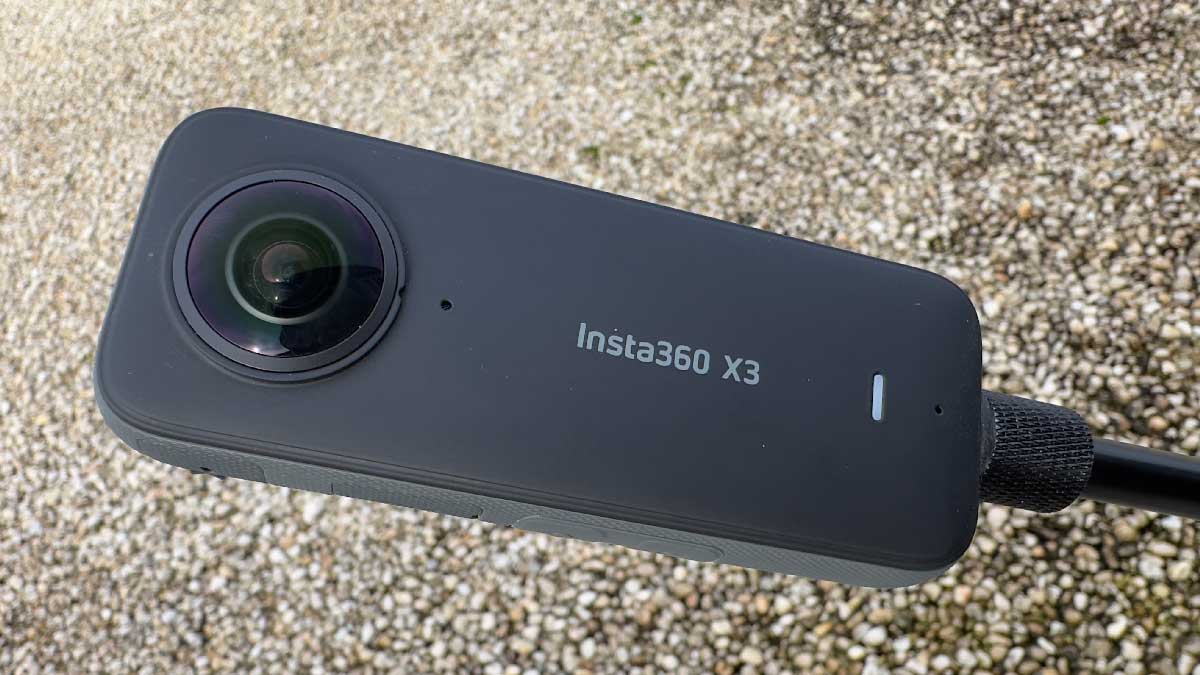 Conclusion
Wrapping up, I find the Insta360 X3 to be a remarkably versatile 360-degree action camera that consistently delivers high-quality video and photo content. Its unique features like Deep Track and Me Mode, along with its sleek design and sturdy build, make it my go-to device for capturing unforgettable moments in a distinctive way. The companion app's user-friendly editing tools are a breeze to use, even for a beginner like me, and the enhanced touchscreen interface significantly improves my user experience. Despite the fierce competition in the action camera market, the Insta360 X3 sets itself apart and is well worth considering if you're in the market for an action camera.