ⓘ We are reader-supported and may earn a small commission at no additional cost to you if a purchase is made through one of our links.
Design & Build -

0/10

Features -

0/10

Sound Quality -

0/10

Mic Quality -

0/10

Battery Life -

0/10

Comfort -

0/10

Total Value -

0/10

MONITORS -

0/10

Image Quality -

0/10

Refresh Rate -

0/10

Ports -

0/10
Summary
Mam2 is one of the most good-looking air purifiers around. With its fine white body, wooden stands, and small and lightweight build, this is an air purifier that will go perfectly well inside your home.
Pros
Sleek and modern look
Cost-efficient
Silent operation
High filtration rate
Cons
Ideal only for very small areas
With people spending more time indoors, air purifiers have seen a surge in popularity during the coronavirus pandemic. More so when makers started claiming their products protect against COVID-19 by catching the particles that carry the virus. This created a huge demand, so it's no surprise why there's always a new air purifier coming out, especially on the crowdfunding scene. There was the TCL Breeva, Briiv, portable HENiR, and lots more. But today, let's focus on the newest air purifier in the market – the Mam2.
Mam2 is an air purifier designed by Aiwanatech, which is a start-up company based in New York. It's meant to go with everything and serve as a decoration piece in your home. It also promises a premium triple-layer filter power that will purify polluted indoor air. But with the many air purifiers around, how does the Mam2 compare? Let's find out with this review.
Looking for something? Click on any of the links below to skip to that section.
Overview
Air purifiers are used to filter out the air you breathe while inside your home, office, school, or any other enclosed space. They are proven effective in removing pollen, dust, pollutants, pet dander, and even airborne viruses in the air. Thus, making your environment more pleasant and your indoor air quality better, cleaner, and easier to breathe. If you are suffering from allergies, air purifiers will also be useful in reducing stuffy nose, itchy throat, and other symptoms. That said, investing in a quality air purifier is always a good idea.
However, the problem with some air purifiers is that they are huge and unappealing, which makes them an eyesore. Some also come with a hefty price tag and are not very cost-efficient. Not to mention that most of the newer models coming out are too complicated for some people. So to solve these issues, Aiwanatech came up with an affordable and simple air purifier that will blend into any part of your home.
In terms of price, Mam2 has a retail price of US$149. But if you catch it on Indiegogo, it will cost less at US$89. At this price, the Mam2 is cheaper than some of the top small air purifiers around, including Coway AP-1512HH Mighty and Blueair Blue Pure 211+. It's also at the same price range as the Levoit LV-H132 Air Purifier.
Features
Triple-Layered Filter Technology
Mam2 is equipped with triple-layered filters developed with the company's technology. This allows it to filter out everything from larger dust particles to ultra-microdust. To help you understand better, here are Mam2's 3 stages of filtration:
Stage 1: Hypoallergenic Catechin Free Filter
The free filter is added with the safe and natural green tea extract of catechin, which helps eliminate germs and viruses. In its antibacterial test report, catechin has 99.9% effectiveness – which is pretty impressive.
Stage 2: HEPA H13 Filter
Just like some of the top small air purifiers around, Mam2 uses an H13 HEPA filter to capture 99.97% of ultra-fine microdust up to PM0.3μm. This puts the Mam2 at the same filtration level as the Levoit LV-H132 and Coway AP-1512HH Mighty.
Stage 3: Corrugate Filter
The last stage involves a corrugate filter, which is made with high-functioning active carbon. It is a mix of processed carbon and pulp, which captures foul odors and toxic gases at a molecular level.
Hurricane-Euro Structure
Mam2 has a hurricane-euro structure vortex where the air goes in and out. This design allows the path of the wind to flow like a hurricane's vortex, which then helps minimize air resistance. As a result, and with the help of the BLDC motor, the Mam2 can clean the air even with the lowest noise level. When you run it in sleep mode, its sound will be softer and quieter than a whisper. Even on turbo mode, it will only sound like a quiet conversation at home.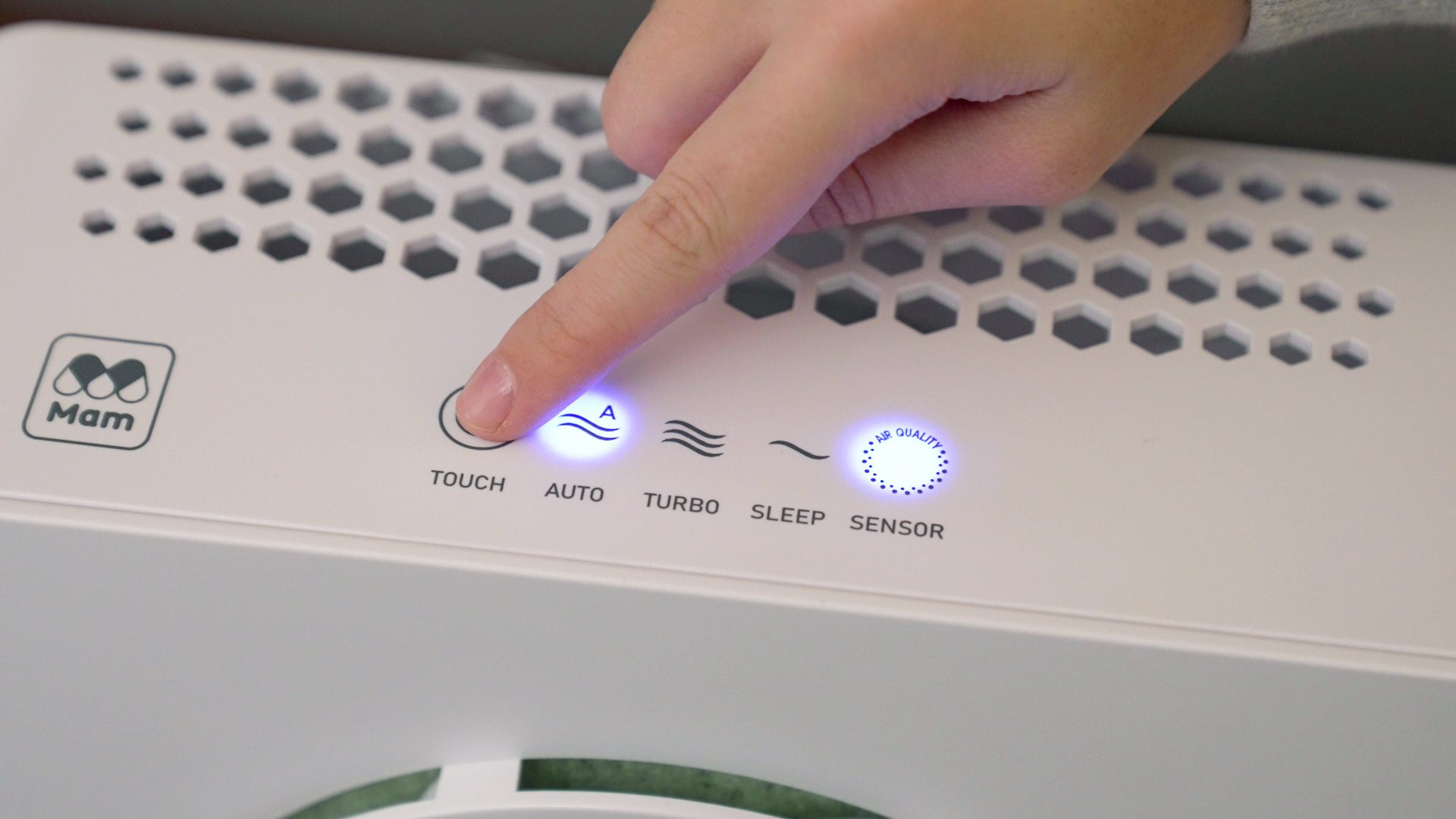 Cost-Efficient
One of the things you should look out for when buying an air purifier is its power consumption since you'll be running it pretty much every day. While some massive models are great in cleaning your air quality, they can be very expensive in the long run.
Now, the good thing about Mam2 is that you don't have to worry about your electricity bills. You can use it every day for 24 hours for a whole month, and it will only consume 2.2kW of electricity. If you run it at max power and live in Australia, where the average charge per kilowatt-hour is 34.41 cents, you'll only be paying an additional AU$18 for the whole month.
Additionally, Mam2's extra filters are also affordable at US$16 if you catch them on Indiegogo. It is cheaper than Coway AP-1512HH's replacement filter and Blueair Blue Pure 211+ replacement filter. Typically, most air purifiers need their filters changed every 6 months. So this is an additional expense you should consider.
Specs
Dimensions (L x W x H)
10.23in x 4.92in x 10.82in (260mm x 125mm x 275mm)
Materials
Plastic (ABS, PP)
Weight

Without filter and packaging: Approx. 2.64lbs
With filter and packaging: 3.96lbs

Power
DC 5.0V
Power Consumption
Max 0.6A / Min 0.3A
Effective Area (CADR)
30 m³/h
Power Cable
USB-C
Noise Levels

Sleep Mode: about 25.6 dBA
Turbo Mode: below 49 dBA

Certifications
USA (FCC), Europe (CE), Japan (PSE), UAE (ECAS), South Korea (KC), ROHS certified
Filter Material 
Catechin + Non-woven fabric + Corrugate
Filter Size
9.37in x 7.80in x 1.10in (238mm x 198mm x 27.9mm)
Filter Weight
About 0.66lbs
Regular air purifiers are often equipped with brushed DC motors where the blades and brushes rotate. This creates friction on the motor's carbon brushes, resulting in natural wear over time. That said, appliances that use such motors will require some sort of maintenance. Aside from that, they also have shorter lifespans, are not able to control their speed accurately, and are noisier due to friction.
Now, to avoid such issues, Mam2 was installed with a brushless DC (BLDC) motor, which is also used in some of Samsung's electronic devices. As a result, it's quieter, more efficient, and has a longer lifespan.
However, the Mam2 air purifier only has 30 m³/h CADR. Compared to Levoit LV-H132, which is another popular air purifier for small rooms and is also at the same price range, Mam2 is trailing far behind. Levoit LV-H132 has a 40 cfm or 68 m³/h rating. CADR is one of the things you should look for in an air purifier. This will give you an idea of a product's effectiveness in cleaning the air – the higher the number, the higher its efficiency at cleaning and purifying indoor air.
Also, according to AHAM, if you multiply the CADR to 1.55, you can get the ideal room size of a purifying product. So for Mam2, its 30 m³/h CADR is ideal for a room size of around 27 sq ft. or only 2.5 sq meters. So it'll take a lot of time before it can completely clean the air in a room.
Aesthetics
The biggest appeal of Mam2 is its aesthetics and design. It is compact, lightweight, and incredibly slim. Its white-colored body and wooden stands also give it a modern and luxurious look. Thus, making the Mam2 fit for any part of your home, from your bedroom, kitchen, and living room.
Another thing worth mentioning, the Mam2 has a small window at the center where you can easily check the condition of the filter. This allows you to immediately know whether or not you need to change the filter. Plus, it gives you an idea of how fresh or polluted your indoor air might be.
Mam2 also has an LED lights indicator, which lets you see the quality of the air you are breathing. For instance, blue light means your indoor air is clean, a green light means it's average, and a red light means it's bad.
Final Thoughts
If you're looking for a beautiful and small air purifier that can match every room and furniture in your house, then the Mam2 is certainly a good option. Its modern and sleek look will go well with everything and everywhere, from your kitchen to bedroom and even your living room. Plus, it's simple, easy to operate, and cost-efficient, you'll have no problem using it every day. It's also very quiet so it won't bother you while studying or sleeping.
However, with a low CADR, the Mam2 is only ideal for small areas. That said, if you're looking for an air purifier with the most power, speed, and efficiency in cleaning your indoor air, then this might not be your best option.