ⓘ We are reader-supported and may earn a small commission at no additional cost to you if a purchase is made through one of our links.
Product Name: Mifo O5 Plus Gen 2
Summary
The Mifo O5 Plus Gen 2 earbuds deliver high-quality audio with minimal base and average mids. They'll provide you with a total playtime of up to 100 hours. These earbuds are IPX7 waterproof, use Bluetooth 5.0 technology, and are compatible with both Alexa and Siri. They are a great budget option, but may not meet the needs of audiophiles.
Pros
Quality construction
Excellent battery life
Offers great value for money
Interchangeable ear tips
Cons
Does not support wireless charging
The case is rather heavy
Being an improvement of the original model, the Mifo O5 Plus Gen 2 offers more features and greater performance than its predecessor. Additionally, these earbuds are reasonably priced and will only set you back around $160. However, they are a bit cheaper on the Mifo website.
As with most gadgets and audio devices, there is always more than meets the eye, so continue reading this Mifo O5 Plus Gen 2 review to get all the info that you need about this product.
Overview
Mifo has done a great job with the O5 Plus Gen 2. We are particularly impressed with its long playtime, thanks to the large capacity battery. The earbuds come with a carrying case that doubles as a power bank. Equipped with a 2600mAh battery, the case can help you charge your smartphone and other devices on the go.
In addition to this, the earbuds feature 60mAh batteries that will provide you with up to 7 hours of continuous playtime. Amazing right? Each of the earbuds has buttons that will give you quick access to the audio functions. That said, the Mifo O5 Plus Gen 2 may not suit those who prefer wireless earbuds with smart touch controls. This device utilises Bluetooth 5.0 technology for reliable wireless connection up to 12 meters, making it somewhat similar to the Sony WF-1000XM3.
With the Bluetooth chipset in place, you can enjoy your favourite tunes even without being close to the paired device. If you are worried about compatibility, the Mifo O5 Plus Gen 2 supports both Android and iOS operating systems. It also has a quick pairing function that will get you connected in seconds. On the flip side, the O5 Plus Gen 2 does not have a companion app like most wireless earbuds with a similar design.
Mifo claims the earbuds feature built-in auto-tuning firmware for enhanced performance. Still, we feel the Mifo O5 Plus Gen 2 could be better if it had a partner app, as this would allow you to adjust the settings from your smartphone. Also, the earbuds can be quite uncomfortable when you press the buttons since this pushes the ear tips deeper into the ear canal.
Features
Transparency mode
The problem with most earphones is that they completely block ambient sounds. This is not a disadvantage, since we all know the benefits of active noise cancellation. To ensure that you get the best experience, Mifo designed the O5 Plus Gen 2 earbuds in such a way that users can juggle between what they are listening to and the surrounding sounds. This feature can be a lifesaver when crossing the road or when engaging in activities that require partial attention.
Interchangeable ear tips
One of the things that you need to take into account when buying earbuds is comfort. And that is why Mifo provides you with different sizes of ear tips to help the user find the perfect fit for their ear canal.
Long battery life
The Mifo O5 Plus Gen 2 offers a longer playtime compared to most wireless budget earphones on the market. We reckon you'll love the charging case. The built-in battery will allow you to charge the mini batteries on the earbuds to full capacity without using up all the juice. You'll get up to 100 hours of continuous playtime.
Built-in microphones
The Mifo O5 Plus Gen 2 earbuds are fitted with microphones, meaning you can comfortably answer calls without touching your smartphone. This allows for hands-free operation when you are at the gym.
Passive noise cancellation
Mifo's earbuds can effectively block high-frequency and irregular outside noise, allowing you to enjoy the music. If you pair this feature with the transparency mode, you'll be able to customise the earbuds to match your needs when commuting.
IPX7 waterproof
These earbuds are tightly sealed to prevent the ingress of sweat, water, and dust. The nano-coating keeps rust at bay and also protects the delicate components from the elements. You can even use these earbuds in the rain.
Specs
Form Factor: In-ear
Connectivity: Bluetooth 5.0 (12 m range)
Product Weight: Approx. 4.5 grams
Playtime: 100 hours
Noise-cancelling: Yes
Waterproof: IPX7
Wireless Charging: No
Built-in Microphone: Yes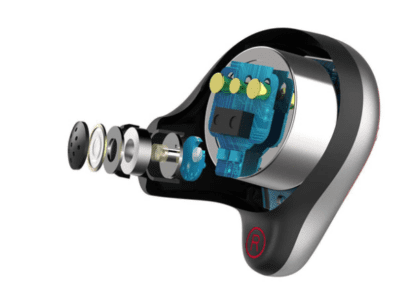 Design
The Mifo O5 Plus Gen 2 true wireless earbuds are shaped like teardrops and come with well-designed ear tips that offer comfort. To make them even better, the ear tips are interchangeable, so you can customise the earbuds according to your preference. The ear tips will provide you with a secure fit, so you won't have to worry about the earbuds falling off.
As such, you can use these wireless earbuds when jogging, weight training, or during yoga. The included charging case is built like a tank. It is made of high-quality aluminium, a material that is both durable and lightweight. However, some users still find the charging case a bit heavy. The earbud housings are made of the same material and also utilise vacuform technology to prevent conduction. This means the earbuds won't in any way be affected by heat or cold.
When it comes to performance, the earbuds deliver high-quality sound, but the bass is not that great. The max volume is also low compared to most true wireless earphones in its class. More to this, the mid is average. Although Mifo claims it studied more than 2000 earbuds before coming up with this product, its design still needs a lot of improvement.
For starters, the use of buttons to control basic functions takes away a few points from the O5 Plus Gen 2. Secondly, the case could be smaller and lighter. This will make it more pocket friendly, thus allowing for easy portability when going for a run or taking part in other physical activities. For the price, we really can't complain much, since the product offers the bare basics and has all features that one may look for in true wireless earphones.
Mifo O5 Plus Gen 2 Review Australia Round-up
Now that you are done reading our Mifo O5 Plus Gen 2 review, here are the key points that you should take home. This device is reasonably priced, durably built, and comfortable to use. Well except when pressing the buttons on the earbuds.
The fact that the earbuds are waterproof means you can use them even when you are drenched in sweat. They can also withstand rain, making them even more convenient for outdoor enthusiasts. And because the earbuds have built-in microphones, you can take calls with ease.