ⓘ We are reader-supported and may earn a small commission at no additional cost to you if a purchase is made through one of our links.
Design & Build -

0/10

Features -

0/10

Sound Quality -

0/10

Mic Quality -

0/10

Battery Life -

0/10

Comfort -

0/10

Total Value -

0/10

MONITORS -

0/10

Image Quality -

0/10

Refresh Rate -

0/10

Ports -

0/10
Summary
During these difficult times with coronavirus cases still on the rise, having other methods to protect you and yourself is vital. So if you want to stay ahead and prevent germs, bacteria, and viruses from entering your home, consider trying the Therapy 365-V1. It is 99.9% effective in getting rid of harmful microbes and is safe for humans, too.
Pros
Offers sterilizing light and white light
Motion detection
Safe and effective
Cons
No timer setting
No remote control
With the spread of COVID-19, people have become more conscious of their health and well-being. There is also more awareness of germs, viruses, and bacteria and a realization that they can be found on just about any surface. So it's no wonder why there are suddenly a lot of products designed to protect you from these disease-causing microorganisms. Here at MrGadget alone, we were able to review the Mam2 Air Purifier and the CleanseBot, which is a pocket-sized smart robot that kills germs. And today, we will focus on yet another new product that claims to eliminate germs, including coronavirus – the Therapy 365-V1.
The Therapy 365-V1 is a multipurpose sterilizer that not only eliminates germs but also acts as a regular lamp. It is said to be as effective as UV lamps, but only safer. How is this possible? Let's find out in this review. Don't have time to read the whole thing? No problem. Just click on any of the links below to find what you are looking for.
Overview
One of the things we've learned during the COVID-19 pandemic is how fast germs and viruses spread. By simply coming in contact with an object or surface that an infected person held and then holding another item like your phone or keys, you can bring home these harmful microorganisms and cause you and your family to feel sick. Not to mention that germs are practically everywhere. While you can't see it with your eyes, it is in the air, food, and on just about every other surface. So while your home may seem clean and neat, it may be full of harmful microbes.
One way to eliminate germs is by using UVC, UVB, and UVA devices. However, they can be hazardous to humans and they can emit ozone, which if inhaled can irritate the airways. UVB and UVA radiations are also known to increase the risk of skin cancer. So instead of ultraviolet light, the makers behind the Therapy 365-V1 utilized visible light in the range of 405nm – which is considered harmless to humans.
In terms of price, the Therapy 365-V1 has a list price of US$113. Sure, it's more expensive than many of the UV lamps or UV wands around, like the FiGoal Ultraviolet Germicidal Lamp and UVILIZER Tower. But it is at the same price point as the Fine Art Lighting UV Light, which also has a motion sensor.
You can, however, try the Therapy 365-V1 at a much cheaper price when you catch its campaign on Kickstarter. Super early bird backers get to enjoy 40% off on this new product and pay only US$68, while early bird backers get 30% off.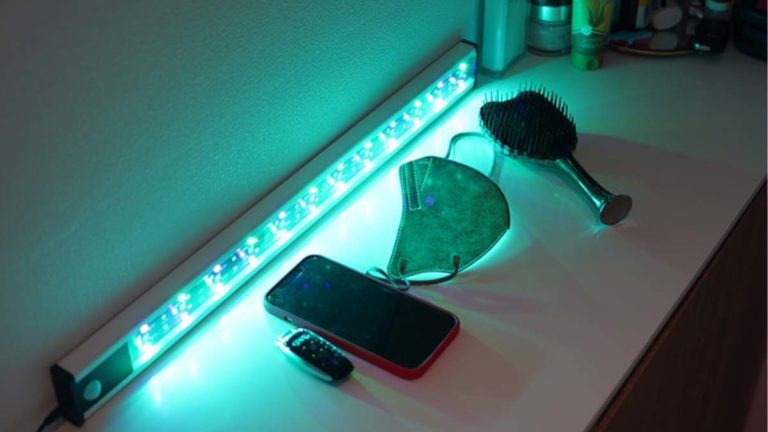 Features
99.9% Sterilizing
The Therapy 365-V1 claims it can kill E. coli, mold, salmonella, Staphylococcus aureus, and bacteria. This can be backed up by a study in the Scientific World Journal, which found visible light in the range of 405nm to be effective against diverse types of bacteria in liquids and surfaces. There was also a study in 2021 that proved it was effective against SARS-CoV-2, which is the virus that causes coronavirus disease. So by installing it in your home, you are adding another layer of protection for you and your family and reducing the risk of someone getting sick.
Harmless Light
What's great about the Therapy 365-V1 is that it utilizes a completely harmless light. With a wavelength of 405nm, it is well within what is considered as the "Visible light safety zone". Unlike UVC, UVB, and UVA, it does not emit toxic waves and ozone. So with it, you'll feel more at ease even with kids or pets around.
Motion Detection and Auto Mode
While the Therapy 365-V1 is harmless, direct exposure to its light can still cause damage to your eyes. Luckily, it has an auto mode and is equipped with a motion sensor. In this mode, it automatically turns off the sterilizing light and turns on the white light when movement is detected. Not only does this keep you safe, but it also helps you see your surroundings better.
Multipurpose
Therapy 365-V1 is not only a LED sterilizing lamp, but it can also be used as a regular lamp. So when it's not busy cleaning and sterilizing your things, it can provide you with white light to see what's around you. This makes it a perfect addition to your kitchen, bathroom, shoe cabinet, and wardrobe because not only will it clean these germiest places, but you also don't have to turn on the other lights to see what you are looking for.
By the way, you have the option to let the lamp stay sterilizing or have it on white light mode, too.
Specs
Controls

Off
White Light
Sterilize
Auto

Weight
540g
Dimensions
600 x 55 x 22 mm (23.62 x 2.16 x 1.1 inches)
Materials 

Housing: aluminum
Each Cover: ABS
Cover: PC

Sterilization LED

15W
Multi-wavelength visible light
Sterilization package 36 chips

White LED
Input
AC 100 – 240Vac, 50/60Hz 0.6A
Output
12V, 1500mA
The biggest difference of the Therapy 365-V1 from other UV lamps is that it uses a wavelength of 405nm. Others like the Fine Art Lighting, UVILIZER Tower, and FiGoal Germicidal UV Lamp uses UVC technology. According to the FDA, UVC lamps used for disinfection can pose potential health and safety risks depending on the dose and UVC wavelength. For instance, direct exposure of the skin or eyes to UVC radiation from these lamps can cause painful eye injuries and burn-like skin reactions. Some UVC lamps also generate ozone.
With Therapy 365-V1, however, these are non-issues. But, your eyes will get damaged if you look directly at the visible light it produces. So when it comes to these types of lamps, never look directly at the source of light.
Another benefit of the Therapy 365-V1 is its multifunctionality. Compared to the UV lamps we've mentioned, it's the only one that offers a white light option. And aside from Fine Art Lighting, others don't have motion detection as well. But on the downside, it doesn't have a remote controller or timer setting like the others.
Design
The Therapy 365-V1 is a simple bar light, which makes it more elegant and discreet than other UV lamps. It is minimalistic, so it goes great with anything – on the shelf, wall, floor, or cabinet. It even comes with silicone double-sided tape so you can easily hang it anywhere you want.
Final Thoughts
With its design, multifunctionality, and effectiveness, the Therapy 365-V1 is a great choice if you are looking for a disinfecting lamp. It works well in reducing the spread of germs, bacteria, and viruses, and is even effective against SARS-CoV-2, which is the virus that causes the coronavirus disease. Sure, it doesn't 100% protect you from getting sick or catching COVID, but it will help you prevent it.
The problem with products like the Therapy 365-V1 is that it is hard to tell if it's really working. Well, unless you perform some tests. But if you trust the science behind it, you'll know that it is. Besides, with the COVID-19 still very much affecting and disrupting lives across the world, it's better to be safe than sorry, right?