ⓘ We are reader-supported and may earn a small commission at no additional cost to you if a purchase is made through one of our links.
Keeping all of your gadgets fully charged can be a bit of a task these days. Thankfully Belkin has designed a convenient and versatile way to charge all your devices simultaneously – the Belkin BoostCharge Pro 3-in-1 Wireless Charging Pad.
This sleek and stylish charging pad offers a triple charging solution for your iPhone, Apple Watch, and AirPods, all in one compact and easy-to-use package. And if you're not an Apple user worry not, this device works with any compatible wireless charging capable device.
With its Qi certification and fast charging capabilities, the BoostCharge Pro ensures that your devices will be charged quickly and efficiently. Plus, its intuitive ergonomic design means that you can place your devices on the pad and let it do the rest, without worrying about tangled cords or the hassle of multiple chargers.
Design
Belkin has opted for a minimalist aesthetic that uses a matte off-white colour and simple round edges. It's pleasant to look at and fits in well with almost any desk aesthetic you already have.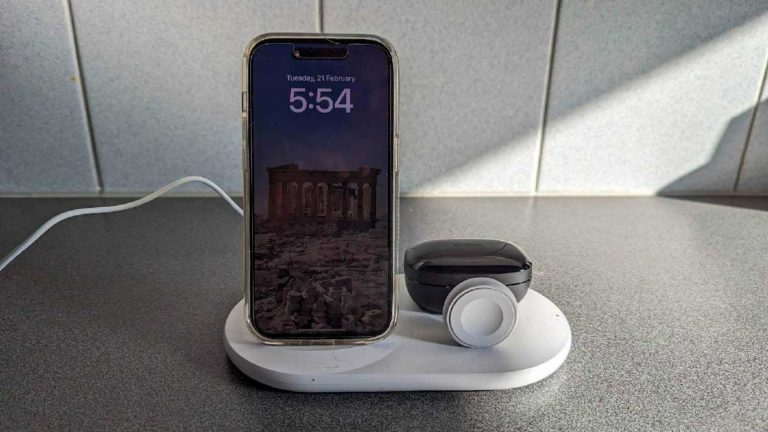 It has a small footprint measuring approximately 8 inches by 4 inches so it won't dominate your bedside table. Thanks to the clever design Belkin were still able to support wireless charging for 3 devices with this footprint.
The phone support angles the phone so you can easily check your notifications or take a video call. The only downside of this design choice is the lack of angle adjustments. It also makes it difficult to travel with due to the height of the phone support and its potential to break or simply just take up precious bag space.
There is an LED light to indicate when a device is charging which is a nice quality-of-life design choice. For example, not all wireless earbuds have a charging indicator light on the case which can be annoying, but the LED light will let you know.
Overall the design is excellent if you plan on keeping it in one place which the vast majority of people will.
Charging Speeds
Wireless charging speeds are never up to the same standard as wired options but Belkin the 7.5W wireless charger for the phone section is respectable. It will take around 5 hours to fully charge an iPhone 14 Pro which isn't particularly quick, but that's not really the intended purpose of a wireless charger. They are for keeping your device topped up – which is exactly what it does well.
For the smartwatch and earbud section of the charger, Belkin has opted for a 5W output. This doesn't sound like much, but the batteries on watches and earbud cases are relatively small, and from my experience charge my NuraTrue Pro Earbuds case from 0% to 100% in just over an hour.
Daily Usage
This is the first wireless charger I have owned and I am surprised at how useful it is. Just being able to place something down, knowing it's charging and will be ready to go when you need it never gets old. I never have to look around for cables any more or use the USB-c ports on my mac (which do deteriorate over time).
There would be times when I wanted to go to the gym but my earbuds weren't charged. This hasn't happened a single time in the few weeks that I have owned this wireless charger.
Would I Recommend the Belkin BoostCharge Pro 3-in-1 Wireless Charging Pad
Yes, this is a very useful and well-designed wireless charger that solves charging issues and adds a lot of conveniences. I am surprised at how much I enjoy using the device, but I am more surprised that I have never owned this type of device before now. Well, better late than never!