ⓘ We are reader-supported and may earn a small commission at no additional cost to you if a purchase is made through one of our links.
Summary
The NuraTrue Pro earbuds will provide you with CD-quality audio, thanks to Qualcomm's aptX Lossless codec. Additionally, the buds deliver unrivalled personalised sound and also have adaptive active noise cancellation for crystal-clear sound. The only gripe is that you'll need an aptX-compatible device to enjoy lossless audio when using these buds.
All factors considered, the NuraTrue Pro Earbuds are feature-packed, offer excellent audio quality and look very stylish.
Pros
Adaptive ANC
Multipoint connectivity
IPX4 water resistant
Spatial audio
Cons
Lossless audio is limited to aptX devices
Australia's Nura is known for its high-performance earbuds and headphones. And the NuraTrue Pro earbuds are no different from what the brand has been offering. If you didn't get a chance to try these earbuds during Nura's Kickstarter campaign, now is the time. But first, you need to know what you are getting and this hand's on NuraTrue Pro earbuds review is here to help.
I've spent the past couple of weeks using these earbuds as my go-to audio device, whether it be in the gym, working in the office or just walking around the city of Melbourne. I cover the specs, features, and functionality of Nura's latest true wireless earbuds to help you determine if they're worthy of the high price tag. If you have time, you can have a look at our Mifo O5 Plus Gen 2 review for comparison purposes.
Overview
Wireless earbuds are a favourite among most people because they offer more freedom and comfort. This makes them ideal for people who want high-quality audio without the burden of headphones. However, the downside with most wireless earbuds is the lower-quality audio, less-effective ANC, and short battery life.
Well, if you're an audiophile then audio quality is something that you won't have to worry about. They use Qualcomm's aptX Lossless codec for audiophile-quality audio when connected to devices through Bluetooth. As such, all the data will be transferred bit-for-bit, thus preserving all the effects for an exceptional listening experience.
On the downside, you can only utilise this feature if the transmitting device is aptX Lossless compatible. The caveat is that not many devices use this codec, including the highly revered Apple smartphones, which is what I use. However, what I will say is that to my untrained ear, the audio quality is barely noticeably worse than the Sony WH-1000XM4 which I use on planes and in louder environments where I need to focus.
It shares several features with its predecessor, the NuraTrue. Nonetheless, the NuraTrue Pro has more features and is also more advanced than the earlier iteration. Additionally, the NuraTrue Pro boasts a large capacity battery that will provide you with up to 32 hours (with case) of listening time compared to NuraTrue's 24 hours (with case).
To add to its list of features, the NuraTrue Pro can accurately measure your hearing using sound-sensitive microphones built into each earbud. This allows the earbuds to produce balanced and quality sound customised for your ears. That way, you will be able to feel not only the beat but all the beautiful acoustics making up the music.
Overall, the NuraTrue Pro is a feature-rich wireless device that will provide you with high-quality sound in a very high-quality package.
Features
The NuraTrue Pro has amazing features that would blow most wireless earbuds in its class out of the water. Below are some of those features:
Adaptive Active Noise Cancellation
Most true wireless earbuds on the market use Active Noise Cancellation (ANC) technology for an improved listening experience. However, Nura decided to take things a notch higher by equipping the NuraTrue Pro earbuds with adaptive active noise cancellation technology.
The latter uses advanced algorithms that allow each earbud to fine-tune the noise cancelling function continually depending on the environment that you are in, thereby providing you with unrivalled sound regardless of how noisy your surrounding is.
Now, it may not have the ANC prowess found in headphones but for in-ear earbuds the ANC is excellent. For example, they completely block out the music at my gym and are more than capable of cancelling out all but the loudest of offices.
I've been using them in busy Thai restaurants while I work and if they can keep me focussed in one of those, then they must be pretty good!
Wireless Charging
Tired of using pesky charging cables? If so, you will be happy to know that you can juice up the NuraTrue Pro earbuds wirelessly using any Qi-certified wireless charger. Simply place the case atop the charger and you'll be good to go.
The case has a shorter charging time compared to most options currently available on the market, making it even more convenient. It'll take approximately 1 hour to reach its full charging capacity.
Bluetooth Multipoint Connectivity
NuraTrue Pro's multipoint connectivity will enable you to connect the earbuds to two devices at a go. This allows for quick and seamless switching between the connected devices. This is perfect for someone like me who uses Spotify on my Mac while working but will use Spotify on my mobile during my lunch break. All you have to do is walk away from your laptop until it auto-disconnects and then press play on your mobile. Your phone and the Nuras will connect and start playing the same song seamlessly.
It's impossible to overstate how much I enjoy this feature!
Personalised Sound
The NuraTrue Pro earbuds feature sensitive microphones that can pick up otoacoustic emissions generated within your inner ear. These measurements are then used to self-tune the EQ to give you quality audio that is tailored for your ears.
Auto-pause
Ever wished to have a pair of earbuds that can automatically pause your music? Look no further because the NuraTrue Pro earbuds have optical sensors that'll pause the music automatically when you remove them from the ear canal.
Best of all, the music will automatically resume playing when you place the earbuds back into your ears. With this feature in place, you can interact with those next to you without having to manually hit the pause button.
Immersion Mode
These true wireless earbuds have a special mode that will provide you with high-quality bass. The powerful transducers will make you feel like you are using wired headphones with enhanced bass. Furthermore, you can easily enable or disable this function using the immersion slider
Fit Detection
In addition to having the above-mentioned sensors, the NuraTrue Pro has fit detection sensors that'll ensure each earbud is correctly positioned in the ear canal. Plus, the earbuds come with different sizes of ear tips that you can choose from based on the shape of your ear.
Specs
Dimensions (case): 72.4mm x 30.2mm x 35 mm
Weight: 8.6g (each earbud), 51.2g (case)
Connectivity: Bluetooth 5.3
Wireless Charging: Yes
Driver Size: 10mm
Frequency Range: 20 Hz to 40000 Hz
Bluetooth Range: 15m
Battery Life: 8hrs (32 hrs with case)
Water Resistance: IPX 4
Battery Life: 83 mAh (per bud), 500mAh (case)
Sensitivity: 101dB
ANC: Adaptive
NuraTrue and NuraTrue Pro Comparison
The NuraTrue and NuraTrue Pro are almost identical in terms of design but differ when it comes to features, with the latter having more advanced features than the former. As discussed earlier, the NuraTrue Pro has a larger battery than the NuraTrue, so if you are looking to get more playtime, you should consider the NuraTrue Pro.
Also, the NuraTrue uses Bluetooth 5.0 whereas the NuraTrue Pro utilises Bluetooth 5.3 technology for a more secure and stable wireless connection. The other noticeable difference is that the NuraTrue Pro supports wireless charging while the NuraTrue doesn't work with Qi chargers. You can also achieve multipoint Bluetooth connections with the NuraTrue Pro, something that is not possible with the NuraTrue earbuds.
The NuraTrue Pro also has a better frequency range than its counterpart. It will provide you with an impressive 20Hz to 40kHz compared to NuraTrue's 20Hz to 20kHz. Both the NuraTrue Pro and NuraTrue earbuds are IPX 4-rated for maximum sweat resistance. The NuraTrue Pro earbuds and casing are however heavier.
NuraTrue Pro Earbuds Voice Calls
With the NuraTrue earbuds, you can make and receive phone calls with ease. Each earbud is equipped with a powerful microprocessor and four microphones for clear voice calls. But that is not all, the earbuds feature bone-conduction microphones for low-frequency sounds.
As if that is not enough, the microphones on the NuraTrue earbuds can effectively cancel environmental noise while improving your natural voice. This is one of the reasons why the NuraTrue Pro earbuds perform better in noisy environments than major competitors. However, it does pick up some wind noises and isn't as good as just using your phone.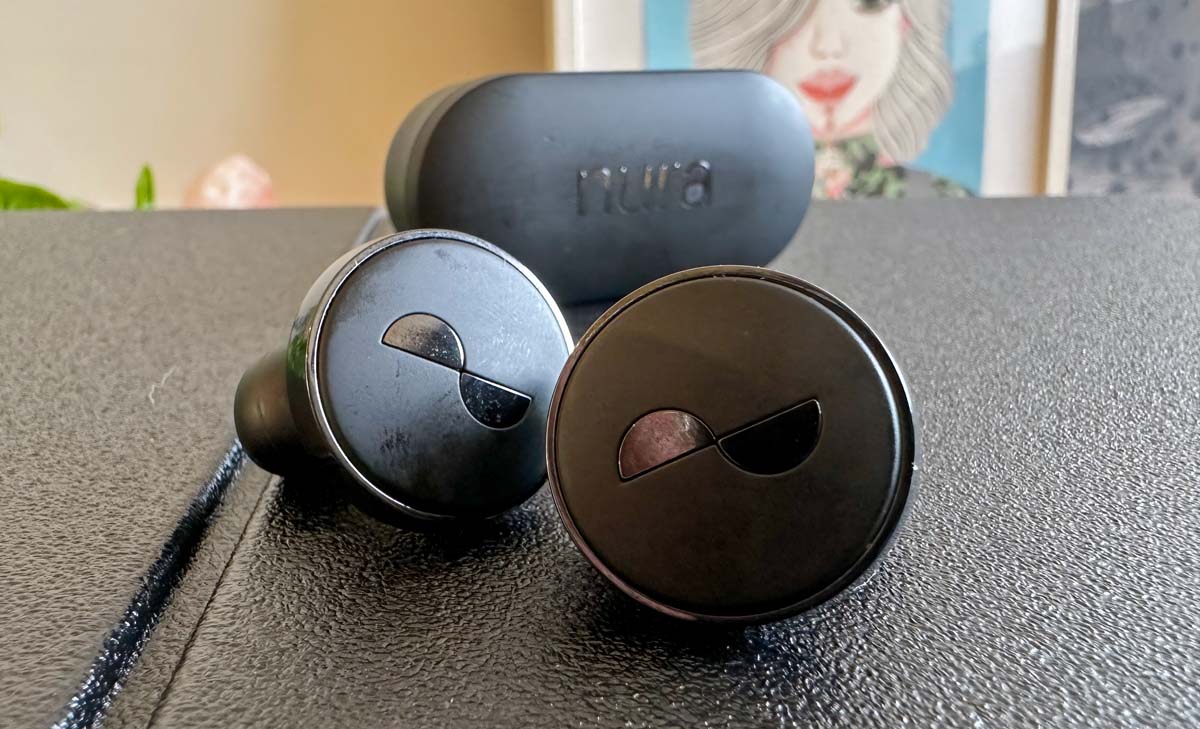 Design
There's no doubt about it, the NuraTrue Pro earbuds deliver when it comes to design, in terms of both aesthetics and also comfort. They are premium devices with premium materials and well-thought-out design choices that make them a pleasure to look at and use.
On both the charging case and the earbuds themselves Nura opted for a chrome and black palette that is both refined and simple, giving them an aesthetic worthy of the high cost.
The only real downside if you can even call it that is how easily fingerprint marks show up on the device and the case. Now,m this is true for most pieces of tech but you can see from the images in this review what you can expect.
The charging case has a nice solid feel to it and the magnetic lid has excellent hinges and a satisfying opening and closing motion.
The NuraTrue Pro earbuds have a circular design, with each earbud measuring 26mm in diameter. Each earbud weighs approximately 8.6g, which is a bit bulky compared to what most competitors offer but isn't noticeable when worn.
This also applies to the case, weighing 51.2g, meaning you'll be carrying around 59.8g. More on this, the outer rings and inlays are made of high-quality ceramic for durability purposes. The black matte finish makes the earbuds more stylish and aesthetically pleasing to look at.
Upon purchase, you will get additional foam ear tips, silicone tips, and wing tips for added convenience. Like the earbuds, the case is durably built and also has a matte black finish. The case is quite compact and can fit into your pocket without giving you any problems.
NuraTrue Pro's case has a USB-C port that allows for fast charging. Alternatively, you can make use of the wireless charging function. The three indicator lights on the case will show you the battery status when charging the device – which is actually very useful.
NuraTrue Pro Earbuds Review Verdict
The NuraTrue Pro earbuds can be an excellent pick for audiophiles and people who want to stand out from the crowd of Airpods. They not only offer a range of features but are also designed with every user's need in mind. The earbuds utilise aptX Lossless codec for uncompressed audio, making the NuroTrue Pro one of the best true wireless earbuds that you can buy in Australia.
Also, the battery life is pretty decent and will provide you with up to 35 hours of uninterrupted playtime. If you have a device that supports aptX Lossless codec like the Asus Zenfone 9 or Asus ROG S6 phone, this may be the perfect pair of buds for you. Although the price is a bit steep, these earbuds have unique features you won't find on most wireless earbuds and will set you a part from the crowd!