Summary
Correct your posture in a totally different way with the Dorsi Trainer. Utilising low-frequency waves and low stimulus, this neat device can help straighten and support your bent back, help blood circulation, and strengthen and treat your muscles so you will always feel and look better.
Pros
Gel patches can be moved to target different areas
Easy to use and convenient
Comfortable to wear
Preventing back and neck issues using posture correction bands has become quite the trend in recent years, but many of them fall short and make no real impact on your health. The new Dorsi Trainer aims to change this and actually correct your posture more comfortably while at the same time exercising your back muscles.
The Dorsi Trainer is a device designed by OLAS Training Inc. and currently offered at Indiegogo. It promotes good posture while helping you stretch and exercise your weakened muscles in the back. But how does it work and how can it help you? Let's find out in this review. Don't have time to read the whole thing? Easy. Just click on any of the links below to skip to that section.
Overview
Many of the posture correction bands and devices in the market work by applying pressure, forcing you to stay in a certain position for a long time. While they can certainly improve the spine and shoulders, they can result in indigestion and pain as well. So even if they are effective, people still struggle to wear them. Now, here comes the Dorsi Trainer.
The Dorsi Trainer is an exercise device with an elastic band and a butterfly-shaped pad that can straighten a bent back and support relatively weak body parts. It can also balance the right and left sides of the back without making you uncomfortable. But what makes it truly unique is the small detachable device that comes with it. Using low-frequency electrical muscle stimulation (EMS), it helps stretch and exercise your weakened muscles. This is perfect for those who don't have the time, money, or interest to go to the gym.
That said, there are tons of posture correction bands around but the Dorsi Trainer is the only one to introduce an EMS-induced muscle contraction experience. So in a way, what you are getting is a posture corrector and massager in one device. On the flip side, however, the Dorsi Trainer is more expensive than most of the posture correction bands and devices today. Even at its discounted price on Indiegogo, which is US$99, it's pricier than the ComfyBrace Posture Corrector, Evoke Pro Back Posture Corrector and Upright Go S.
Features
Electrical Muscle Stimulation (EMS)
The Dorsi Trainer utilizes EMS technology with gel-type patches, which you can apply in the areas you want to exercise. This allows micro-current to flow throughout your body, stimulating it to help blood circulate better. It is also said to relax and contract muscles, which then helps remove toxins and reduce body fat.
Stretch Bands
You can wear the Dorsi Trainer through the shoulder and waist stretch bands. With their elasticity, your chest muscles can relax while your back muscles contract. This helps straighten your back and keep you in the ideal posture.
Adjustable Strength
With the Dorsi Trainer, you can select from 9 strength levels and 6 modes. The higher the level, the stronger the stimulation will be. This is great since not everyone has the same needs and tolerance.
Wireless Remote Control
The Dorsi Trainer comes with wireless remote control, which makes it very easy to use. You can use it to turn on/off the device, switch modes, and increase or decrease the strength intensity. This makes it incredibly convenient and easier to use than many of the EMS devices offered today.
Specs
| | |
| --- | --- |
| Weight | 460g |
| Battery | 3.7V/85mAh Li-Polymer |
| Input Power | 5V/500mAh |
| Output Control Wave | Pulse |
| Output Control Frequency | DC-1200Hz |
| Output Voltage | 12Vp-p (within ±10%) |
| Output Current | 25mA max |
| Operating Temperature | -10°C (50°F) – 80°C (176°F) |
| Operation Mode | 6 Modes, 9 Levels |
| Time Settings | 20 minutes, auto-off |
| Alarm Type | LED |
There are other exercise devices that use EMS technology, including PowerDot and Tone-A-Matic. Some, like the PowerDot 2.0 Butterfly Pad, also focus on muscle stimulation to the back. However, only the Dorsi Trainer combines EMS with stretchable bands. So not only will it create muscle contractions, but it can also help correct your posture.
Another neat feature of the Dorsi Trainer is its wireless remote control, which makes it easier to use. Most devices that utilise EMS technology have their controls built in. So when you need to make changes and adjust settings, you'll always have to reach where the main controls are. For instance, if it's an AB machine, then the controls will be on the abdomen. This is why Dorsi's remote control is perfect since it will be a challenge to reach your back whenever you need to switch intensity levels or choose modes.
Design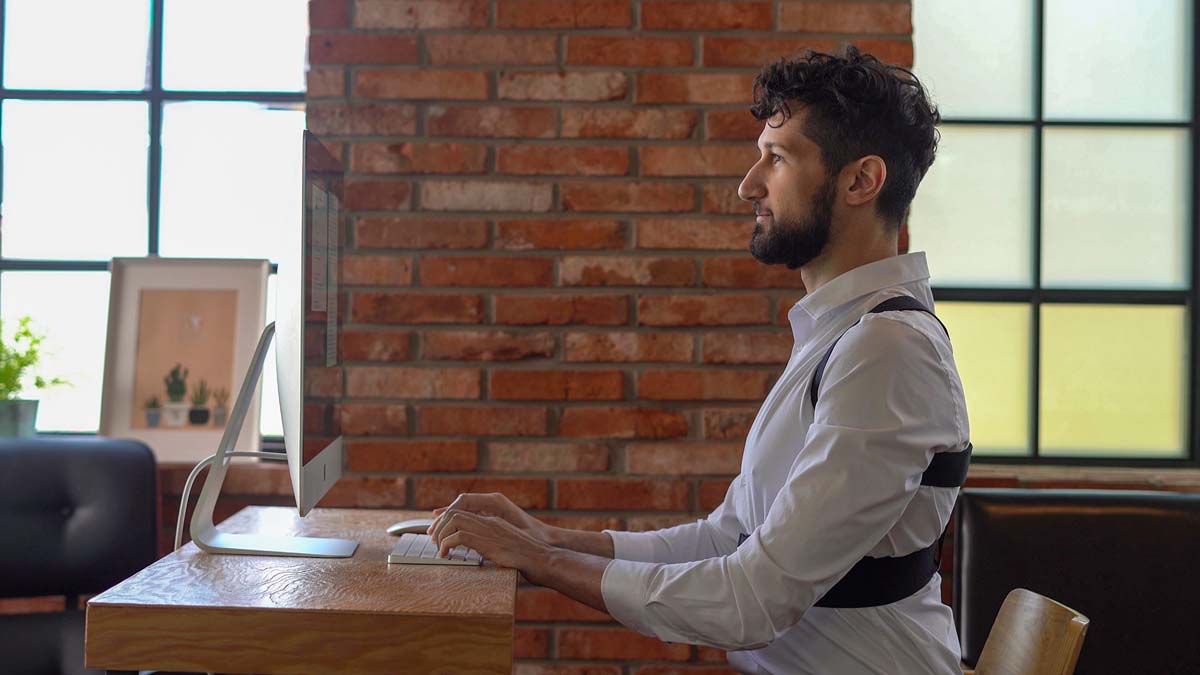 The Dorsi Trainer is portable and lightweight. It's also very convenient since you can control it with wireless remote control. So you can easily use and apply it in your daily life. Whether you are standing up, sitting down, working, or after working out, here's a device you can train with anytime and anywhere.
We'd also like to mention the Dorsi Trainer's butterfly-shaped back pad. Not only does this add comfort when worn, but it also gives it a slightly better look than other posture correction bands. The elastic bands are detachable and washable as well, so you'd have no problem keeping the device clean.
Final Thoughts
If you are suffering from frequent shoulder pain and neck discomfort or have a weak back, then the Dorsi Trainer is worth giving a try. Not only does it help correct your posture, but it also helps your back muscles contract through low-frequency waves and low stimulus. This encourages blood flow while also helping repair damage.
Overall, the Dorsi Trainer is an easy-to-use, convenient, and more comfortable solution to correcting your posture and exercising your back muscles. Sure, it's not the most affordable device in the market. But since you are getting a posture correction band and a back massager in one, it's actually a great deal.
Make sure to check out the Indiegogo campaign page here.