As a beginner or someone who wants to master their short game, a putter and a chipper are two types of clubs you will need. A chipper can help you get those shanks, yips, chunking it, and thinning it get going while a putter will help you drop those shots. And if you're looking specifically for these two types of clubs, and working on a tight budget, then here's a product you may want to check out – the DR. PC 1830 Rolling Putter.
Summary
Facing some golf challenges and keep missing shots during your approach? Is your putting so bad that it takes a hundred shots before making the ball drop? If so, then the DR. PC 1830 might just help improve your game. By putting together two clubs in one, now you can chip around the green with a chipper and put on the green with the putter using only one club. 
Pros
Two functions in one club
Easy and simple to use
Provides great accuracy
With topline
Cons
The color of your club will be random
The DR. PC 1830 Rolling Putter, which is self-proclaimed as the "World's First Putter and Chipper 2-in-1 Golf Club", is an up-and-coming crowdfunding campaign on Kickstarter. It's made and developed by DRG Golf, which is a company that has been producing golf balls for years now. They were even certified as the official golf ball of USGA and R&A in the United States.
That said, DRG Golf isn't a starting company. So unlike many projects on Kickstarter, there's a smaller chance of you not receiving what you paid for. But the question is, is it worth trying out? Let's find out here. In a rush and can't read the whole thing? Just click on any of the links below to skip to that section.
Overview
A putter is one of the most important clubs a golfer can own. Aside from a driver, it's the club that can greatly impact your game. See, putting accounts for 40% of the average golfer's strokes. So it's no surprise why many prioritize owning a good putter club.
While becoming a rare sight in a golfer's bag, a chipper is also a handy club to have. It is the club you use for shots that are near but just slightly off the green and too far away for putting. If you're struggling to get your chip shots going, then a chipper can help you greatly.
Having both a putter and a chipper could give you the advantage you badly need in your golf game. However, buying them separately can be pricey and with the thousands of options available in the market, it is challenging and time-consuming.
Thankfully, DRG Golf thought of this and made things simpler and more convenient by combining a putter and chipper in one club. The result: the DR. PC 1830 Rolling Putter. As far as we know, this is the first-ever to provide all the functionalities of a chipper and a putter. Is it the first to incorporate two or more functions in a club? Well, no. There's the Whole-in-One Adjustable Telescopic Clubs, which is said to replicate every loft even half lofts.
Comparing the two, the DR. PC 1830 is a lot more expensive with a retail price of US$386 while the Whole-in-One Adjustable Club costs only US$249. It's also more expensive than some of the top-rated putters like Callaway or Odyssey's Stroke Lab Seven Putters. At this price, it's close to TaylorMade Spider X Putters and EVNROLL ER. But remember, these are only putter clubs with no chipper functions.
The good news is, you can now try the DR. PC 1830 at a much lower price on Kickstarter. Starting on September 16, super early birds can enjoy a 48% discount and pay only US$199 to get a chipper AND a putter.
Features
Easy and Simple
One of the things we love about the DR. PC 1830 is its functionality and smooth rotating clubface. Transforming it from a putter to a chipper and vice versa is incredibly easy. Just grab the face of the club, pull, and twist. That's it.
Accuracy
The DR. PC 1830 offers golfers accuracy as it impacts the exact center of the golf ball. This allows you to roll the club without skidding and your ball going in a straight direction. It's also worth noting that the DR. PC 1830 can provide you a higher chance of creating an impact on that sweet spot. Unlike other clubs, it creates a unique sound and feel if you hit the right area. If you're a beginner, this will be very helpful since you'll be able to quickly realize your misses.
Putter Side
The DR. PC's one side is a mid-mallet putter, making it heavyweight and stable like a mallet with the feeling of a blade. So even with just a very light touch, you can hit the exact center of your golf ball towards the direction you want it to go. This makes putting easier and your shots a lot accurate.
Chipper Side
On the other side of the DR. PC 1830 is a chipper with a 42-degrees loft angle. For entry-level golfers, this is great since you can take running chip shots with an addressing pose and approach shots easier and with more confidence.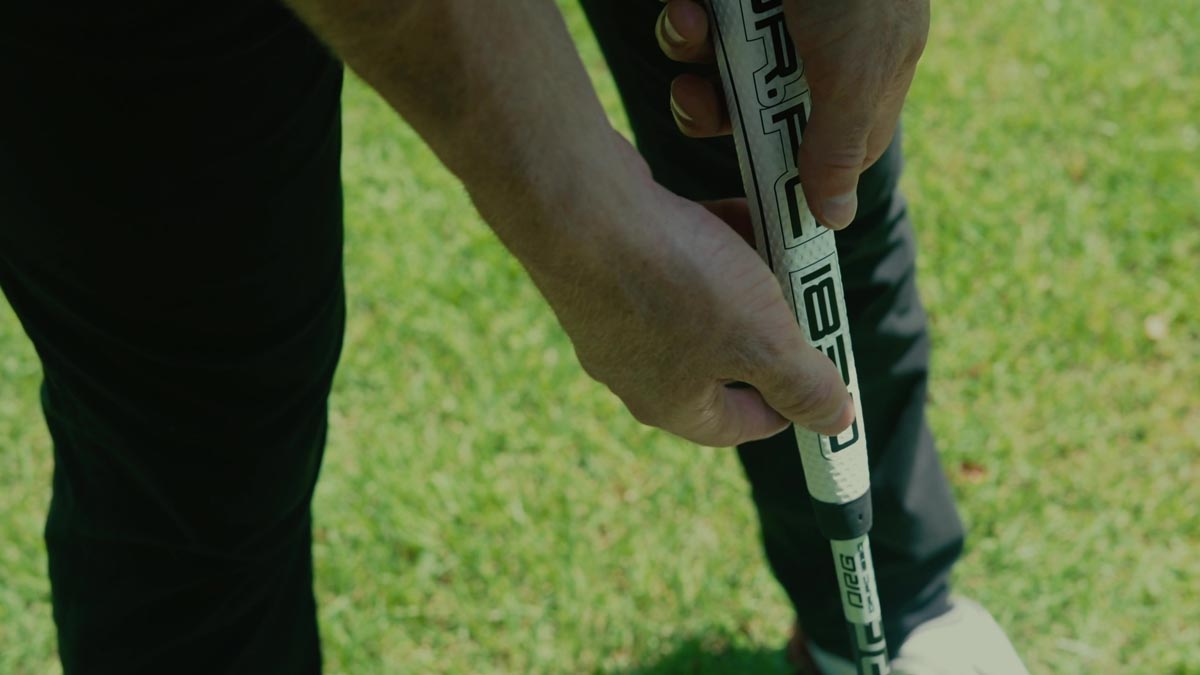 Specs
Color 
Weight 

Total: 560g – 580g
Shaft: 115g
Grip: 85g
Putter Head: 360g – 380g
Putter Cover: 85g

Material

Shaft: Premium S/T shaft
Grip: PU
Putter Head: Face brass / Body AL 6061
Putter Cover: Synthetic leather

Shaft Length

31 inches
32 inches
33 inches
34 inches
35 inches

Loft Angle

Putter: 1-degree
Chipper: 42-degrees
PC 1830 has an adhesive and durable polyurethane grip, which will allow you to use the club both as a chipper and a putter. And like the Odyssey Triple Track Seven Putter, it also uses a topline. This can help improve your alignment and ultimately make your putting better. See, if you find the right line, you will have a much higher chance of hitting the ball into the hole.
Aesthetics
In terms of aesthetics, the DR. PC 1830 is sleek and a lot simpler than other putters like the TaylorMade Spider X models. It's quite heavyweight, so it feels very solid. And unlike other cheap putters, it is not made by casting with molds. Instead, it's manufactured through CNC Milling, which is a high-tech metal processing method. As a result, this rolling putter looks more intricate and precise.
Another thing, the DR. PC 1830 Rolling putter is available in white, yellow, and red. Unfortunately, you won't be able to choose what color you'll receive.
Final Thoughts
With its accuracy, stability, and functionality, the DR. PC 1830 makes a great club overall. Putting together a chipper and a putter was ingenious since these are necessary clubs to bring in a short game. It's also more economical since you can enjoy two clubs for the price of one and it's more convenient too. Now you don't have to carry more weight than you have to.
More importantly, the DR. PC 1830 can greatly improve your game. It can decrease your putting and approaching numbers, guide you towards having a more forward swing direction and improve your putting. It can also help reduce the missing shots during your approach. All these factors are what make this rolling putter perfect for beginners and entry-level golfers.