ⓘ We are reader-supported and may earn a small commission at no additional cost to you if a purchase is made through one of our links.
LIVALL EVO21
EVO21 Review Summary
The EVO21 is as smart as they come, boasting some truly extraordinary features, such as its 360° visibility lighting and cutting-edge fall detection/SOS system. Whether it's safety, innovation, or ease of use, the LIVALL EVO21 manages to combine all three into one handsome package.
Pros
360° visibility allows you to be seen from any angle
Functions autonomously, for the most part
Excellent battery life
Remarkably comfortable
Cons
Sporty design may not be appealing to some
Seasoned bikers will agree that there's nothing more important than being safe on the road, which is what makes picking out the right helmet so important. While there are a lot of great helmets out there, the majority of them only offer passive protection from falls or accidents and the LIVALL EVO21 is looking to change that.
As a next-generation smart helmet, it boasts increased visibility and accessibility, and it offers an intricate fall detection/alert system. The EVO21 does, however, share the smart helmet space with a fair share of solid competitors, so we've decided to try it out for ourselves in this LIVALL EVO21 review.
Can't spare the time to read the entire review? Just click any of the links below and we'll take you right to that section.
Overview
LIVALL has been making its mark on the smart helmet industry for seven years now, as they continue to develop innovative ways to keep riders safe on the road. With the EVO21, they've designed a helmet that's not only insanely lightweight but also comes with a plethora of safety features, including 360° visibility, an easy-access remote, and an ingenious fall detection/alert system.
It doesn't stop there either. LIVALL spent a considerable amount of time and effort to ensure that the EVO21 is also easy on the eyes and has enough ventilation to keep bikers comfortable during their entire trip.
Features
Advanced 360° Visibility
The EVO21 includes both a super-bright 270° rear light and a wide-beam angle front light, allowing for maximum visibility no matter which angle you're looking from. The 360° visibility provides complete peace of mind that everyone around you knows exactly where you are, no matter where they are, even from far away.
The 45° wide beam angle front light offers unmatched safety and flexibility during a ride. Whether you're taking a leisurely cycle with your head facing directly forward, or if you're trying to break a PB with a tucked chin, the front light keeps you visible to those around and keeps the road illuminated.
Advanced Signalling System
The EVO21 helmet has an advanced signalling system which can be customised through the LIVALL riding app. Whether you're stopping, turning or riding on through, let those around you know your intentions, so you're not just seen, you're understood!
Automated Brake Lights
Thanks to its accelerometer sensors, this helmet can recognize when you're stopping or slowing down, automatically switching on the brake lights to notify those behind you.
Intuitive Remote
Gone are the days when bikers had to lift their hands from their handlebars just to signal turns. With EVO21, you have a remote right at your fingertips which you can use to operate your turn signals without ever being distracted from the road.
If you have connected LIVALL to your phone, you are also able to use the remote to take a snap to capture a cool moment or perhaps for evidence in an insurance dispute.
There's also a built-in SOS button that if held for 5 seconds which will alert an emergency contact if you're in danger.
Pretty nifty stuff!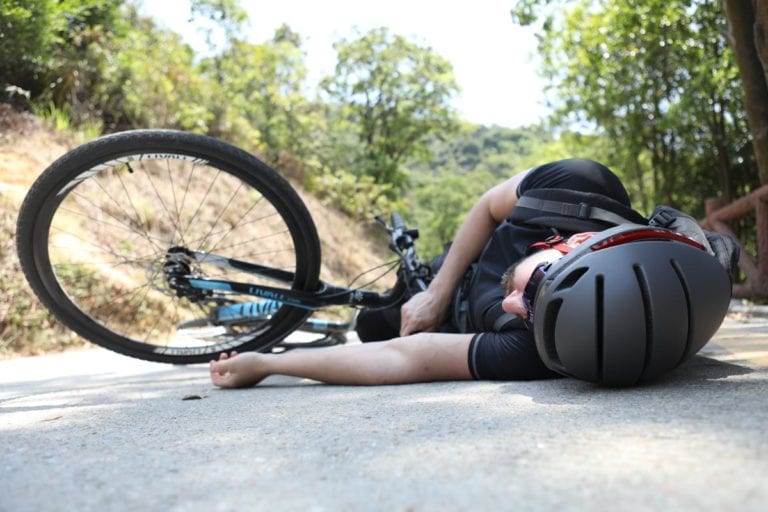 Cutting-edge SOS System
EVO21's fall detection/SOS system is their most advanced one yet, detecting falls over 1.2 metres and automatically sending out an SOS text message, with the rider's GPS, to a registered emergency contact. In case of falls that aren't dire or the accidental drop of the helmet, you'll have a 90-second leeway to cancel the alert.
Top-notch Collision Protection
The helmet passed a plethora of meticulous impact tests and features a dual-protection system that spreads impact across the entire helmet while simultaneously redirecting pressure away from your head. It also includes a layer of memory foam for maximum comfort even during long rides.
You can really see that EVO21 takes the customers' safety as the first priority. It is serious about impact protection, passing rigorous safety standard tests with an A-star rating around the world.
Smart All-around
With its smart on/off features, the EVO21 powers on automatically within four seconds of placing it on your head. Inversely, it shuts off on its own when you take the helmet off. It also has an ambient light sensor that detects what time of day it is, automatically turning up the lights when it's dark out or dimming them in daylight to save battery.
Lengthy Battery Life
On account of its 600mAh battery, EVO21 can last up to 10 hours on a full battery, owing most of its battery usage to night rides since biking in daylight hardly takes up any battery life.
Ultra-Lightweight
EVO21 weighs a mere 350g, so you'll barely feel it on your head even after hours of biking.
Optimal Ventilation
Breathability is the hallmark of a great bike helmet and LIVALL has made sure that the EVO21 has it in spades. It features intake ports on its brow and several vents along the top of the helmet, allowing for better aerodynamics and superior cooling. Compared with LIVALL's last gen, EVO21 is 30% more vented!
Varying Size and Colour Options
EVO 21 comes in two sizes, medium or large, with a tension-adjustable system to allow you fit the helmet comfortably and secure. There's a range of four distinct colours, which include dark night, ultraviolet, snow and mint.
Waterproof
It's rated IPX5 waterproof, meaning you won't have to worry about getting caught in the rain.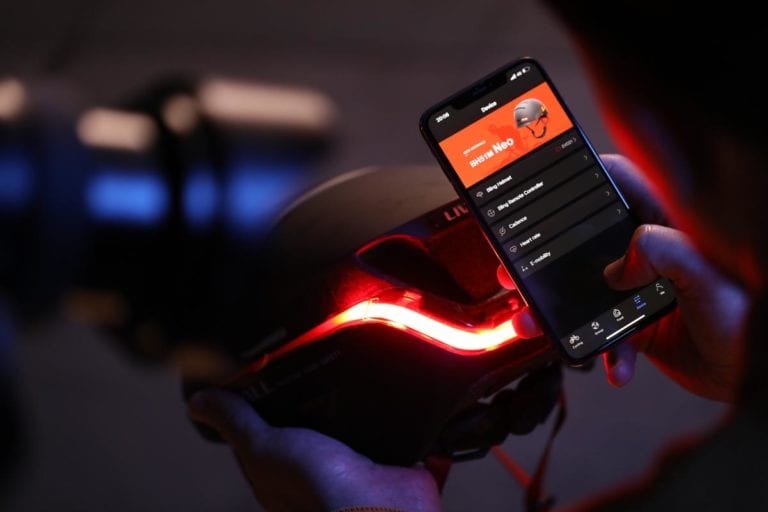 LIVALL Riding Companion App
The EVO21's companion app includes a bunch of great features, such as a GPS tracker that monitors your rides and a battery gauge that tells you how much juice your helmet has left. You'll also be able to fiddle with the helmet's light settings and punch in your emergency contacts.
There's also a bit of an asocial network (think Strava) where you can take photos with the handlebar remote with it connected to the LIVALL App and post & share your cycling routes & moments on the App. You can connect to a class-leading community full of cyclists across the globe and even find your cycling mate here.
Specs
Size
M: 54-58cm (21.2 – 22.8 inch)

L: 58-62cm (22.8 – 24.4 inch)

Net Weight
350g
LEDs
38
Battery Capacity
600mAh
Battery Type
Rechargeable Lithium-on
Battery Duration
10 Hours (under continuous operation)
Charging Time
3 Hours
Charging Type
Magnetic charging
Ventilation System
10 Vents
Crash-test Certified as Standard
CPSC 16 C.F.R. part 1203

CE EN1078

AS/NZS 2063

Waterproofing
IPX5
Bluetooth
Bluetooth 5.0
Aesthetics
Let's face it, bike helmets aren't exactly known for their looks, often sporting a familiar unsightly webbed design or plain finish. EVO21 looks to fix that by boasting a stylish look that's as striking as it is functional.
With its strategically positioned vents and elegantly placed LED lights, the helmet looks great whether you're biking at night or cruising around in the daytime. Moreover, the EVO21 comes in a variety of colours both vibrant and sleek, appealing to a wide range of tastes.
The EVO21 was a collaborative effort from both LIVALL and RUMA team, a famous design studio based in Madrid, Spain. EVO21 has been awarded with the IF GOLD 2021 for its blending of highly functional and aesthetic demands.
What's it like to use?
If there's a word that best describes the EVO21, it'd be "effortless'. From putting on the helmet to working the turn signals, using it is a breeze. You can set it to automatically power up whenever you place it on your head and the helmet's sensors can detect the time of day so it intuitively configures its LED lights on its own.
Its companion app also works splendidly, allowing you to easily track your rides and input emergency contacts in case of a serious fall. When LIVALL called it a "smart helmet", they really meant it. To top it all off, the EVO21 is exceptionally comfy, which is a feature every biker looks for.
Final Thoughts
As more and more people switch to biking as their preferred method of transportation, smart helmets have become increasingly popular in recent years. Few, however, offer the same blend of style and functionality as the EVO21.
With its wealth of quality of life features and innovative fall detection and alert system, this helmet is easily one of the smartest we've ever come across. After switching on the auto on/off feature and inputting your SOS contacts, pretty much all you have to do is put the helmet on and let it take care of the rest.
Add that to its 360° visibility lighting system and you'll feel safer than ever before. And it's a real looker to boot, which is a huge upside given how most bike helmets tend to look. If you're looking for a smart helmet that's easy on the eyes and even easier to use, the EVO21 is your guy.