ⓘ We are reader-supported and may earn a small commission at no additional cost to you if a purchase is made through one of our links.
Reevo Bike
Summary
Electric bicycles are a more convenient, stylish, and eco-friendly option for going around the city. But what makes Reevo unique is its impressive futuristic looks, strong security features, ambient light sensors, and durable body. With this e-bike, you can shred the streets safely, securely, and confidently.
Pros
Fingerprint sensor
Automatic lock
Bright headlamps and tail light
So what is it about the Reevo that made it such a huge hit? Let's find out with this quick review.
Click on any of the links below to skip to that section of the Reevo E-bike review:
Overview
Every year, millions of bikes are getting stolen with someone losing a ride every second. To prevent this, Beno Inc. designed an electric bike with loads of security features while making sure it rides as well as it looks.
Reevo also aims to make your commutes easier and safer by packing it with almost every device you'll need. So gone are the days when you have to charge every single thing on your bike, including your light, smart lock, and GPS. With Reevo, all you'll need is your bike.
In terms of price, Reevo isn't exactly cheap. It has a list price of around US$3,450, which is more expensive than popular bikes, including the Electric Bike Company's Model X (US$1,699), Propella 7-Speed (US$1,299), or Rad Power Bike's Electric Utility Bike (US$1,199). However, at this price level, it also isn't the most expensive electric bicycle in the market. Compared to the Allant+ 9.9S (US$5,999) and Gazelle Ultimate T10+ HMB (US$3,999), it's actually more affordable.
Even better, Reevo is offered on Indiegogo at a cheaper price. Instead of US$3,450, you may experience the Reevo starting at only US$2,278.
Features
Triple Barrier Anti-Theft System
Reevo is equipped with a triple barrier anti-theft system to make sure your bike stays exactly yours. To be specific, it has the following functions:
One-touch fingerprint sensor: allows you to lock and unlock your bike without the need for a key.
Automatic lock: there's an advanced wheel locking mechanism that's integrated within the bike's frames. This prevents the Reevo from moving and protects it from tampering devices, such as bolt cutters.
GPS with motion detection: Reevo's are said to house a microchip within its frame that actively scans for motions and sends alerts to your phone when triggered. It also comes with a GPS module, which can be located and tracked anywhere and anytime through the Reevo app.
Ambient Light Sensor
Reevo is equipped with a bright headlamp and tail light. It also has an ambient light sensor, which can detect darkness and automatically turn these lights on and off, providing you an extra layer of protection.
Hubless Wheel Configuration
The most distinct feature of Reevo is its hubless wheel design, which is said to be safe up to 265lbs or 120kg. Its wheels are completely centerless and built around a strong core with a sleek matte black finish. There are also storage points in the wheel itself, providing you space to mount a bag.
While being hubless is what makes Reevo unique, it may also be its weak point. The reason why every car, bike, truck, and vehicle have hubs, even to this day, is that they work. They are lightweight and sturdy, allowing wheels to turn easily around an axle. So taking them away on the Reevo makes us slightly skeptical about how good it will turn out.
Specs
| | |
| --- | --- |
| Allowable Rider Weight | 120 kg (265 lbs) |
| Bike Weight | 55 lbs |
| Frame Material  | Aluminum alloy with ABS body |
| Wheel Size | 27.5" |
| Motor Power | 250W (EU), 750W (US) |
| Battery Type | Lithium-Ion (LG cell) |
| Battery Capacity | 48V, 10.5Ah |
| Charge Time | 3 hours |
| LED Headlamp Brightness | 800 lumens |
| Connectivity | Bluetooth (app), GSM and GPS (antitheft) |
| Antitheft System | Triple-barrier antitheft |
| Top Speed | 25mph (US), 25km/h (EU) |
| Available Size | S/M (5'2" – 5'9") and M/L (5'9" – 6'3") |
| Range | 60km (37 miles) |
| Max Phone Size | 6.5" |
One thing we like about Reevo is its detachable battery. This means you can remove it whenever you need to charge it. This also makes your bike safer for hauling and lighter for carrying.
On the other hand, Reevo's lithium-ion battery has slightly lower specs than other e-bikes. At 10.5Ah, its battery has a lower capacity than the Gazelle Ultimate T10+ HMB (13.4Ah) or Model X from the Electric Bike Company (11.6Ah). Furthermore, since Reevo offers more extra features, the more power it will use. So we're not quite sure how its battery can hold up.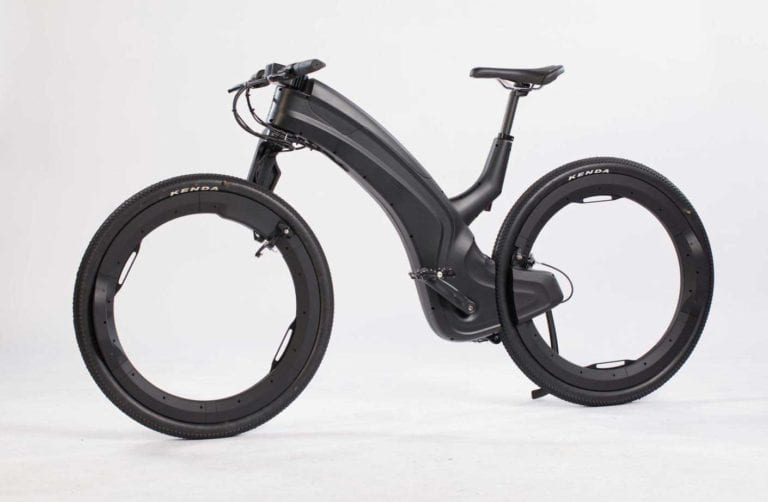 Aesthetics
One of the best things about Reevo is its eye-catching looks. With its aluminum alloy, hubless tires, lights, and clearly defined lines, this e-bike reminds us greatly of the light cycles from Tron: Legacy. It looks sleek and impressively futuristic. You'd think it came straight out of a sci-fi movie.
Unfortunately, its hubless design also has its disadvantages. Its wheels look bulkier and heavier than those from regular bikes. Reevo's thick body and extra features also add to the weight. So expect it to be heavier than most e-bikes around.
Reevo Bike Final Thoughts
Overall, Reevo looks incredibly promising, at least on paper. Fully equipped with safety features, lights, GPS, and hubless tires, this is the electric bicycle of the future. It offers convenience, slick looks, and a unique design that will surely catch people's attention.
Sure, Reevo may not exactly be the cheapest e-bike you will find, but it's certainly one of the most feature-packed – that is if everything goes according to plan. We're all hoping this isn't another Cyclotron scam. You know, the "first hubless smart bicycle" launched in 2016, but was never delivered even after almost 5 years.