ⓘ We are reader-supported and may earn a small commission at no additional cost to you if a purchase is made through one of our links.
Due to the Coronavirus pandemic, every surface is now a potential vector of the disease – especially since the new study published in the Virology Journal found that the coronavirus can remain on surfaces like phone screens, stainless steel, and paper money for 28 days.
This means most of the public surfaces we never paid attention to before are now danger zones to avoid. But how exactly do you avoid touching surfaces while you are out and about? Simple. With no-touch tools like the Copper Corner.
The Copper Corner is an accessory that sticks to your current phone case. It is marketed as the "First Self-Cleaning No-Touch Phone Accessory" by its creators, and it is designed to help you avoid direct contact with dirty surfaces.
How does it work? Find out below.  In a rush and can't read our whole Copper Corner review? Just click on any of the links below to skip to that section.
Overview
Studies show that 80% of the germs that cause illnesses are spread through your hands. And millions of people die every year from germ-related illnesses. There's also research that found 1 in 5 people are not washing their hands. Furthermore, 1 germ was proven to multiply into over 8 million germs in a single day.
Germs can also live on metal and other surfaces for up to 72 hours. Worse, the coronavirus is said to remain on the surface for 28 days. So before you touch anything, think twice. Better yet, don't touch it and just use a no-touch tool – which the Copper Corner aims to be.
The Copper Corner is designed to stick to the corner of your phone. So if you need to press buttons or touch screens, you can use your phone instead of your fingers or hand. For some of us, using Copper Corner or any other no-touch tool may not be as convenient as just pressing the buttons and applying alcohol or hand sanitizer after. Sure, you may be avoiding dirty surfaces that many others before you have touched. But what if the germs are on your keys or your phone?
Remember the study in 2017 at the University of Arizona? Mobile phones were found to be 10 times dirtier than most TOILET SEATS. So is your phone the best place to put an item that should help you avoid coming in contact with germs? Is the Copper Corner worth trying out? Well, that's for you to decide. And maybe this Copper Corner review can help you.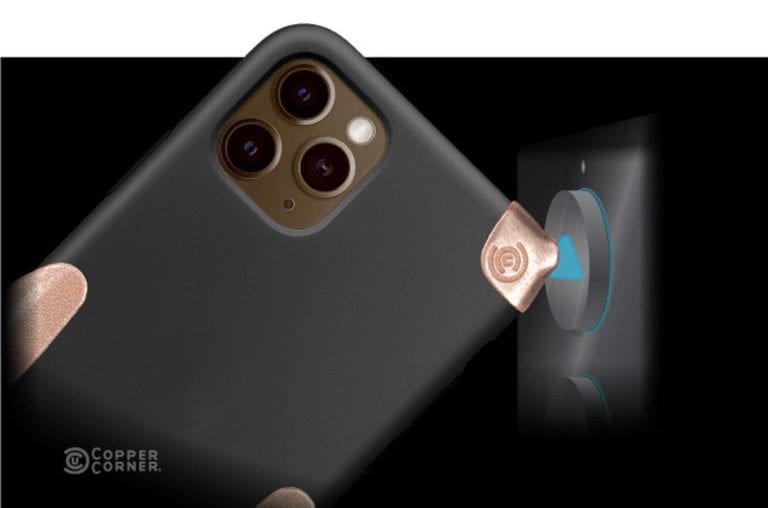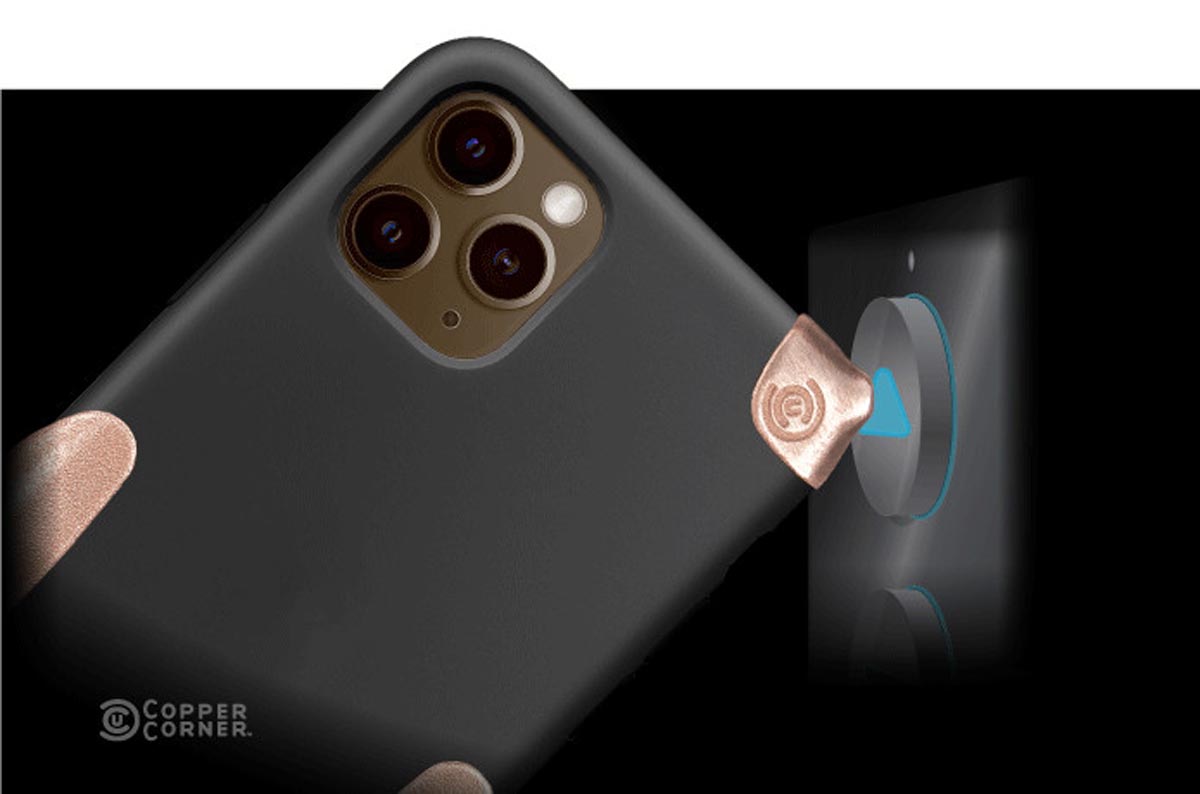 Material
The most notable feature of the Copper Corner is its material. Made from 99% self-cleaning copper, it can kill most microbes within just minutes. Moreover, since it is a soft metal, it will conform to the shape of most cases. This is why it goes so well with your device once attached.
However, while viruses do die on copper in due time, it still takes a while before the SARS-CoV-2 (the virus that causes COVID-19) dies on such a surface. According to an April 2020 research, SARS-CoV-2 can stay on copper for FOUR HOURS. With this viability window, we're a little sceptical if the Copper Corner has the self-cleaning capabilities to protect you from the virus.
Function
Copper Corner has two functions: press buttons and acts as a stylus. So with it, you don't have to push elevator buttons, ATMs, crosswalks, gas pumps, doorbells, vending machines, printers, intercoms, and more. And when asked for your signature, you can simply take out your phone and use the Copper Corner as a stylus.
In terms of function, however, the Copper Corner doesn't do much compared to other no-touch tools. The Peel Keychain Touch Tool, for example, allows you to press buttons, open doors, and use touchpads. You can even use it to open bottles. There's also the KeySmart Clean Key and Nano Stylus, which can help you press all the buttons, open doors, and act as a stylus – just like Copper Corner.
Price
Even without the discount, you will receive if you purchase through Indiegogo, Copper Corner is still cheaper than most of the popular no-touch tools today. Considering a list price of $18.89 for a single Copper Corner (based on the 10% discount and sale price of $17), it is the cheapest among Peel Touch Tool ($35) and KeySmart Clean Key ($25-$34).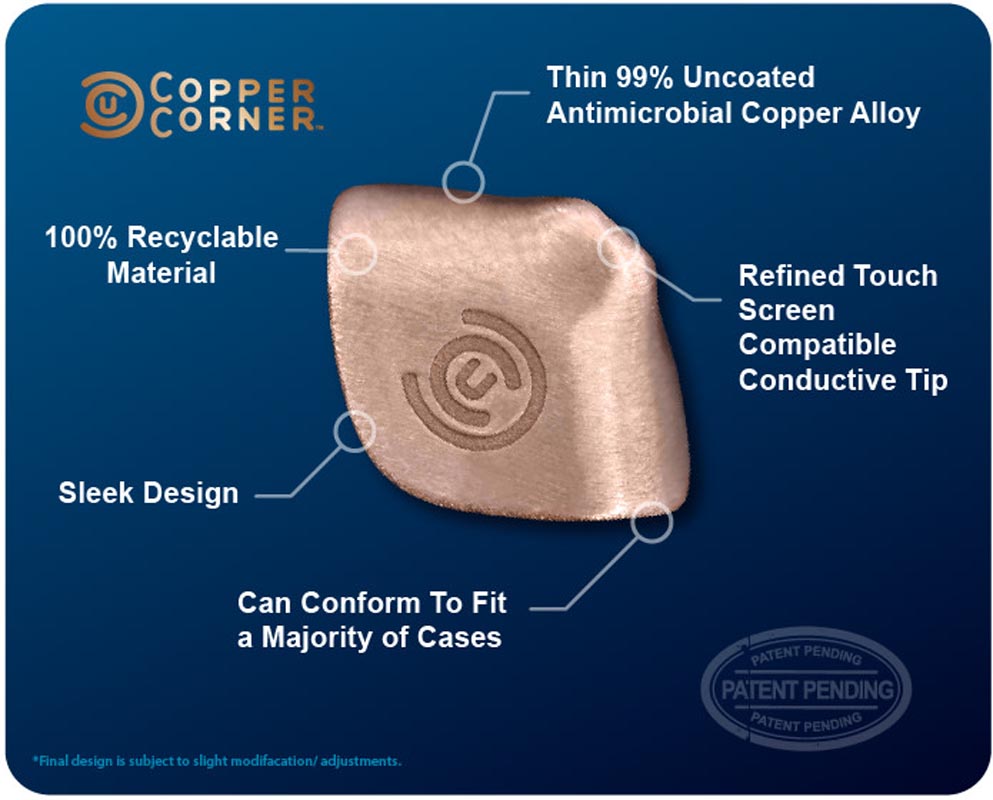 Specs
Here are more things you might want to know about the Copper Corner.
Size (L x W x H)
23.5 mm x 8.6 mm x 16.7 mm
Material
99% Uncoated Copper Alloy
Compatibility

iPhone 12/mini/Pro/Pro Max
iPhone 11/Pro/Max
iPhone X/XR/XS
iPhone 8
iPhone 7
iPhone 6/6S
iPhone 5
Samsung A50
Samsung A20
Samsung A10e
Samsung S20
Samsung Galaxy s10/s10+
Samsung Galaxy s9
Samsung Galaxy s8
Samsung Galaxy s7
Samsung Galaxy s6
With its size, the Copper Corner is the smallest no-touch you can buy today – initially. Since it goes with your phone, it won't add bulk to your pockets. However, when you need to use it, you may find it more inconvenient since your phone is bigger and bulkier compared to a keychain where most no-touch products are placed.
For its material, the Copper Corner is the first to use a self-cleaning copper alloy. The most commonly used material you will find today is brass, which both Peel Touch Tool and KeySmart CleanKey are made of.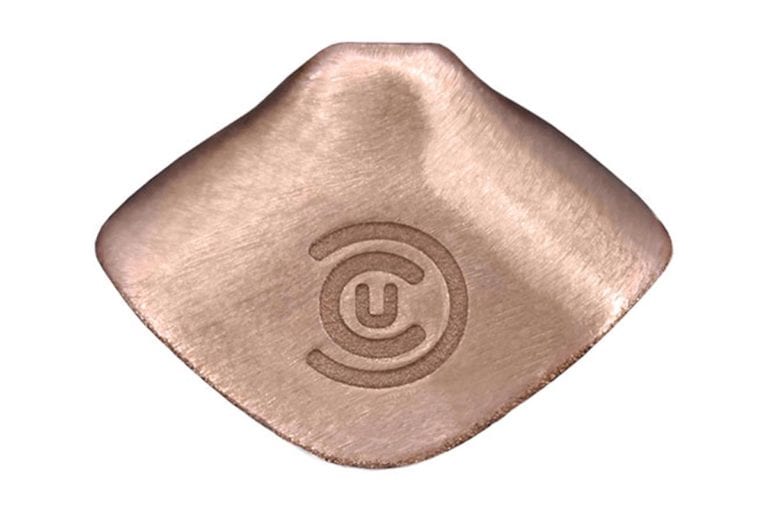 Aesthetics
This is the area where the Copper Corner truly shines. You can decide whether to go with matte or polished, each one of them is both equally elegant. The Copper Corner fits and blends so well with mobile devices that it seems like a part of the case. It is very decorative and stylish, making it a nice addition to your phone.
What's It Like to Use?
Putting on the Copper Corner is easy. Just clean the corner where you plan to put it, peel the adhesive strip in the Copper Corner, attach, and apply pressure. Once installed, you can immediately use it as a stylus or for pushing buttons.
For additional protection, you can also try the company's Halo Handles, which goes to the sides of your phone. When working together, this creates a tripod effect. So when you put your phone down, it won't come in direct contact with the surface.
However, the Copper Corner has many limitations when it comes to which cases and edges you can use it with. You can't use it with leather, suede, silicon, and heavily textured cases. Also, you can't use it on cases with sharp, unusual, and extended edges. Furthermore, it is not compatible with Samsung Galaxy Note.
Conclusion
The Copper Corner might be smaller than other no-touch products initially, but when added to your phone, it is bigger and bulkier. So it's not exactly the most convenient no-touch tool to use. It also lacks one important feature that many tools have – opening doors.
But if there is one reason for you to choose Copper Corner, it is because of its self-cleaning properties. Just make sure to clean it after every use to make sure you are not spreading germs and viruses through it. Review Box Overall, the Copper Corner is a beautiful phone accessory that will help you avoid pushing buttons or using touchscreens with your fingers. It is stylish and can kill most microbes within just minutes.
Copper Corner Review
Summary
Overall, the Copper Corner is a beautiful phone accessory that will help you avoid pushing buttons or using touchscreens with your fingers. It is stylish and can kill most microbes within just minutes.
Pros
Self-cleaning copper
Elegant and stylish
Can work as a stylus
Cons
Cannot help you to open doors
Too many limitations with compatibility