ⓘ We are reader-supported and may earn a small commission at no additional cost to you if a purchase is made through one of our links.
In this Couch Console review, we'll be taking a look to see what all of the fuss is about and if you should put your money down on this hot new product! Spoiler…yes you should do – it's really cool.
Introducing the Couch Console, the recent crowdfunding project from Ebite, designed to take chilling to the next level by keeping the things you use most, safe and sound next to you on the couch.
Say goodbye to digging through the cushions for the remote, or reaching over to grab something only to knock your plate on the floor. And say hello to Netflix binge sessions as you've never experienced before.
Let's take a look at why it's so popular on Kickstarter. Feel free to skip ahead to the different sections of the Couch Console review:
What is the Couch Console?
Well according to Ebite, the Couch Console is a "Self-balancing cupholder, snack holder, phone stand, charging dock, remote tray, storage pocket. All in a light, compact & modular pack".  This makes it an incredibly versatile product that solves a lot of common problems we couch chillers experience almost daily.
Its modular design allows for a lot of customisation depending on what's going on? Got some friends round for some beers to watch the footy, then add three self-balancing cupholders and a snack holder. Watching the lord of the rings extended directors cut trilogy? Then add a cup holder, snack holder and the remote tray!
In fact, let's take a look at their campaign video to get a better look at what the Couch Console is capable of:
Couch Console Modules
Let's take a closer look at each of the different modules.
1. Self Balancing Cup Holder
This one speaks for itself. How many times have you spilt a drink on your couch or bed? Once is too many, especially when it's just before you go to bed and you have to change the sheets! The self-balancing cup holder does an excellent job of preventing this. In fact, you would have to do it on purpose it's that stable.
As a note, if you back the campaign through Kickstarter you will get a self-balancing mug adapter for free. This means you can use your favourite mug with the Couch Console.
2. Snack Cup
Nothing too fancy here. Just a designated place for your M'n'Ms or confectionary of choice. Large enough for a snack and easily washable. No more sticking your hand to the bottom of the Cheetos bag, just easily accessible snack access.
3. The Organiser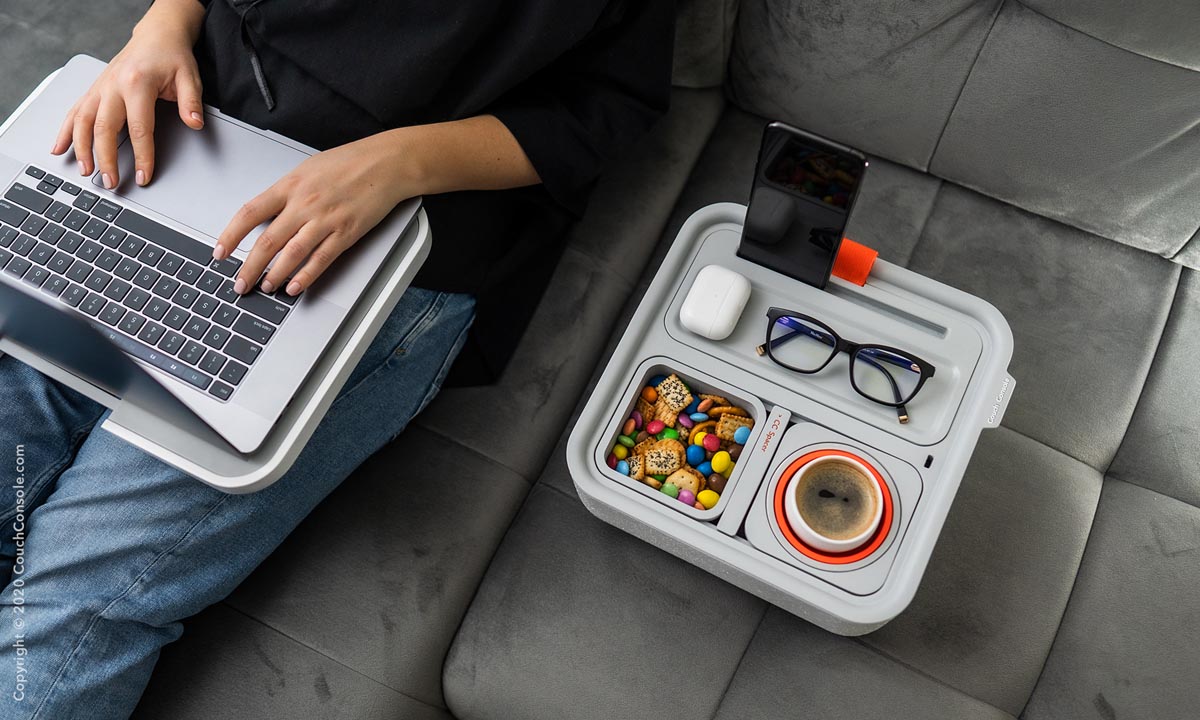 Ask yourself, how many time have you patted your pockets, swept your hands under your legs and then your hand between the cushions looking for your phone after getting a text? For me, it is at least 1000 times. The Organiser module takes care of this by having a dedicated phone holder, designed to support your phone so you can see the notifications.
There is a shelf alongside it which is perfect for the remote control, or anything else you want easy access to!
4. The Spacer

The Spacer allows you a greater degree of customisation for when you need custom compartmentation. Maybe you want to use the Couch Console to store some pens while you work on an art project. Or perhaps you want an extra compartment for more snacks! It's up to you!
Couch Console Additional Features
I can hear you saying, this is cool and all, but what else can it do? Well, you're in luck, there's more!
Charging Plug
Couch Console has addressed humanities greatest chilling challenge… running out of battery! They've done this by including a USB C (omg omg omg) plug on top of the unit. Now, to be clear, there isn't a built-in battery pack with this, but who doesn't have one in 2021? According to Ebite, they didn't include one because it would increase the cost of the product significantly, which makes sense.
This brings us on to the next feature.
Storage Space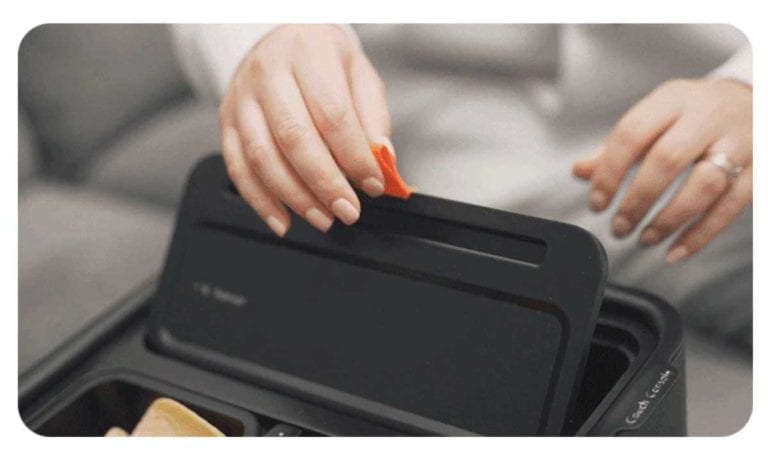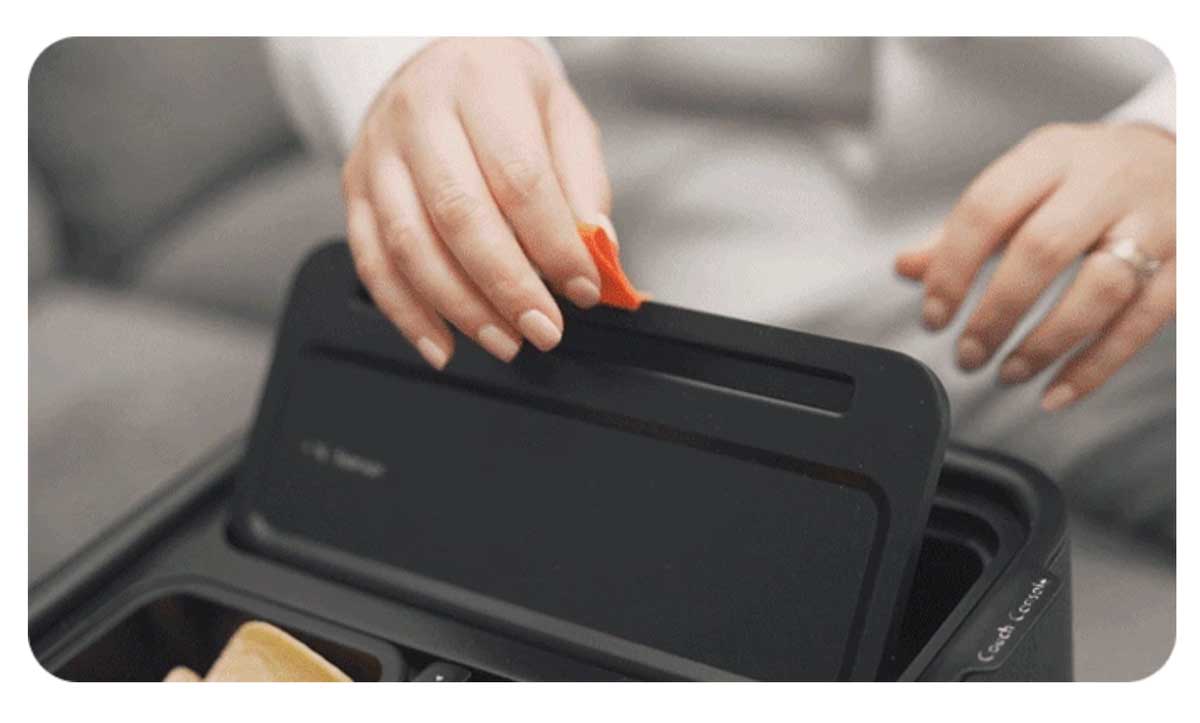 If you need somewhere to keep your battery pack, cables, extra snacks, or anything else, then worry not. The Storage compartment is large enough for most things you would ever need on a couch but not too large to take up too much of the Couch Console. Here you can add your battery back and connect it to the USB C port, ready for anyone to plug into on the other side. No more messy wires getting in the way.
Other Cool Selling Points
"But this product is already perfect"! No, it's not but it will be soon!
Lifetime Warranty
On top of the amazing design and functionality, it's also incredibly durable and comes with a lifetime warranty. Due to the quality design, and material choices the Couch Console will not break under any normal usage. In the age of fast fashion and tech, it's nice to see a company purposely designing something to last a lifetime!
What's that, you're ready to purchase this product? Hold up, there's more.
Eco-friendly
Couch Console has opted for environmentally-friendly products, using material such as recycled foam for the bass of the unit. Not only is this environmentally friendly but also keeps it relatively light-weight and very durable.
Aesthetics
The Couch Console has such a great design language it's hard to do it justice with words. It perfectly reflects the modern-day problems it solves and it does it with an understated yet proud design language. The proportions of the unit are satisfying and show an appreciation for geometry.
The proposed colourways closely resemble those found in high-end trainers found on sneakerheads, but if you want something more subdued, there's the option for charcoal black. There are nice accent colours through the Couch Console which give it a 'pop'.
All in all, this is a fantastic looking product!
About the Company
Ebite is a small team with large goals. Founded by Peters and has now grown to a team of 5, all of which play a unique role in the development of the Couch Console. you can truly see the effort the team has put into the Couch Console. This is not a get-rich-quick scheme that some Kickstarter products clearly are. This a product with a mission and a company to get it there. Ebite may have started a cool trend here and I look forward to seeing any future projects they come up with
Couch Console Review Verdict
Couch Console Review
Design & Build -

8.5/10

Features -

8.8/10

Ergonomics -

8.2/10

Total Value -

9.1/10
Summary
This is one of those rare Kickstarter products that is better than it looks on paper, and it looks great! I can recommend this product to anyone with a couch or bed. That's how good it is! If you own a couch or bed you should consider this product. It's like the 2021 version of a tray. And trays are pretty damn popular!
Pros
Quality design
Solves many problems
Great Aesthetic
Lifetime Warranty
Cons
Only available for pre-order 🙁