ⓘ We are reader-supported and may earn a small commission at no additional cost to you if a purchase is made through one of our links.
This EverDesk Max review highlights everything that you need to know about this amazing adjustable standing desk. The EverDesk Max adjustable standing desk is designed to help you work comfortably while also creating a healthier lifestyle. It is currently one of the most popular standing desks on the market due to its sturdy design and smart features.
Also, EverDesk offers a wide range of accessories that will allow you to stay organised when using this desk. The EverDesk Max is so good that it topped our list of best standing desks in Australia. It can also go well with the ErgoTune Supreme V3 if you decide to work while seated.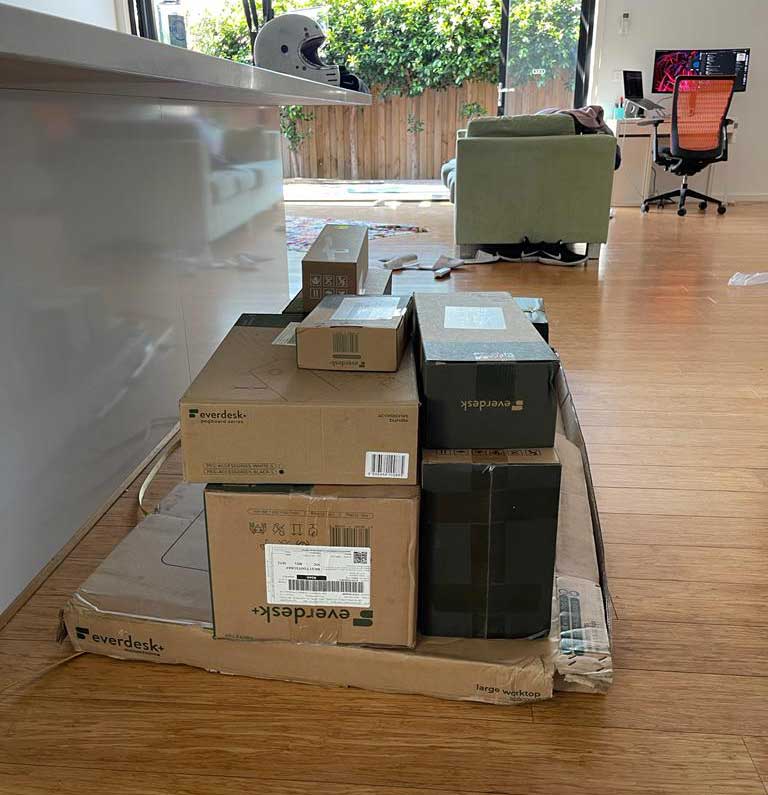 Overview 
Sitting or standing for too long when working can have a detrimental effect on your health. By using high-quality standing desks like the EverDesk Max, you can switch between sitting and standing at preferred intervals.
This can help you avoid back pains, cardiovascular disease, type 2 diabetes, and other health conditions associated with living a sedentary lifestyle. A post published in the Harvard Health Blog talks about some of the benefits of using a standing desk.
The EverDesk Max will help you do more than just burn calories. It is known to boost productivity, thanks to its ergonomic design and long list of features. The desk sports an advanced control system that allows for quick and easy height adjustment.
That being said, you can easily go from sitting to standing by adjusting the desk anywhere between 60cm and 124cm, thereby providing you with maximum comfort regardless of your height. The EverDesk Max is all about quality and comfort, so you can go for it without worries.
EverDesk Max—Your Personal Health Coach
You can easily forget to stand when there is a lot that needs to be done. And that is why the EverDesk Max features a built-in sit-stand reminder that you can customise depending on your liking. The timer can be set at intervals of 15 to 60 minutes.
When the set time elapses, the desk will vibrate, reminding you to stand. This is probably one of the desk's best features and main selling point. Moreover, you can adjust the intensity of the vibrations based on your preference.
The UniGroove System
Most standing desks have grommet holes which don't always look good. This doesn't apply to the EverDesk Max since it has a nicely cut groove that runs close to the edges of the tabletop. With the groove in place, you can neatly run all the cables that you are using without cluttering the desk.
To get the best out of the groove, you should consider using cable stoppers. The stoppers will hold the cables in place, giving you quick access when you want to connect your devices. Bear in mind that the cable stoppers are sold separately. We found the groove more aesthetically pleasing to look at.
Convenient Height Presets
The problem with most adjustable standing desks is the lack of preset height settings. As such, you may end up wasting a lot of time searching for the most ideal setting for your height.
EverDesk has solved this problem by providing you with three height presets for a frustration-free user experience. You can quickly switch from one preset to another with a simple touch of the control panel. Just tap the number that corresponds with the preset that you want and let the control unit do the rest.
Anti-collision System
Nestled in the EverDesk Max is a gyro-axis sensor that will automatically stop the tabletop from colliding with items along its path when making height adjustments. This feature can prove helpful when there is an obstacle under the desk that may be blocking the tabletop from travelling as it should.
The anti-collision system can safeguard your equipment against damage while also protecting you from injuries.
Specs
Dimensions: 1200mm x 600mm x 25mm
Maximum Load Limit: Up to 120 kilograms
Height Range: 60cm to 124cm
Height Adjustment Speed: 8cm per second
Assembly Required: Yes
Frame Material: Cold-rolled steel
Noise Level: <50 decibel (dB)
Anti-Collision: Yes
Leg Depth: 600mm
EverDesk Max Design & Performance
EverDesk put a lot of thought into designing this adjustable desk. It has great features that you won't find on most standing desks. The materials from which it is made are of high quality, so rest assured it will serve you for a very long time.
In fact, the company provides you with an impressive warranty of up to 10 years, showing just how much they trust their product. The frame is crafted from cold-rolled steel and is also coated to keep rust at bay. This standing desk has a dual motor design so it's very easy to adjust.
With an adjustment speed of 8 cm/sec, the desk can move from the minimum to maximum height in just a few seconds. The motors operate quietly, producing about 50 decibels (dB), which is great since most motorised standing desks are quite noisy.
In addition to this, the TriTier frame is exceptionally stable and sturdy. It can glide upward or downward without wobbling. And unlike the EverDesk Lite which has a rectangular control panel, the EverDesk Max features a circular control unit that is very easy to use. To adjust the desk upward, simply turn the control dial clockwise.
A counterclockwise turn will lower the desk to the preferred level. The desk control also has a digital display that will let you know the height setting that you are using. That way, you will be able to avoid unnecessary guesswork when adjusting the desk.
The good thing about the desk control is that you can position it at any point—you can easily mount it on the pre-drilled holes and can as well use wood tapping screws for customised installation.
Accessories
EverDesk offers an ecosystem of accessories that you can use to customise your desk according to your needs. You can attach the modular shelf, pegboard, and cable tray for better organisation. There is also a cable spine for a clutter-free workspace.
If you like, you can also throw in the mouse pad and desk mat. However, all the accessories are sold separately, so you should be prepared to pay extra if you are looking to pimp up the EverDesk Max.
Something that isn't included as part of the desk, but something I would highly recommend is adding a laptop stand to your setup. This means your laptop screen will be at eye level, further increasing the ergonomics of your setup.
EverDesk Max Review Round-up
The EverDesk Max is a sturdily built height-adjustable standing desk that you can rely on. It can be a great addition to your workspace, especially if you are working from home and can as well be used in the office. This desk is easy to adjust and has just about every feature that you may look for in a standing desk.