ⓘ We are reader-supported and may earn a small commission at no additional cost to you if a purchase is made through one of our links.
For many USB Type-C laptop users, a dongle or hub is a necessity. With the absence of other ports and most devices still utilizing older connections, you will need a reliable hub to continue using and connecting your laptop with such peripherals. And if you are looking for a new one to invest in, you might want to check out OmniCase.
OmniCase is the first USB-C hub combined with an electronic organiser. Its product campaign was launched on January 13, 2021, but has easily surpassed its target goal of US$5,000 as of writing.
So what makes it such a huge hit, and how does it compare with other USB-C hubs? Find out with this OmniCase review. Just click on any of the links below to skip to that section of the Omnicase Review:
Overview
When looking for a USB-C hub, there are a few things you should look out for. For one, it should give you access to most, if not all, the ports you need. Secondly, it should be light and small enough so you can keep it in your bag at all times. And lastly, it should work without getting too hot.
OmniCase has all of these covered… and more. Aside from being a hub, it is also an electronic organiser. So you can use it to securely store your cables, adapters, and even a SIM card and eject pin. Thus, this accessory can help you get rid of clutter in your bag and the need to bring more than you have to. It also makes packing up easier and prevents any loss along the way.
In terms of price, OmniCase is expensive, particularly its Pro version, which costs $109. It is even pricier than the already expensive Belkin USB-C Multimedia hub, which is priced at $99.99. But considering their feature, functionality, and offered ports, the $10 is a small price to pay.
The OmniCase Mini, on the other hand, isn't all that bad. While it isn't the cheapest hub you will see, it is relatively affordable. In fact, at a retail price of $59, it is cheaper than many top-performing dongles in the market today.
The Satechi Slim Type-C Multi-Port Adapter V2, for instance, costs $69.99. There's also the Belkin USB-C Hub 6-in-1 MultiPort Adapter, which costs $79.99.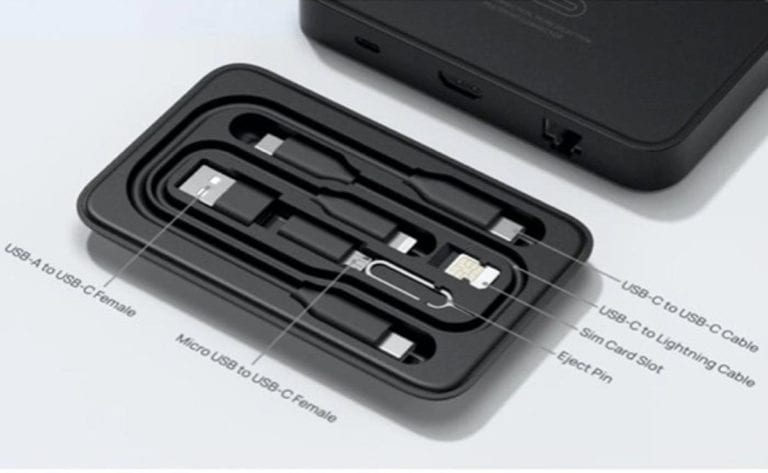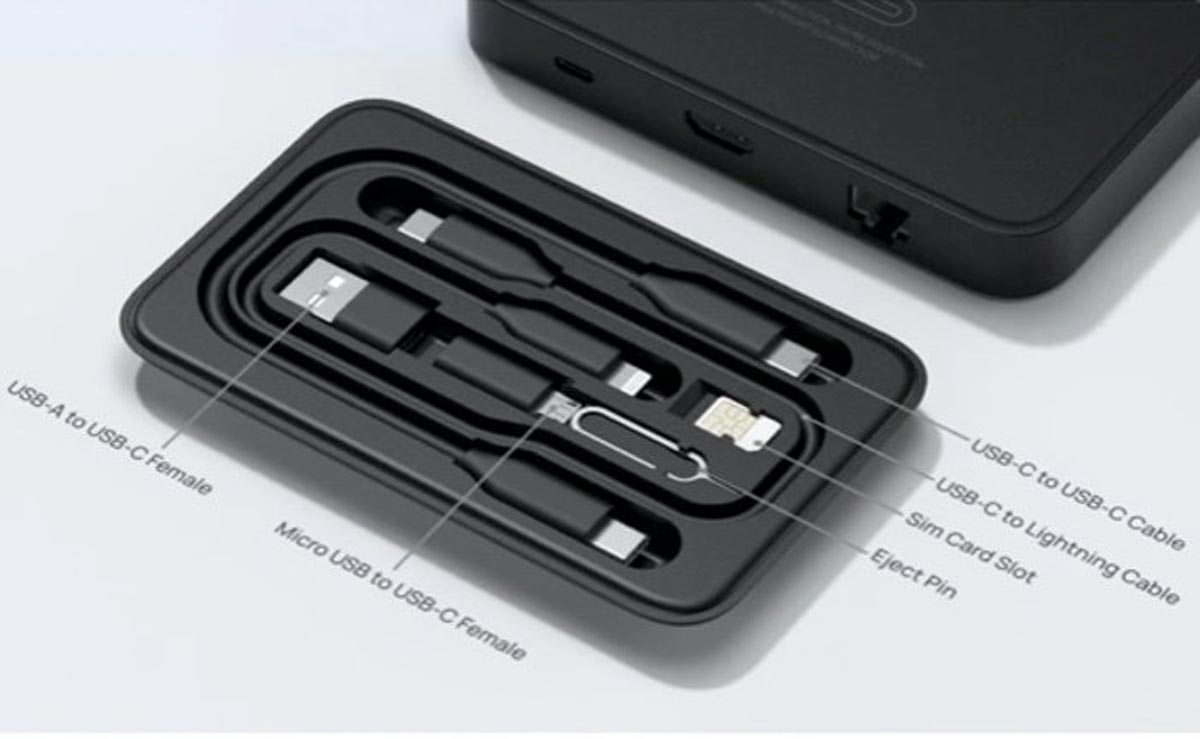 Features
USB-C PD Charging Port
The power delivery charging port on the OmniCase Pro is a great feature since you no longer need to choose between expanding your ports or having power.
This is particularly important and useful for devices with only a single USB-C port. And with pass-through charging up to 100-Watts, you can easily and quickly charge your Macbook and other laptops.
4K HDMI Output
You can seamlessly stream high definition videos with OmniCase. The HMDI port can support 4K 30Hz monitors, HDTV, and projectors.
Wide Compatibility
Through OmniCase, you can connect your USB-C device with a wide variety of peripherals, including the following:
Flash drive
Hard drive
Keyboard
Mouse
Printer
Camera
Smartphone
MP3 player
SD card (SDHC, MMC Micro, RS MMC, and SDXC)
TF card (MicroSD, MicroSD HC, and MicroSD XC)
Electronic Organiser
OmniCase isn't just a USB-C hub. It is also a cable organiser with strictly tailored slots for the following cables and adapters which, are, by the way, included:
USB-C to USB-C Cable
USB-C to Lightning Cable (Pro version only)
Micro-USB to USB-C Female Adapter
USB-A to USB-C Female Adapter
SIM Card
Eject Pin
Smart Temperature Control
USB-C hub is equipped with advanced internal components and a smart circuit to prevent it from overheating, over-voltage, and over-current. All these ensure your devices will work at top speeds while staying cool. So even when you are using all the ports at the same time, the OmniCase's surface temperature will remain below 65 degrees Celcius (149 degrees Fahrenheit).
Specs
Here are the technical specifications of both the OmniCase Pro and the OmniCase Mini based on the company's Kickstarter campaign.
| | | |
| --- | --- | --- |
| Specs | OmniCase Pro | OmniCase Mini |
| Dimension (L x W x H) | 126 mm x 78 mm x 25.65 mm | 104.50 mm x 64 mm x 20.55 mm |
| Input / USB-C Male | ✔️ | ✔️ |
| Input / USB-C PD Charging Port (100W) | ✔️ | ❌ |
| USB 3.0 Port (2) | ✔️ | ✔️ |
| SD / TF Card Reader Port | ✔️ | ✔️ |
| HDMI | ✔️ | ✔️ |
| RJ45 Ethernet Port | ✔️ | ❌ |
| USB-C to USB-C Cable | ✔️ | ✔️ |
| USB-C to Lightning Cable | ✔️ | ❌ |
| USB-C (female) to USB-A (male) Adapter | ✔️ | ✔️ |
| USB-C (female) to Micro-USB (male) adapter | ✔️ | ✔️ |
| Eject Pin | ✔️ | ✔️ |
| SIM Card Slot | ✔️ | ✔️ |
The OmniCase Pro flat out offers the best and most important port selections: two USB 3.0 ports, USB-C PD charging port, HDMI, and ethernet. It even has a TF or MicroSD slot and SD card slot, which are not found in most hubs today. The Belkin USB-C Multimedia Hub, for example, does not have a TF slot.
Furthermore, OmniCase can transfer files at an amazing speed. Particularly, the SD and TF card reader peaks at 104 MB/s when reading images and even videos. It can also read dual cards at the same time. If you're moving on from the Aukey 8-in-1 USB-C Hub, this will impress you since the SD and MicroSD card can't be used simultaneously with the Aukey. The gigabit ethernet port on this hub is also compatible with 1000Mbps/10Mbps RJ45 LAN.
This can help you get a more stable network connection than WiFi.  It is great that the company offers cables and adapters since most cable organisers today simply offer a place to store your belongings. Also, the cables offered are among the most commonly used today.
If one teeny bit is missing in the kit, it's an HDMI cable.  Some of the other notable things with the OmniCase is the SIM card slot and eject pin. Of course, the USB-C PD is an excellent addition too. And the two USB 3.0 ports, which have a 5Gbps transfer speed, are at par with the leading dongles in the market.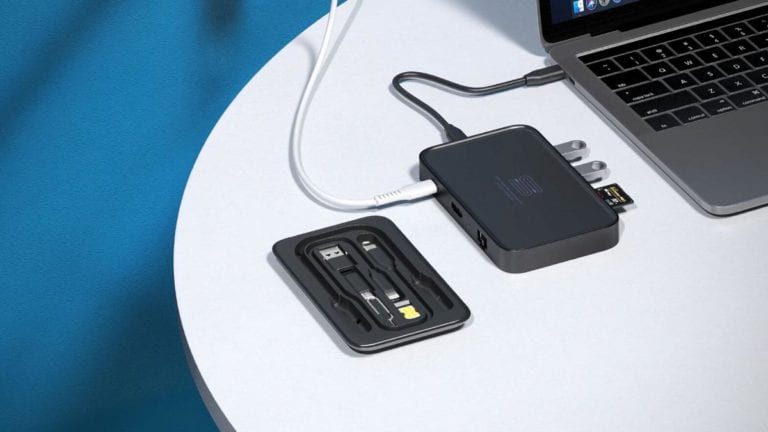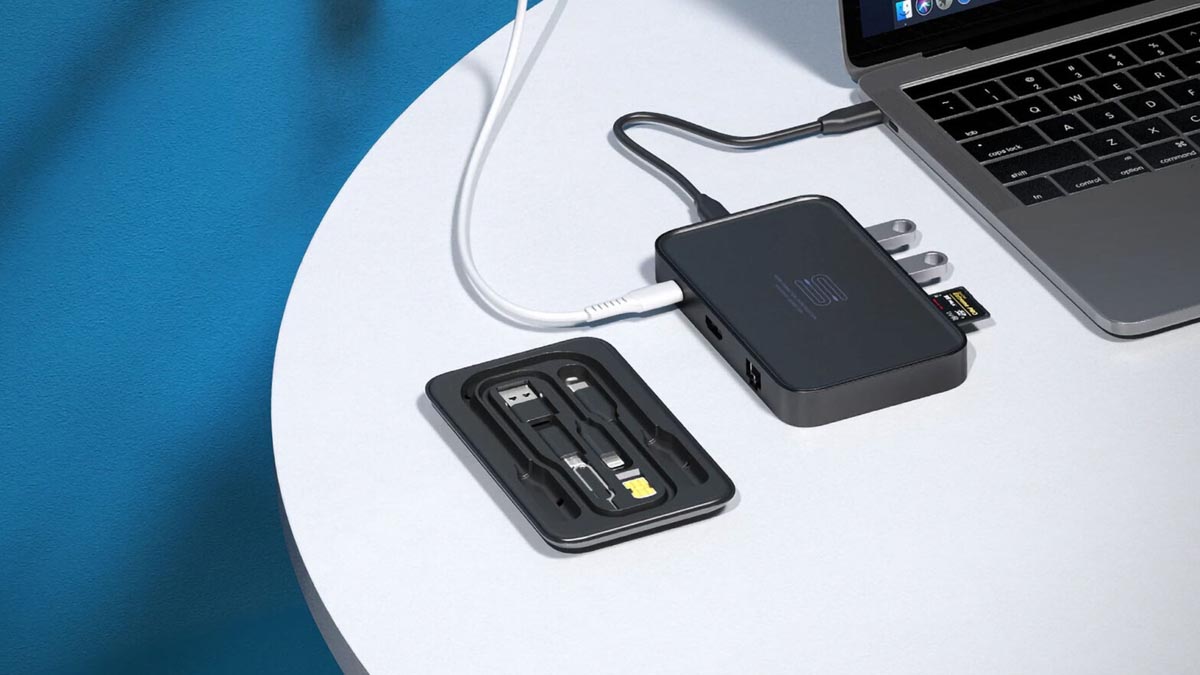 Aesthetics
In terms of aesthetics, the OmniCase looks good, unlike many dongles today that look like rectangular blocks. It is similar to power banks but lighter. There is also no distracting flashing lights of any sort. It is simple and sleek with minimal branding.
The magnetic snap-on design for the electronic organiser is also excellent. This makes it look a thousand times better and feel more sophisticated than regular zippered cable bags and cases.
What's It Like to Use?
OmniCase is extremely convenient to use. Since it has most of the cables you will need, you don't have to bring yours anymore. And because everything has its designated space, cleaning up and storing your cables is now easier. It also makes your bag look cleaner and more organised. Moreover, the adapters allow you to connect more devices to your laptop.
If you are looking for a small, light, and compact USB-C hub to take with you when going to and from work or when traveling, the OmniCase is a perfect choice. It is so portable that it can easily fit in your pockets, more so in your bag. When you need to connect your laptop with any other device, you can just take it out whenever and wherever you are. No more untangling or looking through your bag to find the right cables you need.
Verdict
The OmniCase is indeed superior to typical dongles in every way. Not only does it offer all the ports you will need as you work, but it also offers a convenient cable organizer that can simply make your life easier. With its functionality and practicality, the OmniCase can easily be part of your computer setup.
However, to enjoy such benefits, you will have to pay for them.  The good thing is, the OmniCase campaign is still running on Kickstarter until January 27, 2021. So you can pre-order the Pro version at only $69 and the Mini at $39.
30 Second OmniCase Review
Summary
OmniCase ticks all the boxes for what a USB-C hub needs to be. It has all the ports you need, does not get hot, and gets the job done. Even better, it is small, light, and easily fits in your pocket. So you can take it with you no matter where you go.
Pros
Magnetic cable organiser
Can deliver up to 100W
7 available ports
Cons
Pro version is a bit pricey