ⓘ We are reader-supported and may earn a small commission at no additional cost to you if a purchase is made through one of our links.
In this ThermGo Review, you'll find how useful and innovative this technology is, especially today with COVID-19 still looming the whole world. It eliminates all other unnecessary processes and other materials needed, such as batteries for digital thermal scanners.
Taking and tracking your body temperature has never been this convenient with ThermGo. There are many smartphone accessories made available today, but in 2020 and beyond, being able to check a temperature may be the most important tool to carry.
With the app that comes along with ThermGo, users will be able to track their temperature for easy comparison and observation. It can also be used for multiple users, making it useful for keeping the whole family's temp in check.
In addition, it doesn't only read human body temperature but it can also measure that of objects and surfaces. This portable device has so much to offer and we'll dive deeper into all of its features.
If you don't have time to read the full review, click on the links below to skip to that section.
Overview
ThermGo is a user-friendly phone accessory that can measure, track, and monitor temperature for multiple users. It provides extra features that traditional and digital temp scanners cannot offer. One of its useful features is having historical data of the temps measured. This is quite a big help, especially when there is a need to strictly monitor one's temperatures.
Around the same price (and even for less), the ThermGO can do so much more after measuring one's temperature.
Features
As ThermGo is built like another attachable phone accessory, it will depend on your phone for power supply. Therefore, it won't need extra batteries—letting you save another few extra dollars.
As already mentioned, it comes with an in-app tracker which can be downloaded on Google Play or Apple's App Store. In the app, you can manage and monitor multiple users' temperatures. This is great for families and businesses who are continually checking their temps for COVID-19 symptoms.
Also, it doesn't just give you raw data but the app provides instant insights from your temp data — giving you a full report of your temp history and trends, keeping your mind at ease.
Another good example is while isolating after getting exposed to a person with COVID-19. Of course, as advised by the health organizations, is that you should voluntarily isolate and monitor your symptoms, most especially your temperature.
According to the University of Utah, having a high temperature is one of the more common symptoms of COVID-19.
And when we feel like we're falling ill, we automatically check our body temperature. Per the University of Utah, it is important to be consistent in monitoring our temperature as it "fluctuates hour by hour." With ThermGo, not only will you be able to keep close track but you can also see the trend of your temperature. With the insights it provides, you can give your doctor a well-laid out table of your temp data.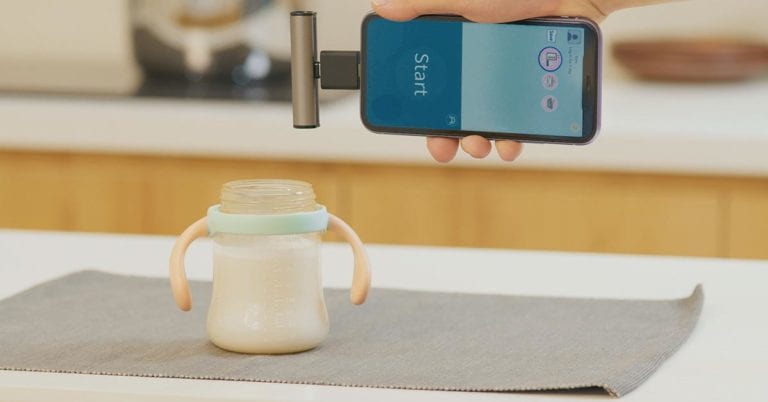 Aside from that, ThermGo is very useful for measuring the temp of objects most especially when it comes to baby care needs, such as its water, milk, or bathwater. Usually, mothers or caretakers would need to squeeze a few drops of milk from the bottle to their skin to check if the temp is okay for the baby. This technique is old and most likely be inaccurate.
Another great thing to note with ThermGo is that it can instantly read temperatures. There's no lag, compared to the digital infrared thermal devices. You can easily jump from reading one person's temp to another, without waiting for the screen to reset.
In a business setting, stores are required to religiously check their customers' temps before letting them in. ThermGo can effectively help make this process easier both for the establishments and for its customers.
The ThermGo is also sanitary to use. Because it runs via infrared, there's no need to stick the device between the armpits or inside your mouth. Compared to the mercury thermometers, wherein it has to be inserted somewhere in your body and doesn't even give out accurate temp readings.
Specs
A typical handy infrared thermometer may weigh around 120g, while ThermGo only weighs16g. Its dimension is 70x15x25mm while having a measuring distance of 2-5 cm. Moreover, ThermGo is very user-friendly and can switch temp reads between Fahrenheit & Celsius. For its temperature range:
Celsius
Fahrenheit
Body temp
35 – 43°C
95-109.4°F
Object & Childcare
30 – 50°C
86 – 122°F
Indoor temp
15 – 35°C
59 – 95°F
It works with all mobile devices so compatibility will likely not be a big issue. It can be plugged seamlessly into the phone's USB-C port. For Apple and other Android devices, this technology comes with Lightning and Micro USB adapters.
Furthermore, ThermGo's accuracy is measured at ±0.1°C, which is considered as "high accuracy" for a digital temperature sensor. Over 2000 tests have certified the device's reliable accuracy. Meanwhile, other digital infrared thermal devices only have ±0.2°C accuracy.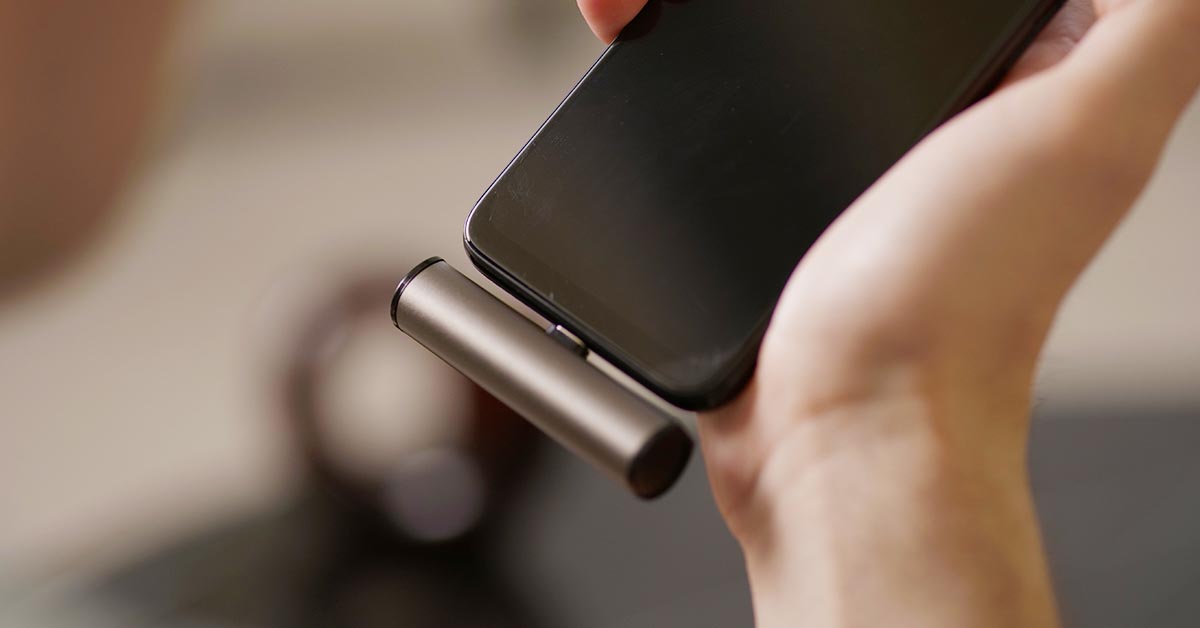 Aesthetics
ThermGo is a portable phone accessory and is as easy as plug and play. It's also as handy as having a headset or an OTG in your bag or pocket. This is compared to the bulkiness of thermal devices being used right now.
It wouldn't be too shameful to use in public as well because of its design and compactness. It also blends well with the design of your phone, so you can just take out ThermGo anywhere and any time you are feeling feverish.
What's it like to use?
As already mentioned, ThermGo is as simple as plug and play—making it very easy to use. Then, users will just need to download the in-app tracker on Google Play or Apple's App store. There's no other complicated installation needed. The temperature setting is adjustable compared to the traditional ones.
It's not limited to body temp reading but to other objects and surfaces as well. ThermGo is an all-around thermal device for roughly the same price of what we usually use but with limited functionality. It is a very handy tool and, again, there's no shame in using it in public as it just looks like another phone accessory.